THERE are certain sights which stir the soul.
The view of Manhattan from Liberty Island, say, or a thin crescent moon hanging over the horizon. Maybe even a basketful of kittens if that's your thing.
Something that makes you stop and stare for a few seconds. Something so beautiful it feels like it's crushing your heart.
I'd like to add to that the sight of Gini Wijnaldum allowing the ball to run across his body to take out an opponent.
OK, that one won't make a gallery or those social media seascape-backed mottos about seizing the day or believing in yourself, but it works for me.
Two men on him with the ball coming in at pace. He can control it but what next? Every instinct must be to pop it off in the direction he's facing. That's what I'd do. That's what I want him to do too. What I don't want him to do is take his time and lose the ball.
But he's different. He lets it pass in front of him, almost out of reach and turns his back to shield it. Suddenly he's cut off half the pitch, found space and a full back showing for a pass. Lovely. Art, even.
Oh, I'm sure other players do it, but Gini Wijnaldum makes it seem graceful. He did it on numerous occasions against Manchester United on Sunday against Fred and Matic. Mine was the lone voice sighing.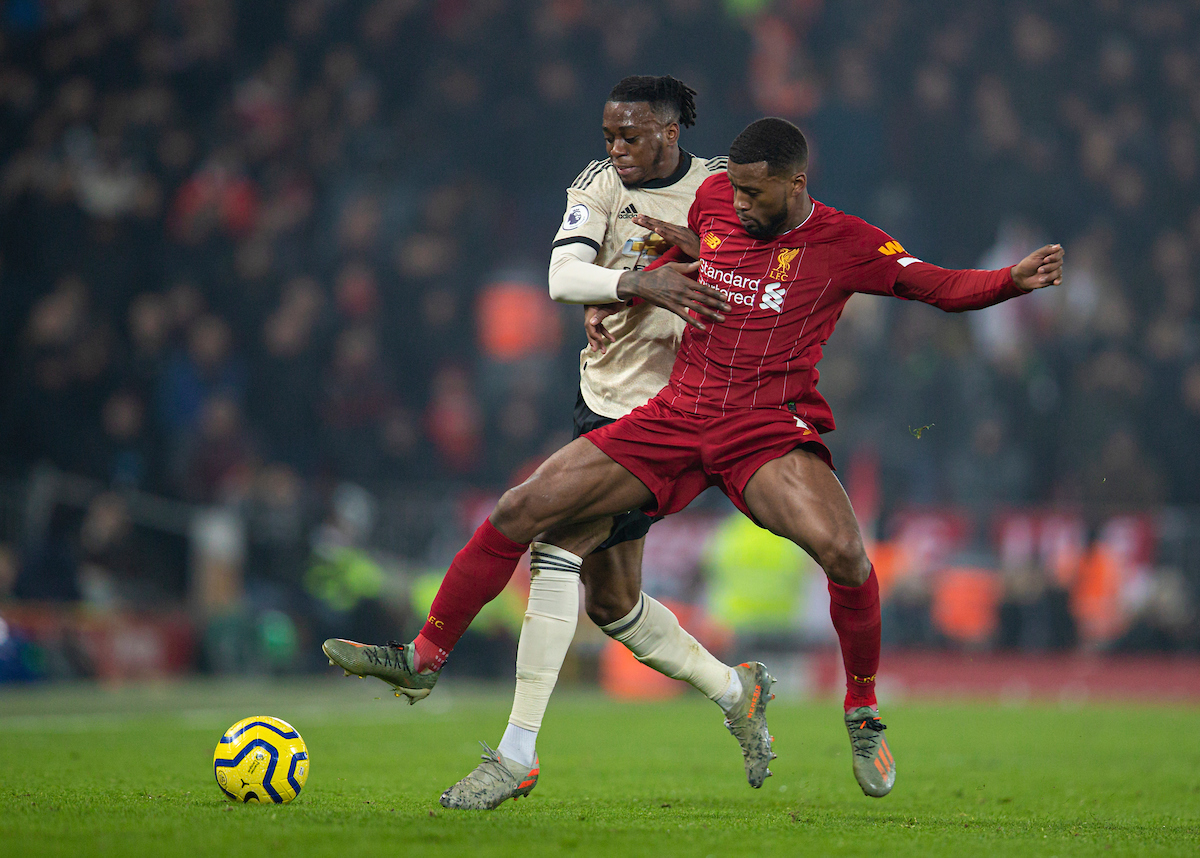 Gini's importance and reputation has changed over his three-and-a-half year Anfield career. He's moved on from 'the lad who can't score away from home' (save for Roma European Cup semi finals) and 'he who turns invisible from time to time' to become an integral part of Jürgen Klopp's Liverpool. You notice when he's not there now.
While the footballing world turns to the front three, the full backs and Virgil when it explains our success this season, the 'other' Dutchman is barely mentioned.
Like Fabinho and Henderson, he is last to attract the plaudits, though I suspect they're all fine with that. After all, no one immediately looks under a bonnet when they see a car they like. His teammates are more of a demonstration of the whole rather than the parts that make it up.
Liverpool have become such a unit because of balance throughout the 11. It's simplistic to suggest that it's the strikers and Virgil who are responsible for that, but the middle three acts as the counterweight to that flair. Like ducks paddling furiously underwater while appearing calm above it.
If there's one thing which stands out in Wijnaldum's game, it's his quick feet. A nutmeg here, a step over there. Never done just to look good or humiliate particularly, but just something he can call on whenever the opposition have four men to our three in the middle of the park. Adam Lallana is capable of that too, though he lacks the upper body strength of the Dutchman.
It's a skill which the World Champions have utilised time and again. Of his last 43 appearances he has lost just one – Barcelona at the Camp Nou, though he got his revenge for that.
His tactical prowess is understated, too. Recently Klopp said that he could see him as a manager and it's easy to see how. His ability to know exactly when to sit and when to press is first rate.
Obviously, having both his skipper and manager in earshot always helps, but so does his versatility. We've seen him play as a centre back against Brighton, a '10' for Holland and both the defensive and attacking midfield positions when needed. Ask him to fill in to cover a problem or injury and he settles in with ease.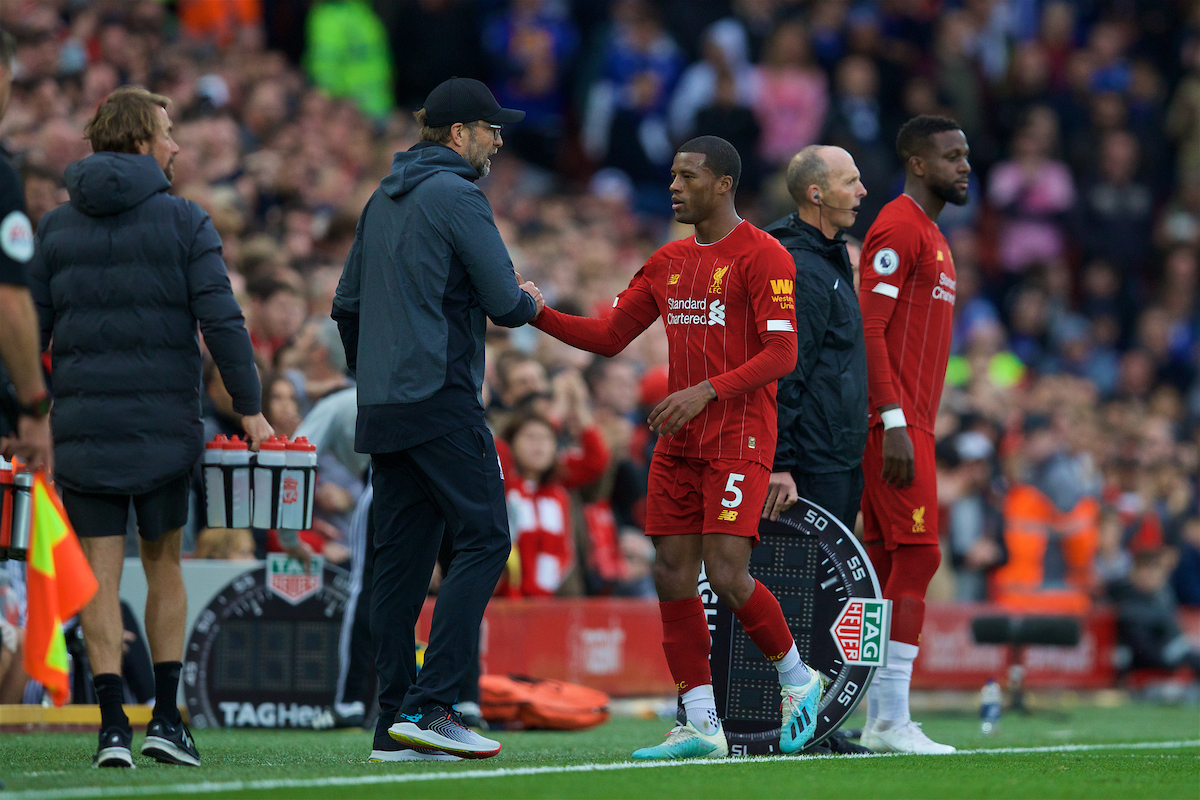 And yet he's still not overly lauded outside of Anfield.
Praise has, quite rightly, been heaped on Jordan Henderson's performances following Fabinho's injury, but Wijnaldum's role in that shouldn't be overlooked. Liverpool have hardly missed the Brazilian thanks largely to those two. The thought of him coming back must be frightening for the rest of the league.
There are plenty of midfield options for Klopp now. Where once it looked the lightest of areas, he can call on Milner, Oxlade-Chamberlain, Keita, Lallana, Shaqiri and now Curtis Jones to step in should any of the main axis miss out. With three months of the season to go and the Champions League to come, he'll need every one.
Wijnaldum's contract expires in July 2021 and it would be madness for the club to let him go. There have been some panic-inducing headlines about a new contract being held up because apparently the club aren't keen on retaining him.
However, the player told Dutch journalists that he is more than happy and is at the best club in the world. It's just that the league is his priority. I think we can all agree on that one.
It's a commonly held belief that Klopp makes stars rather than buying them and Gini's development has been testament to that. He could go on to become an Anfield legend – or more of one, given his Barca goals.
He's still young and learning, but he's almost already the complete midfielder.
We can expect even greater things from him.
"Jordan Henderson has become one of the best players in the League over the last few weeks.

"Him and Wijnaldum are at the peak of their powers." 👏

📱 Subscribe here for all of our in-depth reaction to Liverpool's 2-0 win over Manchester United 👉 https://t.co/TEMh9rqIOf pic.twitter.com/QnUMW4cNuR

— The Anfield Wrap (@TheAnfieldWrap) January 21, 2020
Recent Posts:
[rpfc_recent_posts_from_category meta="true"]
Pics: David Rawcliffe-Propaganda Photo
Like The Anfield Wrap on Facebook