IN and of itself, it is run of the mill.
West Ham United casually dispatched. Liverpool not to be touched. Onwards to Graceland.
In reality, it is anything but. Liverpool are 70 points from 72, 19 points clear of Manchester City at the top of the Premier League. They need 24 points from 14 games to be sure of the title. If three of those 24 come when Liverpool go to the Etihad, they actually only need 18 from the remaining 13.
It's absolutely tremendous. It is unheard of. Never has one side lived the value of 38 cup finals quite like this one. No team has ever just bit down and gone game after game in this way from the off. Manchester City set a bar, gave Liverpool a task and Liverpool have dived right in.
West Ham are the 19th side Liverpool have beaten this season and of those 19 they are about the 17th who may have been partially beaten before they got on the pitch. They were set up to stay alive, to hang in there. A 5-3-1-1 with Lanzini doing bits either way, Haller looking to win his headers and Snodgrass looking to join was set up primarily to stop Liverpool.
They couldn't. They could be pushed back, pushed out of competing. Pushed into the red. From the 15-minute mark every camera cut to tired West Ham faces, legs were being thrown in, tackles won but control was nowhere to be seen.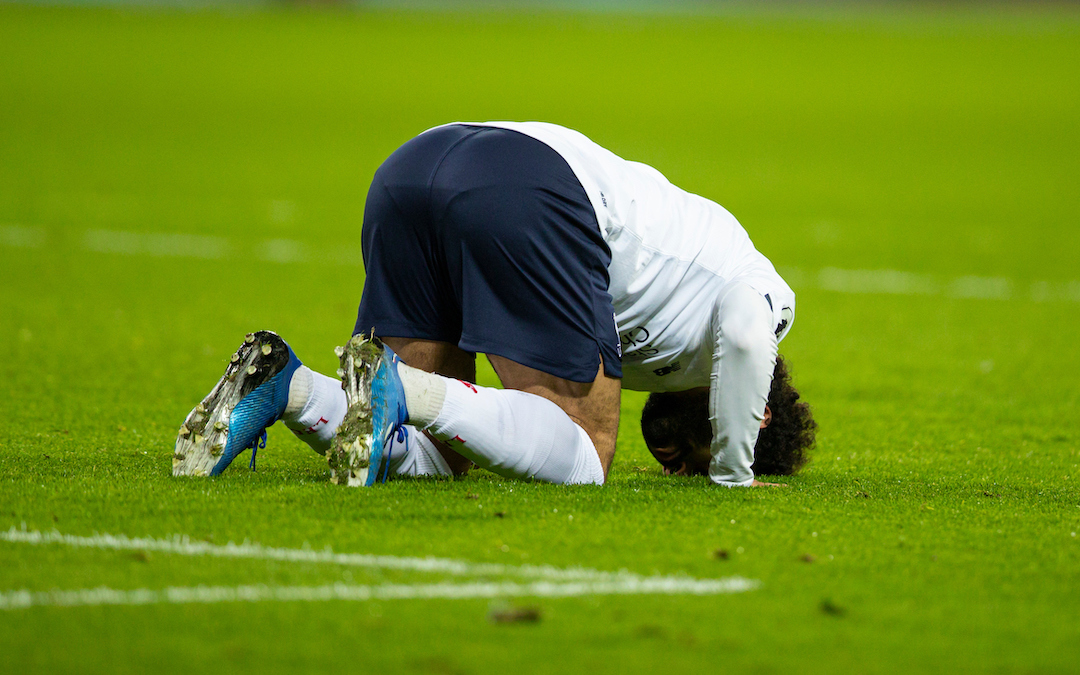 Instead everything was in the red, on the edge. That the opening goal came from a penalty should be no surprise in this context. It was absolutely nailed on after glorious work from Roberto Firmino. Divock Origi scythed down six yards out and Mohamed Salah's penalty unerringly arrowed into the corner.
As West Ham begin to open the game up in that second 45, Liverpool still look more likely and London legs look weary. Lanzini miskicks and should do better. Firmino calls Fabianski into action. Then Liverpool explode.
My favourite thing about the counter attack is it is both brilliant and imperfect. Salah fights and loses but keeps moving forward. Henderson plays a peach of a pass into an area. Salah and Firmino get into each other's way before Salah is sumptuous, Chamberlain bursts through, shrugs off Lanzini and nets. There were opportunities to give that up but Liverpool never do.
From then onwards Alisson Becker displays his prowess, Fabinho stutters but grafts and Trent Arnold blams it spectacularly against his own goal frame but nothing was in doubt.
Nothing.
It's an extraordinary state of grace to watch a football match in when the clocks haven't gone forward, let alone just in late January. Players thrashing the ball against their own posts but it is sound, you know. Would have a pint. Look forward to the tweet.
Grace is what these players have and what this manager should have, although some have tried to pull it from him. Not least because he has created the state of grace.
I love grace as a concept. I try to put it at the centre of the relationships that really matter to me. Sounds pretentious I know, but it removes so much worry. Everyone's heart in the right place. Everyone doing their best in trying circumstances, even if I disagree with occasional decisions. (I don't disagree with the manager on the obvious just to be clear.)
Liverpool have more of it both shared from the stands and with one another than any football team I have ever seen, at the moment. Bounding into Graceland.
Nineteen clear. The hurdles just fall away, I can barely see them. Fourteen to go. The work starts again Saturday. It'll be very tough Saturday, you know. I am eager for it to be tough. Let them prove themselves again. Let them battle again. Let us adore them again.
They are magnificent. The best of us. They are doing what we have needed and craved in a manner which beggars belief. They are the best of our lives, forward as well as back.
Give me the power and the capacity to adore them enough. I would never want to let them down.
"This isn't the stuff of dreams, because none us even dreamt it could be like this."

All of our immediate post-match reaction, live from the London Stadium, will be available FOR FREE tonight…

📱 Get involved here 👉 https://t.co/Y0zivZ4M41 pic.twitter.com/s9RxuvIMXV

— The Anfield Wrap (@TheAnfieldWrap) January 29, 2020
Recent Posts:
[rpfc_recent_posts_from_category meta="true"]
Pics: David Rawcliffe-Propaganda Photo
Like The Anfield Wrap on Facebook