RECORD breaking?
There is one record I want breaking – the 30 years it would be between league titles.
Liverpool Football Club have never gone as long between winning the league since the establishment of the club in 1892 than the gap currently is.
When they ran that chart of total points in English football's top flight on Twitter the other day, one of those charts which grows through years, one of my takeaways was that in about 1958 Liverpool were still top six since association football began in this country.
There is a perception around Liverpool that just because Bill Shankly found the club in the Second Division when he arrived it had been forever thus. This is nonsense. One of the reasons Shankly came to Liverpool is because they were a very serious proposition – a sleeping giant. They had them in 1959 as well.
We have never been so long without lifting the prize which says you are the best of English football's best. We won our first title in 1901 and since then there has never been a drought like it.
If this Liverpool side can break that record, can make that stop then they are the ones that will do for me. They know that. This manager knows that. These players know that. They know the seriousness of the task and that it really is 38 cup finals.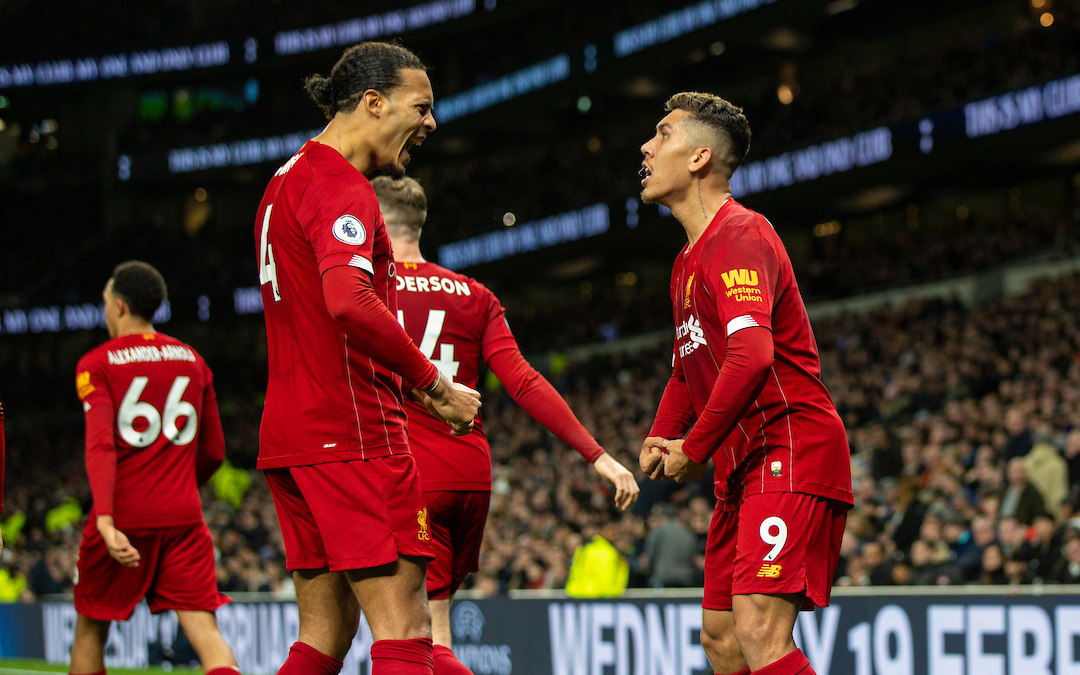 Thirty-eight cup finals. This is a cliche which has so rarely actually been true. No side has ever lived 38 cup finals like these lads have. Given what happened with Manchester City last season I reckon these lads have been playing cup finals since the clocks last went forward. Their ground state is cup final. They dial down from there.
I think they could well be the ones that do for us. They could well prove to be the most our boys.
There is a desire among commentators and rival supporters to act as though this is all too easy for Liverpool, as though the standard of the division is in some way up for question. I wish somebody would tell me this and convince me of it. I've spent the last four months living every kick, because most of the time every kick has needed to be lived.
Liverpool may well have won 20 games from 21 but their goal difference is of a side who have won 15 – absolutely brilliant, perfectly respectable but not something obscene, unlike the points total. They get the job done but the point is that there is so often a job to be done.
The reality is that Liverpool are digging deep every single time. They are so rarely gliding through games, gliding away from opponents. They have to work for what they get. That was as true today as it was against Sheffield United.
Unlike Sheffield United (who are two points clear of Spurs I hasten to add) Tottenham are capable of landing a blow. They land more than one. They have a plan and they stick to it, phase it through the game. It isn't a perfect plan, it relies on riding luck as and when, but it is a relatively tidy one and had you offered them -1 on 75 they would have taken it.
From there they are the side most worthy of a goal. Football sometimes works like this. These two sentences are true…
– Liverpool deserved to be two or three goals clear by 70 minutes.
– Tottenham are worthy of an equaliser last 20.
Goals are rare – forgive me if I might have mentioned this before – which means that games can occupy a number of states simultaneously. There is even an argument (not one I agree with) that Liverpool deserved to be punished for being so aware of their superiority to Tottenham by the 70-minute mark.
Some football matches become Schrodinger's cat. The game is both alive and dead. Both sides should have one more goal, both sides should be punished. Football matches like these are quantum. They aren't one story, they are six or seven. Facts are lazy and facts are late. Facts all come with a point of view, facts don't do what you want them to.
This is true before Roberto Firmino's goal. Had he not scored there would have been talk of Jose Mourinho doing a job on Liverpool when the reality was so very different. The game belonged to The Reds. They should have scored first half, and when they did the story is of Liverpool being the better side. They should make it two.
On an evening when Mo Salah's touch is beyond sumptuous, they don't make the most of where they are. When Gini Wijnaldum runs midfield, they don't make the most of what they are. And Joe Gomez eases through a game on a yellow card, yet Liverpool give up chances.
We want to say that Tottenham are poor but that just isn't the case. They are set up to hit Liverpool with a jab and then dance around the ring. They do it reasonably well and they deserve credit.
Jordan Henderson is beneath it a couple of times and is pressed, Alex Oxlade-Chamberlain is on the periphery and alright, Sadio Mane is doing more going backwards than forwards and neither full back will look back on their final third contributions with pride but – crucially – are always there, never shirking.
That's this side. Always there. Never shirking. Even when it is too glorious at times, too easy, they rouse themselves to work. Adam Lallana does 90 minutes running in 30. God knows what Henderson or Wijnaldum do.
This performance, this game – a springboard for Tottenham possibly. The late miss was astonishing, a reminder they aren't messing with an xG of (guessing) 0.73 – they can be missed. But a landing for Liverpool. A moment where one of the threats for the rest of the campaign has been dealt with.
United at home next. Then Wolves away. Not getting any easier but you would still follow these lads to the very jaws of hell and beyond. They are my favourites. I am sure they are yours.
Seasons are quantum. This is the season Liverpool streak away at the top, unimpeachable. This is the season Liverpool grind single-goal victories out.
Twenty-one down. Seventeen to go. Seventeen to the one record we want. To the one moment we want. We will (Hiya John) – like Michael Atherton playing cricket, like Steve Graves playing shuffleboard – we will get them in singles as it is the only way to do it. Today a single. Next Sunday a single. The Thursday that follows a single.
Give me that record, just that one; give me that dance, that scream, that kiss; give me that moment of sheer bliss.
Only one record counts, and we with our glorious one game at a time Reds have taken another massive step forward towards it.
"The Reds were far superior"

"This Liverpool team are showing no signs of letting up" 👊

📱 Subscribe here for all of our reaction to Liverpool beating Spurs 👉 https://t.co/TEMh9r97WH pic.twitter.com/PhqapKhj1Y

— The Anfield Wrap (@TheAnfieldWrap) January 11, 2020
Recent Posts:
[rpfc_recent_posts_from_category meta="true"]
Pics: David Rawcliffe-Propaganda Photo
Like The Anfield Wrap on Facebook