THERE'S something about winning that really gets under people's skin.
It probably doesn't help when the team you support does it so routinely that they make breaking records an almost weekly occurrence.
And of course it's not just breaking records, there's proving loads of people wrong who consistently believe that something is going to give eventually.
Last season Liverpool were going to get found out by VAR, this season the lads with the screens at Stockley Park are giving Jürgen Klopp and co an unfair advantage.
Oh and Qatar was obviously going to be the point at which our season unravelled, but now it was just a mid-season break which we used to spoil the integrity of our sacred Carabao Cup.
Let's make no mistake, though; this isn't some kind of anti-Liverpool campaign.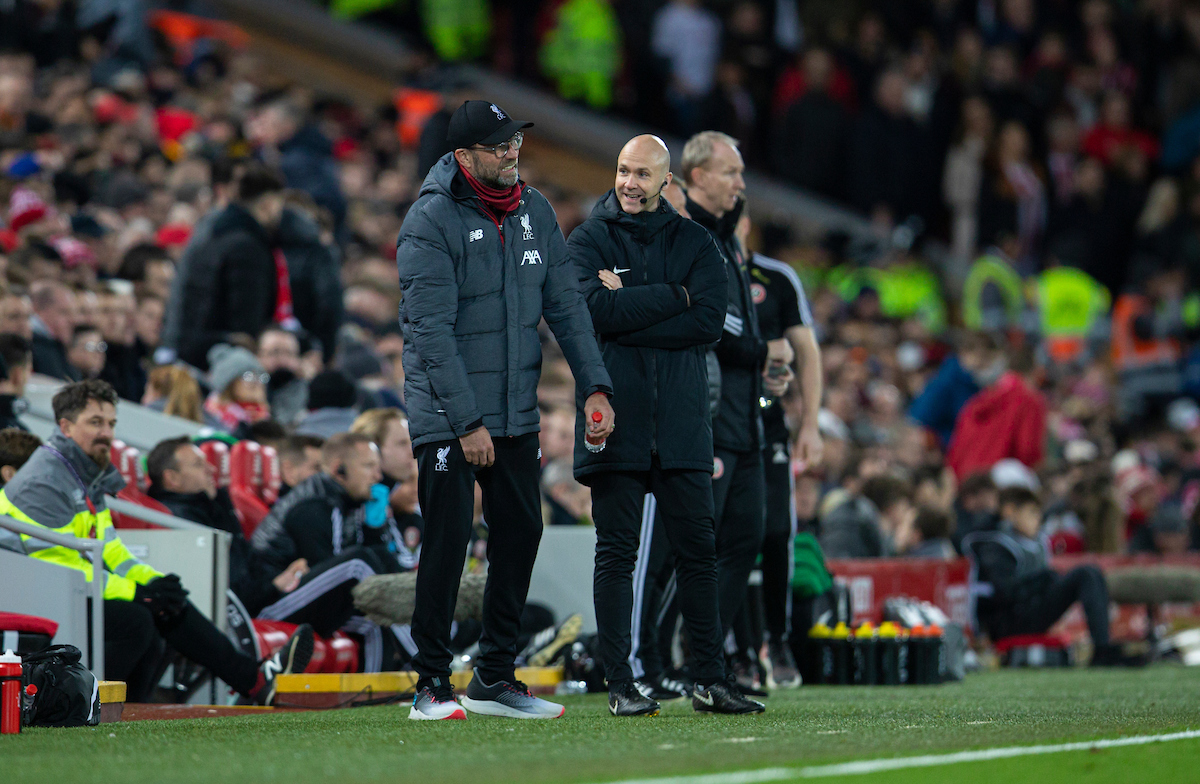 The fact of the matter is there are 19 teams who wished they could taste three points as frequently as The Reds do, and when all their teams are 'by far the greatest the world has ever seen' it can only be external factors at work that give the league leaders an advantage.
And we're just as guilty of doing it as those scrambling round for straws to clutch now.
Remember Alex Ferguson's Manchester United? Well, they had the refs on the payroll, didn't they? What with Fergie time and all that gear. And Pep Guardiola's City side? Look at all that dirty money they spent and how their players just miraculously recovered from injury.
Pick any successful side from any period in football history and you'll find a whole host of opposing fans with a list of reasons why they were aided by some kind of black magic, and they definitely weren't just a great football team with a great manager and great players.
Winning is a habit, after all. It's one a lot of teams wish they could get hooked on, but it's one only one team in this country can truly say applies to them. And the thing with habits is they can be quite hard to kick. Once you get a taste you don't ever want it to end.
That's why you see the mentality this Liverpool side has adopted now, and why the narrative around this team has almost completely changed.
Pundits and presenters are already handing our boys their league winners' medals. It's because they can see it, because the successful ex players among that crew know that very same feeling our lads feel now.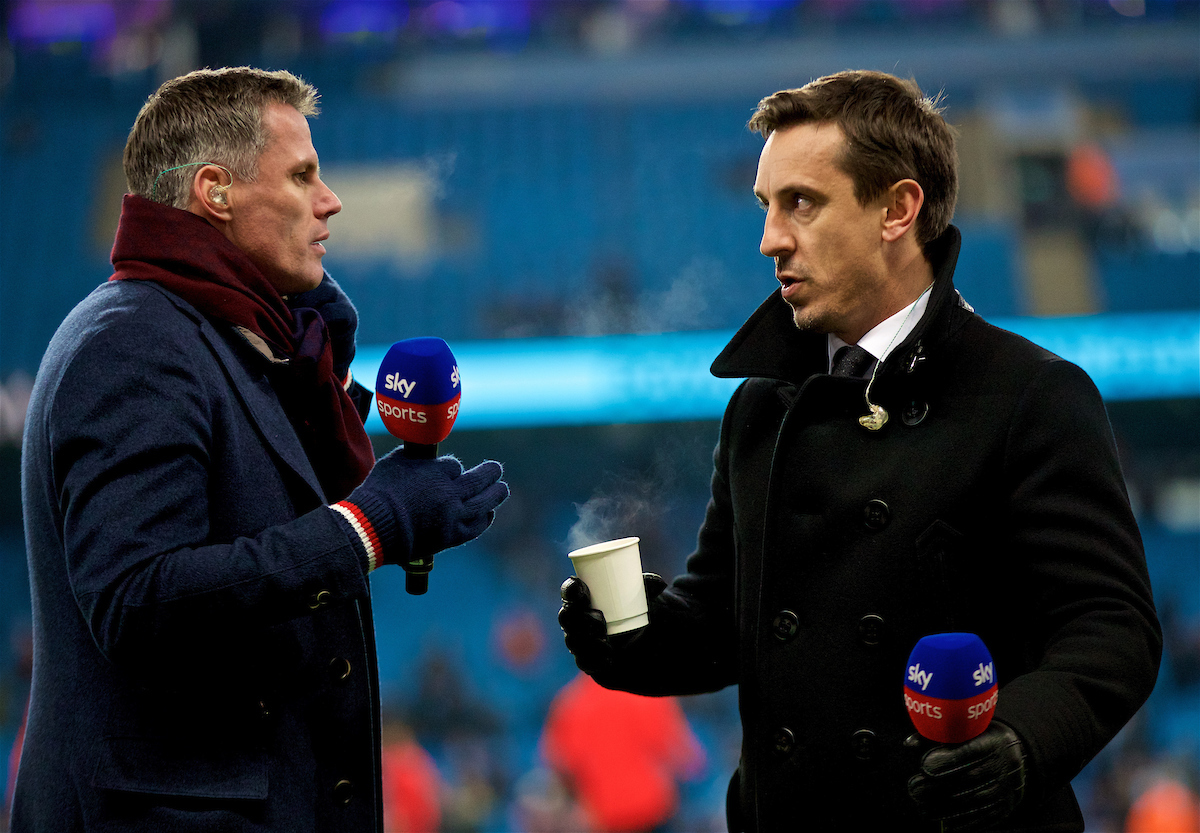 Winning does funny things to players and managers too. It can bring out a side of them you weren't sure they had in their makeup.
You could make a strong argument that winning the Champions League in Madrid has made Jordan Henderson the captain most didn't believe he could ever become. He now commands that armband. It's as much his as it ever was Steven Gerrard's.
Andy Robertson is another example. Of course all the best teams throughout history had their bastard. They might all have been capable of being bastards on their day, but there was always that one lad in particular who you'd live in fear of coming up against because of what it would do to your mental wellbeing.
Using the earlier examples, Ferguson's United had Roy Keane, Gary Neville, Wayne Rooney and even Rafael had a bit of a go. Guardiola's City side have Fernandinho. Go back earlier, Chelsea had John Terry, Arsenal had Martin Keown. The list could go on.
All players that got so hooked on the taste of winning that they'd do anything to make sure they had the edge in every single game in order to maintain their success. Robertson has become that now for Liverpool.
It probably started with Lionel Messi. Once you've got under the greatest of all time's skin, the Tom Davieses of the world don't seem too big an ask.
Robertson seems to be heading that way with opposition supporters. Just look at the Sheffield United fans in the Anfield Road end as he passed them the other week.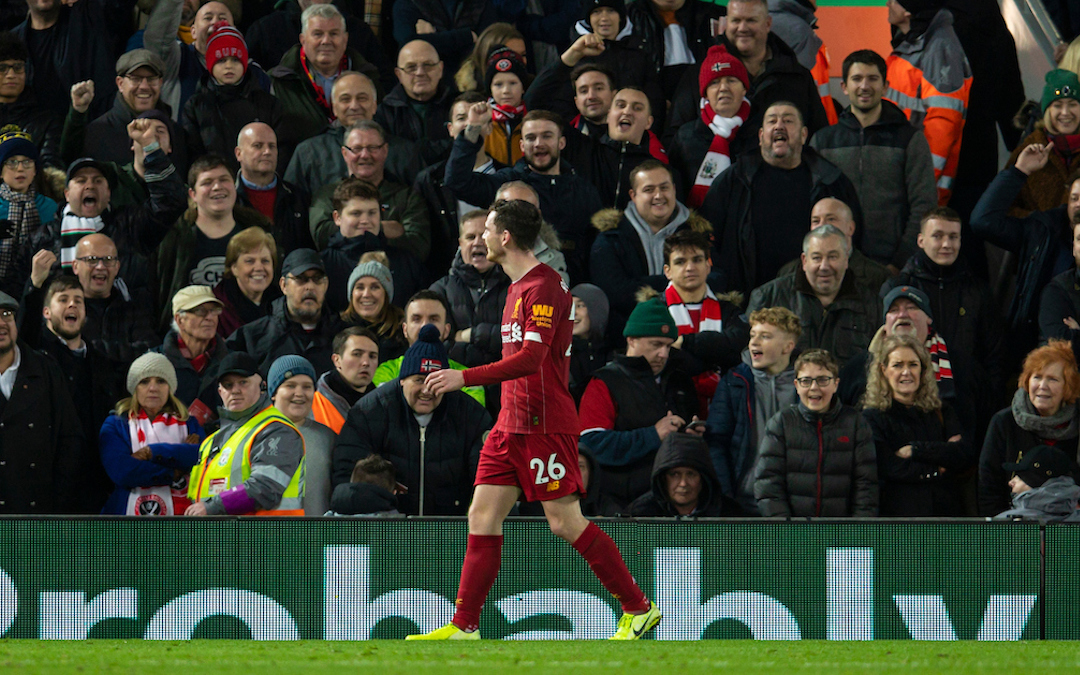 All the talk of a #TaintedTitle probably won't reach our players, but if it does I'd wager that they wouldn't be the slightest bit bothered by it. In fact, it would probably spur them on with the collective mentality now present at the club.
And Klopp certainly won't let it get to him. He'll feel the emotion of every win but will never be drawn into believing that it's 'over'. Because to him and his players it isn't, and it won't be regardless of the number of medals they collect come the end of the season.
Winning one league title won't be enough for these players, just as winning the Champions League has only whetted the appetite for more this campaign. They'll want to break every record and set every benchmark.
Don't expect opposition supporters to like it. Expect them to find other reasons why it's happening – and don't expect it to have anything to do with our great manager and players. It's all white noise anyway.
The Reds have that winning habit, and they're going to find it hard to kick.
"Just look at the League table. Fucking hell. It's a joy to behold." 🔝

📱 Subscribe here for all of our reaction to Liverpool's 1-0 win over Tottenham 👉 https://t.co/TEMh9r97WH pic.twitter.com/sRod5JFami

— The Anfield Wrap (@TheAnfieldWrap) January 13, 2020
Recent Posts:
[rpfc_recent_posts_from_category meta="true"]
Pics: David Rawcliffe-Propaganda Photo
Like The Anfield Wrap on Facebook