SEEING Liverpool's rivals thrashing about in the transfer market in the final week of the January window, trying to sign anything that moves, must be heartening for Michael Edwards to see.
The Reds' sporting director had done all his work for the month before it had even begun, sealing the signature of Takumi Minamino for the bargain price of £7.25m to boost the manager's options ahead of the run in.
While people pretend to care about the FA Cup again in order to finally have a reason to criticise the Premier League leaders, Jürgen Klopp is preparing his team for the game in hand caused by the last time he upset the outraged masses by not being on two continents at once back in December.
The German will be without one of his main attacking weapons for the trip to West Ham though, after Sadio Mane picked up an injury in last week's win at Wolves, and a solution must be sought. That solution could come in the form of the newest addition to his squad.
Minamino was handed just his second start since his move from Salzburg in the 2-2 draw at Shrewsbury. As with his other appearances so far in England, the Japanese international showed moments, but was never quite able to put it all together.
It doesn't help that in the three games he has played so far, Minamino has been asked to play different roles and with different players. It is therefore no surprise that, at times, he has looked a bit lost.
It is, of course, very early in Minamino's Liverpool career, and he has so far only played for about an hour with the actual first team. However, the player himself has identified areas in which he can improve.
Speaking to Kyodo News after the Shrewsbury game, Minamino said "I need to raise my tactical awareness and show my versatility.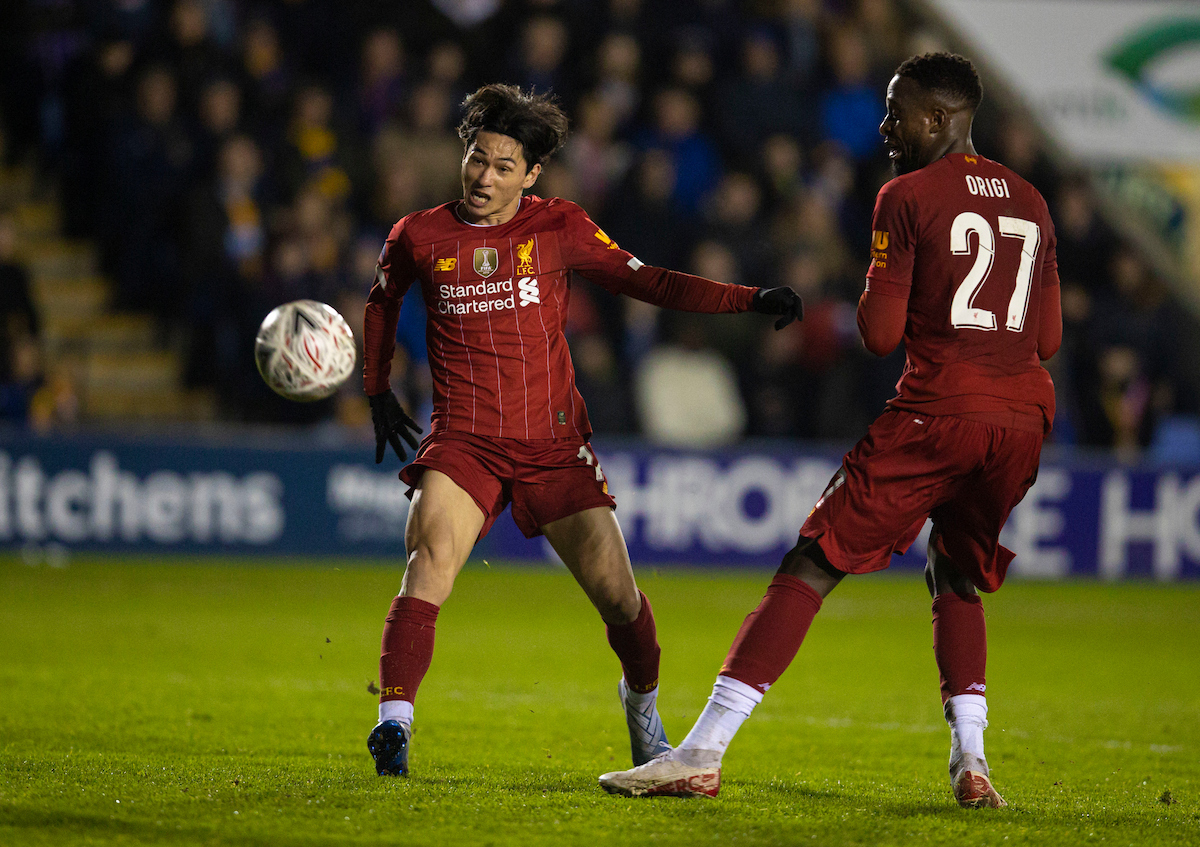 "I started in a role that I'm used to, where I was able to receive the ball in good positions, but in the second half I became less involved.
"I have to be more aggressive."
With Mane out for at least the next couple of games (and possibly more), there is a space in Liverpool's attack that needs filling. Minamino is not a Mane-type player, but he can show that having a Minamino-type player in there can not only be just as dangerous for the opposition, but also provide his manager with another option for now and for the future.
With the trip to West Ham followed shortly by Southampton at Anfield before the alleged winter break, Minamino might get a couple more opportunities to work his way into the strongest team in the world, which is no mean feat.
It will also help the player with his transition from the Austrian Bundesliga to the Premier League. The tight calves that Klopp reported the 25-year-old had suffered by half time in the game at Wolves may have been a sign of the effect of the step up in intensity of playing in England, or more to the point, playing for Klopp.
The Minamino we saw earlier this season for Salzburg had been at the Austrian club for five years, and was fully settled. With every training session at Melwood and every game, he'll edge closer to becoming a regularly effective player for the Champions of Europe.
His former Salzburg teammate Erling Haaland has hit the ground running about as much as you could ever hope for at Borussia Dortmund, having scored five goals in the 61 minutes he's played across his first two substitute appearances.
While my theory about the Norwegian striker not being as effective without Minamino to provide the bullets might not have very much credence, but it also doesn't mean that Liverpool's new man has to have as instantaneous an impact.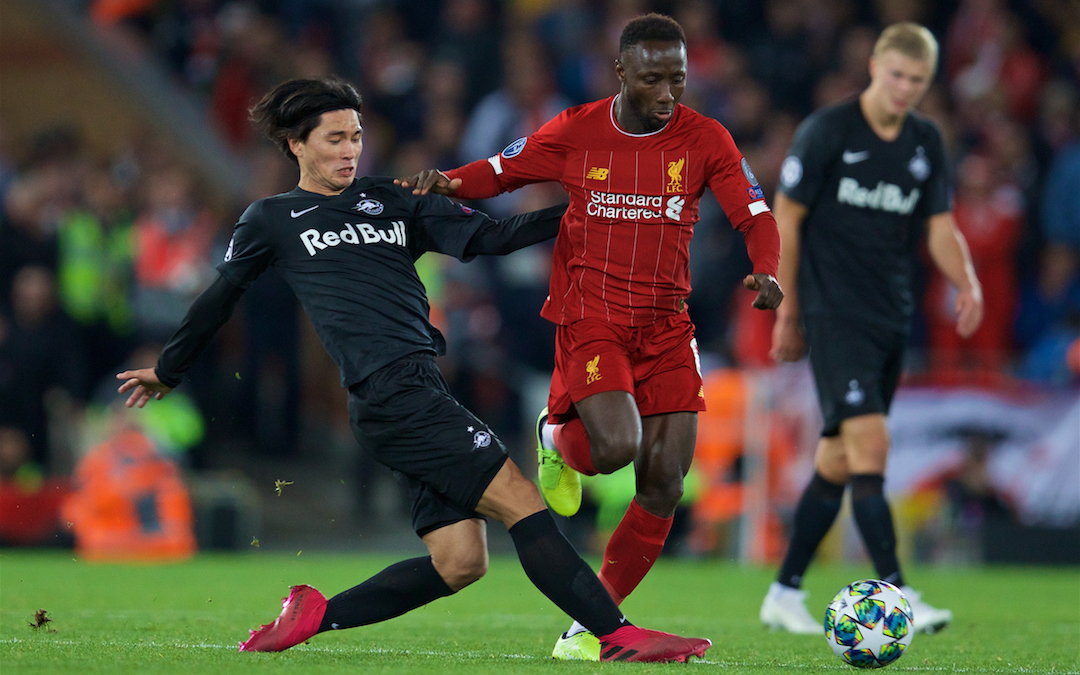 With more time on the training pitch with his new teammates, Minamino will only benefit and improve, which becomes more certain when you read his quotes. He's very aware of what he needs to work on, and seems to be the kind of player who is always self analysing and being self critical. Those are the players who generally reach the top.
We saw on Sunday what a difference training makes to players. Fabinho, Joel Matip and Dejan Lovren all very much looked like players who haven't kicked many balls in two months. Klopp knows that the remedy to these ills lies at Melwood.
In reality, everything that Klopp gets out of Minamino before the summer is a bonus. It can take a while to settle at a new club if you arrive in pre season, so imagine how much tougher it is coming in during the winter. Next season is where you'd expect him to show his true level, but it is a promising sign that he seems determined to improve now and play his part in Liverpool's quest for multiple glories this campaign.
Although his showings so far haven't exactly been earth shattering, you can see that the technique is clearly there, and he has been a willing presser too. His heat map for the Shrewsbury game showed that he was popping up all over the pitch, in a similar way to a certain Mr Firmino.
The main issue has simply been a case of not being familiar with his teammates, their usual movements and their preferences, made all the more difficult by playing with both the first team, and the 'cup' team. Playing and training will only increase his ability to link up with them, and for them to figure out the way he plays too.
You might not see Minamino play at Anfield when Shrewsbury come visiting, but don't be surprised if he still makes a significant impact in what promises to be a historic Liverpool season.
"It was a strange feeling not to win a game."

✅ The Post-Match Show
✅ The Review
✅ The Anfield Wrap
✅ The Second Look
✅ Talking Reds

📱 Download our app here for all of our reaction to Shrewsbury and buildup to West Ham, all in one place 👉 https://t.co/yTcwWTIbIT pic.twitter.com/5euzFMDokM

— The Anfield Wrap (@TheAnfieldWrap) January 27, 2020
Recent Posts:
[rpfc_recent_posts_from_category meta="true"]
Pics: David Rawcliffe-Propaganda Photo
Like The Anfield Wrap on Facebook