THIS means more.
Slightly trite slogans aside, to many, playing against 'them' would mean more regardless of the wider picture. Especially to those of us who were raised in a sea of Alex Ferguson-inspired Manchester United dominance.
The Red Devils had the audacity to keep winning title after title between 1993-2013. It was almost as if they were trying to be really successful, the inconsiderate swines.
Growing up down south, I was surrounded by inexplicable numbers of United fans at school, who were forever crowing about the wonder of Cantona, the spectacle of Beckham, and that bloody treble.
I still fell in love with the game from a young age, but for the most part, the Premier League felt like a series of films where the bad guy always kills the hero. Where was the happy ending?
United were a relentless winning machine, and though it hurt to watch for Liverpool fans, you had to stand back and respect what they were achieving.
Fast forward to 2020, and the endings have certainly changed. Liverpool are the Champions of Europe, and the world, and are well on their way to clinching the Premier League title, with just 30 points needed from a possible 48.
Meanwhile, United are flailing. It has been seven years since their last title win, nine years since their last Champions League final, and are currently closer to the relegation zone than they are to second place in the Premier League.
They are more than twice as far away from Liverpool at the summit too after Sunday's victory for The Reds extended the gap between the two to 30 points, with a game in hand for the league leaders as well.
Despite the chasm between the two clubs, the celebrations after Mo Salah's injury time clincher at Anfield from fans and players showed that this fixture still means something.
It was a big win in the race for the title, but it was also a win against the old enemy, who have actually managed to maintain a decent record against Liverpool despite their fall from grace in recent years. This was only The Reds' second win in their last 12 league games against them.
What was particularly interesting on Sunday was the general United reaction to the game. It was oddly positive.
That's not to say that the Red Devils should have been disconsolate, it was a decent performance from them in spells. Their pressing was sometimes effective, their passing in short spaces was not too shabby, and they had two good chances to score, but ultimately they were outplayed and were very fortunate that David De Gea only conceded twice.
However, in all the years of watching Liverpool mostly lose tight games to a superior United back in the day, it is hard to recall the Merseyside club ever being as submissive as their Mancunian opponents were on Sunday in terms of how they viewed defeat.
Maybe I'm wrong, but I genuinely don't remember a single occasion where Liverpool were beaten by United during the Ferguson years – despite the obvious gulf at times – and the reaction being as relatively positive as it was from some United quarters at the weekend.
The worst culprit, unsurprisingly, was Ole Gunnar Solskjaer. The Norwegian is a fascinating case. I have never known anyone in football to be more underwhelming in interviews, and that's in a world in which Roy Hodgson exists.
He always sounds like someone who is trying to blag his way through a job interview, and if I were hiring, I wouldn't even thank him for coming. Just point at the door with an aghast expression.
"When you play Man City in the Carabao Cup and they put their strongest team out, you know you've gone places because that means they respect us," Solskjaer bizarrely uttered after his team were recently dismantled on home soil by their neighbours. He must have been over the moon with Jürgen Klopp's selection at Anfield.
I doubt Port Vale manager John Askey said the same when Pep Guardiola named an equally strong team against his League Two side in the FA Cup third round.
Even in his press conference ahead of United's midweek game with Burnley, he said: "We've lost to Liverpool, a team that you all say are fantastic and we've been in the game until the last kick of the ball. And, for me, that's strides forward."
However, Solskjaer is surely smarter than he appears. He began his time as manager of United like a house on fire. Every now and again he is able to do something clever with his team to get an unlikely win, such as away at City in the league last month, though he usually follows it up by losing at somewhere like Bournemouth or Watford. It is all very '90s Liverpool.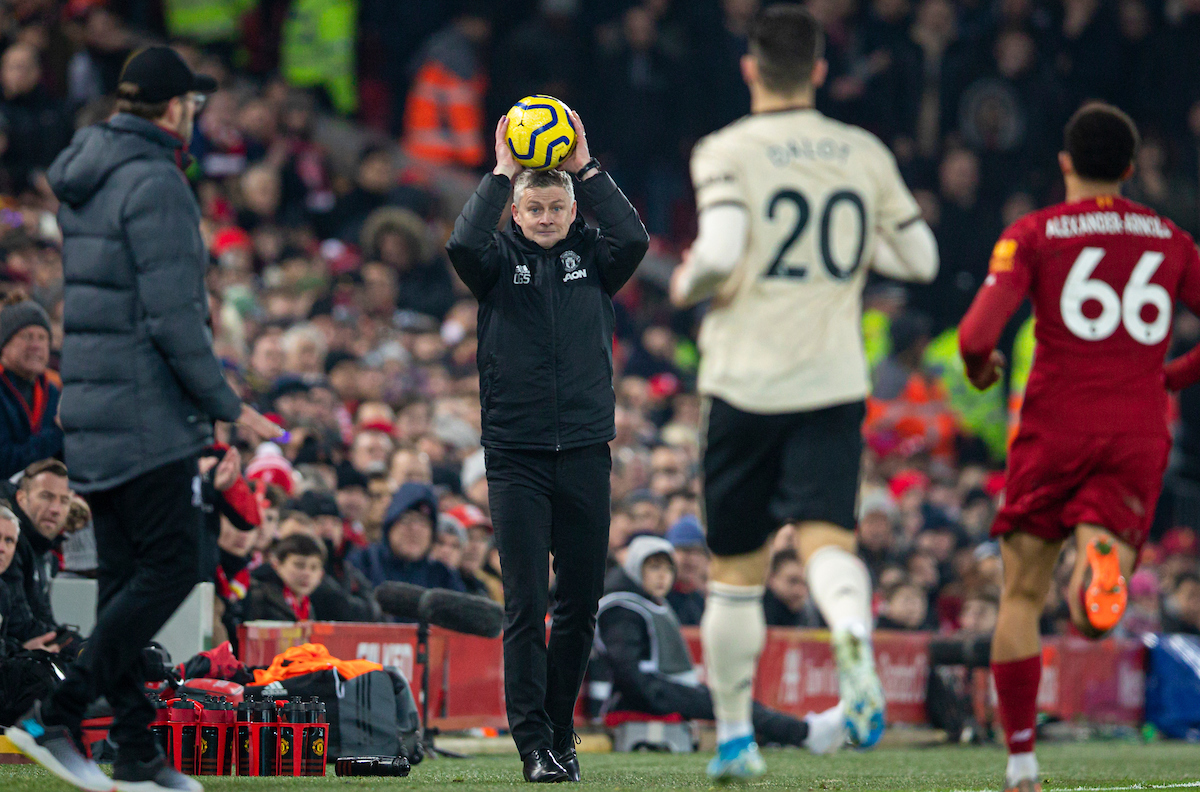 It was somewhat understandable that the manager of the club would defend his team after the match, but what was slightly more bewildering was Roy Keane's reaction in the Sky Sports studio. The man who was never afraid to speak his mind and criticise United – sometimes when it wasn't particularly justified – suggested that Solskjaer needs "at least another year" to see what he can build.
Jamie Carragher rightly cornered him on it. As Keane's voice reached a high tone it probably hasn't been at since he told Mick McCarthy to 'stick it up his bollocks' at the 2002 World Cup, he started to double down, suggesting that Klopp and Guardiola were examples of managers succeeding after being given time and money. This completely ignored the fact that Solskjaer has already had quite a bit of the latter.
He also compared the criticism of Solskjaer to the praise of another relatively inexperienced coach in Frank Lampard, suggesting that the Chelsea boss gets more benefit of the doubt because he's English. That Lampard's team are five points ahead of United and were unable to sign anyone in the summer didn't seem to factor into the Irishman's thinking.
Liverpool fans will be more than happy for Keane's wish to come true. Solskjaer hasn't exactly been a disastrous appointment for United, but he arrived without much on his CV (even his former club Molde have improved since he left) and he has a worse win ratio than any other manager since Ferguson retired.
His summary of the 2-0 loss at Anfield was that it was a good performance, that his side had "dominated" in periods and that it was an achievement that they avoided a sound thrashing, which was echoed by quite a few United pundits and fans. Frankly, it seems a little bit sad when you think of the standards to which the club used to hold itself.
Liverpool, on the other hand, roll on. On course to, for the second successive season, achieve a higher points total than United ever have. Some have argued that the league is of a lower standard these days, but if that's the case, just how poor does that make the teams below Liverpool who can't seem to string more than a couple of wins together in this supposedly weak league? English success in Europe suggests it can't be that bad.
There have also been desperate attempts to paint Liverpool's overtaking of United as being down to money. While there has obviously been investment in players at Anfield, it has been wildly surpassed by the spending that continues to fail to improve anything at Old Trafford.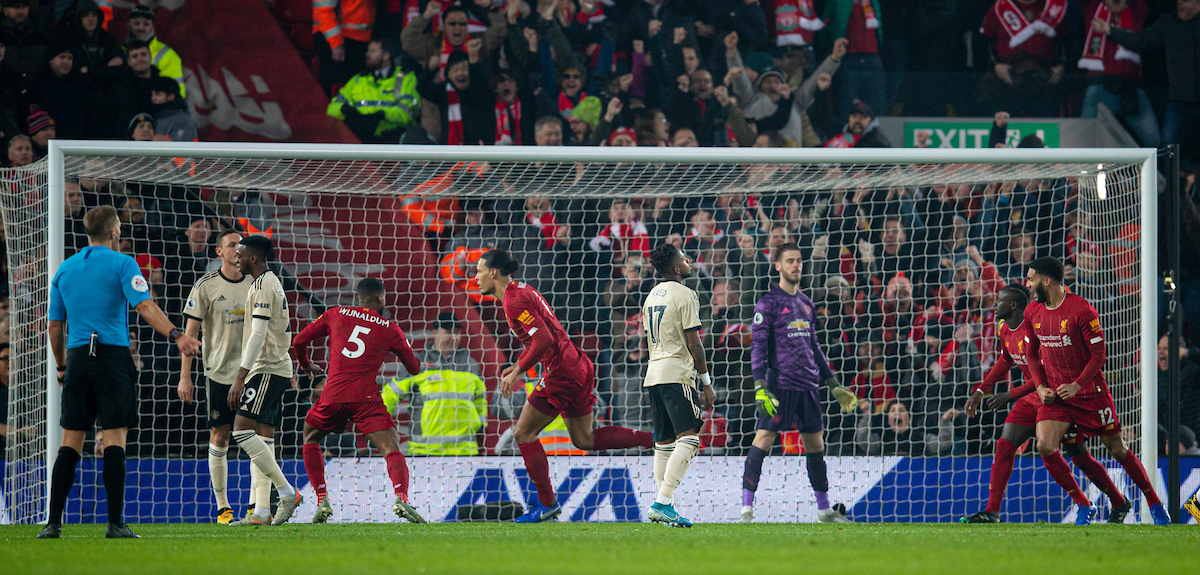 According to the Telegraph, since Klopp arrived in England, his team has had a net spend of £69.5m, while various United managers have spent a cool £428m (net). Gary Neville also said at the weekend that his former club apparently has the second highest wage bill in the world.
Liverpool's triumphs, and the sheer astronomical size of their lead over United, must be harder to take for them than the recent dominance of Man City. United could at least make peace with City overtaking them as they could point to the vast spending across Manchester, even if none of that success would have been possible without the Sky Blues also making some sound football decisions in the last decade, especially in hiring Guardiola.
However, Liverpool have simply outthought and outmanoeuvred them for the last three years, while spending significantly less money and maintaining a smaller wage bill. It must be a bitter pill to swallow for a club that got so much right during the Fergie era.
The Reds are also holding themselves to a higher standard it seems, insisting that there is further room for improvement, despite a record of 21-1-0. Even last week, after a 1-0 win away at Tottenham, the players and manager came out after the game and were more critical of their own performance than they were effusive at their victory.
United will almost certainly come again, even if it doesn't look likely in the next couple of years. They have the resources to afford more mistakes than most clubs, and someday, they'll appoint someone competent to run things. The longer they don't realise that hiring an elite sporting director and first-team manager is a prerequisite for any chance at challenging, the better for teams that no longer consider them title rivals.
In the meantime, Liverpool will be happy to make hay while the sun shines by collecting more points and more trophies.
They shall not be moved.
"The Reds are boss, the Reds are top of the League, the Reds are 16 points clear with a game in hand, the Reds beat Manchester United 2-0, the Reds need 10 wins to win the League."

📱 Download our app here and watch today's Talking Reds in full 👉 https://t.co/v3xcfwjq7C pic.twitter.com/90HZiw2G7e

— The Anfield Wrap (@TheAnfieldWrap) January 20, 2020
Recent Posts:
[rpfc_recent_posts_from_category meta="true"]
Pics: David Rawcliffe-Propaganda Photo
Like The Anfield Wrap on Facebook