FOURTEEN heroes.
Fourteen grafting and giving and offering. Fourteen committed to a way of playing and committed to each other. Committed to us.
Fourteen heroes. A game on paper they should never have won, a game they found their way through and gave everything they had for.
In many senses today is Jurgen Klopp's greatest triumph. He has a European Cup. A world title. He hopefully will add a football league. Hopefully.
Today, though, he weakens Liverpool's first 11 and his footballers who come in play to his standards, his ideals. They show everything because they no longer believe but know his way is the way home. They believe in Liverpool. And they believe in one another.
That belief in the collective is my third favourite thing about today. Each of them respects the other, knows his strengths and weaknesses. Wants to get the best out of their teammates. It's my third favourite because it is the purpose of the enterprise.
By the enterprise I don't mean football. I mean a night out, a friendship, a relationship. I mean a workplace. I mean life as a whole. If we don't want the best out of the collective then what are we in it for?
Circumstances so often make humans not act in this way, and today that would be easy for some Liverpool players. All are trying to prove they are ready for roles in league and European pushes. To be selfish would be logical. But not this side, not now. This was my third favourite thing.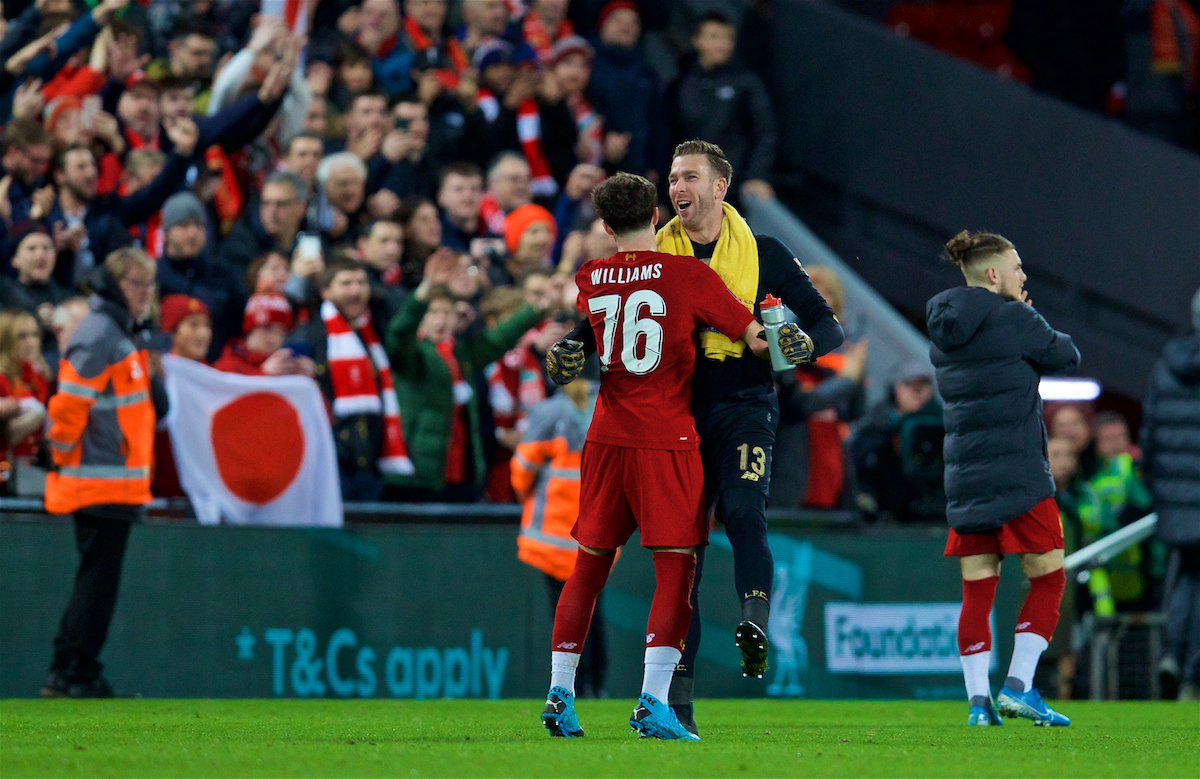 Liverpool were arguably fortunate to get in at half time at 0-0. But Everton arguably fortunate only to lose 1-0. This matters the most. It is the crux of the game. Because while Everton create chances in the first half the chances created come only in seconds, in moments. The control is Liverpool's, the moments are Everton's.
And then in the second half even the moments didn't belong to them.
The moments; the moment that matters belongs to Curtis Jones. Curtis Jones demanding the ball, getting it out of his feet and doing something incredible. I want to laugh at the goalkeeper but we can't. We have to respect the strike.
Curtis wants the ball all the time, shows for days, backs himself for weeks, and then does that. Shows that.
What is astonishing is that Liverpool all back themselves more than Everton. There are lads playing their first game that wasn't a League Cup game. Lads who haven't seen a first team in ages. But they spend the game asking and demanding for the ball.
My second favourite thing was the Evertonian realisation of Liverpool's superiority. It first settled around 35. Their end just knew, just took on board the reality in front of them. But second half their deathly silence screamed volumes.
They were exhausted by one more humiliation. There were 7,000 Evertonians watching their side get dismantled by a side that might not even be Liverpool's second team. Their silence doubled, tripled, deepened by their sheer volume. Every Liverpudlian success landed doubly.
There is an issue so deep within Evertonianism that it will take weeks, months, years to undo. They cannot function outside of a Liverpudlian definition. The fact is they should have planned to swank around Anfield but not one did, not one could conceive of it.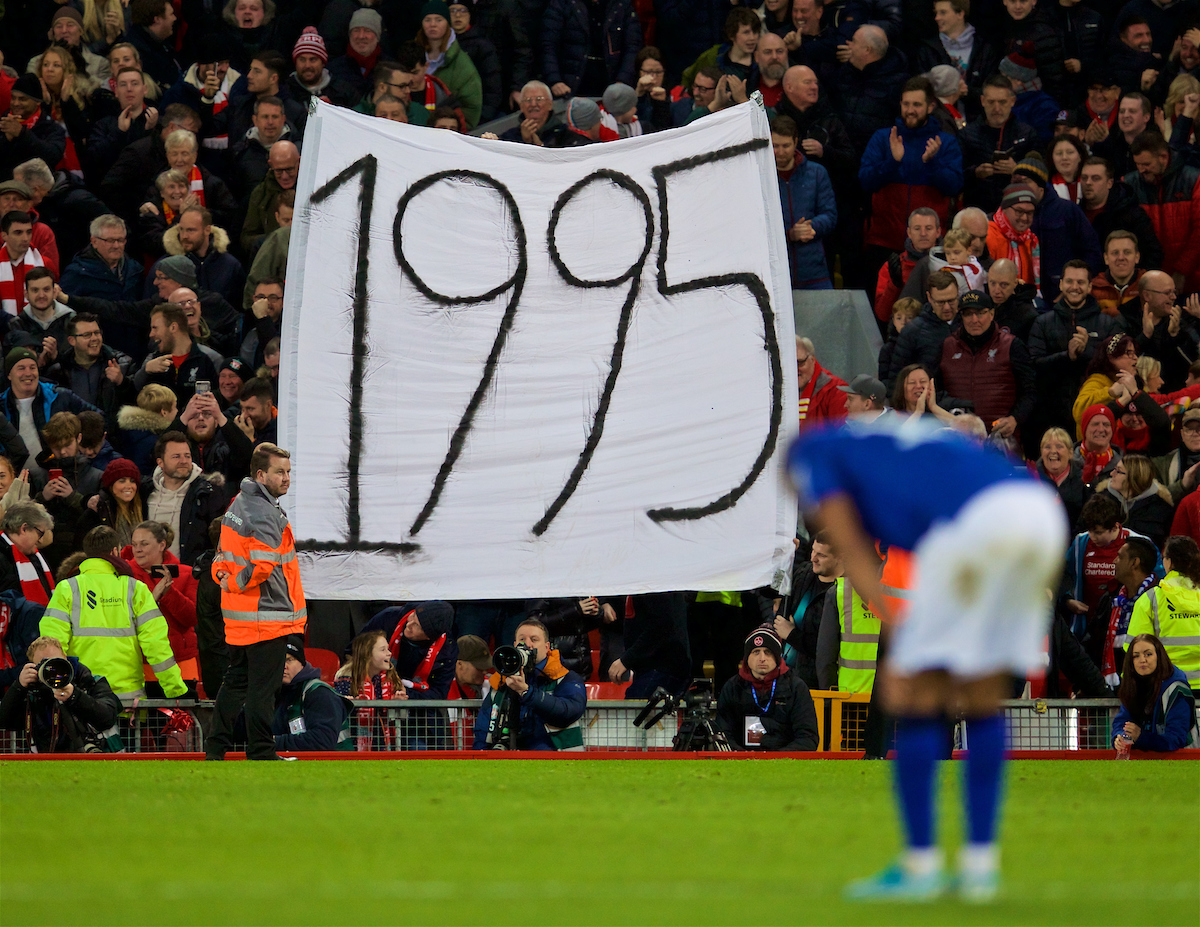 Why should any player think of it if the support cannot? Why should belief be so opposed on the pitch to that off it or vice versa? They need to find a way home which is closer to what Howard Kendall was in 1983 to what the club was in 2003 under David Moyes.
Everton are one of the great sides of English football but this invocation, and the invocation which has been where it is for 15 years, defines itself as being second best on Merseyside. They have hit a crossroads, one made clear by today and by today's silence.
This being so deeply emphasised was my second favourite thing.
Joe Gomez leads his back four and in doing so leads his team. Today was the very essence of leadership. He was desperate to be first to every ball but in doing so desperate to find a red shirt. He guided Nat Phillips through. He pinged it into any shirt which was open.
It is possible that Ste Gerrard never ran the show in a Merseyside Derby to the extent Pedro Chiri-fella did tonight. Now, being honest, the Chiri-fella doesn't have a hat trick in his back pocket either. But still.
He got it, gave it, looked after it. He played on the front foot, partly because his back foot options aren't great. His is and will be the most curious career. His reading of the game and his touch and pass is elite. Everything else isn't. Tonight that was enough.
Adam Lallana alongside him epitomised every value worth having. He was the absolute business. The manager doffs his and our cap towards him. He shows him such affection. The truth of the matter is that he is everything brilliant about this football club, as it stands. He loves a touch. The truth of the matter is this: if Adam Lallana has the ball they can't score.
My favourite thing is this: It's the most fun I've had in Anfield in ages. I am writing this sat next to Ben Johnson, livid he hasn't given them all 10/10. Because I had a ball.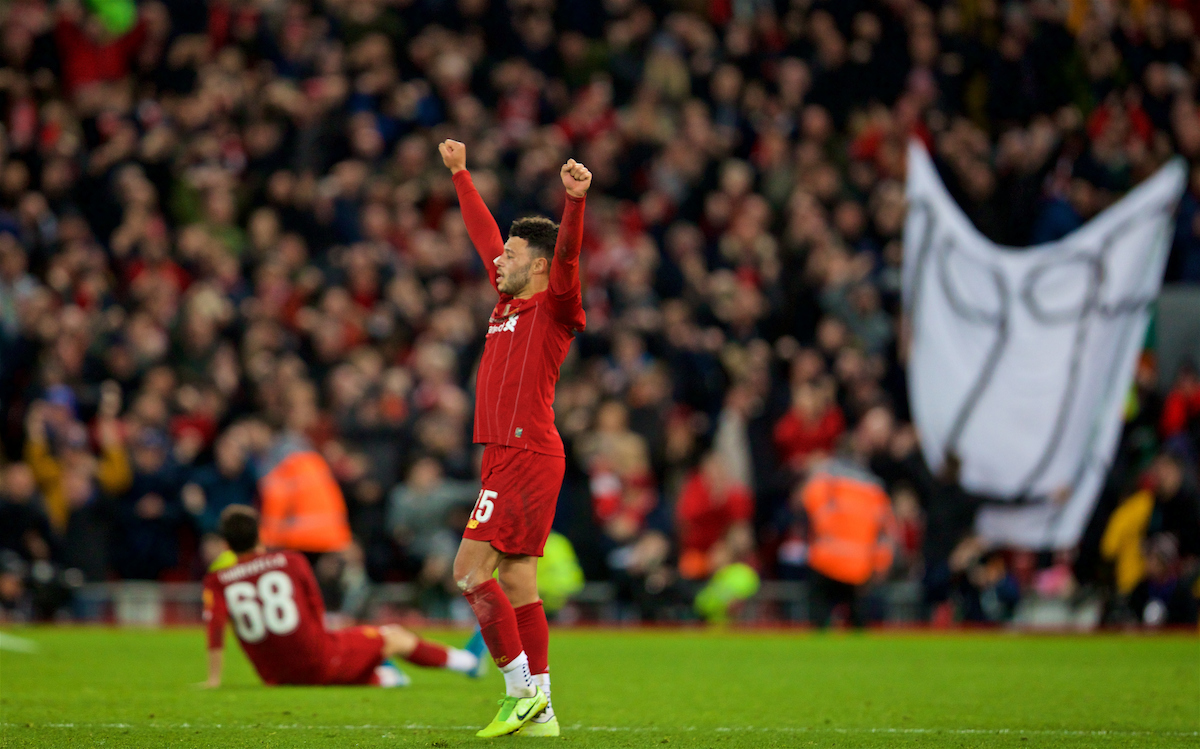 For the last two years I have watched Liverpool be the better team on paper. But not tonight. However, tonight they showed how much this isn't played on paper. And they showed their marvellousness. We watched and had pure joy in that graft.
I would offer Adrian the keys to my house, Williams my services for days and Phillips all I can offer beyond that. I adore Larouci. I couldn't want better for Harvey Elliott. I want him to be a Liverpool legend and win everything but always have tonight.
Alex Oxlade-Chamberlain has brought a load to some odd Liverpool games this season, this was no different, and his mate Rhian Brewster got to play a part again.
Fourteen heroes. Fourteen lads devoted to giving me and you the best Sunday night and Monday morning possible.
The city is ours and theirs but ultimately it is Curtis Jones's. What a man. What a night
We aren't going down. Are we fuck. Backing us to win a cup. Backing us to win every battle. Backing us to be alive and to feel alive.
Doff your cap to Klopp and like Klopp. The manager is incredible and his players rise to meet him.
Heroes everywhere.
"What a goal, what a performance, what a win.

"When you think you've ran out of ways to win the derby…"

📱 Subscribe here for all of our reaction to Liverpool beating Everton at Anfield AGAIN 👉 https://t.co/XZAK9veWt7 pic.twitter.com/fQHDrMZetv

— The Anfield Wrap (@TheAnfieldWrap) January 5, 2020
Recent Posts:
[rpfc_recent_posts_from_category meta="true"]
Pics: David Rawcliffe-Propaganda Photo
Like The Anfield Wrap on Facebook