AND now you are going to believe us.
The game is bananas. Liverpool didn't deserve to go 1-0 up. Five minutes later they deserve to be 2-0 up. But the second goal doesn't come. By half time they should have a third, they have the ball in the net twice but they don't count.
Then second half they start playing.
For 15 minutes they marmalize Manchester United. They take them to the cleaners. They are playing a game that United just cannot live with. We carve them open over and over again.
But the second goal doesn't come.
It doesn't come and it drives you mad. You are on pins. You hurt. The nerves hit you and for the first time in so long Anfield is a tiny bit anxious.
Manchester United have a mild resurgence, create some chances and then move the ball around a bit. Liverpool are under it. For reasons that I struggle to comprehend we suddenly are where we are.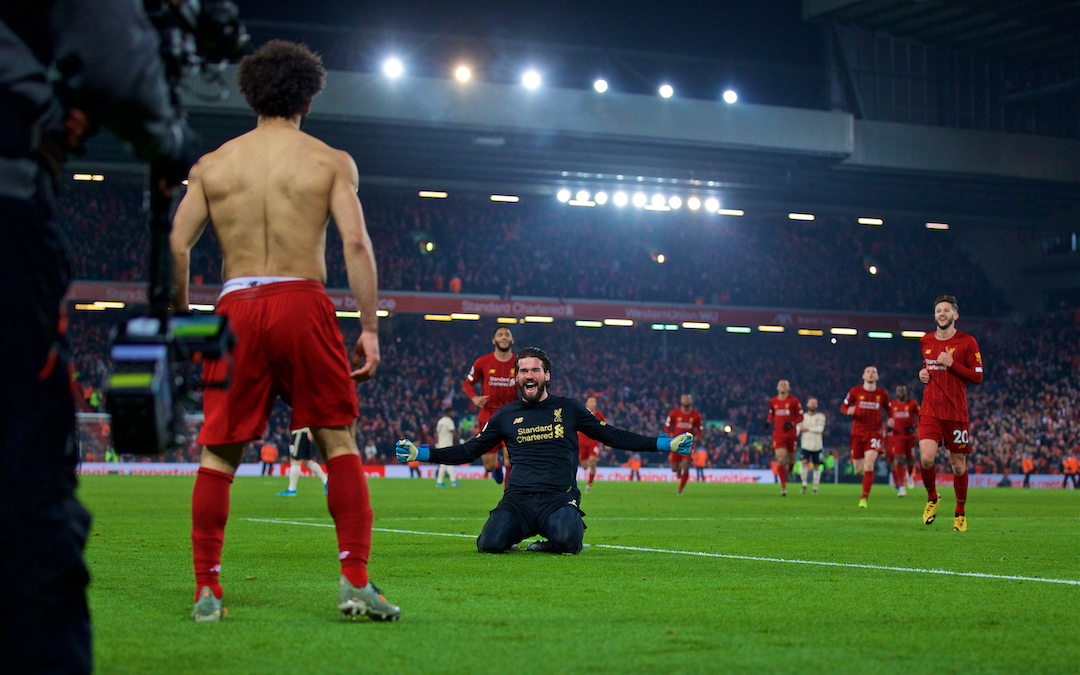 It's where we have been often this season. But rarely like this, rarely when it is an affront it hasn't been put to bed. Rarely when Liverpool have felt openly profligate at 1-0.
In the middle of the park, Gini Wijnaldum and Jordan Henderson put in performances which are off the charts. They run the show.
Wijnaldum has one chalked off and Henderson elicits a magnificent save from De Gea and he can only get it onto the post. The pair look after the ball, prompt and probe. They set a tempo.
Wijnaldum creates so much with his touch and his running. Henderson keeps everyone honest, never stops talking, never stops bollocking. He demands excellence and supplies it over and over again.
Henderson would have deserved that goal. It would have crowned what he has been up to the day Fabinho made his return. He has been the best player in the country for eight weeks, he's led this historically brilliant Liverpool team from its heart.
He is going to lift the Premier League title. He is going to give it little legs. And he will deserve the honour as much as any.
But the second goal doesn't come.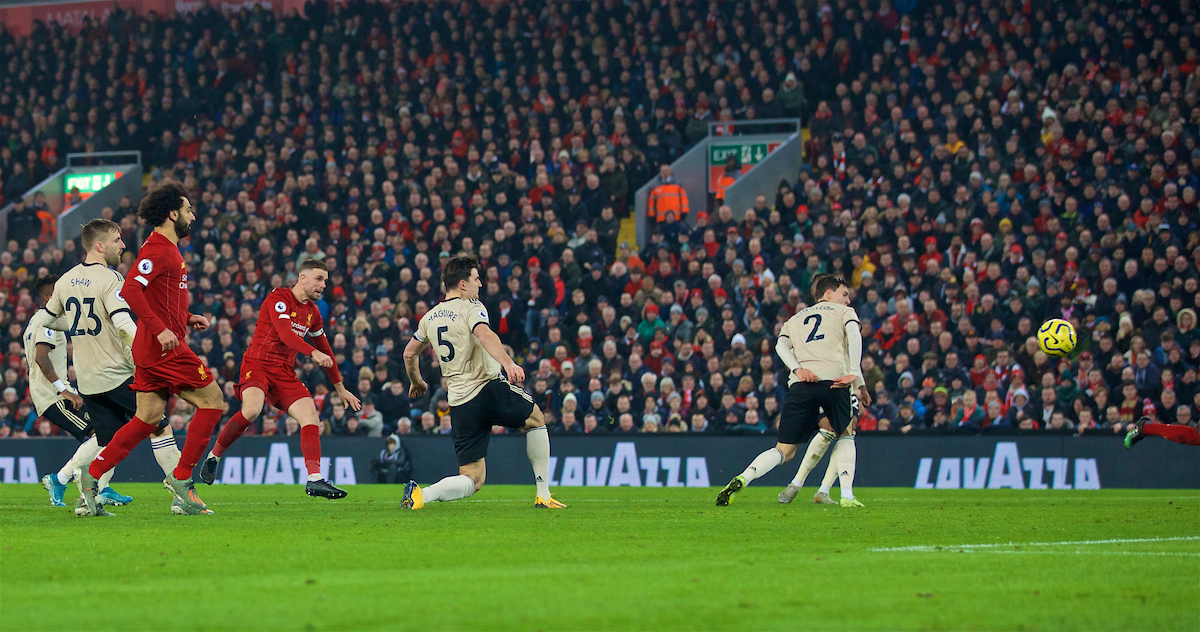 Mo Salah spends the game wrestling and scrapping with Luke Shaw. Shaw plays ever so well but lives in the red, lives on a tightrope. He has to play there to keep Salah at bay. But he can't keep him out of the game. The strength and touch Salah displays through the game is tremendous.
Sadio Mane can't be lived with but can't quite get to where he needs to be on the pitch. Adam Lallana comes on and can't get the pace of it but the pace is changing. The centre backs win their battles barring five minutes where United turn Liverpool around.
Liverpool get corner after corner but get nothing much from them bar that first goal, which is enough in a sense but you want the second.
Manchester United are game. They lack quality and the setup isn't right but they fight for each other. They fight for Manchester United. Manchester United are worth fighting for. The 20 times Champions of England.
They are our biggest rivals in the sense of being our rivals and being a club whose name rings out. But they need to sack that manager soon. He's an affront. He shouldn't be allowed. We'll laugh at them and him but surely the universe rights itself soon.
The full backs keep overlapping for Liverpool. They make run after run, outside, inside, back post, driving into the box. They never stop. They are trying to force the issue and still manage their defensive responsibilities. They play the big switch a few times. They work Manchester United into the ground.
But the second goal doesn't come.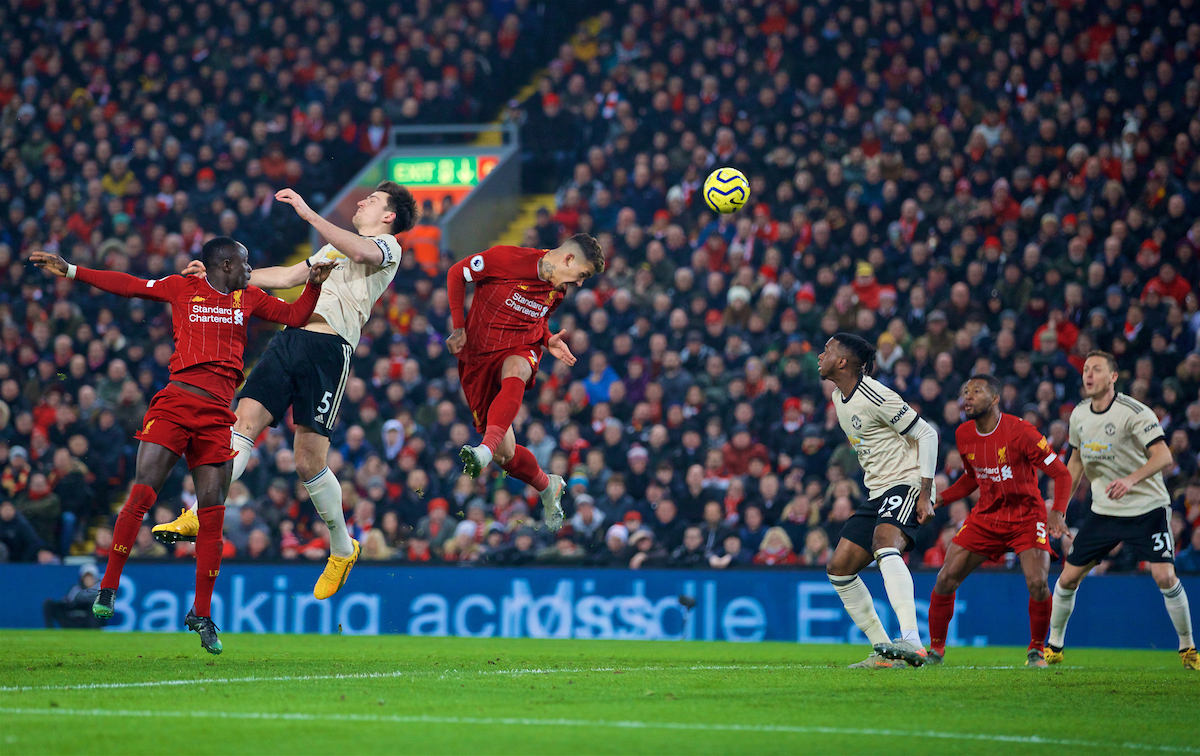 God it was nervous by me. It was strange, something that just hasn't happened. Manchester United means something. The fact their neighbours dropped points yesterday meant something. To win meant everything in every sense. It wouldn't do to drop points in front of their end. To concede an equaliser. The pressure ramped up. Liverpool penned back with set pieces.
And then the second goal came. Alisson sends it perfectly. Salah does the absolute business. Slots. A lot happens:
– Salah takes his top off.
– Henderson collapses centre circle.
– Alisson runs the length of the pitch.
– And now you are going to believe us.
Anfield fervent. The song emerges fully formed, from nowhere to everywhere, roared out to our players, roared out in front of them. At 6.20pm on the 19th of January 2020, Anfield calls it, Anfield gives the big one. From 0 to 120mph. Anfield tells the nation. The nation knows.
People piling on one other, everyone at the top of their voice. The thing no one has wanted to say. The unspoken truth. We've taken 91 points from the last 93 available. We have climbed the biggest mountain.
Tonight I want to give it all to you. Tonight I want to lay it at your feet.
Tick them off. Clear the hurdles. The work doesn't stop. We kick off 0-0 at Molineux. We want to win there too.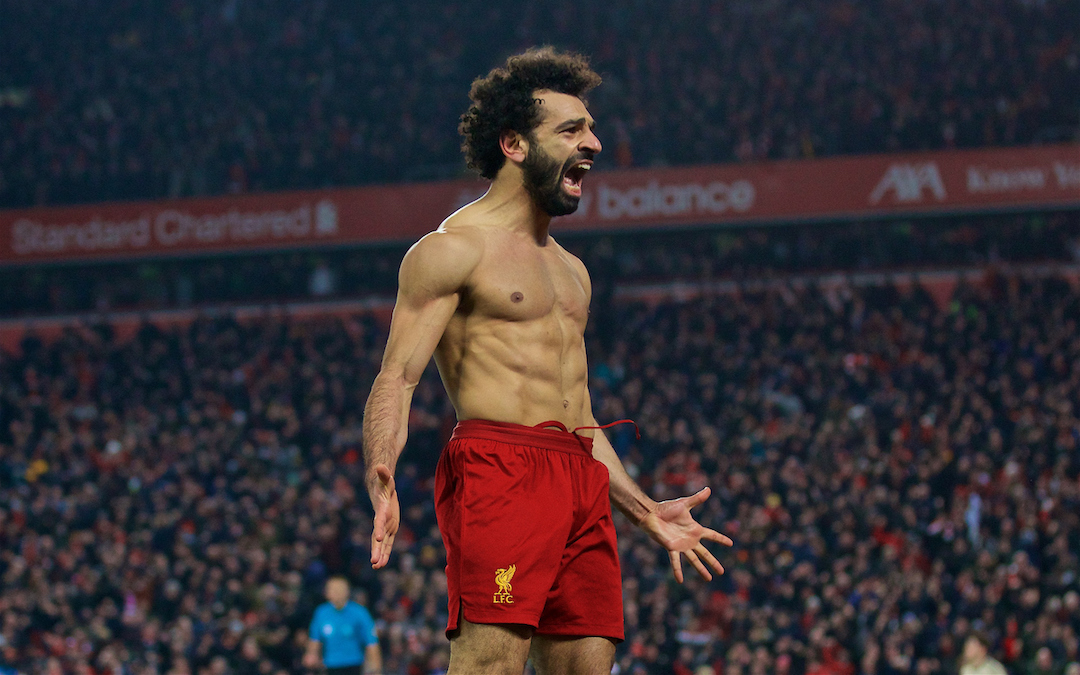 Believe us. We can have done no more. No one ever has.
This football team is so special. Believe us.
Believe us. The thing we have wanted and craved for so long, the trophy that has us up nights, the promised land we have never quite arrived in, the very last world for Liverpool supporters under 45 to truly conquer is within our grasp.
The second goal comes. And now you are all going to believe us.
We're going to win the league.
Recent Posts:
[rpfc_recent_posts_from_category meta="true"]
Pics: David Rawcliffe-Propaganda Photo
Like The Anfield Wrap on Facebook