HAPPY New Year, Reds. What a win that was, then.
It was a very strange feeling, heading into a Merseyside derby at Anfield with Everton being lauded as heavy favourites. It was justified though, as Carlo Ancelotti went pretty much as strong as possible, while Jürgen Klopp picked a handful of fringe players and the cast from one of those Kop Kids videos on LFCTV.
I was half expecting Virgil van Dijk and Mo Salah to pop out at any moment in Star Wars masks to surprise them.
While many fans accept that the FA Cup is bottom of the priority list this season, there was an inevitable concern that the proud derby record of two decades unbeaten at Anfield, and one decade unbeaten at all, could potentially end.
In fairness, even if Everton had won, there would have been a genuine case for an asterisk to be put by it. It would have been like including a win in a Youth Cup game, or a testimonial, or if Tony Bellew had beaten John Bishop on Celebrity Bake Off.
There was no substance to the worries though, as Liverpool's unlikely selection secured the win and dumped the old enemy out.
Third round weekend always guarantees national complaining about rotating of players and 'disrespecting the cup'. Surely though, if anything, rotating squads makes the competition more interesting.
It usually makes things more competitive at least – hence why Everton were favourites – and competitive is what the neutral wants, isn't it? You can't demand that everyone go full strength and then moan that there aren't more upsets.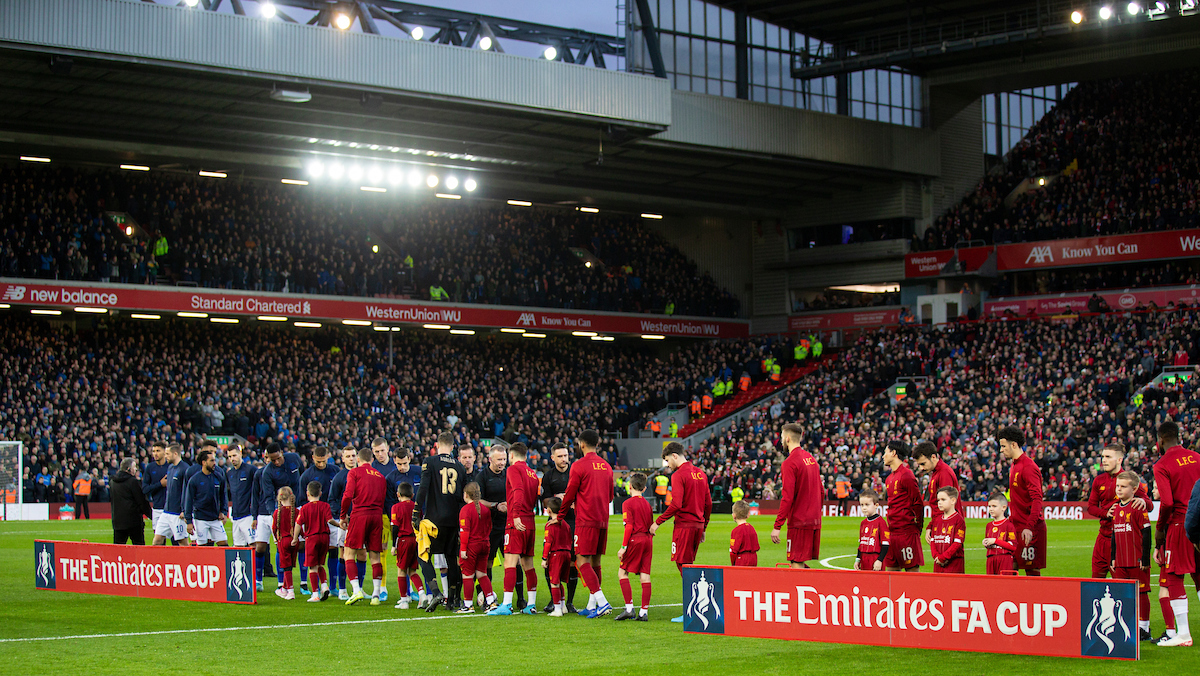 Problems with the FA Cup aside, Liverpool's reserves decided to prove Bill Shankly right, and set about producing the best story of the third round.
It wasn't always this way, though. Liverpool have fielded unorthodox sides in cup ties before and been made to look even more foolish than Everton. The one that immediately springs to mind is the famous 2010 penalty shootout defeat to Northampton in the League Cup.
It was the microcosm game of the Roy Hodgson era, but was not the only time The Reds struggled in the last decade in such instances.
There was a 3-2 FA Cup loss at Oldham in 2013, being taken to penalties at home to Carlisle in the League Cup in 2015, and being forced to replays by both Exeter and Plymouth in the early days under Klopp. All occasions when Liverpool tried to get away with putting out a team of fringe players and youngsters, and it simply didn't work.
Now, the Reds manager has done it three times this season, and vanquished MK Dons, Arsenal and Everton from domestic cup competitions (Aston Villa doesn't really count as it was, frankly, a ridiculous situation).
Klopp made sure he selected some babysitters on Sunday in the form of Adrian, James Milner, Adam Lallana, Divock Origi and Joe Gomez, who bizarrely had to be the on-pitch guide for Nat Phillips, two months his senior.
However, the youngsters played as if they didn't need babysitting. They each took on responsibility, growing into the game, willing to hold the ball if nothing was on, taking their time to make the right decision, and having the opportunity to show off their impressive technique all against a team that many have been touting for a top half Premier League finish since the arrival of Ancelotti.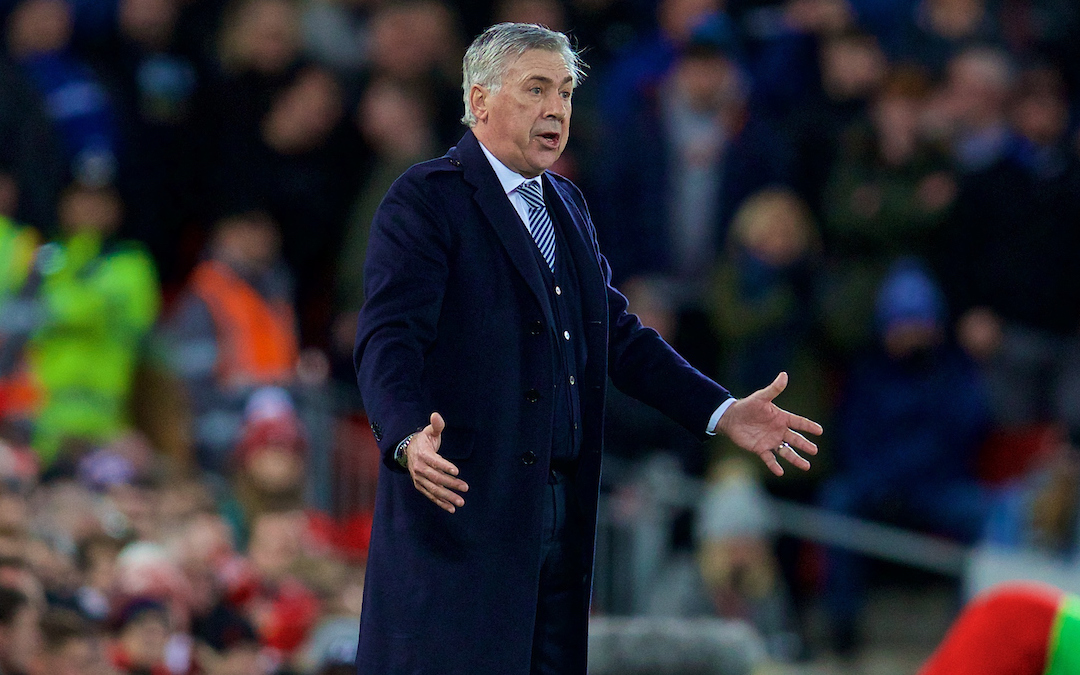 Pedro Chirivella was one surprise inclusion, but was likely being rewarded for his performance in the Carabao Cup defeat at Villa. You could tell that the 22-year-old Spaniard benefited from that game, despite the chastening result, as he was forced to take on responsibility that night. Sure enough, against Everton, Chirivella played like someone who wanted to lead, rather than just shirk his duties for fear of making mistakes.
Neco Williams followed up a surprisingly assured performance against Arsenal in the Carabao Cup with an even better showing in the FA Cup. That he is consistently being included in first-team squads shows that he is suitably impressing Klopp, and if these are standards that he can build on, then he is shaping up nicely to be the capable backup for Trent Alexander-Arnold that has arguably been one of the few gaps remaining in the squad.
Harvey Elliott is brilliant. Not only is he successfully ignoring the middle-aged men who have been demanding he "sort his hair out", but he's playing in first-team games as if he's been at this level for years. He hasn't even been alive for that many years. The former Fulham fledgling had Lucas Digne on toast for most of his 79 minutes, and is still just 16 years old.
When we're all sat here ringing in 2030, posting our holograms on 'Twitter 2' saying "can't believe them clothes, and remember driving around in a non-hover car?", Elliott will be 26, younger than all the current front three are now.
From being a potential nightmare for Reds, it was, quite possibly, the perfect game, barring Milner's injury.
Allowing key men to have a rest ahead of three tough league games coming up, a decent debut for Takumi Minamino, youngsters getting game time against decent opposition (*does air quotes*) while getting to wear their World Champion badges, and a teenage scamp from Toxteth who didn't exist when Everton last won at Anfield bending one in the top corner past England's apparent number one.
The draw for the fourth round gives this young team a possibility to avenge the '90s Reds. Bristol City famously beat Liverpool at Anfield in 1994 thanks to a sole Brian Tinnion goal to finally seal Graeme Souness's fate as manager, but the far bigger reason for revenge, in my opinion, would be against Shrewsbury.
Roy Evans's side actually ran out comfortable 4-0 winners in February 1996 when they travelled to Shropshire, but given the easy nature of the victory, Evans threw Rob Jones forward late on to try and finally get the right back his first Reds goal. Like absolute bastards, The Shrews didn't let him.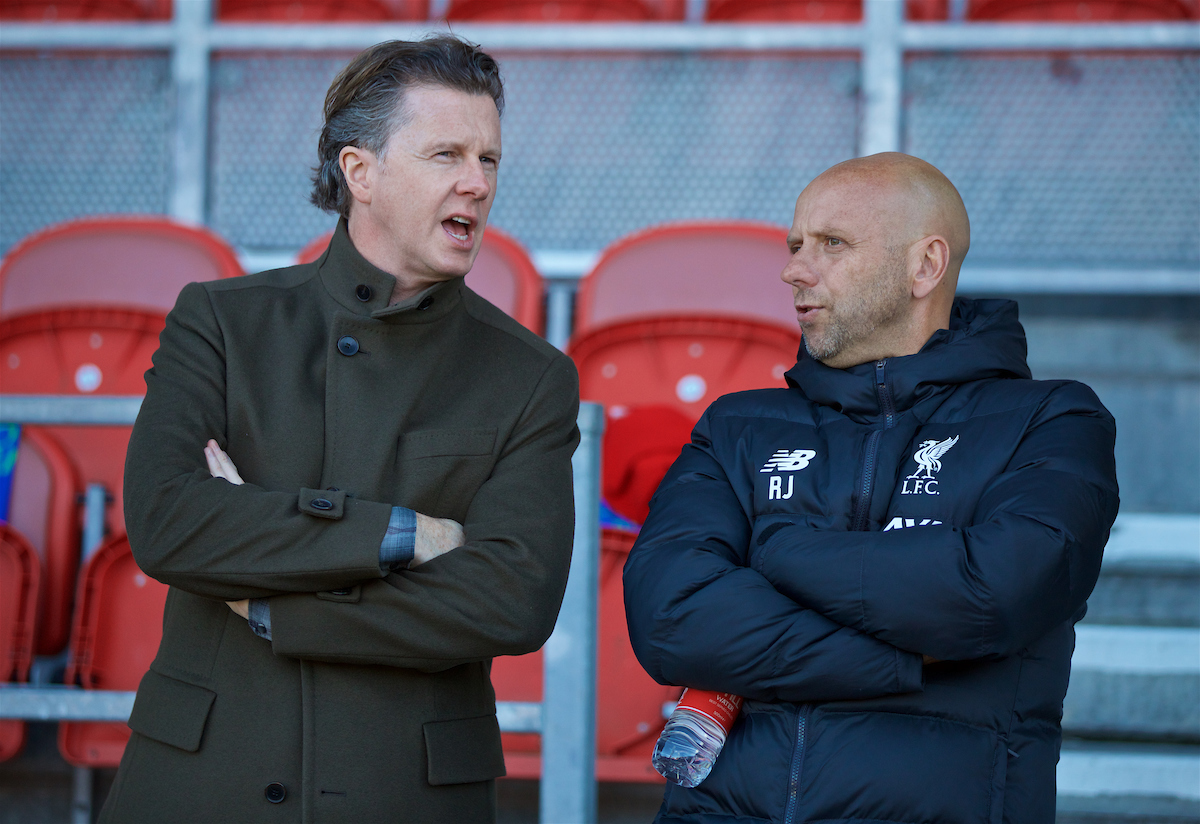 However, another Jones managed to find the net on Sunday. Curtis Jones may very well have had Neil Atkinson's voice in his head as he received the ball from top Everton botherer Divock Origi and wound his right foot back.
"He's only got little arms…"
Jones is a fascinating case. The 18-year-old oozes both arrogance (the good kind) and nerves. Once he gains more experience, he should find a middle ground. That swagger is what allows him to impose his supreme talent on a game, and once he can channel it, he'll surely begin to rack up the appearances that Klopp has predicted he will in a red shirt.
Jones understandably wants to play now though, regardless of the fact he's trying to break into the strongest side in world football. In the short term, he might be better advised to go out on loan (as was rumoured last week).
It will be difficult for him to leave with the chance to be at the forefront of a potential FA Cup run, but both player and club will be thinking about his long-term development. The opportunity to play 15-20 games at Championship level might be in the best interests of all involved.
There are no doubts that Klopp will go with a similar selection in the next round. The game inexplicably falls in the middle of a period where Liverpool now have three away games in seven days, all in completely different parts of the country.
You would hope that, whatever team arrives at either Ashton Gate or New Meadow, there'll be no nerves from the fans this time about what they can produce. It might not end in victory, but unlike in previous years, we can now at least trust them to strut their stuff and produce a performance worthy of Liverpool Football Club. It is in no way 'disrespecting the cup'.
If anything, suggesting so is disrespecting them.
"That might be the best ever derby win.

"Our U23s absolutely dominated their first team." ✊

🗣 Listen to this week's FREE Anfield Wrap show, in full, here 👉 https://t.co/YCQwRJKBJV pic.twitter.com/IBvLQHryP2

— The Anfield Wrap (@TheAnfieldWrap) January 6, 2020
Recent Posts:
[rpfc_recent_posts_from_category meta="true"]
Pics: David Rawcliffe-Propaganda Photo
Like The Anfield Wrap on Facebook