THERE is something to be said for just saying it.
What's the worst that can happen, you're proven wrong? Well that can happen any minute of any day. And when it comes to supporting Liverpool Football Club, we've seen it go heartbreaking and spectacularly wrong on numerous occasions in the past three decades.
So I'll say it: Liverpool should win the Premier League.
See what I did? 'Should' is the correct level of optimism and caution for where we all currently find ourselves, which is essentially halfway or thereabouts.
Yet it feels like January is another touchstone, the point where we once again say we'll know a lot more about this team at the end of this period. They haven't wilted in their desire and application this season, and there is no indication they'll start now.
Jürgen Klopp's men have previously shown the worst of themselves in the two months after Christmas, but if we know anything about this current incumbent, it's that they're now much more mentally and physically equipped for every potential eventuality.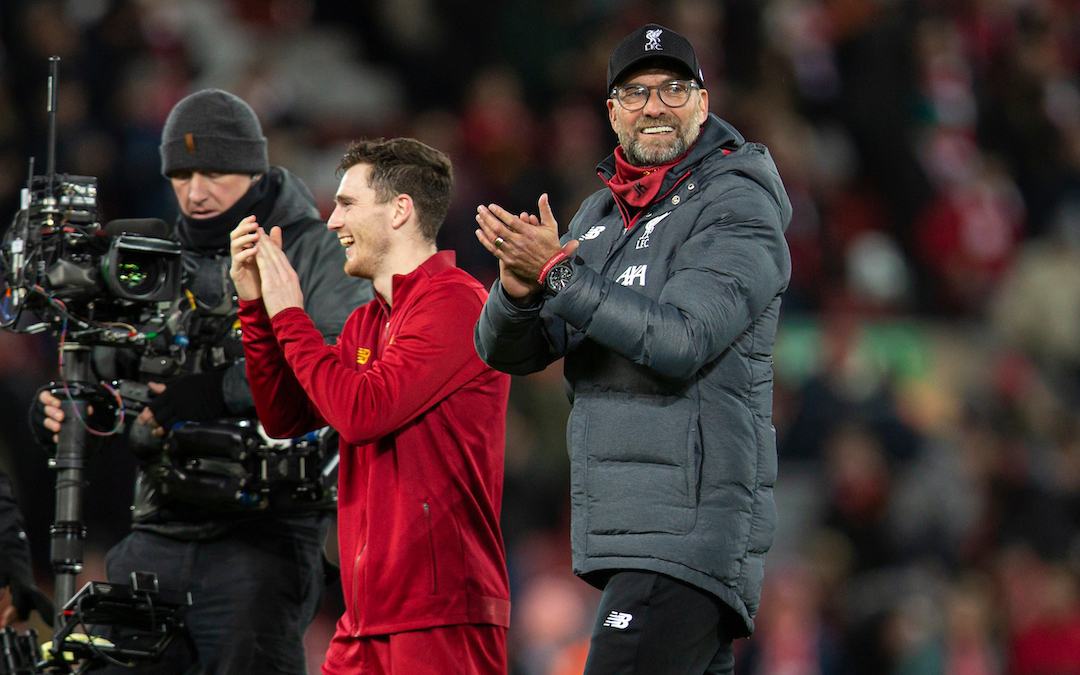 They have injuries, but the sight of Joel Matip, Xherdan Shaqiri and Alex Oxlade-Chamberlain back among the first-team setup will boost spirits and numbers going into the run.
They also have some tricky fixtures, starting with Tottenham and Jose Mourinho on Saturday. On a wider scale, this month could be the biggest in the club's Premier League history since April 2014.
It's a month where nothing can be won or lost, but hope can be collectively given or taken away. The Reds have been masters of killing hope this season. They have performed the devil's greatest trick from early on, by convincing others they were already champions.
That type of mentality goes a long way to deciding an encounter before a ball has been kicked, and may prove pivotal in the coming games.
If Liverpool can emerge from January with their double-figure lead maintained and no significant ground lost, there will surely be white flags raised around the Manchester and Leicester regions.
To do so, Klopp and his team need to keep doing what they're best at, which is believing in themselves to such a degree that they feel impenetrable. The demands set on each other and by each other means that they constantly seek improvement, even during the phenomenal winning streak they're on.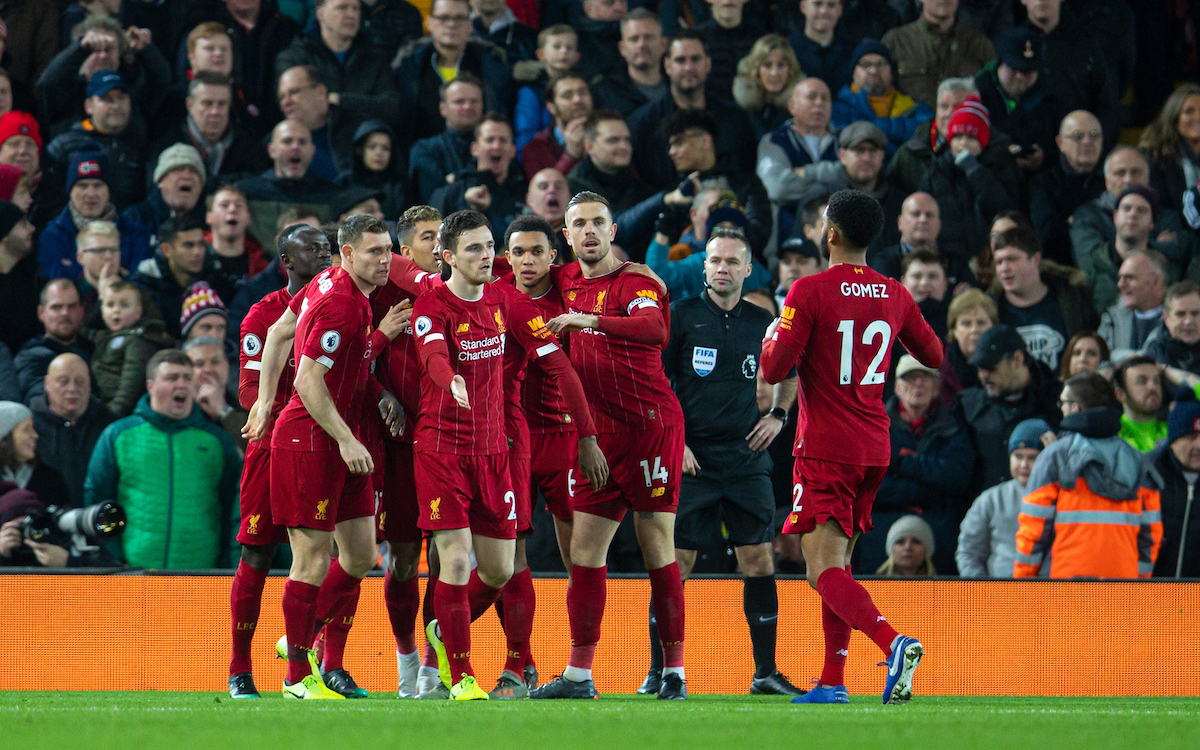 For supporters, there remains further ghosts to be exorcised that stretch beyond being in the driving seat of a Premier League campaign, which in itself brings its own challenges. The prospect of Mourinho, or West Ham away, a place where last season's mini blip set in, is enough to leave many rocking back and forth in the corner of a darkened room.
There is also the prospect of arch rivals Manchester United and perennial banter-merchants Wolverhampton Wanderers, who will both be desperately trying to ruin the mood on and off the pitch.
The challenges never stop, but nor does Klopp's desire to pick up results and move his team closer to an astonishing achievement. He will undoubtedly demand support in the manner in which Liverpool perform; bold, aggressive and brave. He sees this as a joint responsibility, therefore there is a collective ambition for standards to be maintained.
Just over halfway. Whether you're saying it or not doesn't matter, the only focus should be the next game in January. This is now where it's psychologically won or lost, it is the last desperate plea for some form of mercy from those around them. If Liverpool fail to show any, our dreams could become a reality well before it's a mathematical certainty.
This isn't meant to be easy but trust them. After all, they haven't let us down yet.
Recent Posts:
[rpfc_recent_posts_from_category meta="true"]
Pics: David Rawcliffe-Propaganda Photo
Like The Anfield Wrap on Facebook