YOU'LL remember where you were.
Those you were with, who you grabbed hold of, the moment that pair of Nike Tiempo Legend boots shuffled across the platform.
A Liverpool captain was about to lift the European Cup for a sixth time, and the honour would fall to Jordan Henderson. A golden sky and silver cup at the end of the storm, marking the end of a dark decade for the club.
First, he faced those positioned on the podium, panning across to acknowledge the collective achievement, before turning to present the trophy to the world. This was his moment, one of many to instantly become a memory that night in Madrid.
His feet seemed to move quickly even in slow motion replays. The trophy shuffle – to be repeated in Istanbul and Doha before the year was out – seemed to split opinion however, as does Henderson himself.
Some said he would never win a trophy as Liverpool captain. Then, when he lifted the ultimate prize in European football, even his style of celebration drew criticism from some quarters – particularly pundits programmed for pessimism.
His Liverpool career in microcosm. Prove people wrong, and some will still find a reason to doubt you.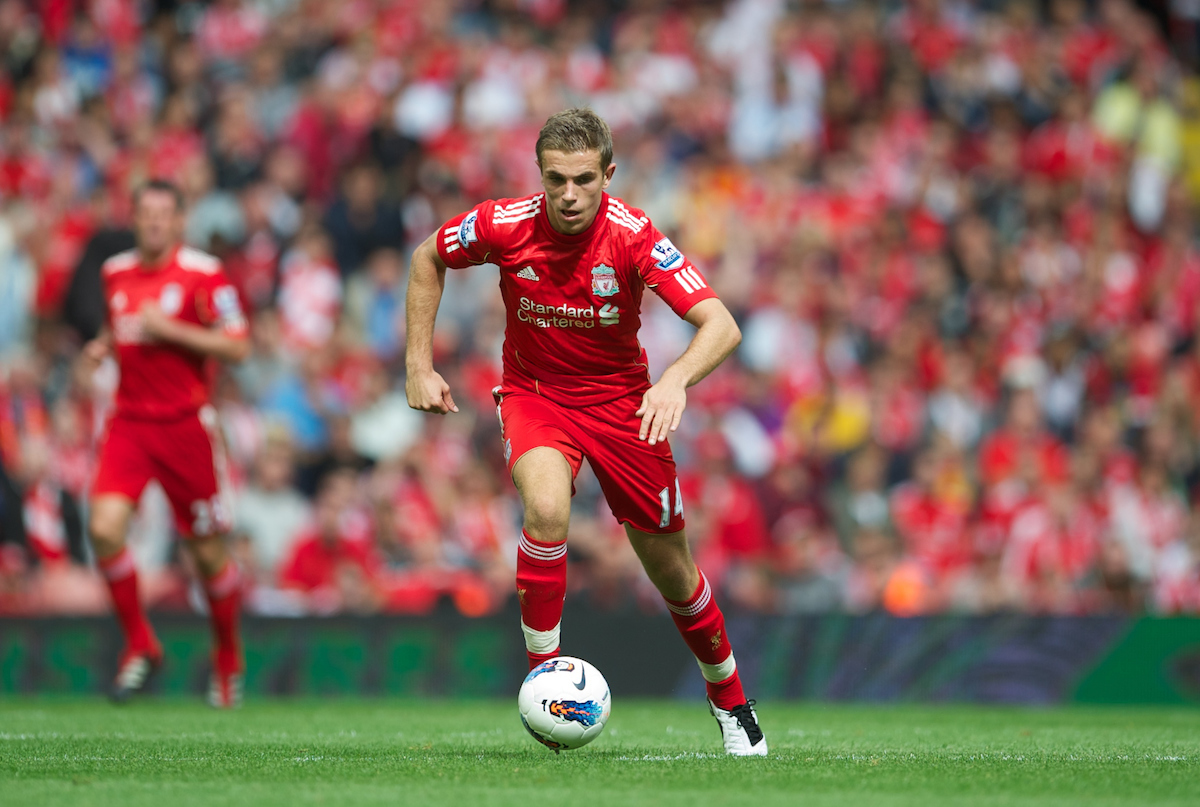 Henderson had endured some difficult periods and press during his opening chapter at Liverpool. Scrutiny intensified after he accepted the monumental responsibility of succeeding Steven Gerrard as club captain in 2015, one of the most influential players in Liverpool's history.
Henderson's suitability for the role and place in the team were fiercely debated. I was partial to these arguments myself at times. So were you.
It was a turbulent decade for Liverpool, one which began in turmoil and ended in triumph. From relegation threatened to European and world champions, the ultimate 10-year challenge.
The stark frame of reference drew the inevitable polarised polaroids at the decade's end. The worst we have seen to the greatest we have been. Only one man features on both bookends: Jordan Brian Henderson.
He signed for Liverpool in 2011 from Sunderland aged 20 for £20m. Despite missing only 13 league games in his first four seasons, in a squad that often exhibited problems, few Reds considered Henderson part of a solution.
But have you ever stopped to think: were we? Were we part of the solution? Impatience and criticism had become endemic at a success-starved Anfield. A newly appointed and instantly insightful Jürgen Klopp spoke directly to the diseased heart of Liverpool cynicism when he framed us as doubters that must be converted to believers.
It wasn't just the Liverpool fans Henderson felt he had to win over in the early stages of his Liverpool career. In a conversation with Jamie Carragher last year, Henderson reflected on his initially fractured relationship with Luis Suarez. The fiery Uruguayan outwardly expressed frustration with Henderson's early performances at Melwood.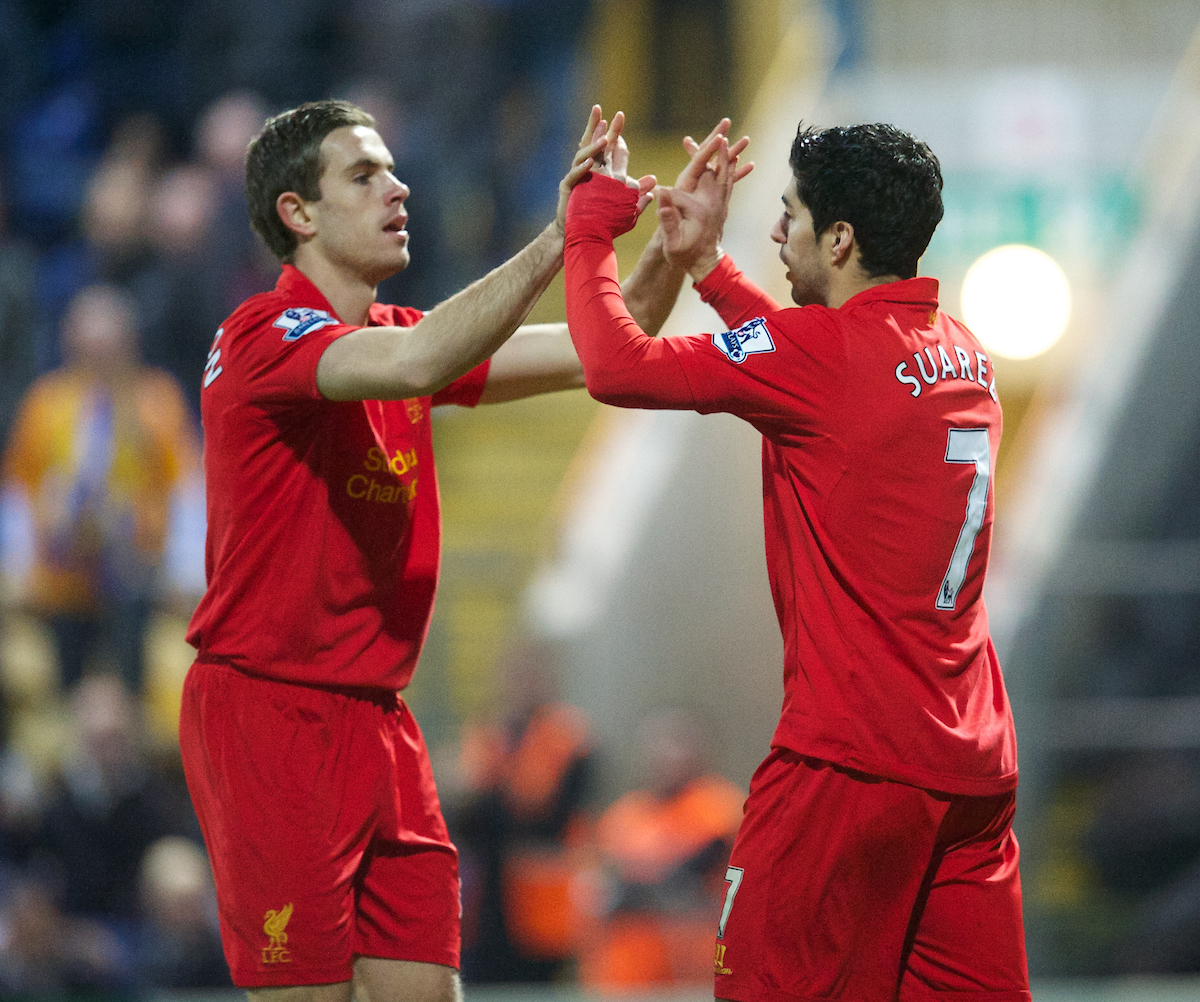 "It made me feel I wasn't good enough to be in the same team training. The arms were up, like 'What the fuck, what is he doing', like I shouldn't be there. That really hurt me. He did it three times and then I exploded and was ready to kill him."
Given the polarised quality of that Liverpool squad – whose sole success was a League Cup victory secured on penalties against Championship side Cardiff City – there were likely to have been other victims of the Luis Suarez intolerance for ineptitude.
For Henderson, however, a player at an impressionable age, the sight of Suarez's gestures clearly left a mark; at a time when the sound of groans reverberating across the Main Stand after any misplaced Henderson pass probably did likewise.
Jordan Henderson had made his England debut in November 2010, unwisely deployed by Fabio Capello as a holding midfielder alongside Adam Johnson, in a 2-1 defeat by France at Wembley. It was four years before Henderson played for England again.
You won't care about that of course, but it did reflect perceptions of his form. He's just been named England's Player of the Year for 2019, which you might not care about either. Despite this, persistent resistance remains within sections of England's support, reason alone to venerate and celebrate Henderson.
His nationality however, is perhaps part of the problem. Henderson was raised four miles north of Bob Paisley's hometown, and two miles east of Alan Kennedy's – very English communities in England's north east, that happen to have bred some of Liverpool's greatest legends.
Yet modern Liverpool fans do not routinely dedicate great songs (or even average ones) to English players. The combined repertoire of chants honouring the Champions League-winning quintet of Henderson, Milner, Oxlade-Chamberlain, Gomez and Lallana is hardly indicative of a policy of adulation – because as any Liverpool fan will tell you: these are valuable and valued players.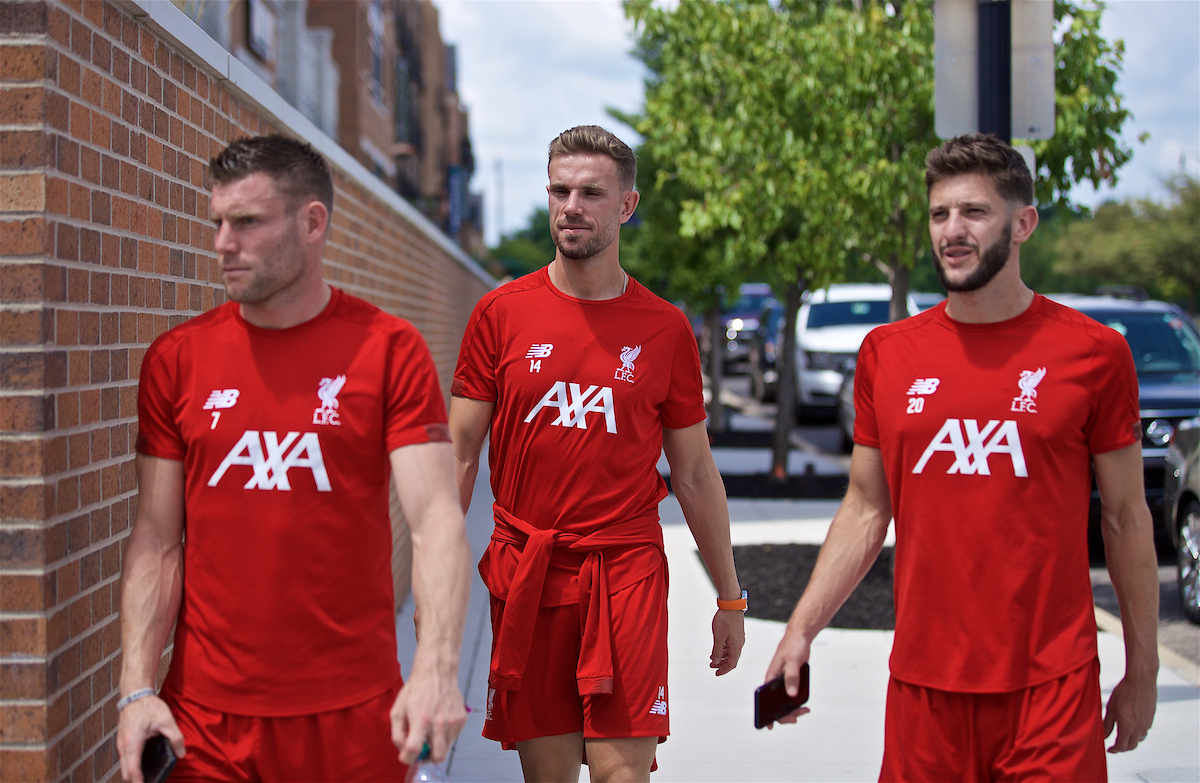 Perhaps there is a tendency to take English players for granted, even in this great team, and even in this great period of culturally assertive Liverpool fandom. Or perhaps the habitual absence of outward expression simply belies the collective impression.
As a point of differentiation, Scousers have always had their name sung at Anfield, and Liverpool's foreign players have also long been idolised through song. Japan's Takumi Minamino had one to his name even before kicking a ball in a red shirt, thanks to the lads on board the famous Cambraco coach.
Webster and Carragher singing the Virgil van Dijk song on stage at Boss Nights is a sight to behold, but when was the last time an English player had a boss song at Liverpool? It's an observation more than a criticism of our culture, but Henderson is in part a victim of our unorthodox habits.
He gets his name sung more than the other four aforementioned English players combined, and yet in comparison to many of his more exotic teammates, this practice still lacks ingenuity and regularity. Would this have been any different had he lifted the Premier League title last season? Probably not.
Last year was abundantly consequential, although the season centred largely on the relentless pursuit of that holy grail. Among that plethora of pivotal performances en route, cast your mind back to Southampton in April, where Liverpool trailed before a trio of goals turned the game around.
A first Liverpool goal for Naby Keïta, followed by a 50th Premier League goal in 69 games for Mohamed Salah, and then a first Liverpool goal for Jordan Henderson since September 2017.
Henderson had burst into the box to score and secure the points, immediately erupting into a quick and concentrated celebration right in front of the Liverpool end. His face wore a succession of pronounced micro expressions, including looks of defiance, accusation and determination.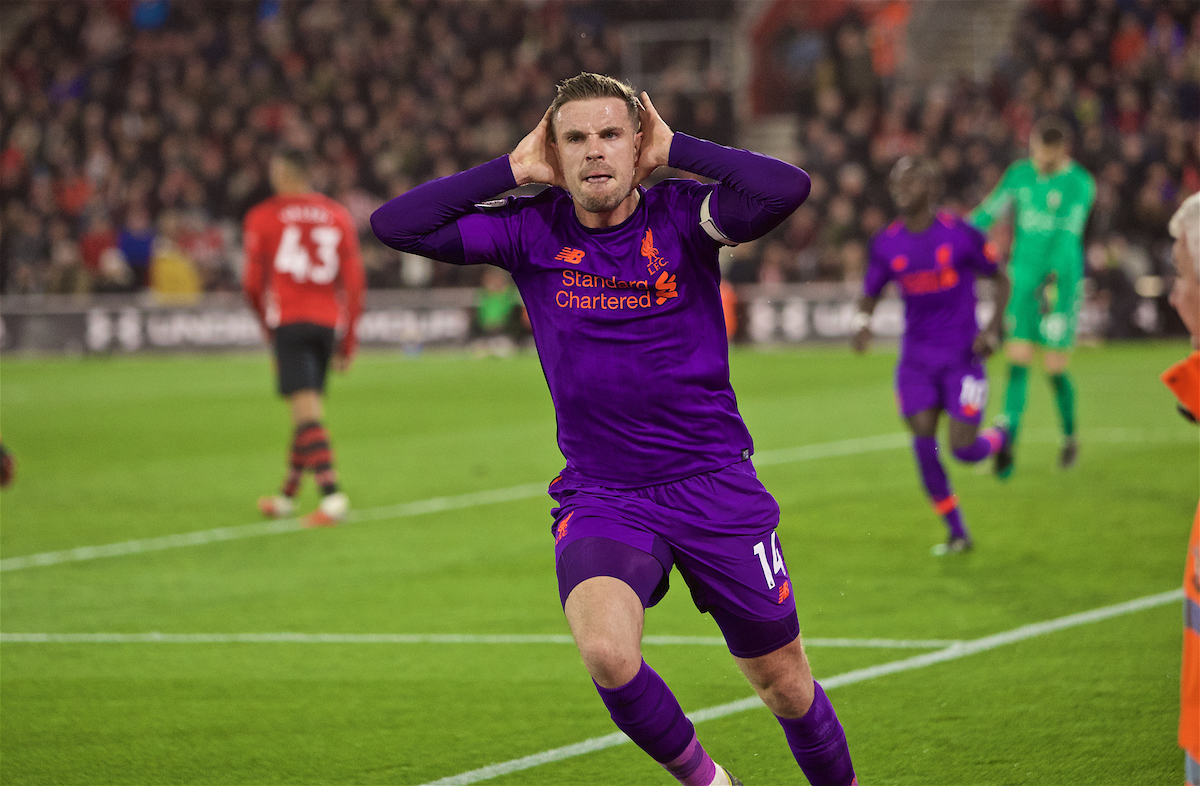 A gesture of cupped hands to the ears punctuated the complex series of facial movements with a moment of unambiguous clarity. It was directed directly at Liverpool fans by the Liverpool captain. A culmination of criticisms, a response to the collective weight of every internalised objection, releasing a burden Henderson seemed no longer willing to bear.
I felt personally convicted. It was the moment I realised I had doubted Jordan Henderson longer than I should have done. That I had transmitted some of those doubts from The Kop and from away ends, alongside thousands of others. You did too, you know.
I am a believer now, and was before that day at St Mary's. There was no sudden moment of conversion, more a gradual realisation of coming to faith. Yet I was reminded of my history of doubt recently when Klopp gave a succinct and irritated defence of his captain, again aimed at Liverpool fans.
"If anyone who is with us doesn't see the quality of Jordan Henderson, I can't help him. Is Hendo the perfect football player? No. Do I know anybody who is? No. Is he unbelievably important to us? Yes."
I remember reading a Jamie Carragher account comparing two iconic midfielders, in which he claimed: "Steven Gerrard was born a world class player; Frank Lampard became one."
You could argue the same is now true of Henderson as it was of Lampard. He has proven a fitting successor to the player all Liverpool midfielders will be compared to for decades to come. After losing the final of the 2019 Club World Cup to Liverpool, Flamengo manager Jorge Jesus described the opposing captain as "the best in the world in his position."
Liverpool's leader has achieved, and perhaps even exceeded the potential foreseen in him by his predecessor – both as a player and a leader. A photo of Henderson currently adorning a Melwood corridor is captioned with a quote from Steven Gerrard: "Jordan can become a great captain for this club. He's a fantastic player for me to hand the armband over to."
Despite the captain's contributions, inspiring repeated revisions of the Champions Wall, some doubters still persist. They are almost as much the inspiration for this article as Henderson himself.
As recently as last month, 'respected' journalists were writing demeaning and derogatory articles, one claiming Henderson was "finally proving a good fit at Liverpool." A few months earlier another piece led with the title: "Henderson steps up to show the value of meat and potatoes."
Look it up. Read the last two paragraphs. One line depicts the Liverpool captain "taking the ball on his instep like a Victorian governess catching an orange in her skirts." Who even thinks that, let alone writes it?
He describes Henderson as "Liverpool's most routinely maligned player, mocked for… His ungainly look in this kind of company." The company he was directly referring to? James Rodríguez. The match? Bayern Munich at Anfield. We all know how that story ended.
After Bayern were dispatched in Munich, Luis Suarez was up in arms again as Barcelona succumbed to the power of Liverpool, before the final victory was secured against Tottenham. Every game, every performance, vindication for the Liverpool captain.
In a critical piece framed as complimentary analysis, the author in question did let one positive reflection slip through: "There is a reason so many excellent managers keep picking him." Not just picking him, but making him the leader.
Henderson is surrounded by captains on the field. Virgil van Dijk, Andy Robertson, Mohamed Salah and Naby Keita all captain their international teams; and James Milner, Sadio Mané, Gini Wijnaldum, Xherdan Shaqiri and Alisson Becker have also worn the armband for their respective countries. Henderson is Klopp's captain of captains, Liverpool's leader of leaders.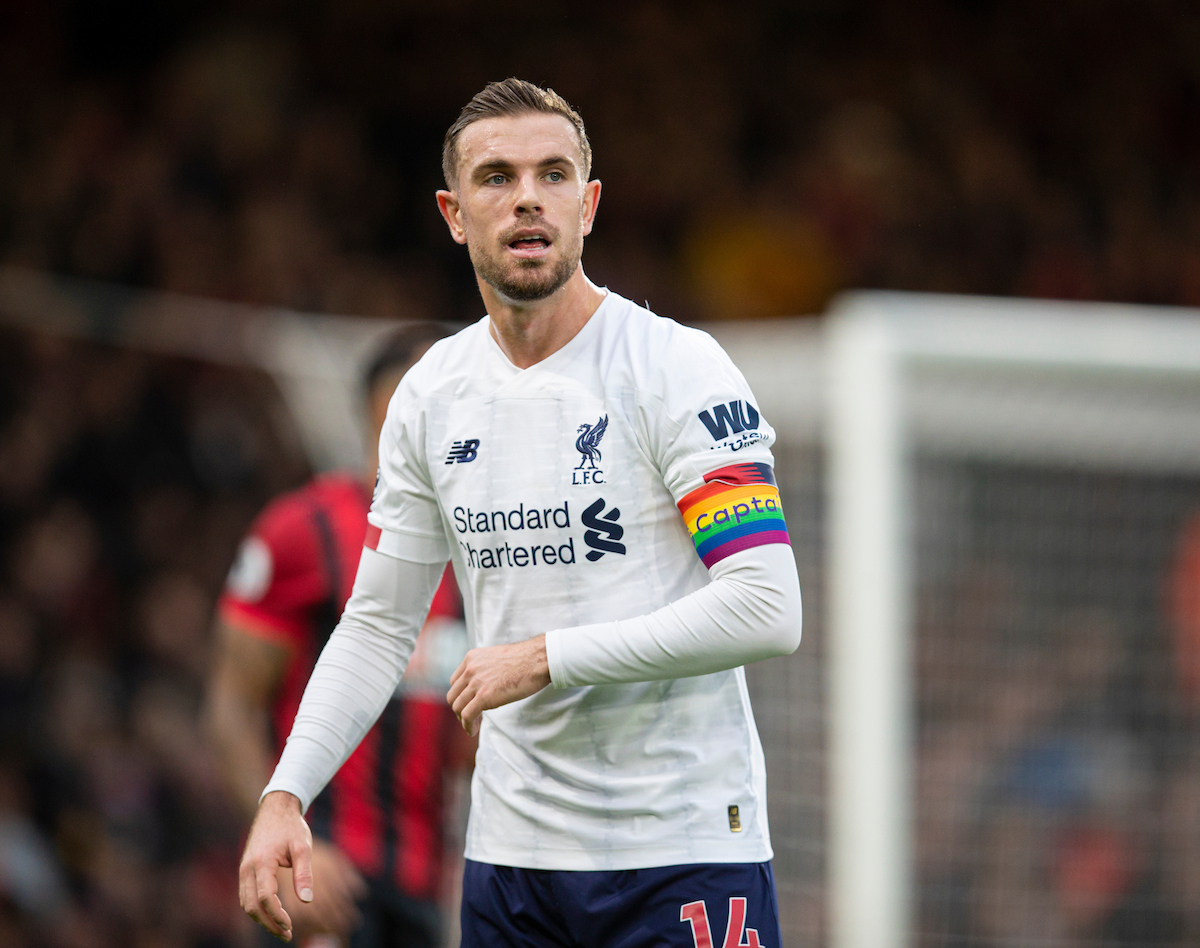 Even if you haven't seen Peter Weir's 1989 film Dead Poets Society, you will at least be familiar with its most famous line in the final scene: "Oh captain, my captain." The late, great Robin Williams plays the role of John Keating, an English teacher who inspired his pupils but was fired from his post.
The boys who stood and declared those words in homage to their deposed leader were following the footsteps of Keating, who did so first, explaining: "I stand on my desk to remind myself that we must constantly look at things in a different way."
Whenever I hear or read any criticism of Henderson now, I think: I'd get on my desk for you, Jordan lad. We all would.
Henderson is not just the archetypal team captain, he would also make the perfect case study for the modern leader. He epitomises all the requisite characteristics. Commitment. Influence. Resilience. Emotional intelligence. Initiative. Vision. Integrity.
In 2019, Henderson and his Liverpool teammates would embody another Keating line from the same film: "Seize the day, boys. Make your lives extraordinary." Led by the humble hero, this Liverpool team did exactly that, in Madrid, Istanbul and Doha.
As the relentless 2018-19 season approached its climax, Liverpool's rivals prematurely revelled in another barren season for The Reds. A Premier League lead surrendered, followed by a 3-0 defeat at Barcelona in the Champions League semi final. Even after the 4-0 reversal at Anfield, Evertonians were undeterred: "We're gonna have a party when Tottenham win the cup."
They were simpler times, the days before the conscious uncoupling.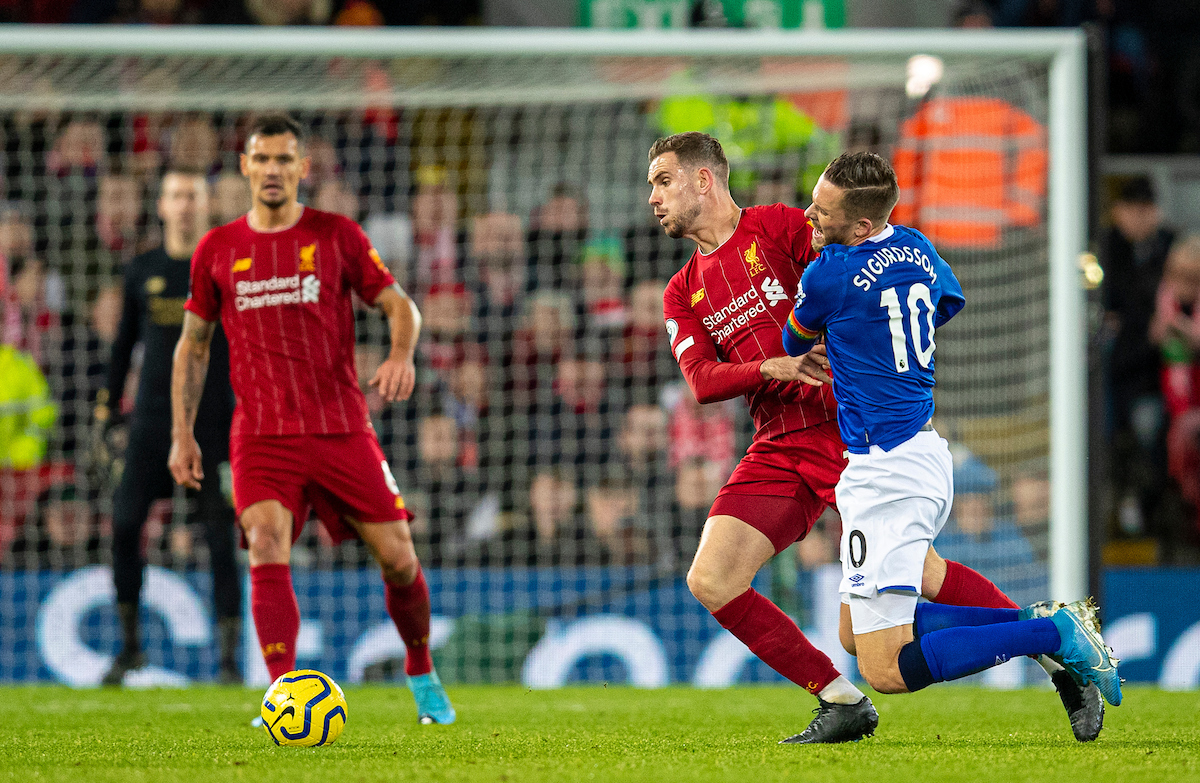 The 2019 Premier League title was not lost by Liverpool; it was won by Man City. That said, a goal swinging our way and not theirs at the Etihad last January would have seen Liverpool crowned invincible, centurion champions in May. Alas, 98 points beat 97, and The Reds finished second in the Premier League for a fourth time under as many managers.
On the previous occasion, another moment against Manchester City proved pivotal. Henderson was sent off in the 93rd minute in that hectic 3-2 victory in April 2014. He was suspended for three games, the only league matches missed that season. Liverpool dropped five points from nine, and the league was lost.
The failed title challenges of 2002, 2009 and 2014 shared a few commonalities. Those campaigns were the pinnacles of projects, with periods defined by desperation and then despair, after which the respective regimes soon collapsed. Players left, replacements failed, demise ensued. That is not the insight of hindsight. You could feel it happening live, see it unfolding before your eyes.
Last year was different, because Liverpool were different.
Guardiola's Manchester City are one of the finest sides in the history of the English game. To deny that is to diminish the scale of Liverpool's achievement in overcoming them.
Guardiola has assembled the most expensive Premier League squad ever (22 signings since July 2016, costing £599m), but the performances and results have been incredible, and he has helped change how Premier League football is played. But too many of Man City's players acted as if 2019 was the last ever title race.
Too many took cheap shots at Liverpool last season, from posts on social media to songs on planes. We would have won the league this year anyway, but the short-sighted short termism in Manchester last year, together with the succession of relatively poor performances this year, handed motivation and momentum to Liverpool.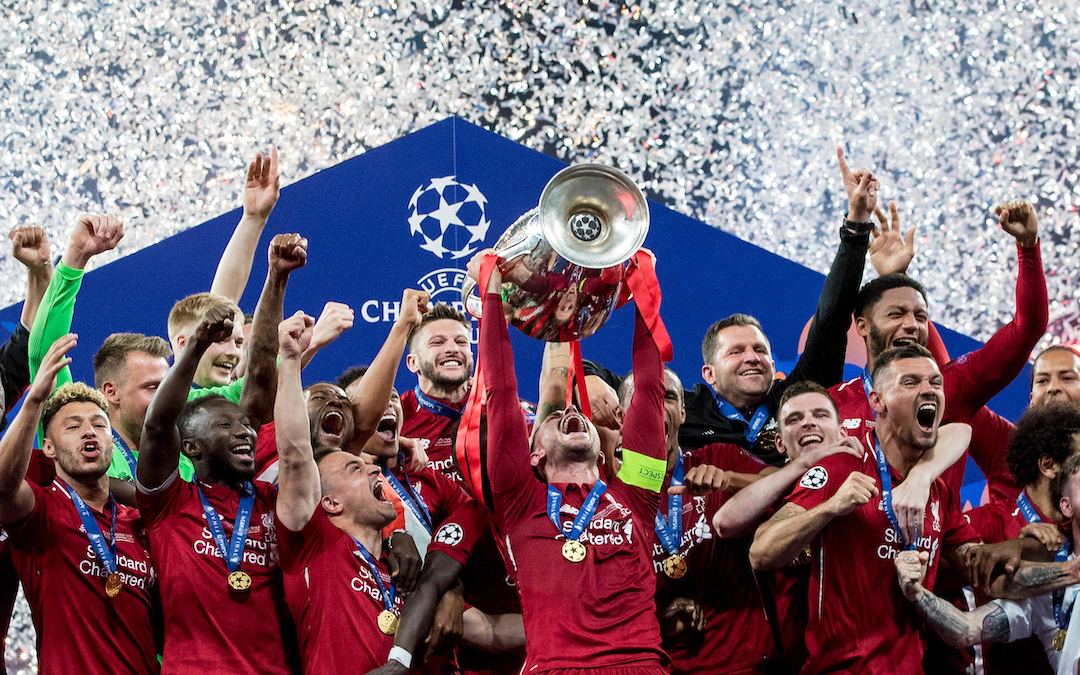 The Reds were top with an hour to spare but still didn't win the league last season, and yet the experience didn't break Liverpool, it helped make them.
Henderson's men are unbeaten in the Premier League in over a year, and have won 20 out of 21 in the league this season – 61 points from a possible 63: the best start to a campaign of any team in the history of Europe's top five leagues.
Next up, Man United travel to Anfield. A club living in the past, 30 miles from greatness, must attempt to contain the world and European champions. We are living our best days under Klopp. A team that plays the Liverpool way, and wins the championship in May.
So savour every second. Start picturing those red ribbons on that elusive trophy. Start talking about where and how you want us to win it, start planning the Boss Night afterwards. (They could host it at Anfield, never mind the Olympia).
Start envisaging the ultimate episode of Inside Anfield, the emotional embrace between a captain and his manager, between a captain and his dad, a leader who is about to achieve that which has eluded every Liverpool captain for three decades.
No player wants to win the Premier League more than Jordan Henderson, and no player is more deserving of that title – and should he continue his chosen mode of celebration, remember that when his feet shuffle across the podium in May.
Here's to you, Jordan Henderson. Champion of England. Champion of Europe. Champion of the World.
"Jordan Henderson is getting used to winning trophies.

"The rest of the country are starting to realise how important he is to Liverpool and England." 👏

📱 Download our app here and watch today's Talking Reds in full 👉 https://t.co/v3xcfwjq7C pic.twitter.com/QDPTb6PVEp

— The Anfield Wrap (@TheAnfieldWrap) January 15, 2020
Recent Posts:
[rpfc_recent_posts_from_category meta="true"]
Pics: David Rawcliffe-Propaganda Photo
Like The Anfield Wrap on Facebook