"THERE is a tide in the affairs of men, which, taken at the flood, leads on to fortune."
WHILE it might not be obvious why I've begun with a William Shakespeare quote, consider the following.
Shakespeare's argument is that opportunity ebbs and flows in time. The key to success lies in knowing the tide, recognising and seizing chances as they arise.
Take the chance, and you will have fortune. Don't take the chance, and you'll find yourself in the shallow. Liverpool's journey over the last decade has been of that ilk.
They have had to ride the rapids of Hodgson, bide their time during the return of Dalglish, and endure the rollercoaster ride of Rodgers before Klopp's arrival.
Indeed, from a relegation-threatened side to Champions of the World, few decades in Liverpool's rich history will have paid homage to a more dramatic overturn.
In 10 years, The Reds have leapfrogged from nearly men to global winners. From a club whose problems were embodied by its ownership under Tom Hicks and George Gillett, to becoming the blueprint for others to follow under a rejuvenated Fenway Sports Group.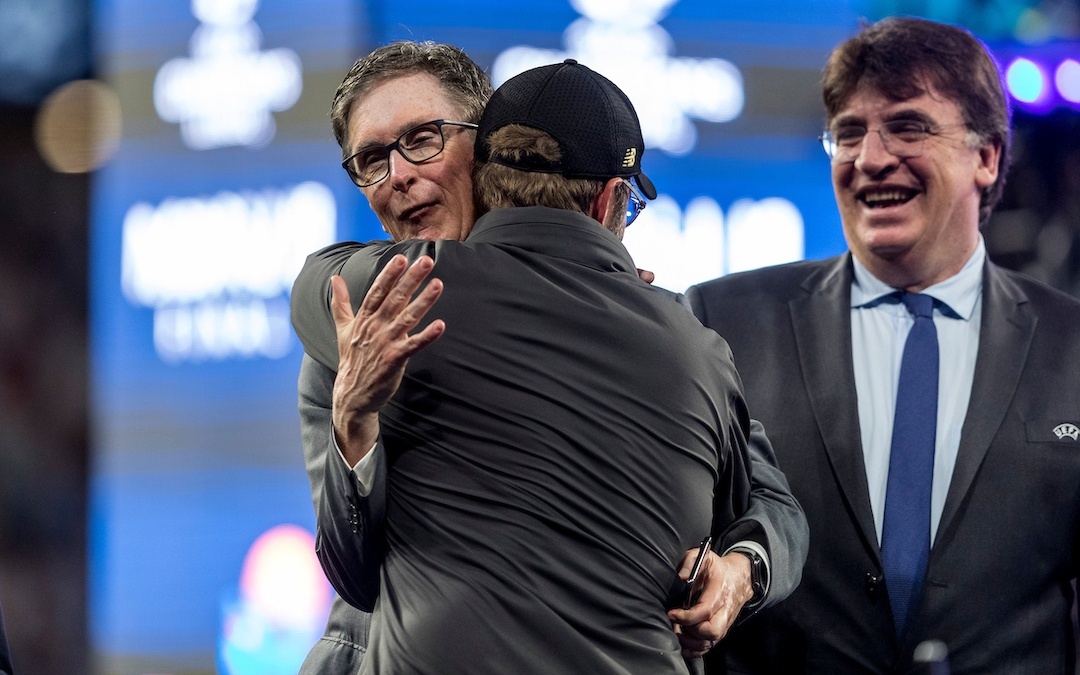 On the field, the implementation of a rich, attacking blueprint has resulted in a refreshed and re-energised fanbase, who have enabled Anfield to find its aura again, delivering a cacophony of noise in a cauldron conducive for a team to thrive.
Off the field, meticulous strategy and planning in recruitment has enabled them to astutely navigate transfer windows; identifying players with the technical ability to fit the club's philosophy, but whose personalities buy into the collective ethos now ingrained within the current crop.
Liverpool have forged an identity that seeps from the first team down to all levels.
It's only right their seismic transformation over the last decade be closed out with a 1-0 win over Wolves, nine years on from a solitary Stephen Ward strike that inflicted defeat on a team entrenched in derision, swimming in mediocrity.
Liverpool ended 2010 on 58 points, 22 behind the Premier League winners, with three fewer points than Klopp's current squad have accumulated now after half the season has unfolded.
Where the start of the decade saw ironic jeers of "Hodgson for England", Liverpool's new soundtrack "we're Champions of the World" embodies the polarising fortunes of a side vastly unrecognisable from yonder years.
A lineup that once included Christian Poulsen, David Ngog and Joe Cole, The Reds now boast four players who finished inside the top 10 spots of the 2019 Ballon d'or vote.
The script has been rewritten, the trophy drought ended. This is a team full of stories.
At the beginning of the decade, Robertson was an amateur at Queen's Park. He ends it as a Champions League winner and one of the world's leading full-backs.
So too Trent Alexander-Arnold, a 12-year-old in 2010, now the creative force behind Klopp's juggernaut.
Then there's Henderson, once offered to Fulham in 2012 in a swap deal for Clint Dempsey, now an irreplaceable cog at the heartbeat of the engine room.
The list goes on.
A first taste of silverware in Madrid ignited a hunger for more, with the Super Cup and Club World Cup added to the trophy cabinet as revamps of the Melwood wall become increasingly commonplace.
Liverpool have amassed 98 points from a possible 111 in the Premier League in 2019, winning 31 games, drawing five and suffering just one defeat.
In doing so, they have averaged 2.65 points per game, the highest in a single calendar year in the club's 127-year history and the second best in the top-flight since its inception, bettered only by Chelsea in 2005 (2.66).
The Reds go into 2020 with a 13-point lead at the Premier League summit with a game in hand, perfectly placed to end the club's 30-year wait for the title, although some remain tight lipped given the club's status as the only team to ever be top at Christmas and not win the league – a fate suffered in 1996, 2008, 2013 and 2018.
There is a sense, though, that this time feels different.
Where the 2013-14 had no semblance of long-term stability, a title challenge born out of sheer attacking verve rather than a cohesive overall picture, Klopp's strategy over the last four years have accumulated to this point, laying foundations via a growth in hunger and maturity.
Indeed, streetwise habits are now in parallel with a relentless work ethic, electric attack and forceful defensive rear.
The last week of 2019 fixtures illustrated the depth and breadth to Klopp's side, who have contrived a variety of ways to win games. A 4-0 rout against closest title rivals Leicester on Boxing Day represented one of the best all-round performance of Klopp's entire tenure, before a gritty and hard-fought 1-0 win over Wolves.
Two very different games, two different strategies, same consistent outcome.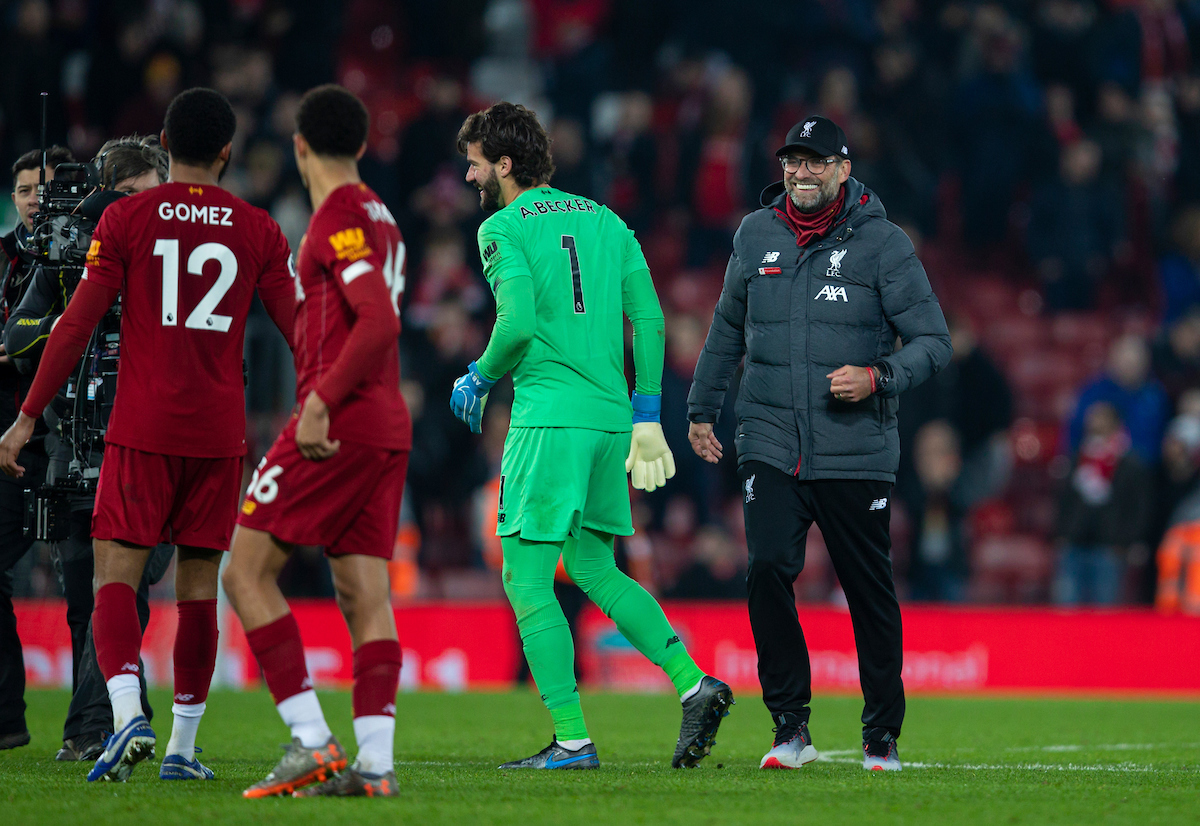 Now unbeaten in 50 home league games (W40 D10), Anfield is a fortress once more. Only Leicester, Bayern and Napoli have taken anything home from L4 in the past year.
A club encapsulated by darkness in a wretched 2010, Liverpool have emerged from the shadows of poor ownership and dismal management, to European triumph and Club World Cup winners.
They have risen from the ashes over the past decade, with a prime opportunity to end their 30-year wait for a title and a European Crown to defend.
Klopp has been one of the pioneers along the journey, with his promise of turning doubters to believers emphatically answered and the list of silverware now reeling in.
His juggernaut shows no signs of stopping as we surge into the new, potentially golden decade.
At the end of a storm, there's a golden sky.
Recent Posts:
[rpfc_recent_posts_from_category meta="true"]
Pics: David Rawcliffe-Propaganda Photo
Like The Anfield Wrap on Facebook