TAKUMI Minamino, then.
The Red Bull Salzburg attacker has been a name on the lips of many in Liverpool for the past week, inciting feelings of fear and danger as The Reds faced a tricky tie against the Austrian's on Tuesday.
Of course, the game was negotiated with aplomb, and the mention of the Japanese attacker is now generating much more positivity, following the news today that Liverpool are closing in on a January move for the 24-year-old, who has a reported buyout clause of just £7.25m.
Such a move would be against what we have come to expect from Liverpool in recent times, and would certainly raise some eyebrows in the football world. Indeed, Jürgen Klopp's eagerness to seal the deal shows how much Minamino has impressed the Reds boss over two matches.
The wider context of the transfer is also fascinating. When looking at the player, where he operates and the spaces he can damage a team, there remains a genuine question of where exactly Klopp will be planning to use him if the deal comes off?
There is a possibility he could employ Minamino in the number eight positions and muster some more creativity from those areas. The recent form of Naby Keita has shown the importance of a Liverpool player operating between opposition midfield lines to add extra attacking threat.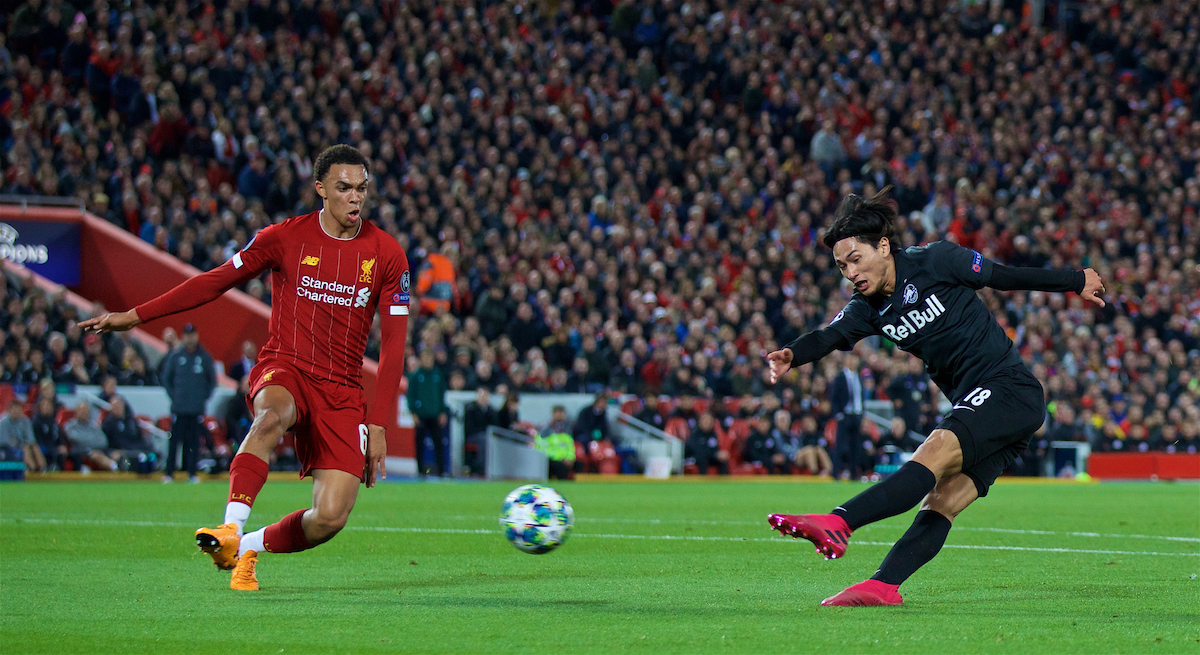 However, the more interesting angle is what the transfer may mean for Roberto Firmino. The Brazilian is an Anfield favourite for many reasons. His workrate and industry is well documented, but there is a creeping concern looming about his goal return.
So far in all competitions, Firmino has four goals. Last season was 16 in total, the season before 27. Although Firmino's value to the team is clear, there remains an element of scope for his workload to be shared if another player can perform in the number nine areas.
Minamino might well be seen as a player who can be moulded into Firmino's most direct competition. According to Statsbomb, the two players' Champions League stats so far this season show that Minamino has outnumbered Firmino on xG (0.22 to 0.14) and shots (three to two) per game.
He comes up short in mostly all other comparisons to Firmino though, suggesting there will be plenty of coaching and patience required should the deal come off. Nevertheless, it does highlight the Salzburg man's striking instincts, a position he occupies for his national team.
Minamino can also operate from a right-sided attacking area, offering the opportunity to allow Mohamed Salah to become the more centralised threat he arguably seems more natural in.
That may also allow for a change of shape, with some inversion of a 4-2-3-1 to be implemented should the current front three remain part of the attacking makeup.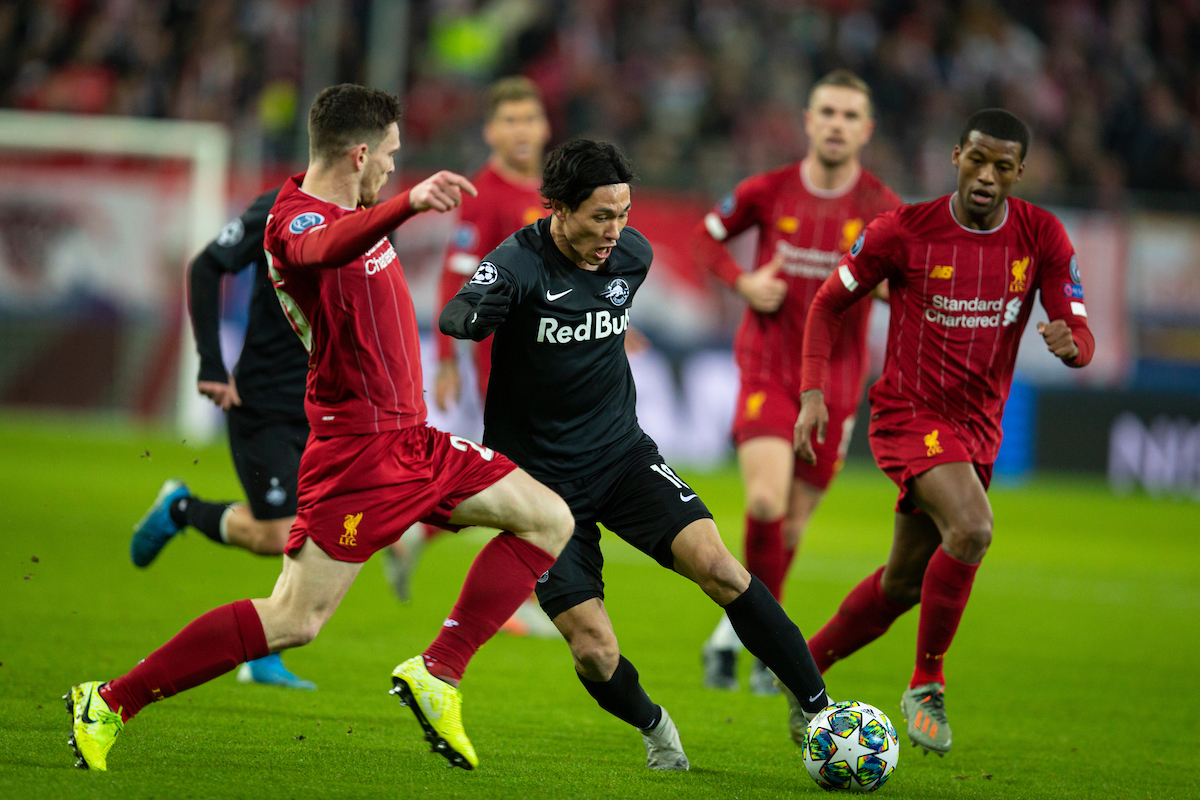 What all of that says for the future of someone like Xherdan Shaqiri and Divock Origi at Anfield remains to be seen. With opportunities already limited, the arrival of yet another attacker may prove problematic for those on the fringes.
This is currently all hypothetical, and on the basis that the transfer is eventually completed in the New Year. Yet the fact that Liverpool have moved so quickly on this suggests how much the player has caught their eye, and therefore there may be a need to capture his services and figure out what to do with them later.
In addition, the looming announcement of the club's future kit sponsorship with clothing giant Nike will also be something to consider when referencing this transfer.
An emerging star from another continent such as Asia will only add to Liverpool's marketability in those parts of the world, and something which cannot be ignored when considering the perks of such a deal.
Yet the fact remains Minamino is a very good player and showed just how good over two games against the European champions recently.
And it seems there was nobody more aware of him after those performances than Klopp and Liverpool.
"Liverpool did what they had to do, to come back from Salzburg as group winners." ✊

📱 Download our app here and watch today's Talking Reds in full 👉 https://t.co/v3xcfwjq7C pic.twitter.com/F5AJR2BDkn

— The Anfield Wrap (@TheAnfieldWrap) December 11, 2019
Recent Posts:
[rpfc_recent_posts_from_category meta="true"]
Pics: David Rawcliffe-Propaganda Photo
Like The Anfield Wrap on Facebook