I DON'T like the derby for a number of reasons.
My friends constantly take the piss out of the fact that even if Everton found themselves bottom of the Premier League on no points and faced a Liverpool team who had already won the league, I'd still take a draw.
I've got no interest at all in getting beaten by Everton under any circumstances, especially at Anfield.
Thankfully, last night emerged as another giant W against Liverpool's name, in the process adding to the absence of the same letter next to Everton's in the fixture since 1999.
The 5-2 win at times had many jovial moments for Reds, but the sight of Sadio Mane scoring in December was only ever going to lead to chants of Merry Christmas, Everton.
While it was undoubtedly painstaking for The Blues who commendably put themselves through such inevitable misery, there is always the worry that a line gets crossed somewhere with behaviour that isn't worth repeating but has been seen on occasion.
Gladly, it didn't, and a noteworthy respect and unity was shown during the minutes applause for the Hillsborough Justice Campaign.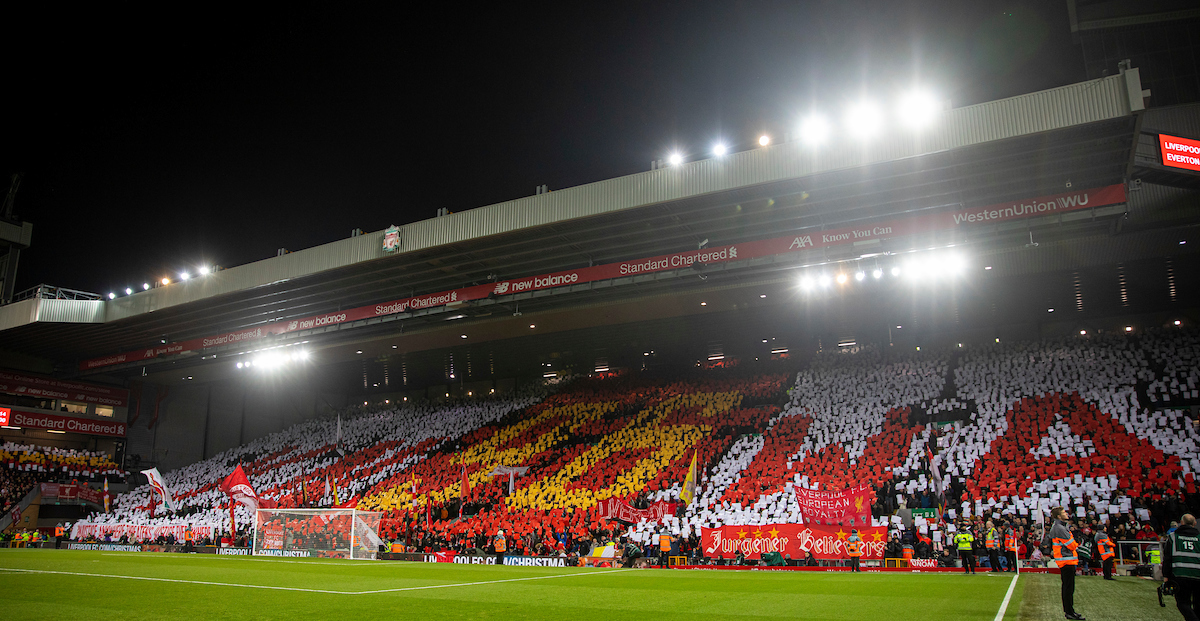 The derby will never be perfect, in fact it is in many ways toxic, from certain tweets to mindless graffiti which accompanies any of the mud slung inside stadiums. There seems there will always be a penchant to let the side down on both sides.
But, in the season of being grateful, for all the unpleasantries the Merseyside derby throws up, there is one thing it gladly isn't, has never been and will hopefully never become.
On Tuesday, former Manchester City player Trevor Sinclair referred to Liverpool as "bin dippers" in a tweet. His defence being later that it was used in a football context and therefore no offence should be taken as it wasn't intended.
While I certainly believe that Sinclair is unable to comprehend his own ignorance at times, I also think he knew exactly what his words meant, simply because it was impossible for them to mean anything else.
Last week I wrote about politics and football mixing, but in this sense it's the social crossover which once again the people here have been stereotyped with.
When are we going to be able to put an end to this constant antiquated baiting that vilifies parts of society like the unemployed or homeless, only to see the same people then hide under a blanket of "banter" because it is said in a football sense?
Thankfully, the derby has never entered into such a tone because we are all from the same place, seeing the same things and fighting the same discrimination on a weekly basis.
It's why, despite my fear and loathing at the prospect of seeing Everton succeed on the pitch, I couldn't be prouder of them for projects such as Everton in the Community, their joint contribution to Fans Supporting Foodbanks or their constant support for Hillsborough when it matters.
At the times needed, both clubs adopt the same principles and tone. They become representations of a city still baffled by the ignorance on display online and in our away ends on a weekly basis. A city still fighting for itself when it comes to austerity and cuts.
Liverpool won at a canter on the pitch last night, and Everton's sheer hopelessness meant that any usual edge was conspicuous by its absence.
We can at least be glad though that what Sinclair and the likes claim is lighthearted and jovial foolery but is clearly sinister, has never seeped into the fixture and hopefully never will.
It is the one and only thing, along with Divock Origi, that I can be thankful of the Merseyside derby for.
"People talk about strength in depth but Xherdan Shaqiri and Divock Origi were fucking brilliant." 👏

📱 Subscribe here and listen to our immediate post-match reaction show after Liverpool's 5-2 win over Everton 👉 https://t.co/XZAK9veWt7 pic.twitter.com/fydgi21yLf

— The Anfield Wrap (@TheAnfieldWrap) December 4, 2019
Recent Posts:
[rpfc_recent_posts_from_category meta="true"]
Pics: David Rawcliffe-Propaganda Photo
Like The Anfield Wrap on Facebook