WELL, I mean, Christmas is a thing, isn't it?
On the one hand, the most wonderful time of the year. On the other hand, is everyone fucking knackered? Emotionally and physically? I mean, I am. And certainly the footballers are. We'll get to the referee.
You spend months working up to this point and when you get to it, honestly, it all feels like something to be endured. Not that this game had to be endured, it moved along, more just that the dark and the barrage of games stretching out across this period is a marathon, game after game after game.
Liverpool weren't lucky but they did have to hang in there. The two things are far more different than people often act like they are.
Wolves are good and tired. Liverpool are tremendous and tired. Liverpool made fewer changes. Wolves gambled on greater disruption and gambled on the last 30. They have achieved a lot last two seasons against the top six sides. They could well become a top six side pretty soon.
You can see how it all works. Wolverhampton set up with a big curved five across the back, sweeping across the top of Liverpool's wings, attempting to stifle the pace and effect of Trent and Andy Robertson.
Wolves have speed themselves too. Most especially when Adama Traore comes on at the 60th minute and stands out from all the rest in the manner he stretches Liverpool.
One present for The Reds is the decent performance from Adam Lallana. The boss clearly likes him and wants to bring him in, and what with Liverpool playing a bazillion games between now and the end of the season, we need to get used to a new world in which having a decent sized squad actually means something.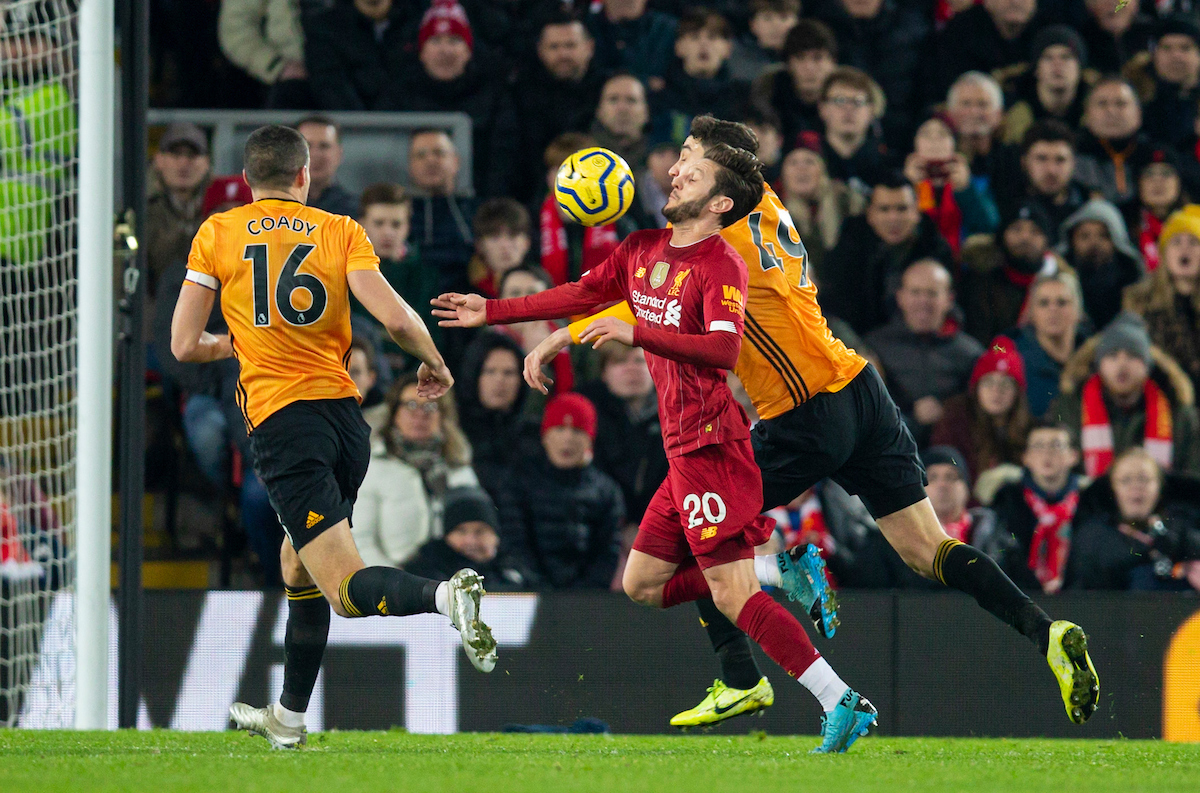 Liverpool looked appropriately tired today – and by the time the game ends Anfield is bathed in pitch dark – so without doubt it is time for players like Adam Lallana to bear the load while Gini Wijnaldum, and to a lesser extent, the captain, look like their legs are well worn if well-oiled machines.
The period in which Liverpool drove me mad was the one when they were most on top, when they played the best between 45 and 60. That was the period when Liverpool needed to make it two, when they needed to make the aggressive Wolves changes redundant and best resisted by their manager.
Instead, the game situation makes Nuno's mind up. He has to chase the equaliser, has to find a way to win the game and in doing so obviously improves his team.
Today is the very essence of why this fixture pileup may be entertaining for us, but isn't great for any of the players. Two managers deal with it differently but both will wonder about whether or not they did it right, and both will wonder about their third game in the run and what they should and shouldn't do.
Can the same argument be made for the referee? I'd be more generous had he not stank almost every gaff in the last four years out. He should be deemed unacceptable to the league in general, but especially in any game involving Liverpool or Manchester City. He is a bad referee first and foremost but a Mancunian to add to it.
He is a one-man case for VAR on every decision. The issue is as much the run-of-the-mill calls as it is any others. Liverpool need to be assaulted to win a freekick. Wolves need to be brushed. Taylor isn't good enough, is wrong too often and too often in big games.
Joe Gomez is more than good enough. Tonight was another magnificent performance from him making it now three on the bounce. There can be no doubt of his class, of his recovery pace, of his reading of his game. But tonight his passing was exceptional.
That ball he plays to Trent Alexander-Arnold early and aggressively is among my favourite things in the world right now. He arcs it just beyond any press, the pace puts Trent on the front foot. It is not an easy thing to do by any stretch but he makes it look so easy.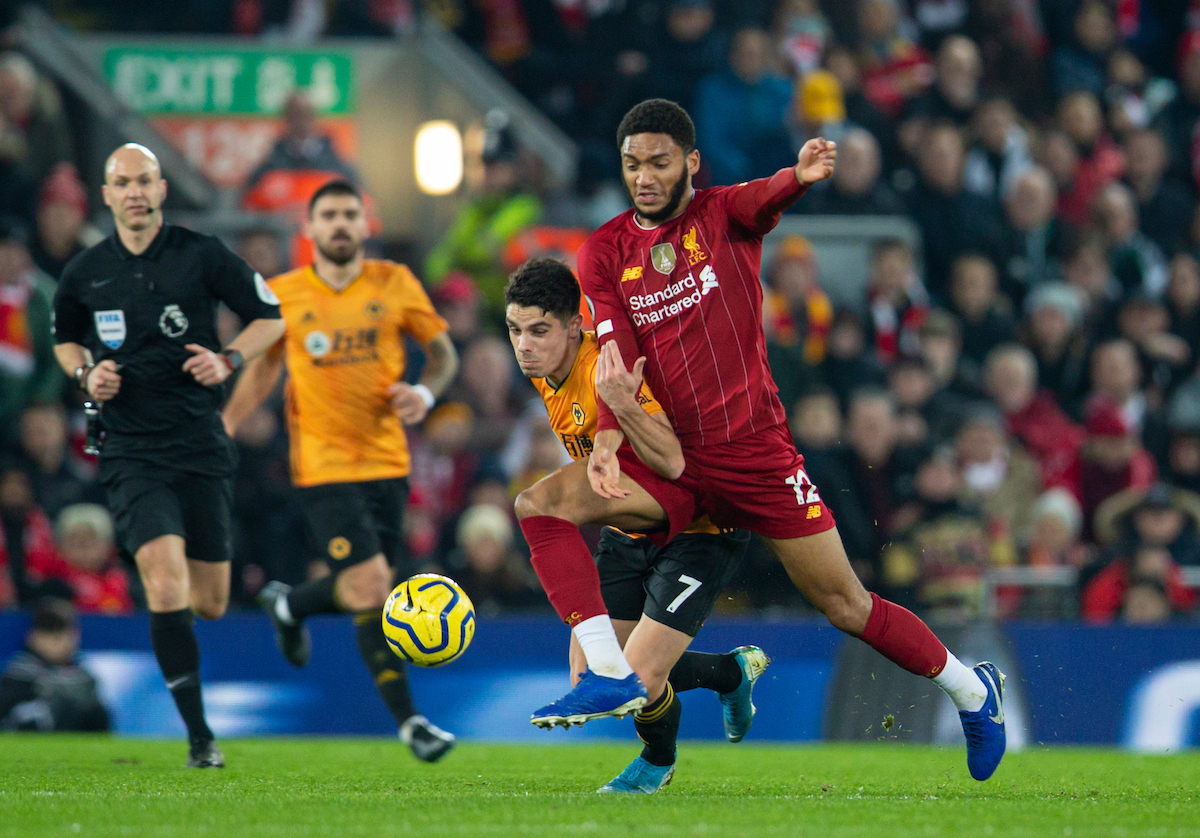 It screams of training. Liverpool are a side wonderfully coached. Today I watched my first Glasgow Derby since Rodgers has left. Christ Celtic looked like a banal side in comparison to what they did last time I saw them. They stank of meat and potatoes. They stank of a shift in the coaching.
Liverpool (and Wolves for that matter) are gloriously drilled and improved and encouraged. There is a reason the aforementioned Lallana can be dropped in, a reason why Joe Gomez grows all the time. A reason Liverpool are top of the pops by a million miles.
They have the best players and they have the best coaching. It gets you through times being tough, it gets you through difficult tests. You can fall back on first principles. First principles. Win the ball and shift it vertically and then win it again if you have to. Force them back, make them think, make them keep starting again.
Starting again matters. Liverpool may well be the best team ever at it. Start again from 0-0. Start again if a chance is missed. Start again if an avenue to score is blocked off. Start again every single time. There has been no adversity in 2019-20 Liverpool haven't been able to start again from.
Your world-beating centre back makes a mistake, your keeper bails him out. Start again from the corner. The mistake no longer matters. They carry nothing with them, they have no regrets, no missed chance, no misplaced pass, no mistake leads to recrimination, leads to melancholy. Everything is in the moment.
The moment belongs to Liverpool. They inhabit it as they inhabit everything, as they inhabit so many minds. 2019 has been everything for us and 2020 promises us even more.
Take some time between now and the New Year to yourself. Have a sit down and have a drink – that drink can be anything you like from tea to the finest whiskey – and just have a think. Have a think about Munich away, a think about Southampton away, a think about Barcelona at home and winning it in Madrid.
A think about Manchester City at home this season and Sadio Mane at Villa Park. A think about being World Champions and deserving it because think about being the best in the whole wide world.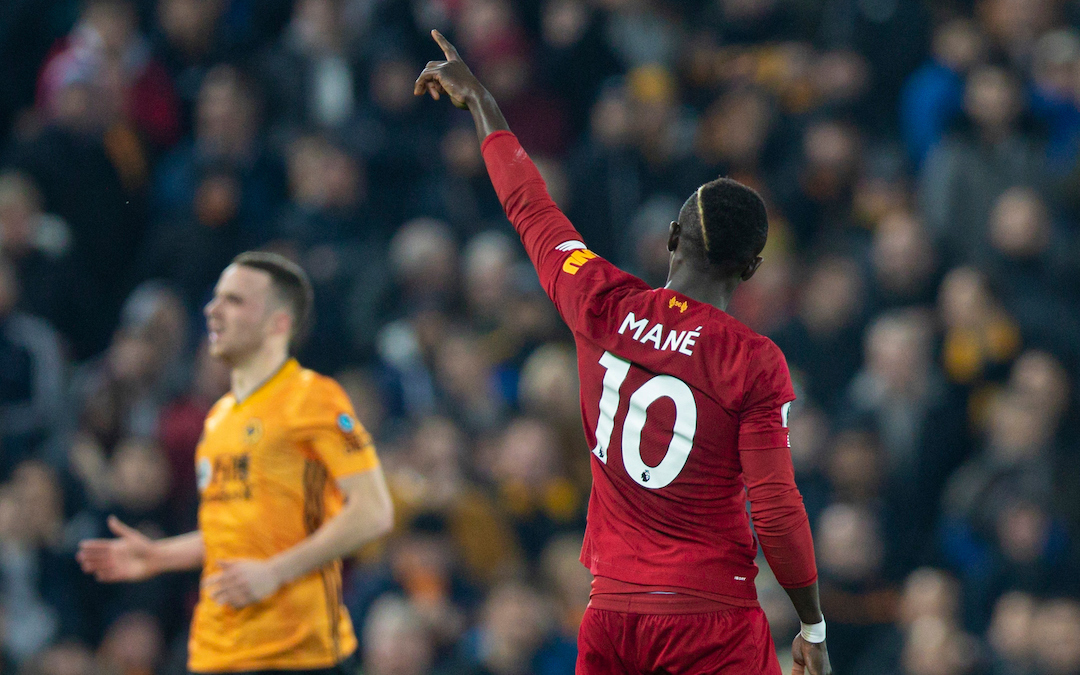 Think about that rather than VAR. The reality is Liverpool not video assisted refereeing.
Just like the Christmas tunes that everyone despises but no one can put a stop to, the VAR chat will be triggered by this game. Liverpool get one and keep one by virtue of that.
And it stays that way. And it stays that way. And it stays that way. And this mad team of tired red Christmas elves take us into the next barrage of games still so many points clear of on second in the league.
What a present. What a thing to give us all. What wonderful humans they are. As the captain and the manager approach The Kop at the end of the game, there is a wonderful togetherness appropriate to the season.
Come, let us adore them all. Kings of Europe.
Spend some time on it. Spend some time on you in this season of chaos. Astonishingly it is only halfway. We're halfway through this thing together, halfway through a season, halfway through what feels like a lifetime.
Nineteen down. Nineteen to go. We'll do them one at a time. We'll do them together. We'll do them in quiet solitary moments and in loud busy moments. We'll keep working.
Start again, Liverpool. Start again in 2020. Nobody does it better.
Recent Posts:
[rpfc_recent_posts_from_category meta="true"]
Pics: David Rawcliffe-Propaganda Photo
Like The Anfield Wrap on Facebook