LIVERPOOL had a fight on their hands today.
A fight against the conditions, a fight against a team fighting for their lives.
The weather. There was ever so much of it. Hail before kick off. Loads and loads of wind.
It had a massive impact on the game for both sides, the ball arching around in the air, getting lost, moving from left to right. Both defence lose a ball in three minutes, dropping out of the sky left looking daft.
Everyone is rattled and that works for Watford. But balls over the top work for Liverpool, the better players better to work the chaos. Liverpool think their way through the fight.
But first half the gods are with them too. Two Watford players fluff their lines similarly. This has been Watford's problem through the season. They have woefully underperformed their expected goals and today Liverpool's clean sheet isn't to their credit.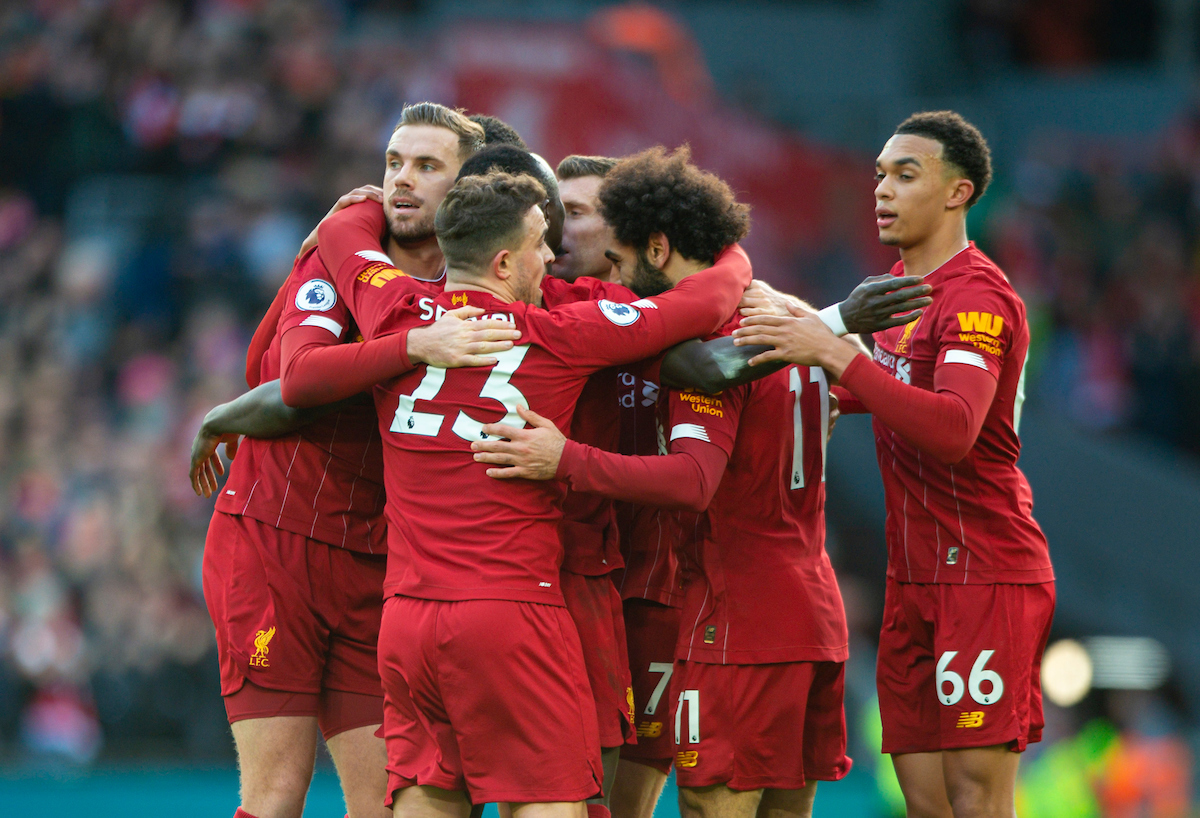 Jürgen Klopp's side have defended better as a group and individually many times this season and been unfortunate. Today they got away with a couple.
That isn't to say they don't deserve their win nor that they were poor. They keep coping, keep doing the needful. And goalkeepers are a thing too.
Liverpool's today is imperious. His reactions are tremendous but his decision making is what really marks him out. Almost everything he does, from his positioning to his distribution is emphatically the right thing.
Long kicks, throw ins, one on one saves, crosses. He leaves a cross in the first half because the wind has its say. Gets in position instead. Alisson Becker is the best in the world.
So is Andy Robertson. And that makes it hard for James Milner, hard and getting harder. The drop off is real and it hurt Liverpool today.
Again, this isn't to dispute Milner's quality. He does well when he goes back to centre mid and the ball he plays for Mo Salah second half to get him through one on one is drop-dead gorgeous, perhaps the finest moment of quality in the game.
It was so competitive in the middle of the park. Both Milner and Jordan Henderson do well getting through the game with a yellow card each. Henderson's first-half booking looked ridiculous in a game where Watford were getting away with murder.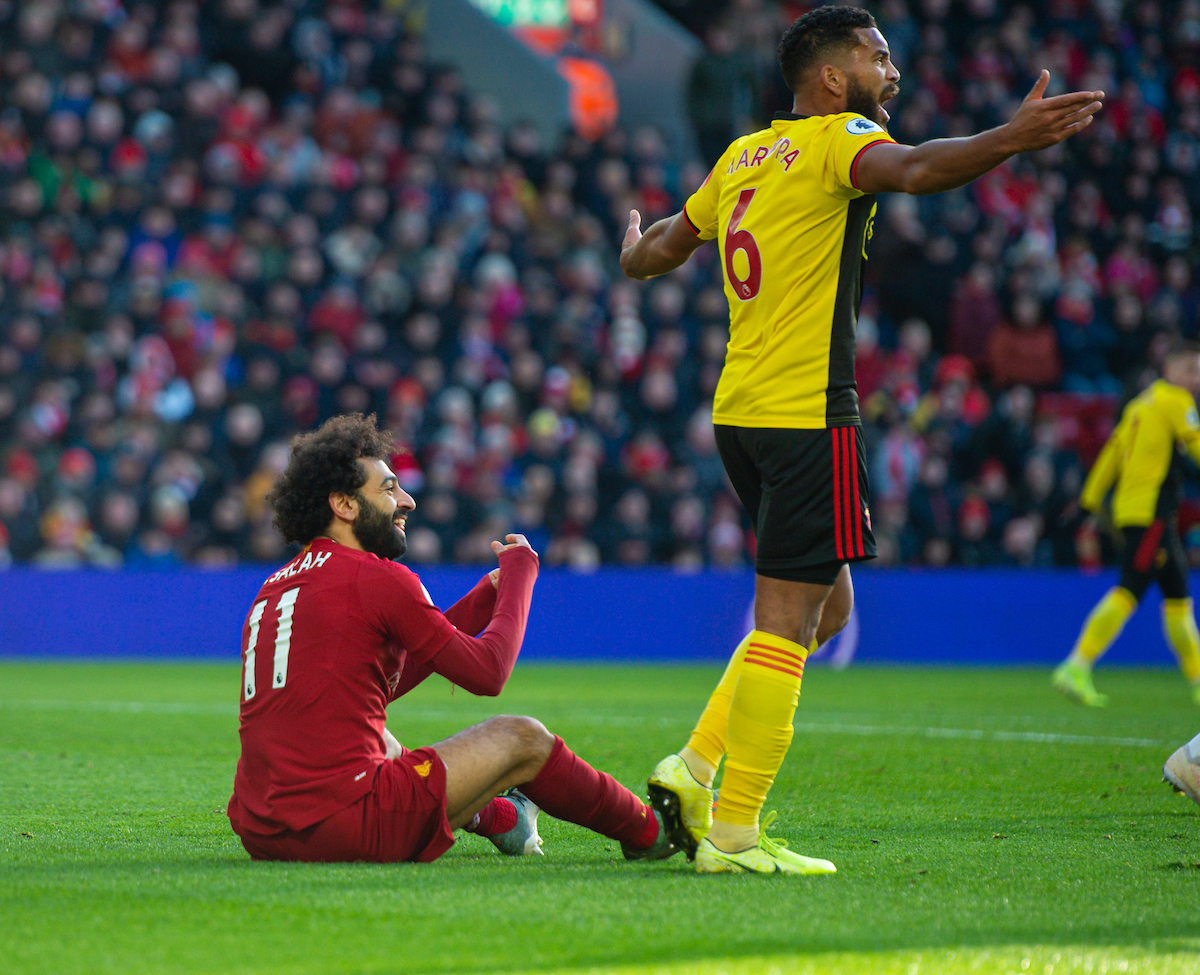 Ben Foster gave a masterclass in time wasting. They wanted football to only break out in bursts, clashes of legs and bursts of energy.
I liked them. They shouldn't be where they are and their teamsheet a reminder of their quality. They were intense and gave Liverpool more of a game than many other sides that have been to Anfield this season.
Joe Gomez and Virgil van Dijk were very involved in the game and both exhibited behaviour that reinforced the idea Watford had rattled The Reds.
But nothing was rattling Mo Salah. Not the wind, not the Watford defenders, not even his own missed opportunities. He was ever present in the game, always on, always eager. Should he have passed a bit more? Maybe, but he believes in himself. It's the price of admission.
A confident, fit Mo Salah will be focussed on sticking the ball away and that is what he does. He walks away with a brace that could have been four or five. He defines the football match and that is what we have wanted to see again. He is smiling and rightly so.
Roberto Firmino isn't. The chance he misses second half is a kick in the teeth. It was a Watford standard of a miss. He needs a goal, he needs a rest, he needs an influential game. He is full of needs and it isn't good to see.
It could turn in a flash for him but it may need some external intervention. This is his poorest period since Jürgen Klopp arrived. He hasn't stopped working but everything with the ball seems a little off. First half he turned away from three Watford players beautifully and I was hopeful it would prove to be his day.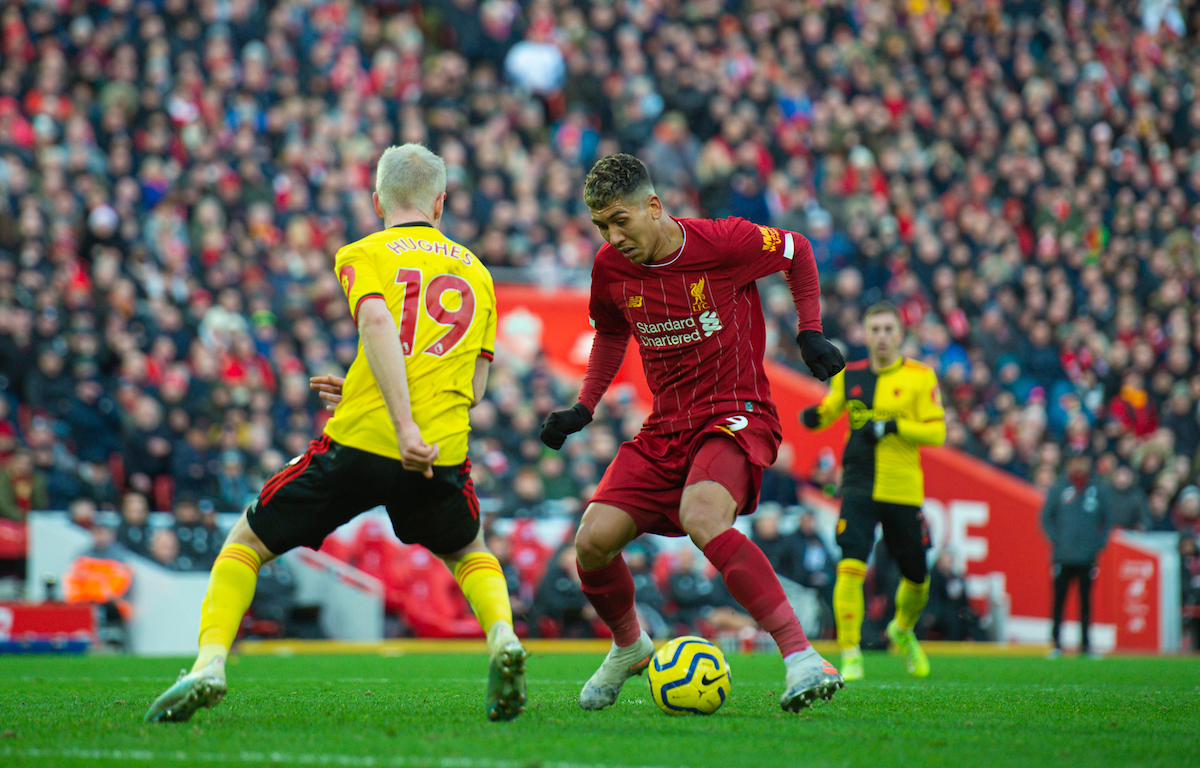 It could have been Xherdan Shaqiri's. He toiled a little first half, the side slightly discombobulated by his inclusion and him struggling to influence proceedings. But he does brilliantly for the disallowed goal and deserved for it to stand.
In the end it didn't matter, though it may have made the afternoon easier. But it isn't meant to be easy. Liverpool hung on, played the Watford and weather that was in front of them minute by minute. The team, the manager, the captain can go to bed happy, go to Qatar buoyed.
Hurdles, I say. Every week hurdles. This suddenly felt like quite the hurdle but Liverpool have cleared it and Liverpool are clear; 17 points on City and 10 on Leicester.
Seventen hurdles down, 21 to go. We're approaching the turn. Liverpool fighting whatever is in front of them.
It's been a hell of a week. Liverpool again unbowed. A lot to be proud of. A hell of a lot of work to do.
Listen: I am thinking of you. I am thinking of the task, of the tasks we have. And we will do it together.
"Liverpool won today without playing well.

"That's what you have to do if you want to win the League." 👏

📱 Download our app here and get all of our immediate reaction, including the 'Post-Match Show' and the 'Post-Match Pint' FOR FREE 👉 https://t.co/yTcwWTZN7t pic.twitter.com/9bamzYfEKb

— The Anfield Wrap (@TheAnfieldWrap) December 14, 2019
Recent Posts:
[rpfc_recent_posts_from_category meta="true"]
Pics: David Rawcliffe-Propaganda Photo
Like The Anfield Wrap on Facebook