LITTLE legs. Look at him give it little legs. World champions. The best in the world.
I mean, you knew it anyway. You had it in your back pocket. You took it home, you polished it up. You hoped it and prayed it as well as believing and knowing. The best in the world because nothing could be better.
But suddenly World Champions. Suddenly the thing no other generation could say. These are our World Champions. They are no one else's and have been no one else's.
The captain says we should have scored a few more and he is almost certainly right. But who is not on top of the world right now, despite that? Trophies matter, and for the first time ever this is a goddamn world trophy and it ours, all ours.
Winning is habitual. You need to start winning to keep winning. You need a winning mentality, you need to bounce, you need to continue battling for more than the 90, on into extra time and believe that goddamn goal will come.
Our beautiful front three have this mentality in spades.
They are a lesson to us all. Despite all the fellas who bellow every week at them – "shoot, just shoot will you" – they keep probing away keep pressing, keep trying all the angles. This is a strength against a Flamengo defence that are strikingly good.
Flamengo's blocking was good all game. We actually had very few clear shots. When we had the run of the game – which came in fits and starts and was by no means constituent – we still had to deal with their back wall. They bunged up our passing lanes, consistently made it hard for us.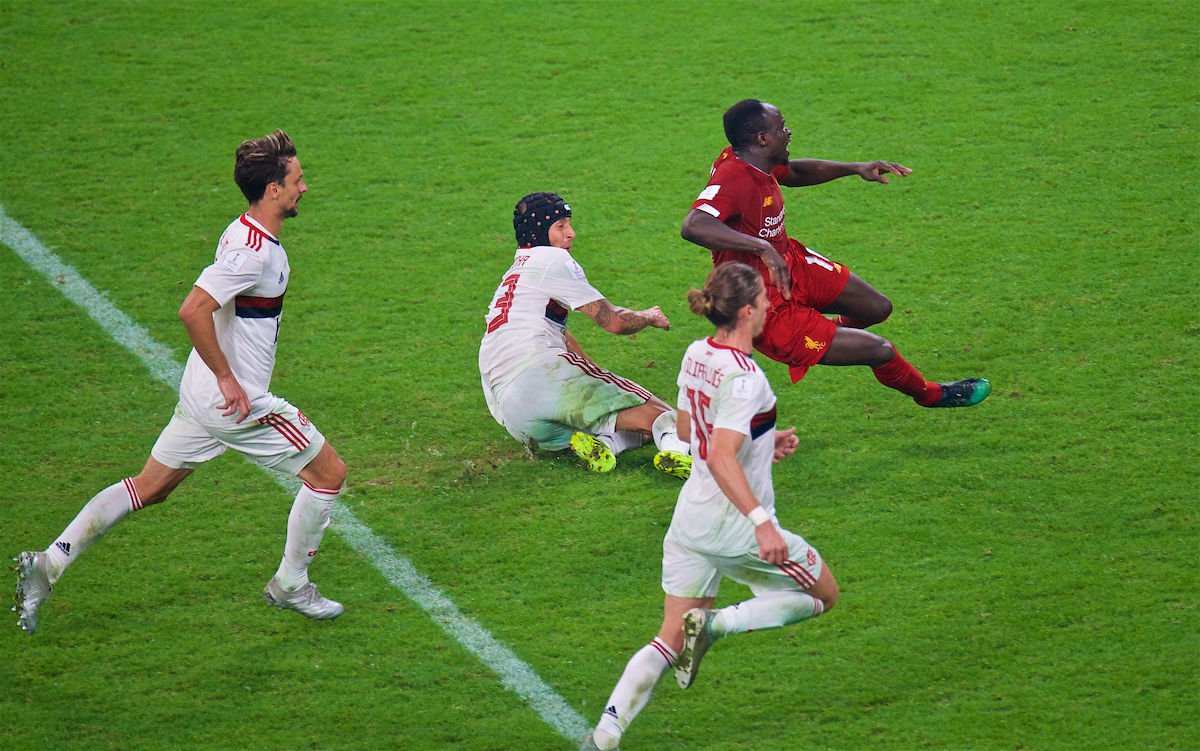 Man of the match by a distance was the captain. The main man. Little Legs's own Jordan Henderson. On the day Liverpool become World Champions the best footballer was born in Sunderland General Hospital. He grew up in East Herrington. He went to school in Farringdon. In Farra.
Today those people have seen that man captain this Liverpool side, be the force of nature of this Liverpool side, deliver both one million bollockings and all of the goods. Jordan Henderson belongs to us, yes, but he belongs to Farra, to Sunderland, to the North East. And he lifts the trophy which is meant to be global.
His performance was excellent. He won his battles, he filled in for a Liverpool midfield that was too often absent and he plays the ball to Sadio Mane which leads to the winner. Mane goes out of his way to congratulate him afterwards. But through the whole game Henderson bestrides. He works the referee out and manages his charges.
Oxlade-Chamberlain, in particular, struggled to impact proceedings. He was never quite where he needed to be. I hope his injury is mild.
Liverpool improved markedly with the substitution of Adam Lallana who was the absolute business, a man destined to be a world champion, a man determined to make sure. He'd spent the game watching on working out how he'd make fools of Flamengo and then got given the opportunity to cut loose.
The key way Liverpool would have been improved today was by Fabinho starting. Not in Henderson's stead but so he would have been even more impactful further forward.
Liverpool have reached back to back Champions League finals and won one, have become World Champions, have achieved 97 points last season and are double figures clear this season at Christmas with Jordan Henderson as their captain.
He is one of the greats of English football. He is amongst England's finest and he is among Liverpool's too. He lifts this trophy because he is among the very best footballers of his generation. Little legs for us all; little legs forever.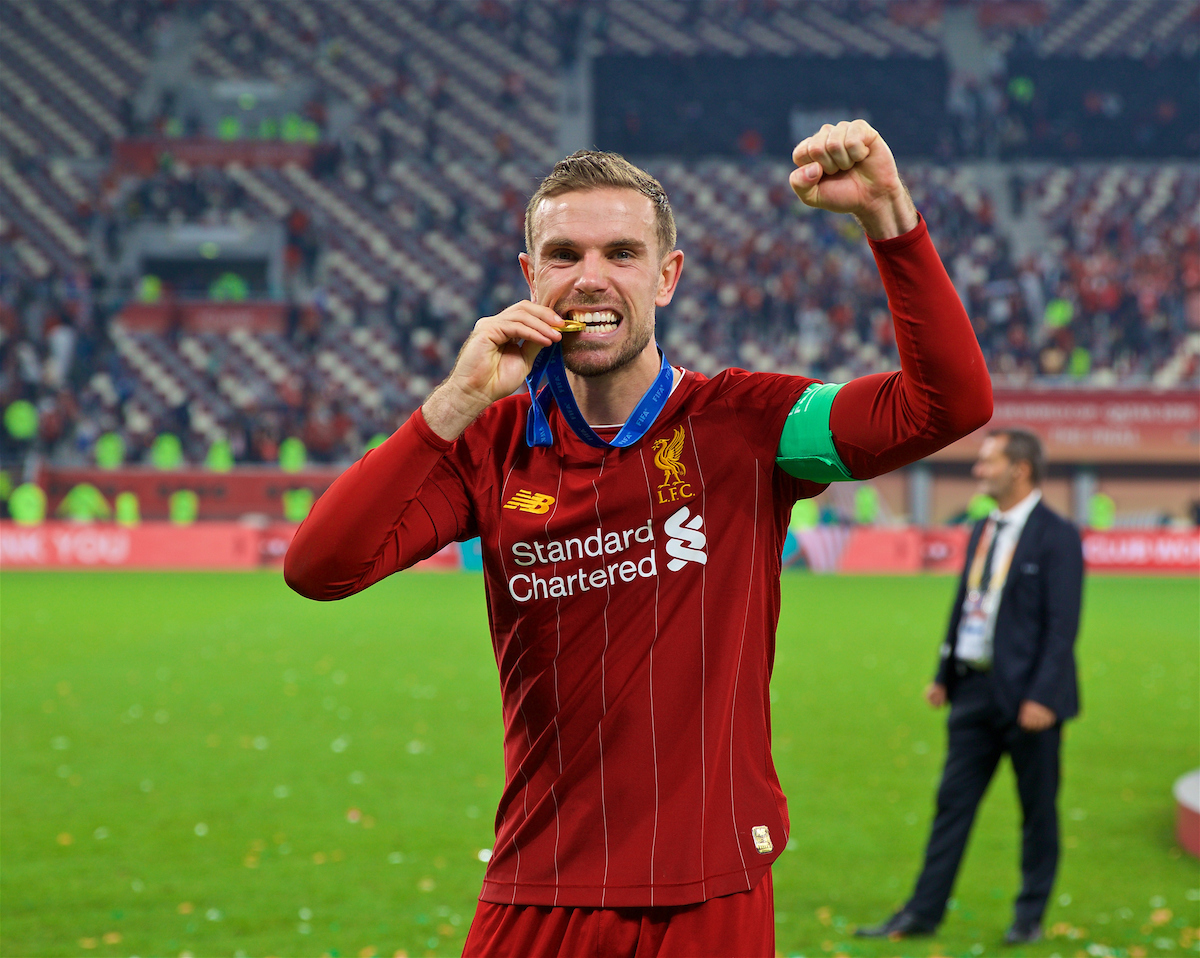 He'll do for me tonight. All the drinks and all the dances are his.
The game was genuinely odd. With the exception of about 20 to 37 it was entirely on Liverpool's terms but Liverpool weren't quite at the races.
Flamengo spent the whole game wasting time to catch their breath, Liverpool never quite making it count. Even when Flamengo were on top they became the latest side to feel frustrated by The Reds, unable to create a meaningful opportunity because of how well The Reds cover for each when in panic.
One of the ways Liverpool are brilliantly coached is at semi panic stations. They never fall to pieces but block off lines. The last ditch is never the last ditch. And if it is then the last ditch is the best goalkeeper in the world.
Joe Gomez impressed. He rose to the occasion, to the demands. They wanted to push things to his flank and he dealt with every threat, and then sent the ball here and there.
The goalkeeper and Virgil are just wonderful and sure. Andy Robertson narky and front foot, a guard dog who doesn't need to spend all his time guarding because he has made matters clear.
By the time Roberto Firmino takes his top off, Liverpool were so clearly ascendant the scoreboard was an affront. Had it been boxing it would long been finished but if it had been boxing the fear of the lucky punch was all that would have been left too.
Flamengo were bereft of all but that. They had been undressed by The Reds. All their energy was in stopping Sadio Mane and Mo Salah who needed stopping, who were all curves.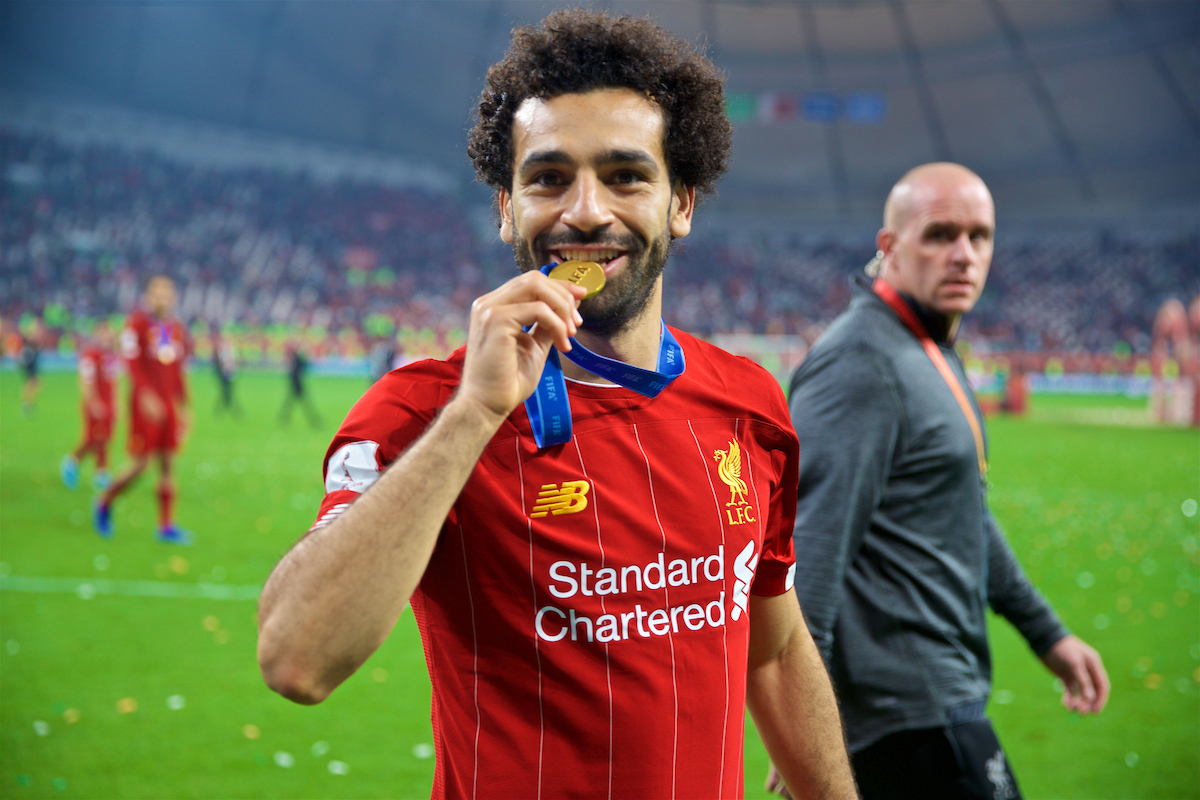 The refereeing was dreadful throughout. Flamengo poor in every disciplinary sense. But play us all night on any terms, lads; we're not losing.
Dance and drink tonight. Live tonight. What people forget is that you have had to be magnificent for two seasons prior to this just to be there. We were there because we were magnificent. Because we were the best.
Winning is as big as it gets. Enjoy it. Live it. Love it. Christmas dinner. Double figures clear with a game in hand, Champions of Europe, Champions of Earth. You think it will ever be better than this, handsome? You think you ever live a better day, gorgeous?
It is a joy to be alive, my friends.
Let them try and send a team from Mars. Farra's finest and his mates will blam them everywhere. He and they will do for me. They'll do for you too.
Have a great Christmas. You'll do for me too.
Unfortunately there will be no Post-Match Pint tonight due to personal reasons

The Post-Match Show will be released for free, and we'll have loads more reaction to the game over the next few days

Apologies

— The Anfield Wrap (@TheAnfieldWrap) December 21, 2019
Recent Posts:
[rpfc_recent_posts_from_category meta="true"]
Pics: David Rawcliffe-Propaganda Photo
Like The Anfield Wrap on Facebook