The sea was large today,
Just as any other day,
Something broke in me,
Watching on this winter's eve…
THERE is a point in a season where Liverpool are good when sheer desperation for the league title kicks in.
It shouldn't have been today. Today should have been allowed to be a little local difficulty, a little bit of sparring with the neighbours. Everton should have dominated all thoughts.
But it just couldn't be so. Indeed, those two focuses battling may have led to that one breaking through. I watched City last night. That didn't help.
I spent the day worrying. Fretting. City were good. What about Liverpool?
I need that football league. We need that title. The last time until tonight I set eyes on Everton Football Club in person they celebrated their 0-0 with a remarkable ferocity, with a passion. I remember Andy Robertson shouting at the away end "take no fucking notice of them". I remember what it meant.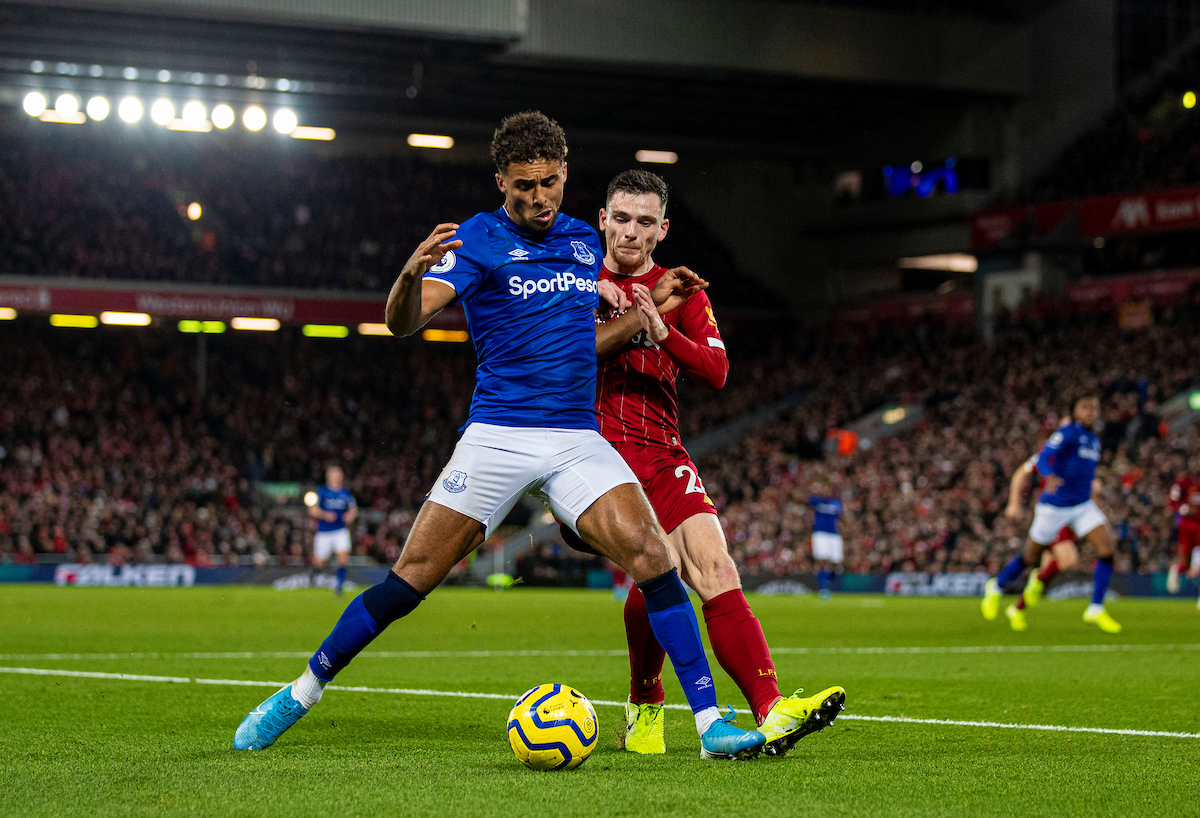 The team comes in and to be honest I felt liberated. Liberated because I have never seen a show of disrespect like it. Never known a manager more likely to have a plan. This isn't me exaggerating, you ask Gutmann. I came alive at the team, felt alive. Felt like something was on.
I've never seen a show of disrespect like it.
Disrespect to the fixture, the occasion. The opposition. Imagine being in the Everton dressing room. Theoretically a teamsheet to pin to the wall, a teamsheet full of players who have had off Everton.
Then Liverpool start the game. Then you see disrespect.
There is a book by Norman Mailer about Muhammad Ali against George Foreman called The Fight, and it is a big deal in sportswriting terms; a big deal in big (white) man writing terms. It is a big noise.
It's a very good book but let's be clear: there have been generations of women, generations of women of colour who could have been as good as Mailer. Could have been better. Let's be clear: there have been generations of women, generations of women of colour who could have been as good as Atkinson. Could be better. Get in touch.
But within the book Mailer details Ali going at Foreman with right-hand leads. The most basic punch. The punch no one would throw against a man like Foreman. Disrespect.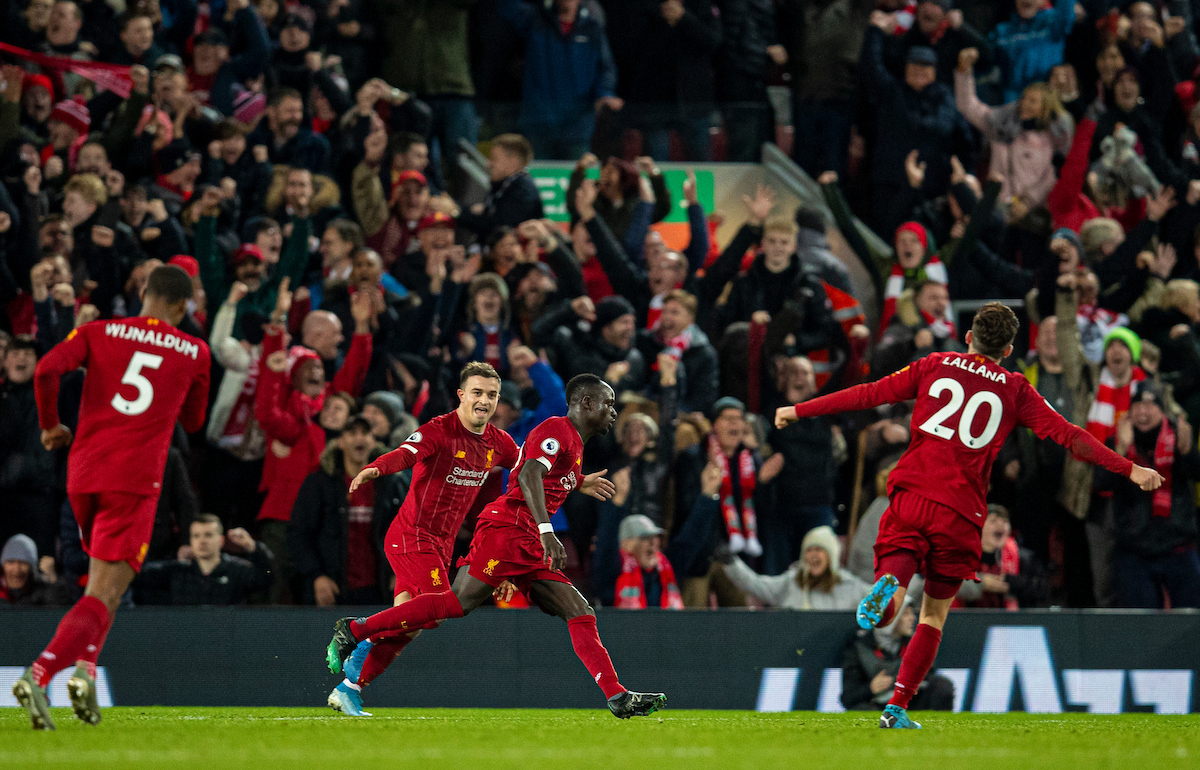 Liverpool decide their way home against Everton is balls over the top. Balls left, balls right but most of all balls down the middle. The sheer disrespect of the enterprise, the idea that Everton can't deal with the most primary school of moves.
Everton can't deal with the most primary school of moves. The sheer disrespect over and over. Liverpool demonstrated the very worst while being the very best. Everton had no answer.
Sadio Mane gets two lovely assists first half, but while the first works against anyone, the second only works against a side whose offside line is a zigzag. Who have holes like a Tom and Jerry cartoon. Who are being disrespected in every way. Ruined by Jürgen Klopp.
Xherdan Shaqiri is in the process of being in and out of the game, but when he's in he is the game's defining force. His 90 minutes is something rather special; outball and creative force. In general, a joy.
Divock Origi gets two goals in a sublime centre forward's display. He is constantly involved, constantly willing, constantly clever. There have been many like it down the years because we have been blessed but there have been very few better.
Indeed, take his fellow Belgian Lukaku out and I struggle to think of an Evertonian centre forward performance this decade in Origi's class. He is well better than Evertonian legend Duncan Ferguson, even on Ferguson's own terms.
Divock Origi is deservedly a Liverpool legend. Duncan Ferguson should be a footnote in Evertonian history.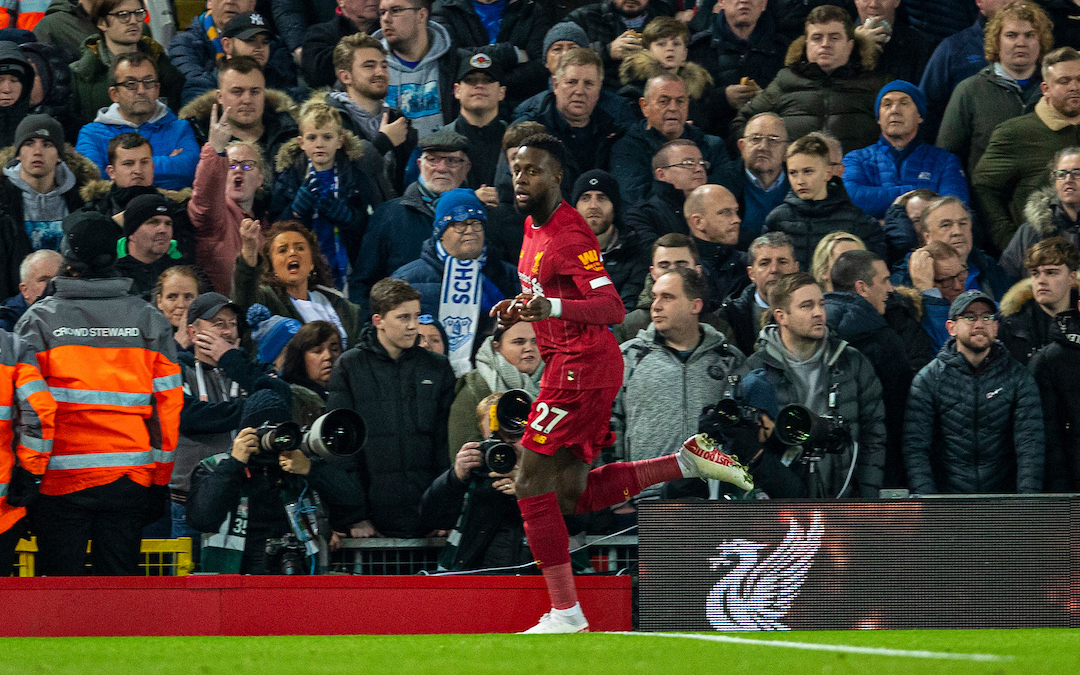 Evertonian history. This performance and result matters. Because while they concede two Liverpool swagger to four and then five. Liverpool show so much quality, class and assurance in what should be their second or third toughest home game of the season with a second string attack.
Everton should be a serious proposition. Everton should mean everything, not just be a conduit to three more points, however hard it is.
Instead, Jürgen Klopp and his 11 reduced them to ash. Reduced them to pillars of salt. Their heads always turned looking at Liverpool, always punished.
Liverpool top of the league. Liverpool oceans ahead of Everton. Leagues ahead. Liverpool the best conceivable versions of themselves even when weakened. Liverpool chasing the league title. Chasing the 19th. Chasing the first.
But it finds me when I'm sleeping,
And wakes me in a fevered low…
Time on her side. Time on ours. Fifteen down. Twenty-three to go. I just wonder if I am on her mind. As she is on mine, all the time.
But tonight, the disrespect…
"People talk about strength in depth but Xherdan Shaqiri and Divock Origi were fucking brilliant." 👏

📱 Subscribe here and listen to our immediate post-match reaction show after Liverpool's 5-2 win over Everton 👉 https://t.co/XZAK9veWt7 pic.twitter.com/fydgi21yLf

— The Anfield Wrap (@TheAnfieldWrap) December 4, 2019
Recent Posts:
[rpfc_recent_posts_from_category meta="true"]
Pics: David Rawcliffe-Propaganda Photo
Like The Anfield Wrap on Facebook