IF the Leicester City game was a masterpiece, Wolves was a hastily drawn map to the Post Office scratched on the back of a ciggy packet.
While one game had wit and verve, the other was a war of attrition as both sides faced an in-form Anthony Taylor. Despite the disparity in quality, the net result was the same —three lovely points.
You need to be ready for both types of win, of course, and Jürgen Klopp was keen to point out that the second half of the season will feature more edgy encounters rather than poetry. Beauty must give way to pragmatism. Welcome to 2020.
We'll begin the new decade as World Champions. We began the last one halfway through Rafa's bad season with the world's most unsuitable owners selling off the family silver as Red fought Red online and in print about what success looked like.
It's fair to say things have improved since. There is no higher place to go for us right now unless Venus get a decent squad together and a suitable venue can be found.
European Champions and World Champions. Nice, obviously, but many of us get more of a thrill by simply looking at the league table. It's too early — much, much early — to say that word, but it looks nice, doesn't it?
I wonder if you're like me. Half elated, half petrified. Part enjoying the rare three days rest while at the same time wish we were playing tonight.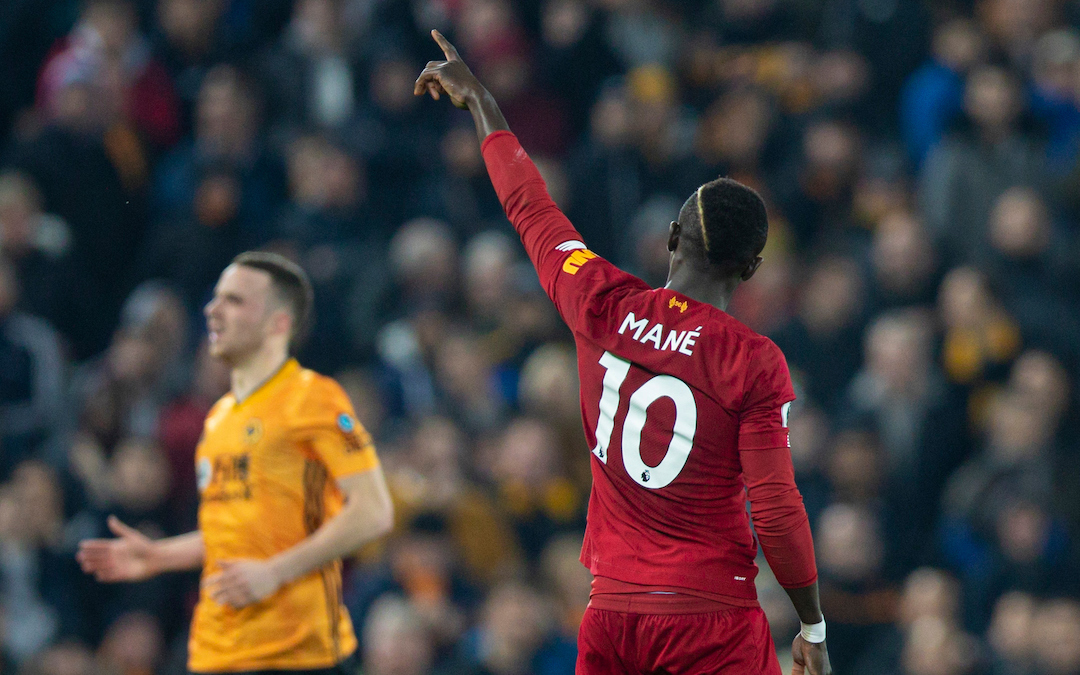 Credit where it's due. If there's such a thing as Employee of the Month at Melwood it shouldn't go to Trent, Sadio or Virgil, but their boss. Seriously, his management and attitude has been Herculean. How he's kept this run going through that schedule is beyond me.
It's impossible to tell if he's learned much from his squad over the past four weeks or if he always knew they would deliver, but no one would have frowned had we dropped the odd couple of points here or there.
The loss of Fabinho, Matip, Allison, Gini and Lovren would derail most sides, yet here we are 13 points ahead. He's done more than hold the lead – he's increased it. That's the equivalent of sprinting the King of the Mountain stage of the Tour de France.
Klopp's chopping and changing has led to some pleasing developments. Adam Lallana has revelled in a deeper role which utilises his intelligence while Naby Keita has turned out to be Naby Keita after all.
A special mention to Joe Gomez whose audition to be Virgil's partner has been a success. All four centre backs have been exceptional this term, and add Adrian to that when he was called upon.
Jürgen also pointed out that no one at Anfield is considering the title, and though that can't possibly be true the focus on the next game has been evident.
Once Leicester were done then came Wolves and The Foxes were no longer relevant, despite the score and performance. Other clubs (and us at other times) would have revelled in that and maybe taken an eye off the next match, particularly if they could point to tiredness as an excuse. This side doesn't do that. Focus. Always focus.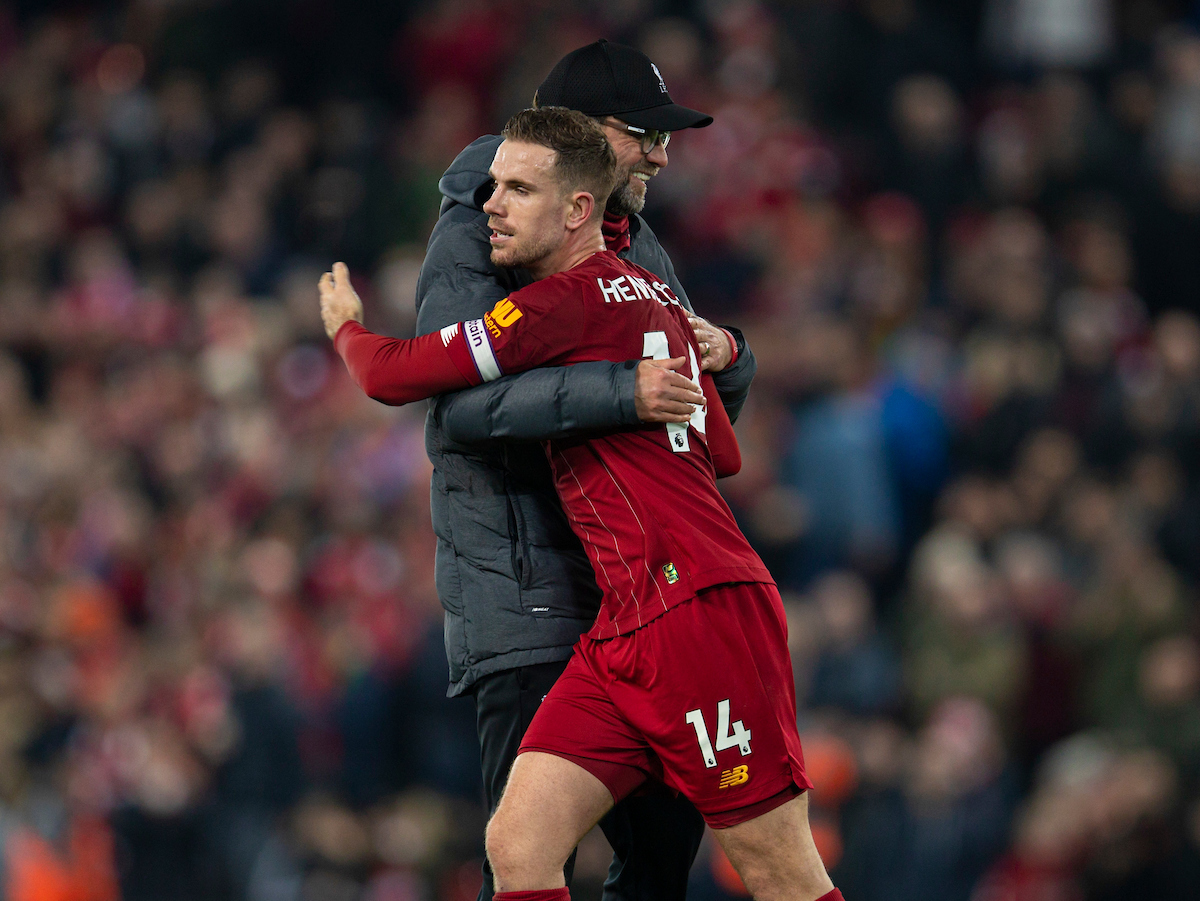 Naturally the accusations come with the league lead. Depending on which view you subscribe to Liverpool are either the beneficiaries to the Premier League's largesse, are on dodgy horse pills or created VAR to help us out. Oh, and the refs love us. And the league is too weak.
A 13-point lead. That's all that matters. Everything else is white noise.
The schedule isn't over. Sheffield United have been one of our toughest opponents this season and the FA Cup draw denied us the chance to play the kids again. Then there's Mourinho, double Moyes and United to come before the Champions League and another trip to Madrid. Play and recover, lads. Play and recover. That's all we can do and avoid all distractions.
This is a different level now. World Champions. Yesterday was the first time in ages that I wasn't interested in the outcome of an Arsenal/Chelsea game as it couldn't impact us, or at least not in the way Leicester and City do. Arteta and Lampard aren't even glimpsing at our coattails at the moment.
It's all about the other two now. Their managers have claimed they never considered themselves title contenders in the first place (Rodgers) and that it's all over now (Guardiola). We're not falling for that.
Three more points.
The title of World Champions implies that its owner casually swats away all comers with a shrug, but, as Jurgen says, there's an awful lot of digging in and edging victories over the line.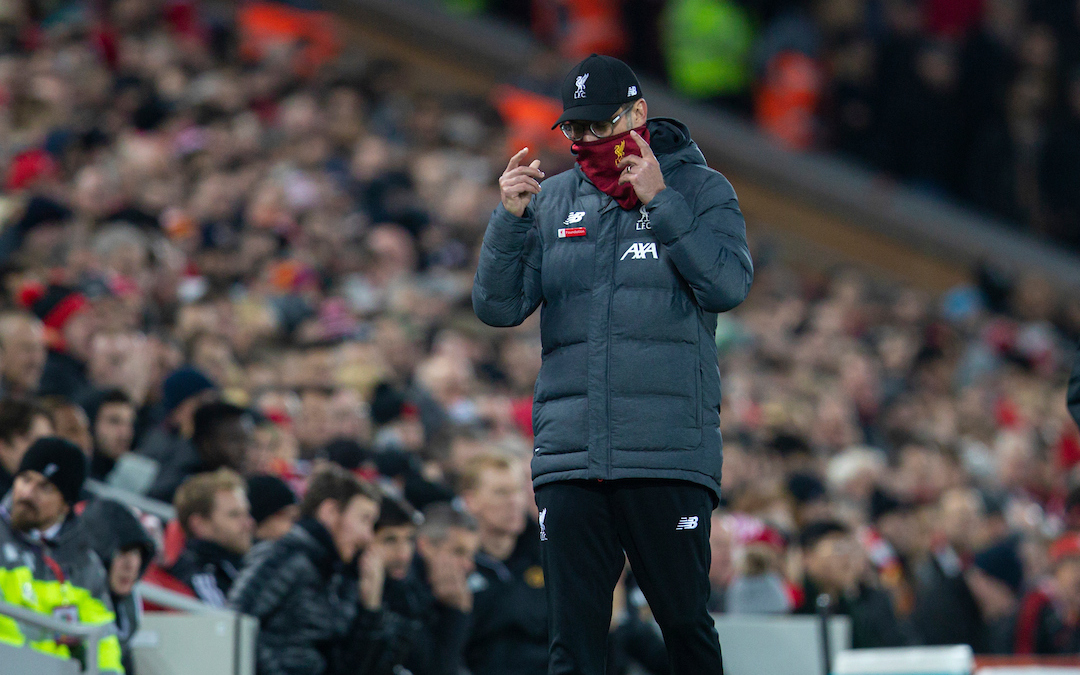 Expect to see a lot of James Milner standing on the touchline, hands on hips, waiting to come on and manage the final minutes. Expect to see a lot of Divock Origi with his foot on the ball and hand on the corner flag running the clock down. It's going to be brutal now. Absolutely brutal. Strong stomachs needed.
And it's that which made the Leicester game so joyous. Brendan let our full backs run free so we made hay while the sun shone. Nuno played five in midfield to stop us doing just that. Expect more of the latter.
It's the end of the year and end of the decade. We're in much better shape now both on and off the pitch. A mate told me yesterday that there isn't a player he even mildly dislikes now, and we can't remember when that was the case. Oh, there'll always be debates and disagreements, but the next three points always comes first and that hasn't always been the case.
So, let's leave the VAR stuff, the 'just lucky' accusations and all that shit behind and think about the next three points. We can go back to that in May when, hopefully, we'll all be standing on top of a pub table or lying under it wondering where we are.
Liverpool are the Champions of Europe. Liverpool are Champions of the World. Liverpool are 13 points clear. Liverpool's players are all great lads. Liverpool's manager has our backs. Liverpool's manager is thinking hard about Sheffield United.
I wish you a Happy New Year. I wish you an even happier May.
Three more points, please.
"It was a performance of real determination and grit, and just getting over the line." ✊

📱 Subscribe here for all of our reaction to Liverpool's 1-0 win over Wolves 👉 https://t.co/XZAK9veWt7 pic.twitter.com/6r24cGmKen

— The Anfield Wrap (@TheAnfieldWrap) December 30, 2019
Recent Posts:
[rpfc_recent_posts_from_category meta="true"]
Pics: David Rawcliffe-Propaganda Photo
Like The Anfield Wrap on Facebook