THE many differences between Klopp's and Guardiola's tactics have been spoken and written about for as long as recent memory serves.
The Spanish style of tiki taka and the German gegenpressing, which define what both managers do about as well as the UK has defined its stance on Brexit, are endlessly regurgitated by lazy pundits.
Other managers have won more, but put Klopp or the man who shouts at clouds into the year 1998 and they genuinely would walk away with the title, given the right situation of course – though we know Pep wouldn't do it without an endless budget.
Guardiola is often seen as a tiki taka pass master who engineers space with free-flowing football similar to that of Ajax's incredible side of the early '70s.
Within coaching circles in Spain he's known for redefining the 'box system'. The same man who, in every game against Valencia, would launch long balls in a manner similar to Tony Pulis's Stoke City.
"I loathe all that passing for the sake of it, all that tiki taka. It's so much rubbish and has no purpose. You have to pass the ball with a clear intention, with the aim of making it into the opposition's goal. It's not about passing for the sake of it."
From the man himself.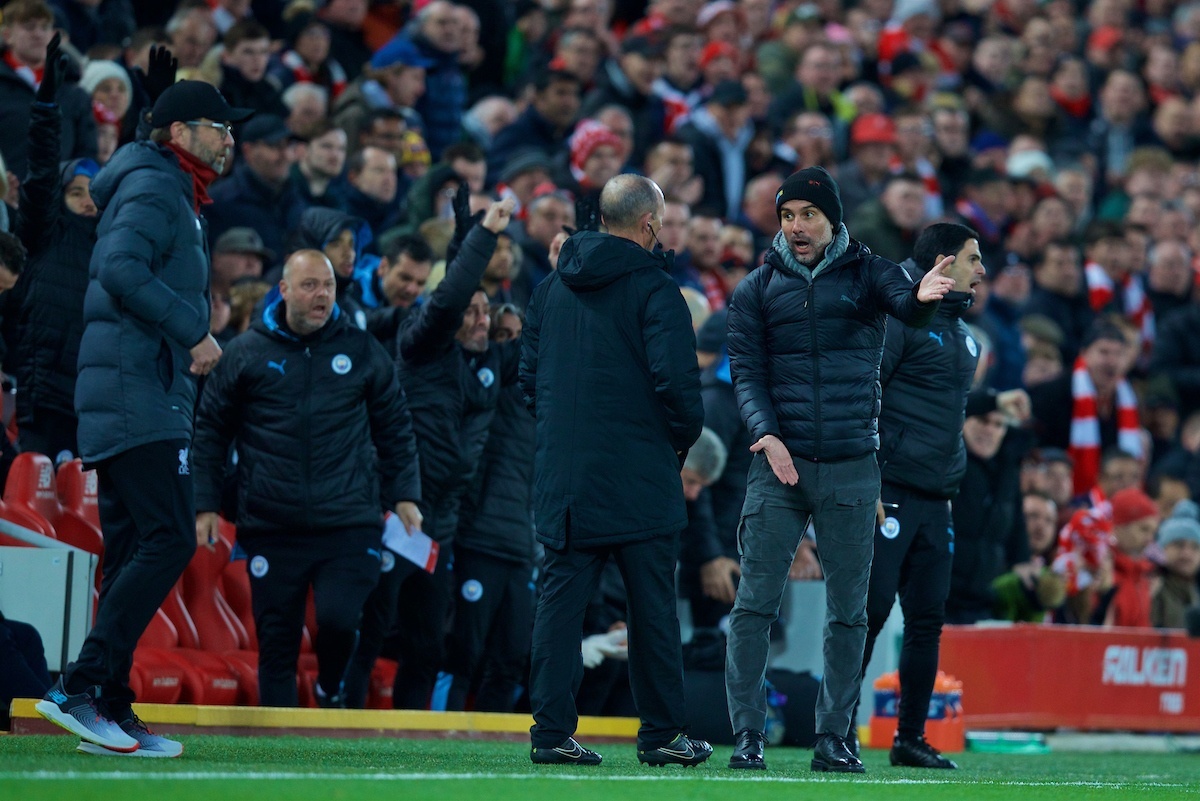 This article is about to take a turn. Hold on, it's worth it.
Tiki taka never existed. Pep has always been a student of Marcelo Bielsa. For those who don't know Bielsa is famous for a few things, one of them is creating the aforementioned 'box system' – if the centre back dropped then the right back went into a higher box, for example.
Imagine a cake, a football pitch cake, cut it into 16 pieces, then you have an idea.
Pep's players live by his instructions to stay in their places, moving into set boxes when certain players have the ball. It's as structured as you can get.
"How many times would we see a player come and ask for the ball?", former Barca man Thierry Henry explained to Sky Sports. "Not with Barcelona. Stay in your position, trust your teammate on the ball, and wait for the ball. Look at where I am [hugging the left touchline]. That position allowed Iniesta to get the ball because I'm occupying the right back."
Messi is arguably the only player who involved himself in tiki taka, he would roam, he would pillage. The idea of passing your opponents to death didn't exist. However the other idea of roaming free – Ajax football – existed with Messi.
Playing the false nine, he would arrive in other people's areas to double up and create overloads, which created a distraction for when Dani Alves decided a ball to David Villa on the back post was more effective.
Pep doesn´t have Messi anymore, luckily. He did once employ Sergio Aguero in a similar role at Anfield, on that occasion he looked to receive the ball on the wing as Trent didn't know if he should stick with Raheem Sterling or pounce on Aguero.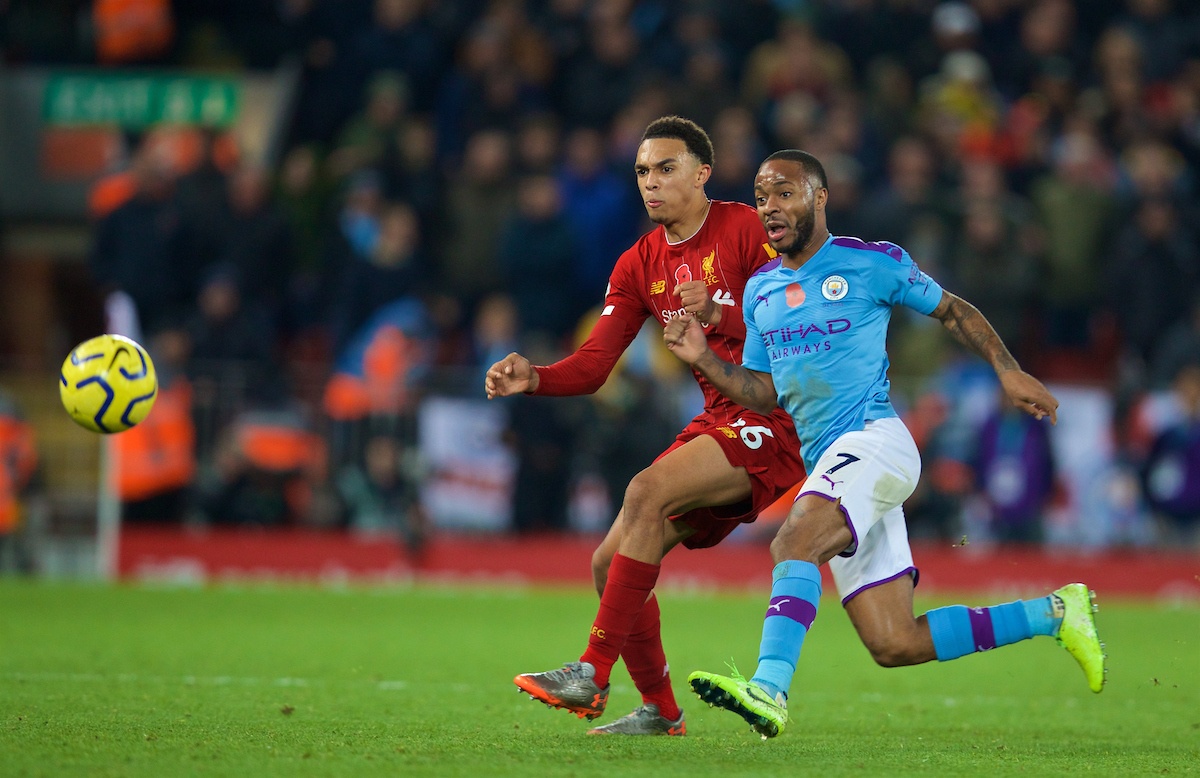 So we know Pep is a box-loving, Messi-less rulemaker for his players. But how is Klopp's system defined?
Well, let's look at the midfield. Everybody agrees that Fabinho plays as a six, though he breaks the mould as he is one of the best front-footed midfield players in the world right now, with his ability to stop attacks before they even begin.
Combine that with van Dijk's covering speed, and it isn't necessary to have two pivots. Or is it?
We have seen Milner slot into a three and we have seen Gini slot into a double-pivot system, namely against City to break the press of the two strikers, Aguero and De Bruyne that day. This makes complete sense.
However, when Liverpool are attacking they do something different… They run their heads off. They run like crazy. Where they run and where they operate, though, is even more fascinating.
Pep's traditional system has David Silva and Kev De Bruyne working in the inner channels. This creates a front five which overloads in order to receive a pass, or in the case of the number eights sit between the full back and centre back while using the other players to occupy the defence.
Well, in Klopp's system, it's not too different. He understands the importance of these two lanes, but he uses them a little different. Everything he does with Gini and Henderson is designed to get the best out of the full backs and the front three. Unlike Guardiola, he uses them as a distraction rather than a focal point.
Both Gini and Henderson make convincing and committed runs into this final third area. As seen against Manchester City, they have the ability to really hurt teams when in these areas, but is crossing the ball on the byline as effective as the deeper crosses the full backs launch every game? No. However it is enough to confuse, push back and disrupt the backline of any team.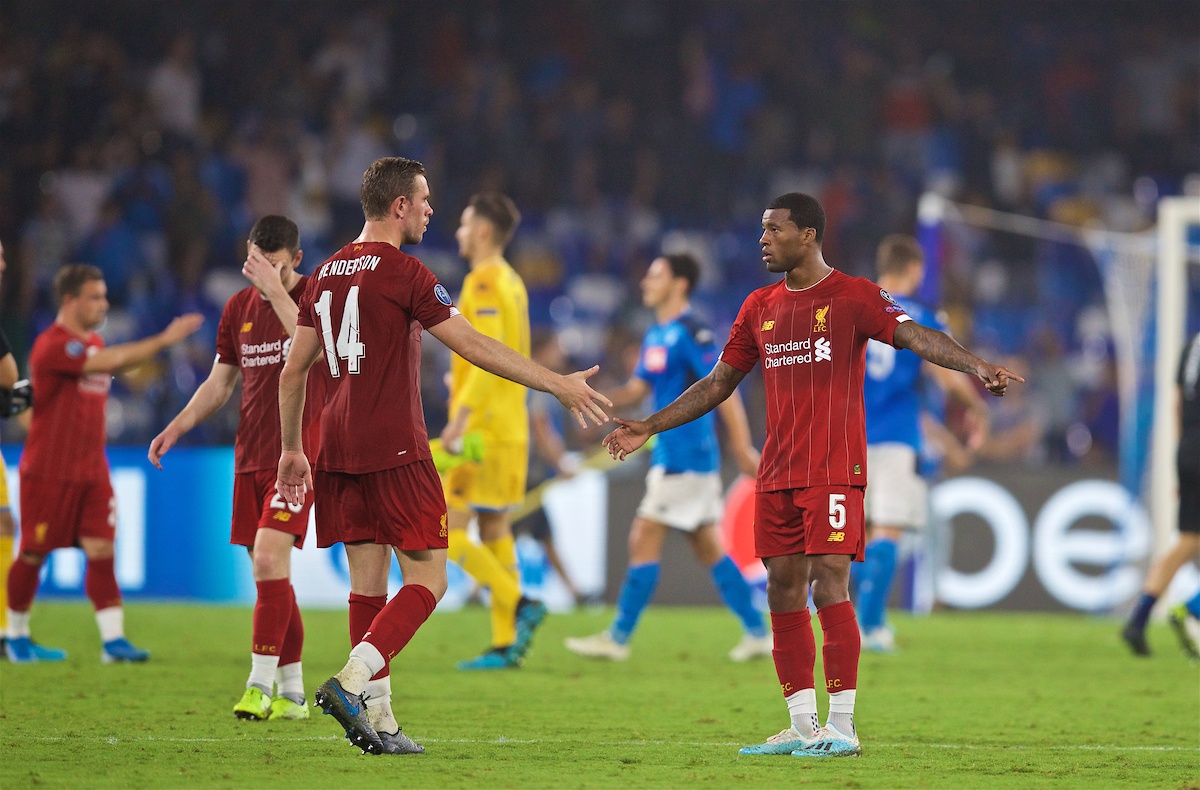 Have you ever asked yourself, where the hell is Georginio Wijnaldum? Has he gone the shops? That's why. He isn't supposed to be operating in the more focal areas, if he is then the team often run the risk of being static and without penetration.
Our full backs always have time to deliver the balls, Mane and Salah are rarely tracked by the opposition full backs. Why? Well, the runs and movement made by Gini, Henderson and occasionally Milner over and over again create problems for full backs, who must choose whether to shutdown Robertson or go with Gini into the final third.
This results in a near-post overload, allowing the front three to penetrate and create havoc.
Think back to Manchester City, when Robertson made a world-class pass and had loads of time to do so. So why would Pep, who knows that crossfield pass is coming, not tell Angelino to stay high and basically intercept Robertson? It's because he knows the moment you close down Robertson, the space for Gini will be created.
Think back to the goal scored by Gini against Barcelona; Shaqiri occupied the space behind the full back and there was a huge overload in the centre.
What do Henderson and Gini mean to Klopp's system? In short, they're distractions. But as one of the two best managers to have ever managed knows, you cannot ignore them.
Even if it means giving Robertson enough space to drink an Irn-Bru while watching that terrible Mel Gibson movie.
Recent Posts:
[rpfc_recent_posts_from_category meta="true"]
Pics: David Rawcliffe-Propaganda Photo
Like The Anfield Wrap on Facebook