THERE was something about that timing, wasn't there?
Just when we (me, and everyone I know anyway) needed a bit of lift from the despair of what has unfolded in the last 24 hours, up pops Big Jürgen; a knowing look on his face, a soft smile – like he wanted to give us all a big hug.
Maybe he just wants everyone on it for the Watford game. It's an early kick off, after all. And Klopp has told us all many times how he believes the crowd have a huge part to play. This was the perfect pep talk from a constantly charismatic and impressive man when supporters could well be down in the dumps.
Football is supposed to be an escape, a lift for your personal life away from the stresses and strains of walking the earth. And when Liverpool are good as they are right now, it's definitely that. Every single match is a joy to behold. And we need all we can get.
Nevertheless, despite all the good in recent times, a very small set of alarm bells had slowly but surely been ringing that bit louder as Klopp's contract ticked down and the idea he may fancy a break when it was up grew legs. Had we reached 2020 knowing he was leaving in 2022, you can imagine it would have only got much worse.
How would Liverpool possibly go about replacing this man? And what impact would uncertainty over his future have on future transfers and retaining the talent we already have on the books?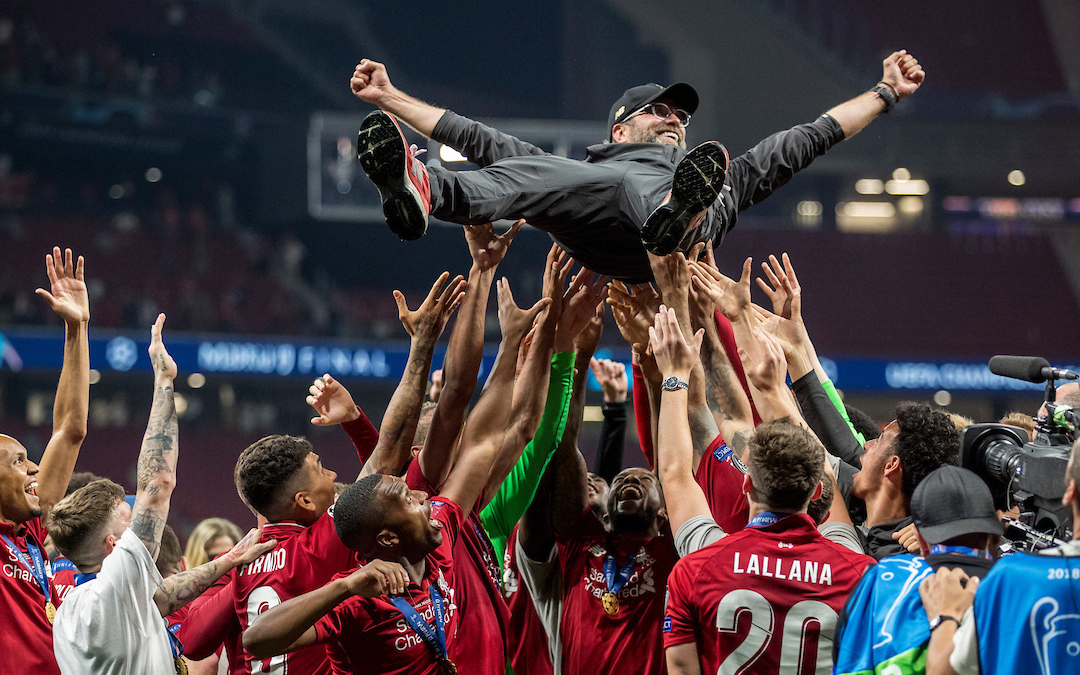 Now we need not worry. Now those questions have been kicked far into the future. Now a big German hand has reached over and lashed those alarm bells out the window.
The Normal One, as he called himself on day one, is staying put until 2024. He's happy to commit to (at least) what will be a nine-year stretch at the club. Liverpool can knuckle down and push on to creating a Klopp-era legacy.
When you consider Brendan Rodgers clocked up just over three years, Rafa Benitez six years and Gerard Houllier six years, aiming for close to a decade tells you how good a manager we have in place. And from Klopp's perspective, it would be the longest he's ever stayed at one club.
The news also comes when Klopp has again won manager of the month, when the European Champions have again reached the last 16 of the Champions League and when The Reds top the Premier League by eight points with reigning champions Manchester City trailing by 14.
An exciting new signing in Takumi Minamino is seemingly done and dusted, at a bargain price, and in a manner that has likely annoyed rivals. The Japan international is even set to make his debut against Everton in the FA Cup. Just like Virgil van Dijk did…
Squad players keep stepping in and performing to make sure The Reds keep on keeping on, the young Reds are showing the same character in football matches as their senior counterparts, there's a new training ground on the way, another likely stadium expansion, the best chance at title number 19 since title number 18…
It's an amazing time to be a Liverpool supporter. And much of the credit must go to Klopp for that.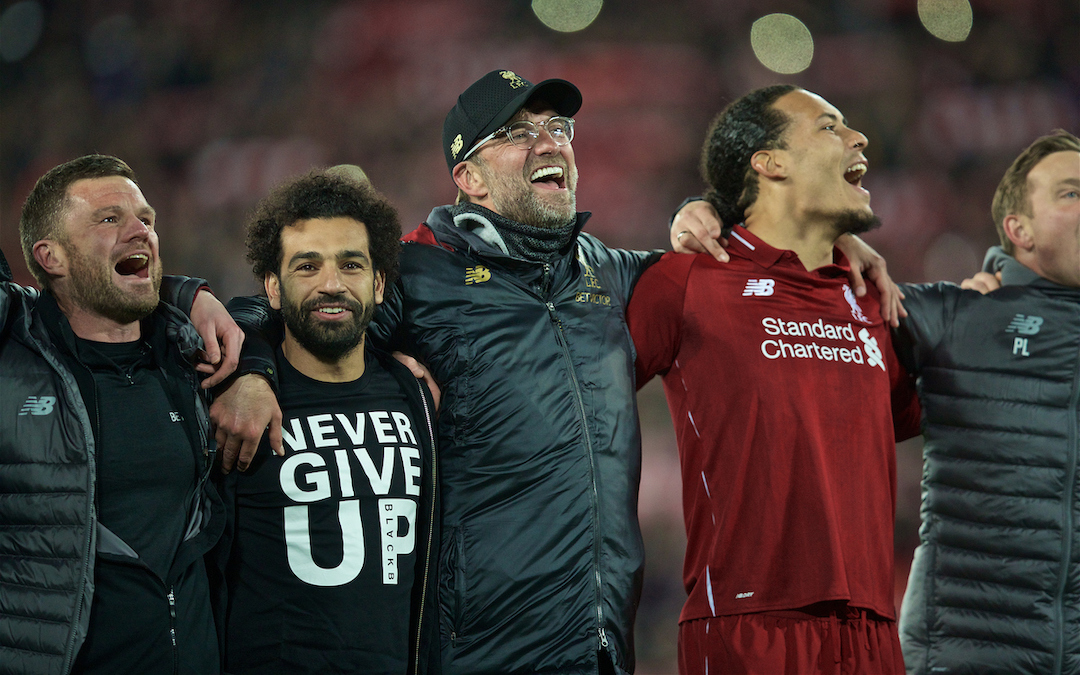 He, rightly, referenced the "we" in signing a new deal as his assistants, Peter Krawietz and Pepijn Lijnders, are staying put too. It's likely that also applies to much of the rest of his team.
To truly appreciate where the club is right now under the guidance of Klopp, it's necessary to remember where it was. The calls for Liverpool to punch its weight were constant. And while there were clearly good times, sustaining them always proved difficult.
Too often it was boom then boost. And too often it felt like Liverpool were seen as a soft touch – on the pitch, in the transfer market, in the boardroom. Take your pick.
No more. Klopp has led the way, restored fight and pride to all aspects of Liverpool FC, made Anfield a fortress, made the club a destination rather than a stepping stone and lit a fuse under supporters dulled by indifference.
We always wanted a manager that "got it". And now we have him.
All the intangibles that led to criticism of previous bosses, Klopp understands. He values the city, the people, and, yes, even his politics are right.
"We love it here, first and foremost," Klopp said when announcing the new deal.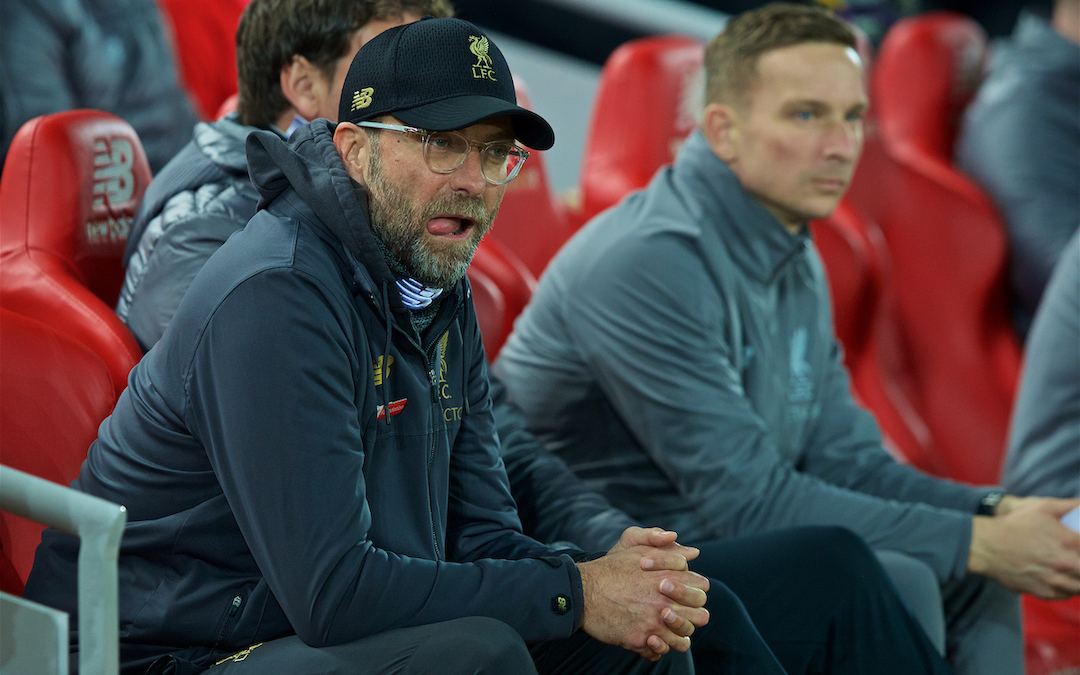 "We really feel at home. Meanwhile, we understand most, the people – and we thought it was a good moment to continue. The club was interested in that fact as well, so we did."
Whatever else is going on in life, thanks goodness for what's happening at Liverpool.
And to finish, without getting too heavy on the politics, take a look at this, which was tweeted earlier by Dave Cottrell, who works on the matchday programme:
"These are difficult times across the world and it is so sad that so many look for what divides us, rather than a sense of community and society that can bring us together.
"However you observe this time of year, we should take the best values of football and make sure we remember we don't live on this planet alone and our existence is made so much better by not walking alone and instead showing love and compassion to those around us."
What a man Jürgen Klopp is. There are great times ahead, at least on the football pitch.
"It's the best possible news.

"It shows how much he loves the club, how much he loves the supporters and how much he loves the city." 👏

📱 Subscribe here for all of our immediate reaction to the news that Jürgen Klopp has agreed a contract extension 👉 https://t.co/TEMh9r97WH pic.twitter.com/BEahr2V29s

— The Anfield Wrap (@TheAnfieldWrap) December 13, 2019
Recent Posts:
[rpfc_recent_posts_from_category meta="true"]
Pics: David Rawcliffe-Propaganda Photo
Like The Anfield Wrap on Facebook