"DO not be dismayed by the brokenness of the world. All things break. And all things can be mended. Not with time, as they say, but with intention." (L. R. Knost)
"When the call came in autumn 2015, I felt we were perfect for each other. If anything, now I feel I underestimated that.
"We love it here first and foremost, it's a wonderful club. We really feel at home." (J.N. Klopp)
SUBTLE, eh?
Well, okay. This isn't the place to talk about politics, nor is this the time. Some of us are still reeling from the events of the past week while some are celebrating.
But, given that the manager has nailed his colours to the mast (red, if you missed it), the timing of Jürgen Klopp's new contract can be no coincidence. The majority of Merseyside needed a pick-me-up like no other on Friday morning and the manager and his staff provided it. He's committed to Liverpool for another five years.
It was a fillip at least, though personally it was more of a weak smile than a full Marco Tardelli celebration. My favourite tweet about it was from a left-leaning United fan who quote-retweeted the club's announcement and added "Oh Jesus. Five more years of him too." Sorry, la.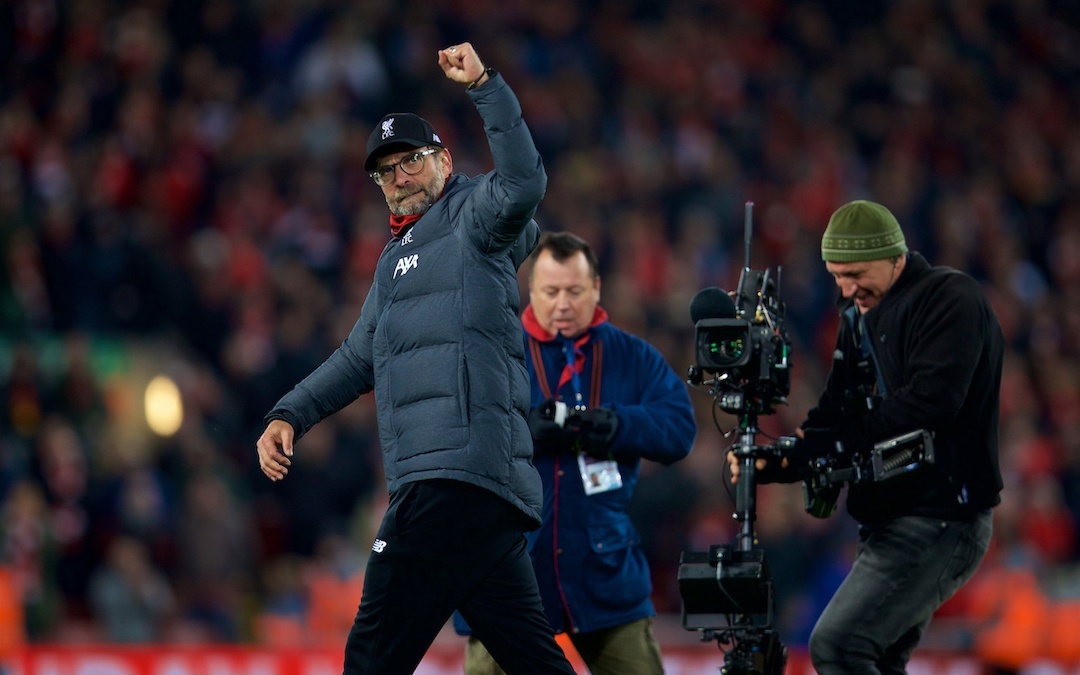 Should Jürgen complete the full term he'd have served nine years behind his Melwood desk. The longest since Shankly.
I mention this because we belong in a social media age with a rolling radio and TV news service who need content – content which greedily seeks out conflict, outrage and stories where there are none. As there simply isn't enough news to go around, speculation becomes the sports producer's friend.
Who's signing who? Which manager is leaving and who will their replacement likely to be? It's been Marco Silva of late and Pochettino. Though they seem a bit turned around on him now, Solskjaer's name is also good for filling a dead hour. Now they've looked across the city to Josep Guardiola.
This would have been unthinkable a year ago and it doesn't seem likely now, but it highlights the difference between the two best managers in the country. Where Klopp hugs the city hourly, many have pointed out that Guardiola willingly left his home club when they were the greatest team in the world (no offence, Roy) and then Bayern when he had the talent to work on a legacy.
In a recent interview the Catalan referred to his time at City as "challenge done". While not an express intention to leave, it's raised a few eyebrows at the Etihad.
Does it mean that he's gone as far as he can? Only the European Cup eludes him and if he can't secure one this season is there much point in sticking around? After all, he's won everything else domestically as well as back-to-back titles with record points totals. Where do you go after that if pesky Liverpool are their chief rivals?
Times have changed and this is a new age of manager. The 1990s were dominated by long-serving coaches in Ferguson and Wenger. Nowadays three or so years seems a decent tenure. Only Eddie Howe and Sean Dyche have outlasted Jürgen in the Premier League, at Bournemouth and Burnley respectively. In fact, Dyche replaced Howe seven years ago. That's how I like my irony.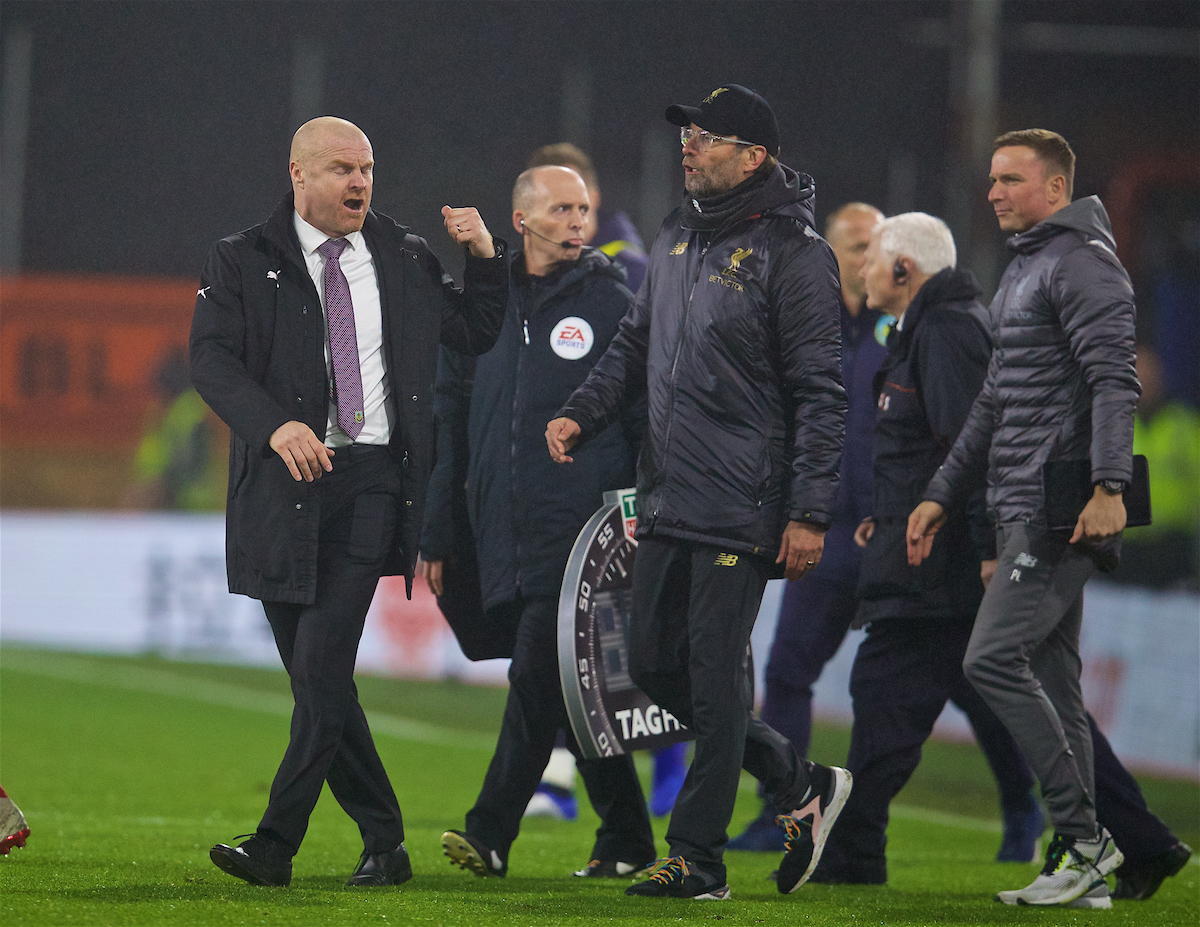 United went from 27 years of Alex Ferguson to four successors in just over five years while Arsenal have already sacked Wenger's replacement. Is it a coincidence that both clubs have been in a state of flux since? Not necessarily.
Ferguson and Wenger were patriarchs with a keen philosophy and sense of direction. The former's thirst for success never waned as he looked to usurp us from our "perch". Meanwhile, Wenger revolutionised the game and believed in a particular style and sticking to it. Both clubs now look nothing like their former incarnations.
The current United are locked into an argument between romance and effectiveness. Solskjaer will always be their hero because of 1999 but lacks the power of his former boss, while Arsenal have gone from their rigid adherence to a strong defence, combative midfield and flair upfront to a side which barely chases the ball or looks interested.
This is a far cry from United and Arsenal's utter domination of the league before Abramovich pointed at West London on a map and nodded sagely. Maybe it's longevity that builds the legacy.
Meanwhile in Glasgow, Steven Gerrard also signed his own contract extension for the same period. Again, this could be a coincidence, or it could point to a plan schemed in a backroom. He wouldn't be my choice. We've already recruited a former Liverpool giant from Rangers and that didn't end well.
What's more telling is the others who signed contracts on that bleakest of bleak mornings. Pep Linders and Peter Krawietz penned extensions too and if we're looking at legacy and continuation of Klopp's ideals, who better than the men who sit with him every day?
Linders will be 41 in five years, if Jürgen fancies time away with his Genesis albums and collection of headwear. A sort of German-Dutch boot room.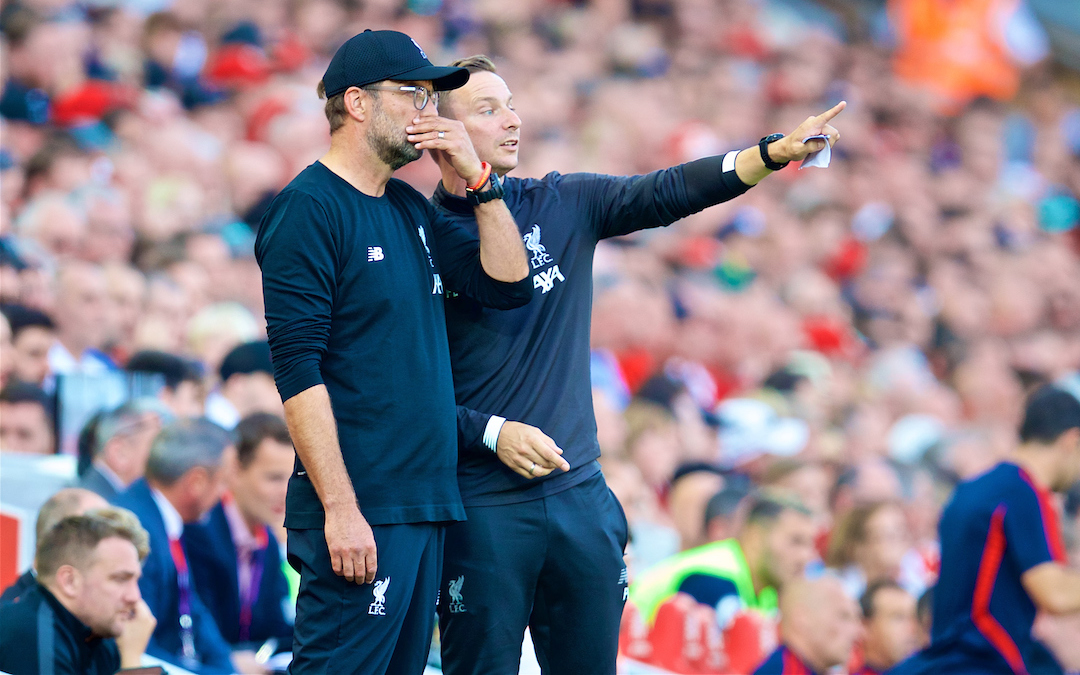 The key difference between Klopp compared to Guardiola, and even Mourinho, is his willingness to stay put. Mourinho jumps between Europe's top jobs and, while Pep has itchy feet, Jürgen likes to take root and feel at home. If we use that Ferguson/Wenger model that can only be a good thing.
Of course, length of contract has nothing to do with time served as you're only five poor results away from being the subject of a public post mortem, but that's usually true of unsuccessful managers.
Pochettino may have been Tottenham's best manager in decades, but he was behind George Graham in terms of trophies. Jürgen can already point to the big one and maybe in May we could… No, it's still too early to say that.
If that thing does happen then we have the right man in charge to maybe add another to it and… No, it's still too early.
You can't establish a dynasty with just three years. It's nice to know that at least someone made a wise decision last week.
"The style of play that Klopp has brought isn't going away… it's getting better.

"We're breaking records all the time, his contract is the best possible news." ✊

📱 Subscribe here for all of our buildup and reaction to Liverpool vs Watford 👉 https://t.co/TEMh9r97WH pic.twitter.com/Dl2Jt8XP2x

— The Anfield Wrap (@TheAnfieldWrap) December 13, 2019
Recent Posts:
[rpfc_recent_posts_from_category meta="true"]
Pics: David Rawcliffe-Propaganda Photo
Like The Anfield Wrap on Facebook