IT was supposedly a meaningless tournament created as an indulgent money-spinner by FIFA.
However, the triumphant Liverpool players seemed to enjoy their victory on Saturday a lot more than they were apparently meant to.
Despite some missed chances, a determined and talented Flamengo side and a refereeing performance that would have embarrassed even Martin Atkinson, The Reds got the job done in Qatar and come home with the FIFA Club World Cup to add to the ever-expanding trophy cabinet.
Watching the astonishingly incompetent officiating from Abdulrahman Al-Jassim was almost enough to make you pine for Premier League referees, but then you see Anthony Taylor initially award a freekick against Marcos Alonso after the Chelsea left back had the temerity to allow Tottenham goalkeeper Paolo Gazzaniga to hit him with a WWE style cross-body attack.
Liverpool overcame the best efforts of the incompetent man in the middle though, and eventually succeeded in the Khalifa International Stadium thanks to an extra-time goal from Roberto Firmino, to add to the winner he bagged in the semi final.
We got to witness Jordan Henderson and his happy legs lift yet another major trophy, the players and staff singing in celebration in the changing rooms, and will now also see a shiny gold badge on the shirts of the best team in the world for the next 12 months. That is, we'll get to see it in the Champions League, anyway.
It emerged after Liverpool were crowned world champions that, in their infinite wisdom, the Premier League apparently doesn't allow such outrageous flair on the shirts of their teams for league games.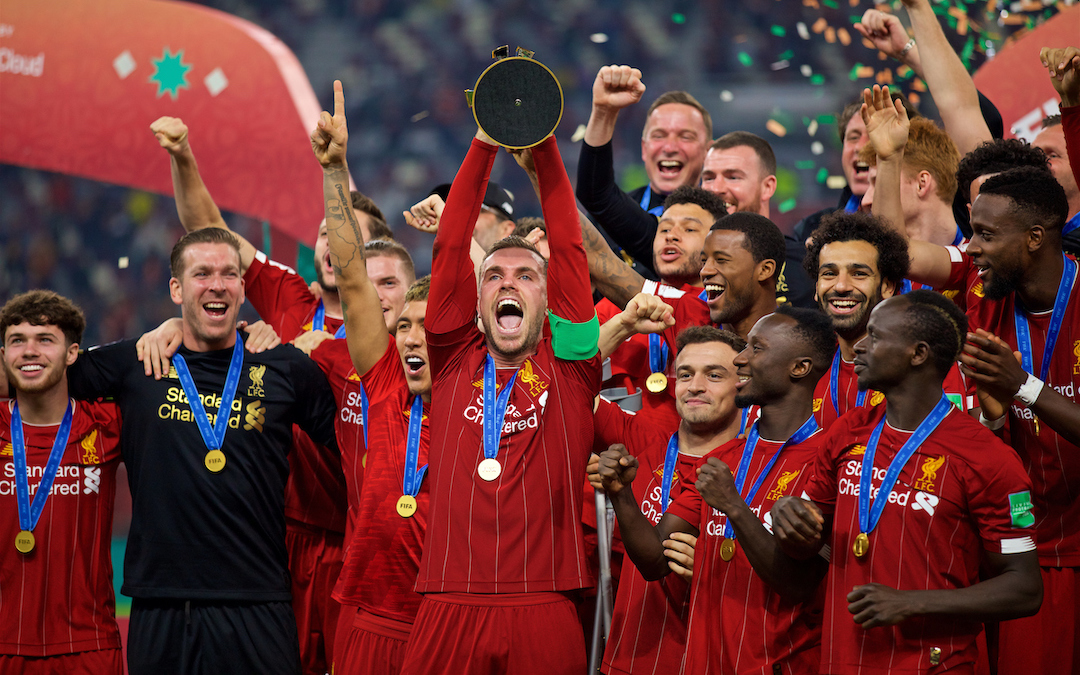 After all, why would you want a team in your league to show the world that they are the best? That one of the teams in the self-proclaimed "best league in the world" is literally the actual official best team in the world. Of course, you wouldn't want anyone to know about it, would you?
The most important things though are the trophy, the medals and the memories that the players will carry with them. For two players in particular, they can look at their medals and know that they played a significant part in securing them.
Firmino may have scored the goal, but Henderson and Joe Gomez were the standout players against Flamengo, and for the latter in particular, it was a top-class performance in a high-profile game that was much needed.
Gomez has had a very difficult 2019. He started it injured, having fractured his lower leg at Burnley last December, and only returned towards the end of the campaign, where he mostly sat on the bench and watched Joel Matip morph into the second best centre back in world football.
He came on late in the Champions League final and celebrated the victory and parade, but will have known that the part he played was minimal compared to others.
He started last season in supreme form alongside Virgil van Dijk, but his injury ultimately robbed him of most of the rest of the campaign, and the knock on of losing his place meant that he nearly had to wait a full year to get it back.
Then there was the Raheem Sterling incident with England. After Gomez had lifted the Manchester City star up by the armpits during an argument in Liverpool's 3-1 win over Pep Guardiola's men, Sterling showed extreme levels of Napoleon complex by attacking Gomez 24 hours later while on England duty.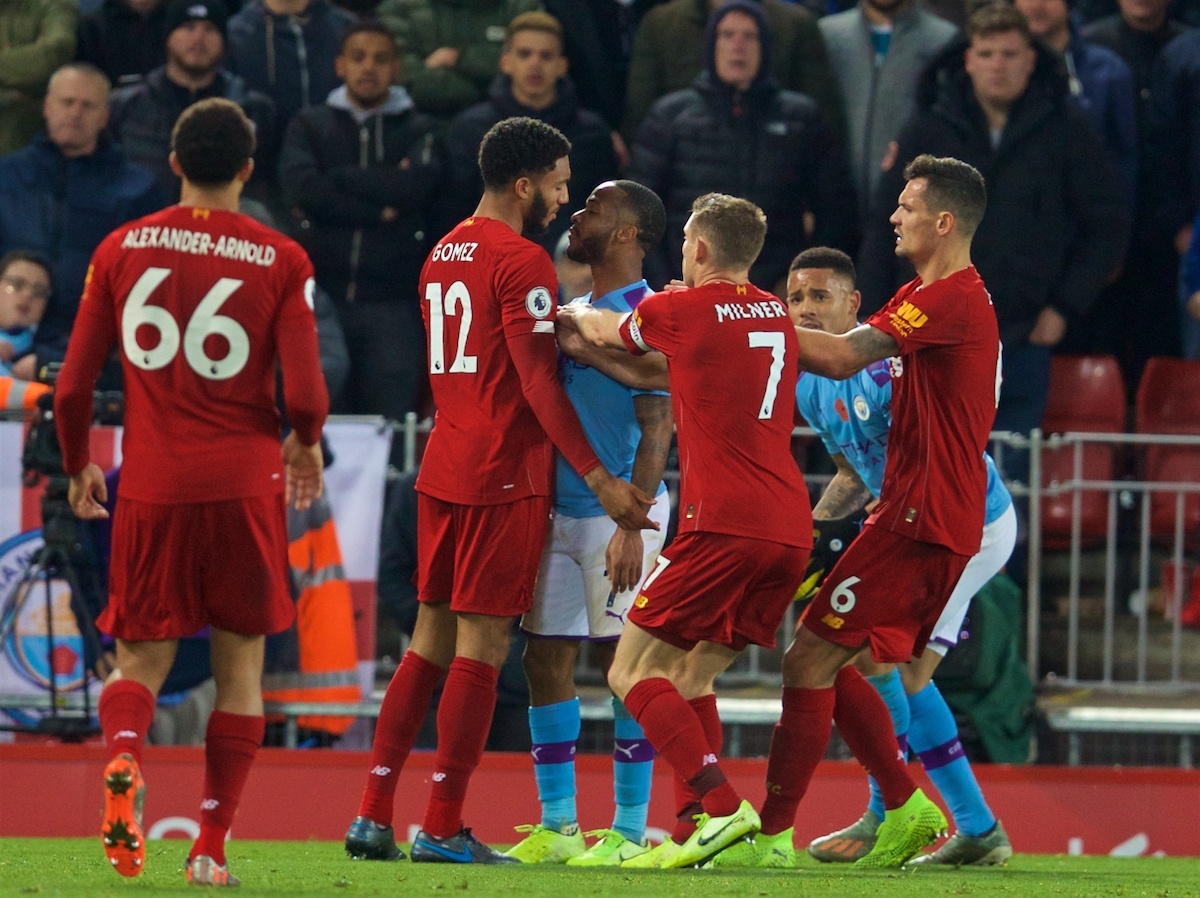 Sterling's bizarre tantrum was nothing the 22-year-old defender couldn't handle (quite literally), but then having to listen to England fans boo him at Wembley in the subsequent game having, as Gareth Southgate put it "done absolutely nothing wrong", must have been tough to take.
It would have destroyed the confidence of lesser men, but ever since then, Gomez has shown that he has what it takes to rise above such nonsense and get on with his promising career.
An injury to Matip moved him up the pecking order, and a less surprising knock to Dejan Lovren put him back in the starting lineup. It wasn't the way he'd have wanted it to happen, but when an opportunity presents itself, it has to be grasped with both hands, as it was by Matip and Lovren.
Though Reds supported him through Sterling-gate, there were some concerned voices about Gomez's Liverpool prospects. There were seemingly worries that he had not come back from his injury as strong as before, or that losing his place to Matip could halt his development or even cause him to seek pastures new.
People forget that Gomez is only 22, and doesn't turn 23 until May. At his age, Van Dijk was just establishing himself at Celtic after being ignored by several other big clubs prior to his move from Groningen (including Liverpool).
Once Matip and Lovren are fit, he might not play every game, but he doesn't need to. We all know how many games Liverpool have to play this season, so there's plenty to go around, but he is still young enough that merely being a vital squad member of the best team in the world will suffice.
You can see why Jürgen Klopp loves him. Gomez is unassuming, keeps his head down and doesn't do much media, he just gets on with things. He never moaned when he was out of the side, or not publicly anyway. He just waited for his moment, and that moment is now.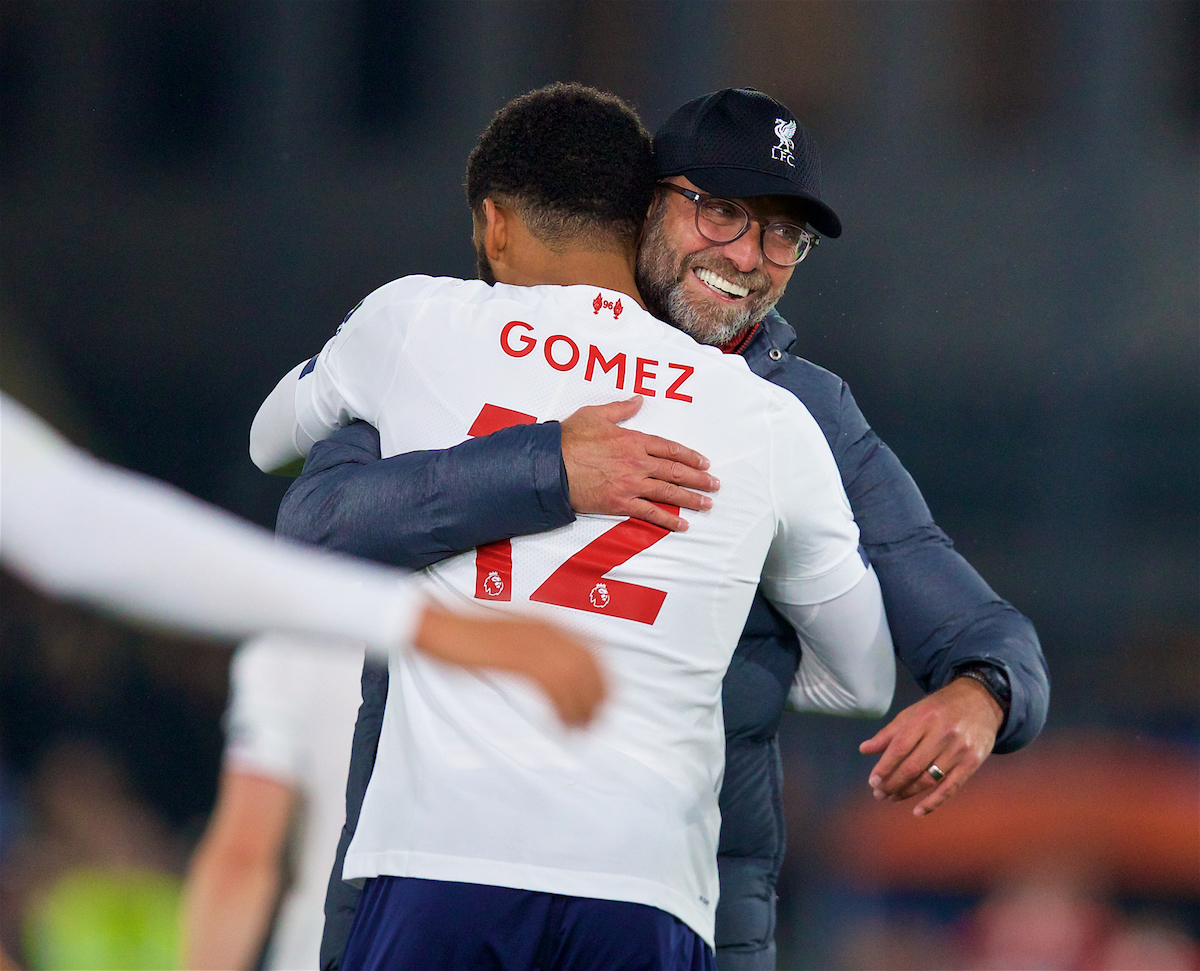 He made a great start by dominating the dangerous attack of Flamengo on Saturday, and will have many more games between now and when Matip and Lovren return to fitness to convince his manager that he should stay in the starting lineup beyond then.
Gomez will have his work cut out for him on Boxing Day at Leicester in looking after Jamie Vardy, but he was superb in the same fixture last season, and his pace could come in handy, as it did in that 2-1 victory back in September 2018.
Plus, he can approach every game with the added confidence that becoming a world champion will bring.
That's all from me for 2019, folks. I hope you all have a very Merry Christmas and a Happy New Year.
I've already started penning my first column of 2020, all about Takumi Minamino's inevitable winner in the FA Cup derby.
"WE'VE DONE IT, WE'RE CHAMPIONS OF THE WORLD, GET IN!" 🌟🌟🌟🌟🌟🌟

📱 Download our app here and listen to our 'Post-Match Show' FOR FREE after the Reds are crowned Club World Champions for the first time 👉 https://t.co/v3xcfwjq7C pic.twitter.com/Klu1z89tP1

— The Anfield Wrap (@TheAnfieldWrap) December 21, 2019
Recent Posts:
[rpfc_recent_posts_from_category meta="true"]
Pics: David Rawcliffe-Propaganda Photo
Like The Anfield Wrap on Facebook