THERE it is. The comfortable away win with the clean sheet. It can't get much more comfortable and it probably won't for the rest of the campaign. We've been waiting for this, waiting to see it. When it occurred it was like a warm bath on a cold day.
There is something about both Bournemouth away and playing sides that aren't used to playing three games in a week which makes everything just so straightforward.
Indeed, Bournemouth's injuries both suggest something around a shortage of conditioning for three games in a week. It's our reality all season; it rarely becomes anyone else's. The wider question is the extent to which this erodes sides leading into Christmas and beyond.
Liverpool know this from minute one and find it all so easy. They cruise through the gears, so rarely troubled. It shouldn't be this way. The advance press that is everywhere you go makes it tough in this league but that proves itself to be nonsense today for the league leaders.
There is only really one patch for 10 minutes in the second half when Bournemouth stepped up and that only led to them tiring themselves out and making the last 20 attack versus defence for Liverpool.
The selection told a story. A manager desperate to protect Sadio Mane for just one game but get some quality time into Mo Salah. James Milner there to be responsible and also to be moved. The surprise was Dejan Lovren for me and then, therefore, no surprise to see him depart the stage early.
Naby Keita gets both goal and assist and looks divine in doing so. He'll have an eye on Salzburg but should also have one on Watford, have one on Qatar, have one on Leicester.
He can do little more than what he does today and while he won't play all those games expecting him to both start and impress in the majority of the next eight games wouldn't be unreasonable. The whole squad seems in such good shape but I am desperate to see Keita get – and take – his chance.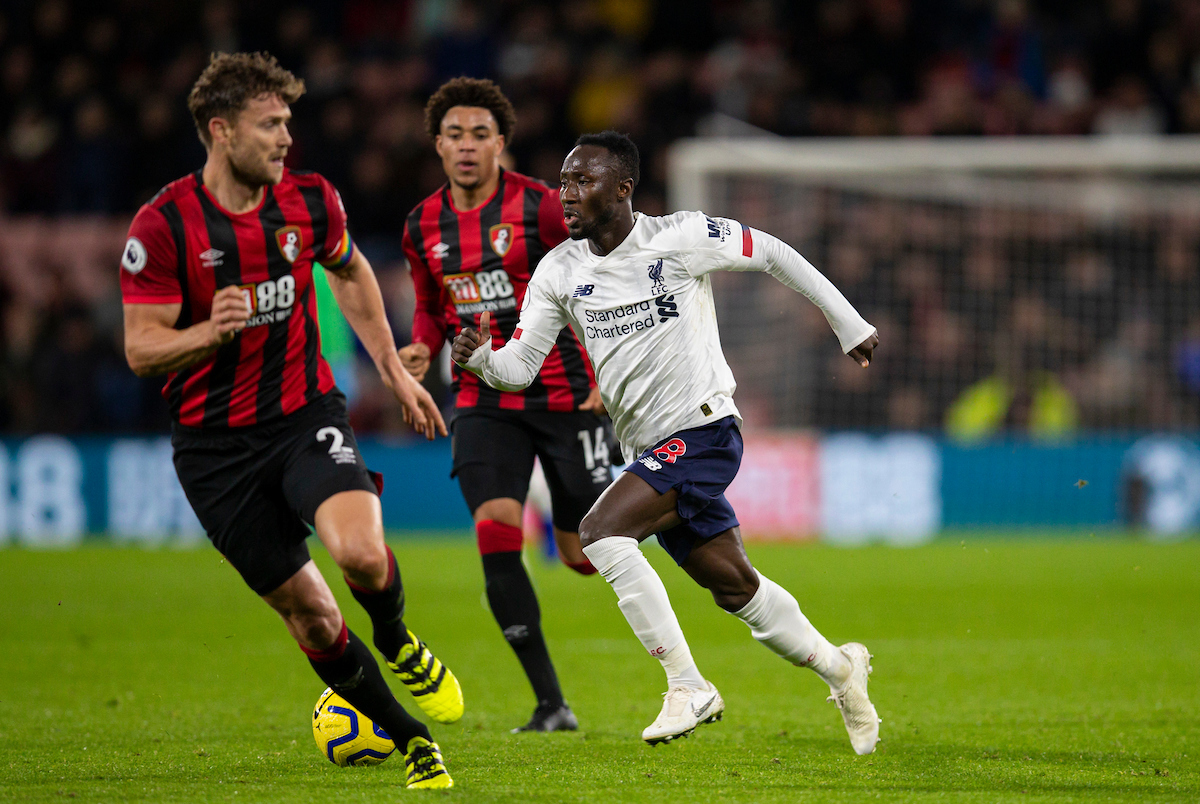 Of the Liverpool squad players he looks the best flat-track bully and if Liverpool keep delivering then the track will get flatter and flatter and Keita will become ever more integral to getting what we need over the line. The line is on the verge of being in sight you know. Nothing will be easy but Keita could just ease it.
Salah gets his start and delivers. He was majestic at times. The flick for the Keita goal, the run for his own. He is the best of the footballers on the pitch, for all the world man of the match, man of the minute if not of the moment. For the first time in a while he looked untroubled by his ankle injury, indeed much of his football was very ankley. He was ankle heavy in the best possible way but his brain was, alongside Jordan Henderson's and Virgil van Dijk's, the defining force on the pitch.
Henderson had a ball. His ball for the opener tremendous, he knew what had to go where. There will be ever greater desire to talk about Liverpool and long balls but these are long passes from great passers of the ball.
Joe Gomez moving from right back to centre back looked like night and day. It wasn't that he was struggling as such at right back but that he looked so very comfortable at centre back. His body opens up, he sees the pitch and enjoys himself so much more. Right back is graft, centre back easy. It shouldn't be that way round but it is.
Bournemouth left begging for the final whistle on 75. In their own gaff. There is something different about them this season. They look vulnerable, more so than in last season's 0-4 reverse. They look less involved.
Looking at the fixture list after Brighton and the next three were the three worst sides in the division on form. Liverpool have put the first two to the sword. The third is to come but there is a mad gang of lads before them.
Regardless we are 16 down, 15 remarkably in the bank. They put the hurdles up, we clatter them down.
What a side. What a squad. What a manager.
We're on the march.
https://twitter.com/TheAnfieldWrap/status/1203377403806048256
Recent Posts:
[rpfc_recent_posts_from_category meta="true"]
Pics: David Rawcliffe-Propaganda Photo
Like The Anfield Wrap on Facebook