ANOTHER Saturday 3pm, another crucial late away win for Liverpool.
As Jürgen Klopp said in his post-match press conference at Selhurst Park, the performance in this game was not as important as the result giving the context of the international break just gone.
The boss himself highlighted that some of his players were still on their way back on Thursday morning, which is hardly ideal preparation for a Saturday 3pm kick off, even more so given the number of injury headaches to manage heading into the game.
With those injury issues, it was a slight surprise when the 2pm teamsheet revealed a start for Andy Robertson given the reporting around his fitness over the past fortnight, but then it was almost equally a surprise that Mo Salah wouldn't be lining up alongside him.
While the Egyptian is obviously not a bad weapon to have off the bench, and a prospect that would no doubt terrify tiring opposition players, Liverpool have looked blunted in the games he's missed.
You could make the case that that's down to the quality of the backup, with Alex Oxlade-Chamberlain the choice to be drafted in at the weekend, despite it being fairly clear he's not as comfortable out wide as he is making runs from midfield.
Divock Origi has been the usual go to but the Belgian doesn't seem to be as effective from the start, and is preferred by most as a substitute later in games when the opposition are growing tired and he can have a proper run at them.
Perhaps the solution to playing without Salah going forward would be to tweak the formation?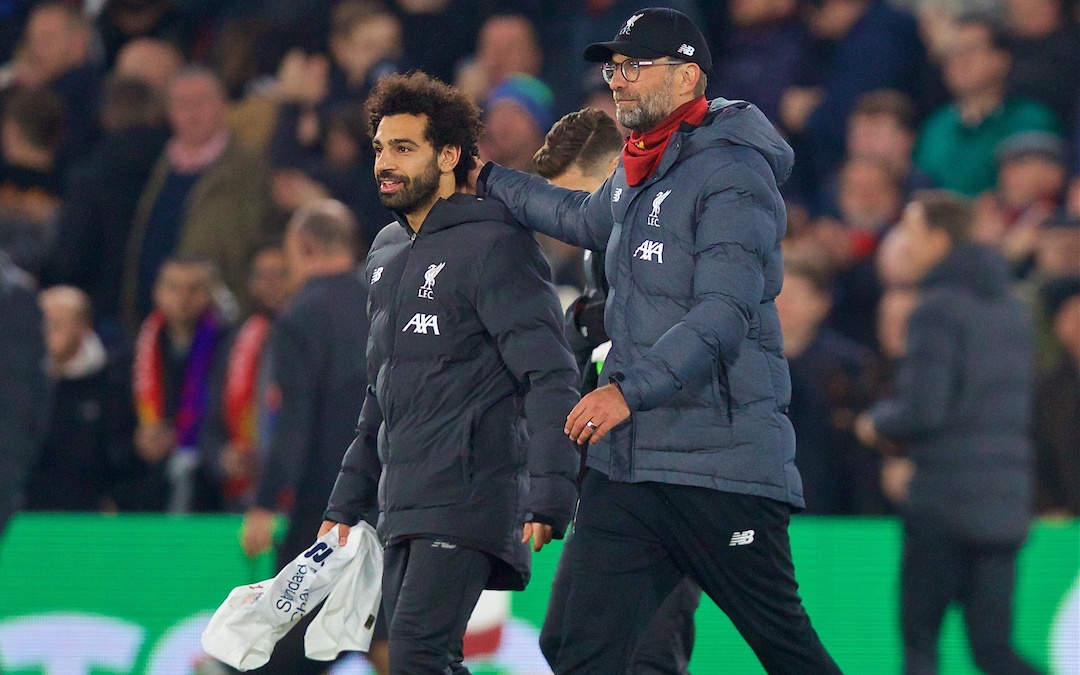 It feels like something Klopp has toyed with more as time has gone on but he does seem to want to start with his 4-3-3 more often than not, possibly as he finds it gives him the best balance in midfield which is crucial to the way the team operates and it's been clear when that balance has been missing at times.
It's entirely possible that we're actually overlooking the influence of Salah on this Liverpool side, and it's hard to argue that he doesn't get the fanfare on Merseyside that he did when he first signed – he certainly wouldn't be a Red's first choice for a mural in the city now.
Given the ridiculous numbers Mo posted in his first season, every season that followed was going to look disappointing by comparison, and that weight of expectation has felt tangible at times since.
The problem is he's viewed as a player who needs too many chances at goal before he makes his mark, but he has shown he will give a big return on those chances more often than not, and that's something we've arguably not really got used to.
Look at the Sadio Mane incident at Burnley earlier in the season, for example. There were some who believed it showed Salah's greed in front of goal and that his Senegalese strike partner had every reason to lose his rag, and it's possible that has played on Mo's mind.
The form of Mane has been a blessing and a curse, in that it has meant we don't have to rely on Salah as much, but perhaps there is also an expectation on him to bring what Mane does, when in reality they're very different players being asked to do different jobs.
Mane is part of a left-hand unit of the Liverpool side which is known much more for its solidity, with Andy Robertson the more natural defender of the two full backs, Virgil van Dijk the best defender at the club, and Gini Wijnaldum capable of occupying any role on the pitch.
The right-hand side has occasionally been the one which is seen as more liable to being exposed, with Trent wanting to get forward often and Henderson relishing a more advanced role in the side, and that could play with perceptions of what Salah's role is supposed to be.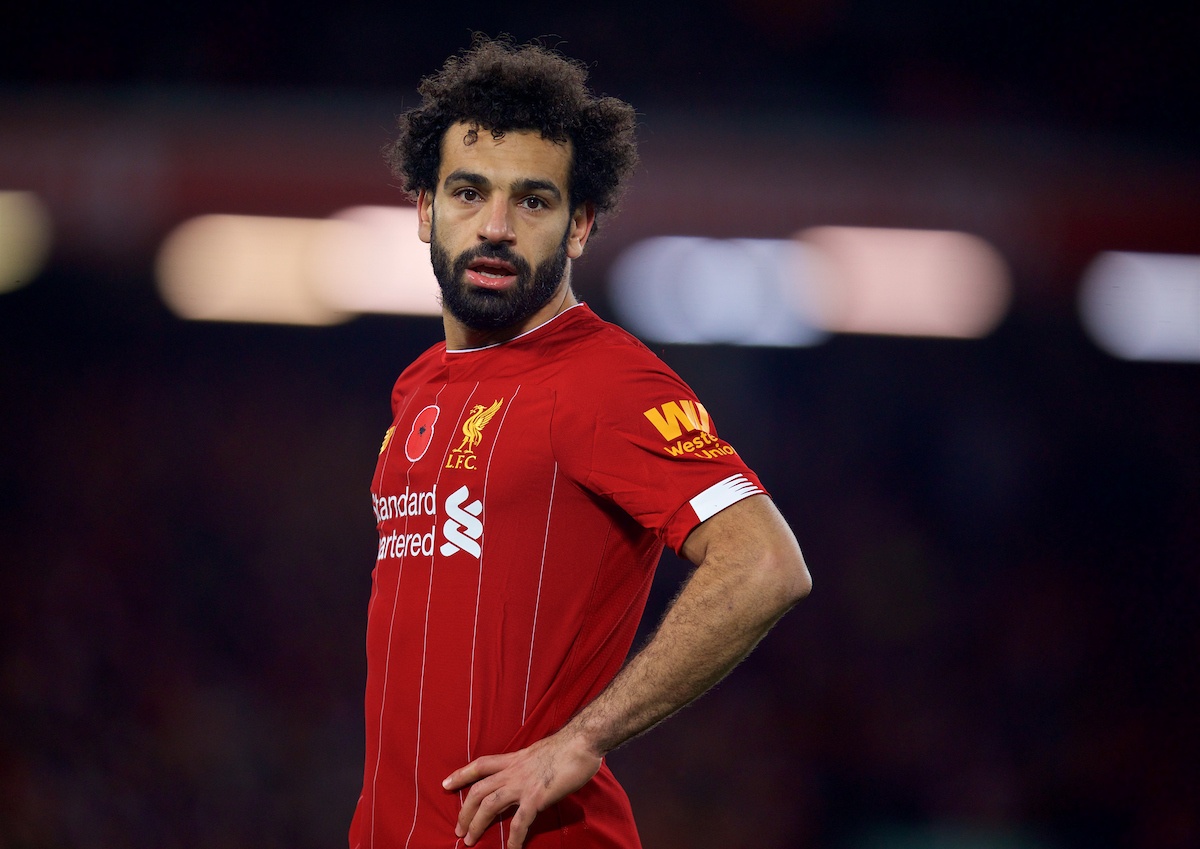 However, the Egyptian's style is so effective because teams really need to focus on him and draw up plans how to cope with him cutting in from the right, particularly with that added threat of a Henderson or Trent overlap, which is becoming an increasingly utilised weapon.
Maybe the opposition have on the whole got better at dealing with him, which in turn has seen him embrace a facilitator role within the front three – given Firmino and Mane's assist numbers dropped quite dramatically last season while Salah's stayed broadly the same.
It's almost got to the point where we're expecting him to be the next big star to leave Liverpool for pastures new, likely as a result of his increasing global superstardom, despite signing a new five-year deal in the summer of 2018 with no release clause.
That growing marketability is something we're going to have to accept as this team keeps getting better though, as we've seen Virgil van Dijk heading a similar way without any suggestion that he'll soon be out the door.
The certainty we can live with is that we've got Salah at least for the remainder of this season, barring any highly unlikely January movement, and he'll keep being a big contributor to this team's continued success.
Perhaps it's time we began to embrace his importance to Liverpool again, rather than focusing on where he may be plying his trade soon or what he's up to off the pitch.
After all, he still runs down our wing and he's still our Egyptian King.
"Liverpool are still top of the League, Liverpool are still eight points clear, Everton are shite, Man United are shite, Arsenal are shite, Tottenham are shite." ✊

📱 Download our app here and watch today's Talking Reds in full 👉 https://t.co/v3xcfwjq7C pic.twitter.com/dJUnK8u7mr

— The Anfield Wrap (@TheAnfieldWrap) November 25, 2019
Recent Posts:
[rpfc_recent_posts_from_category meta="true"]
Pics: David Rawcliffe-Propaganda Photo
Like The Anfield Wrap on Facebook