"ONE greedy bastard, there's only one greedy bastard."
As far as witty retorts go, it isn't the best by Liverpool's standards. Yet Raheem Sterling seems to constantly take the bait.
Whether that is by having a quiet game or the one witnessed on Sunday, there is something about Anfield which clearly alters the mentality of what is now a seasoned and elite world-class talent.
His performance on Sunday was as out of control as his manager. Indeed, it can be argued that Pep Guardiola let Sterling down as a guardian in a situation he clearly needed one. Had Vincent Kompany been on the pitch, I doubt that Sterling's levels of frustration and at times petulance would have gone without warning in the way it seemingly did.
The incident with Joe Gomez, as we all now know, spilled over into a physical altercation initiated by Sterling the following day at St. George's Park when the two players joined up for England duty. Gomez, by all accounts, handled the situation impeccably, while Sterling has since apologised.
That is seemingly that. Although it never is in football.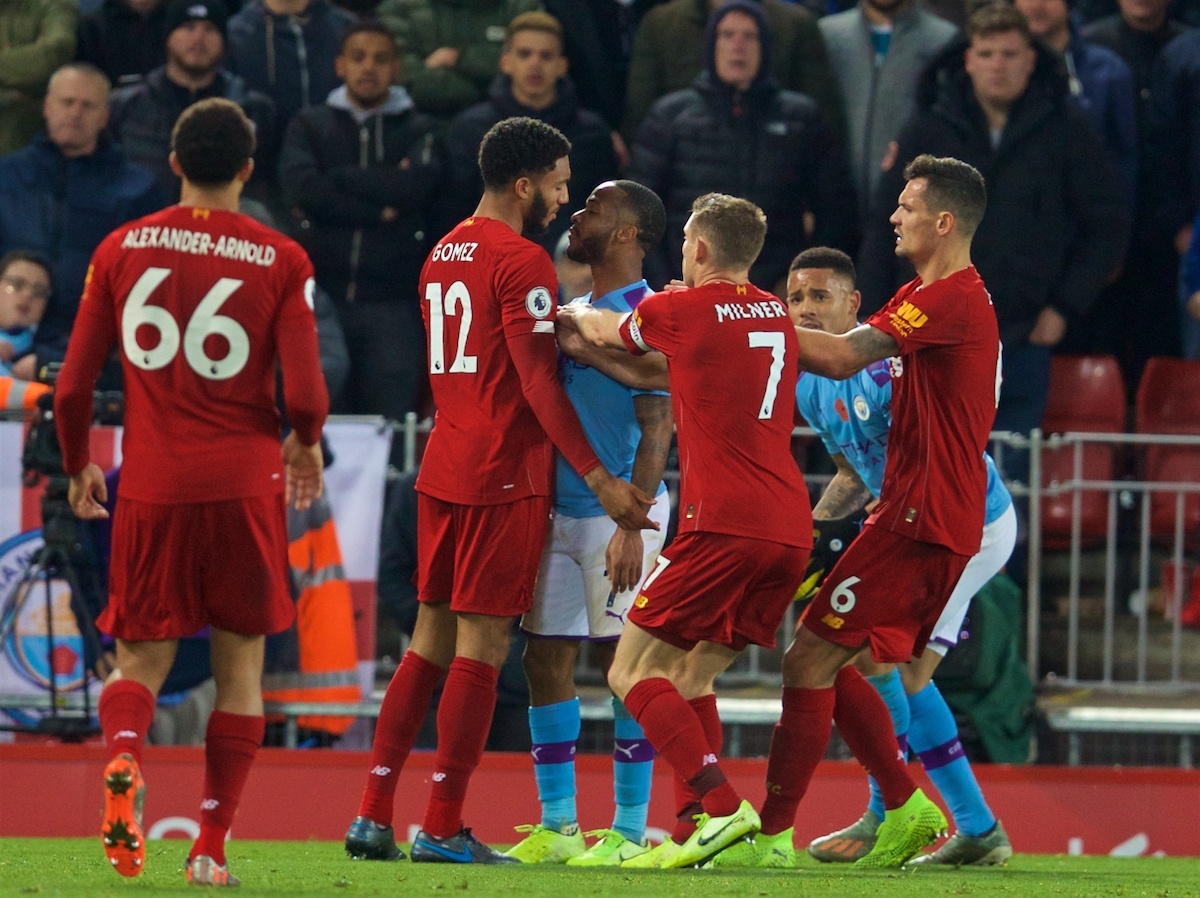 With the surface scratched, blame is now being apportioned where it can. Sterling has obviously taken the brunt, while Gomez has oddly been accused of goading by some who were not there and have only what has been fed to them through the prism of media cloak-and-dagger "reliable sources".
There has also been a spotlight on Anfield, a perception that Liverpool's fire-pit atmosphere, further lit by the reactions all afternoon of the Manchester City number seven, should burden a shoulder of the responsibility for what occurred.
As someone who has attended every Liverpool versus City fixture since the player has returned in blue, I can speak with first-hand experience about what I've witnessed but therefore only for myself; which is that nothing has rightly ever crossed a line.
I have never taken part in the chant against Sterling for the simple reason I don't think it is very good. I've goaded him or formed part of a collective angst to some of his actions and Sunday was no different.
We all know when a line gets crossed in terms of the terraces and the things sang or said. There are the obvious examples that aren't worth going into, but others which have been similarly as distasteful that are nowhere near the level of what Sterling gets. If he has any doubts, he can just ask Gary Neville or John Terry.
Yet none of this is about whether or not Liverpool supporters like or dislike the player for whatever reason, because none of us know the person and have no real basis to judge.
Being angry Sterling left is no longer the objective, it doesn't have to be because Liverpool are good, really good. For the vast majority, it is about knowing that getting on his back deeply affects how he performs.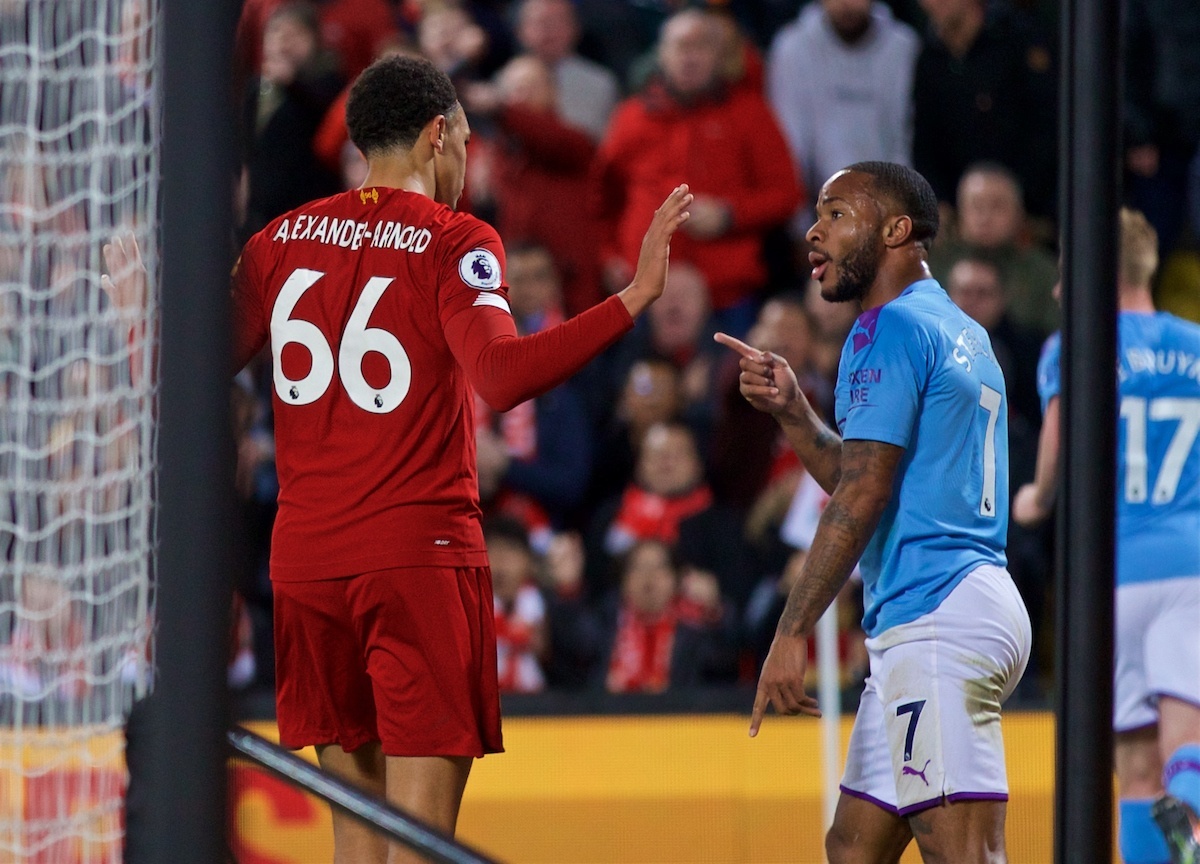 In a game of such fine margins and huge importance, where the crowd should be doing everything that doesn't cross the proverbial line to help Liverpool win, is that such a bad thing? It can be argued that is exactly what we are there to do.
Similarly, what Sterling has done is equally nowhere near as outrageous as its press. He lost his head in a competitive environment and let his ego get the better of him at the age of 24. I challenge anyone who has been or is of a similar age to say that they've never done the same.
As a footballer and person who has shown an abundance of maturity when tackling very serious issues in recent months, it should be also noted that he remains human with the type traits we've all displayed over the years. The type we often wish our footballers would display more of to example their human nature and endear them to us.
Essentially, what has played out is a real-life situation in the increasingly utopian world of elite football.
Liverpool won a game of football and Raheem Sterling lost his rag.
That, for once, should just be that.
"The incident between Gomez and Sterling shows just how frustrated Manchester City are, how much we're in their heads…"

📱 Download our app here and watch today's Talking Reds in full 👉 https://t.co/v3xcfwjq7C pic.twitter.com/T3ON6eTn4e

— The Anfield Wrap (@TheAnfieldWrap) November 12, 2019
Recent Posts:
[rpfc_recent_posts_from_category meta="true"]
Pics: David Rawcliffe-Propaganda Photo
Like The Anfield Wrap on Facebook