IT is all so predictable, they say.
The introduction of VAR is "clearly and obviously" being used as a tool to ensure that Liverpool win the league title, just as they suspected.
You can only presume that the Twitter Sherlock's peddling this cock of the poppiest kind will be absolutely raking it in come the end of the season. If it was that much of a sure thing, you would obviously bet all of your money on a Liverpool title win, right?
Facetiousness aside, The Reds won again on Saturday, and some people are furious about it, to the extent of dusting off their tin foil hats and deciding that a team that has not won a league title in three decades has been handpicked by the powers that be to win this one.
This weekend saw opposition fume go into overdrive as Jürgen Klopp's men were supposedly saved by the VAR, after the official at Stockley Park spotted a Jordan Ayew shove on Dejan Lovren to rule out what would have been the opening goal of the game.
It was the correct decision, as backed up by any authority on the rules of the game you are likely to hear from, as well as the actual Crystal Palace manager. The one who has absolutely no love for Liverpool whatsoever after his disastrous reign at Anfield.
However, despite that, rival fans and even some pundits have decided that it was the latest in a line of "lucky" calls for Liverpool from the recently introduced and much-maligned Video Assistant Referee. It has led to a lot of what I like to call "cryVARsing".
You may have seen the alternative league table doing the rounds before the weekend that showed what it would look like in a world without VAR. Sure enough, Liverpool were still comfortably top, with the same number of points. The VAR decision at Selhurst Park played a big part in them winning the game on Saturday, but as the decision was clearly correct, it's not exactly conspiracy gold.
Search #LiVARpool if you want a chuckle at some "VAR handing Liverpool the PL" conspiracy theorists.

Just a reminder… here's what the league table looked like without VAR before this weekend… pic.twitter.com/AknMEh6DAa

— Will Gavin (@WillGav) November 23, 2019
Trent Alexander-Arnold's alleged handball against Manchester City is pointed to as a prime example of Liverpool benefitting suspiciously from VAR, which goes to show how ill-thought out the argument is.
Michael Oliver, the on-field official, didn't give it. VAR's only debateable crime on that occasion was that it didn't overrule him. In a world where VAR doesn't exist, neither does a Manchester City penalty. Instead, you would have had the same people moaning about Oliver and asking" "Why don't we have VAR in this country?"
That is one thing that referees must be quite enjoying, no longer being the sole target for abuse if they make mistakes. Now, if they make a perceived error, then any failure of the VAR to overturn it is the VAR's fault. There might be more for them to do in terms of communicating with Stockley Park, but being spared some of the fans' ire must be a plus for them.
Proof that Liverpool are no more or less likely to benefit from VAR decisions of course came at Villa Park three weeks ago when Roberto Firmino's armpit was ruled offside. In spite of that setback, instead of subbing on a striker with smaller armpits, Klopp kept faith with his boys and they repaid it by turning a 1-0 deficit around, despite the chalked-off effort.
Dale Johnson from ESPN FC has become one of the more sensible voices on Twitter regarding VAR, and on Monday revealed some of the latest numbers that show how VAR has been impacting the Premier League, who it has been benefitting, and who it has been punishing.
The biggest winners from its introduction so far have been Tottenham, who have had four overturned decisions in their favour, and just one against. Leicester have also had four in their favour, and two against, while surprisingly, Chelsea have been the ones to face the most negative overturned decisions.
Liverpool have been involved in three overturned decisions, two for and one against. It's a better record than most teams, but there are several who have benefitted more so far.
Some of the biggest "cryVARses" have been Manchester United fans, largely because Liverpool are top of the league, but now also because of Sheffield United's equaliser being awarded against them on Sunday. It has been quite amusing seeing fans post pictures of the ball very clearly hitting Ollie McBurnie's shoulder, and then saying that it's proof that it hit his arm.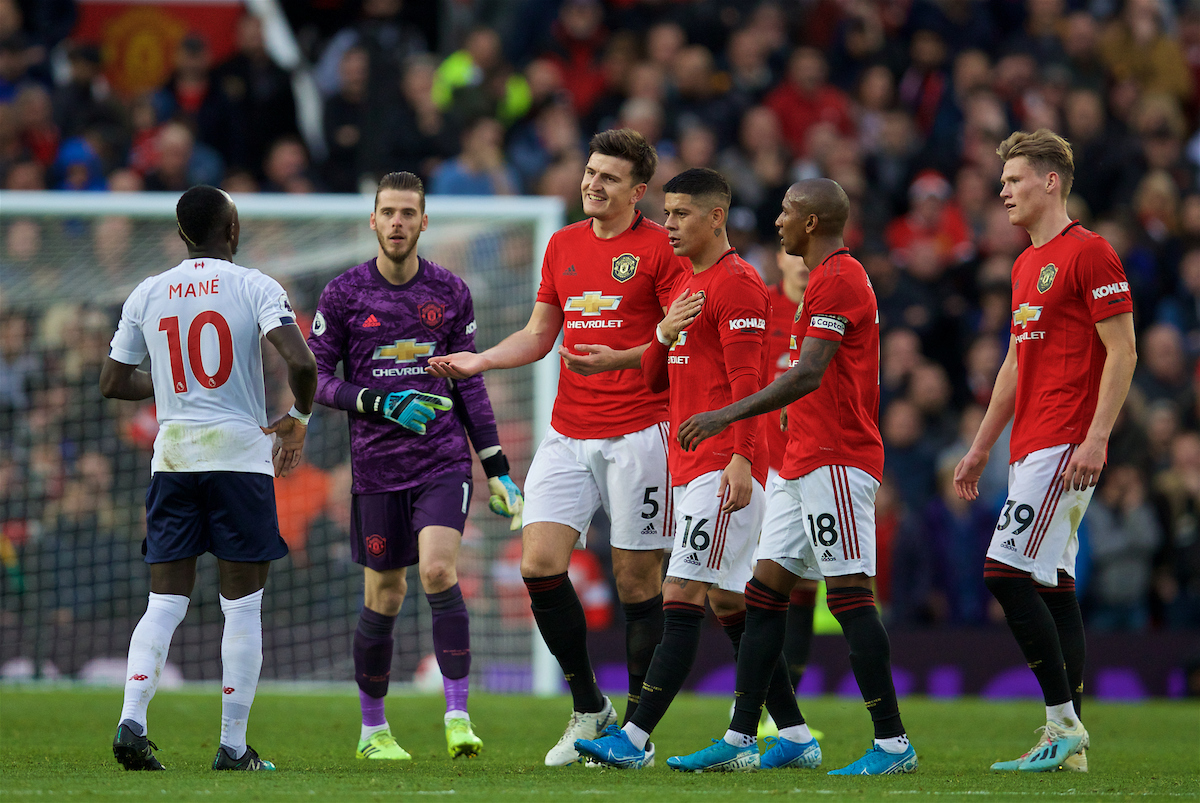 There have even been suggestions that, had it been against Liverpool, it would have been ruled out, apparently ignoring the fact that Liverpool had a goal ruled out at Old Trafford by the VAR for handball just a few weeks ago.
Incidentally, Manchester United have also only received one fewer favourable VAR decision than Spurs, and one more than Liverpool.
As the Palace game showed, VAR doesn't stand much of a chance to win certain people over when it gets criticised despite being correct. In some instances, such as the offside and handball rules, VAR has perhaps merely shone a light on how farcical those rules can be, and people are blaming the messenger rather than the rulebook.
VAR hasn't helped Liverpool more than everyone else, and indeed, a lack of VAR involvement is arguably what cost them their 100 per cent record this season at Old Trafford with the debateable foul on Divock Origi by Victor Lindelof in the buildup to Marcus Rashford's opener.
Liverpool are top of the league. Liverpool deserve to be top of the league. Some people don't like it, but they have to accept it. If they want to blame something for Saturday, blame Ayew for pushing Lovren. Blame Zaha for that late miss, although I think he might have actually been offside. How funny would that have been, if he'd scored and that was disallowed by VAR too?
There are positives and negatives to VAR, and there's still quite a few creases to be ironed out in the way it is being implemented in England, but the whole point of it is to bring more fairness to the game.
The idea that it is doing the opposite in order to benefit Liverpool is perhaps only indicative of the mental gymnastics people will do to convince themselves of their ridiculous conspiracy theories.
Someone remind me of this article next week when I'm writing: "Can't believe that VAR call in the last minute that gave Brighton the winner, he was barely even onside!" *Shakes fist at VAR*
"The reason we keep scoring late winners against teams is because we press them, we're fitter than them, we're better than them, we push them back and because they can't stop us." 👏

🗣 Listen to this week's FREE Anfield Wrap show in full here 👉 https://t.co/JCYhyUsIKP pic.twitter.com/o4TYe2jlI1

— The Anfield Wrap (@TheAnfieldWrap) November 25, 2019
Recent Posts:
[rpfc_recent_posts_from_category meta="true"]
Pics: David Rawcliffe-Propaganda Photo
Like The Anfield Wrap on Facebook