"LET'S start a new way. This is the perfect moment.
"I don't know everything but I am a good listener. I will go to Melwood and see what works and what doesn't."
Roughly four years and one month ago, Jürgen Klopp sat down for his first press conference as Liverpool manager.
A few things stood out about the German, fresh off a four-month holiday having resigned as Borussia Dortmund manager at the conclusion of the previous season.
Not only was he charismatic, enthusiastic and optimistic, his words carried the aura of a man who knew the challenges that faced him and wanted to make clear that nothing will come easy, nor will anything happen overnight.
That patience has been one of the pillars upon which Klopp's Anfield empire has been built.
There were some immediate results, of course – providing that you wanted to see them. The intensity that has become the backbone of Liverpool's identity was apparent immediately in a goalless draw with Tottenham Hotspur at their old home White Hart Lane.
However, everything had to be measured. Klopp promised he would take stock and he did just that, with Liverpool not making a single signing for the first team – the break-glass, injury crisis-induced signing of Steven Caulker aside – until his first summer in charge.
He allowed even the most maligned among The Reds' ranks to earn their place in his plans, and was prepared to die by that particular sword. Big-picture thinking at its best.
The narratives kicked in early, though. He had the same record over x amount of games as Brendan Rodgers. Liverpool reached two finals and failed to win either. All-out attacking football was easy on the eye but would never bring league titles to the club. Klopp wasn't the man to fix defensive frailties.
Quick conclusions drawn all over the gaff, without any acknowledgement of potential methods behind the big German's madness.
It's hard to think that approach hasn't fed into the culture that is so apparent at the club now, and it is only the first example we've seen of Klopp demonstrating patience at Anfield.
Speaking of those aforementioned maligned figures, there have been a number of players down the years that a large enough number of us supporters would have happily let go, but the manager has stuck by them and reaped the rewards.
Of those is Dejan Lovren, a player who may never get past the confirmation bias stage as a Liverpool player. He's a player for whom a few poor performances will always eclipse any good ones in the minds of some. No amount of Dortmund goals could ever make the Spurs aways OK.
Below-par displays can't be seen as one offs, instead he's a limited player demonstrating his natural ability – neglecting the fact that those games are much fewer and further between than the days where he makes at least a solid contribution to the cause.
Despite that, Klopp has always backed his man, particularly in public, and Lovren has never shirked.
Against Manchester City, Lovren stood head and shoulders above almost everybody on the pitch, clearing and blocking everything that came near him.
His performance on the right side of The Reds' defence, alongside Trent Alexander-Arnold, showed that the days of opposition teams getting any kind of joy targeting that side of the pitch as Liverpool's weak link are long gone.
It's clear Lovren is a character who is well liked and respected by his teammates, displayed by the jokes about his rallying cries in the dressing room and his nickname "the boss" which has come about as a result.
Not only that, he is a character that fits into this Liverpool setup perfectly. Somebody who has repeatedly faced adversity and always come out fighting. And he's not the only star performer against City who has had to dig in.
The scorer of The Reds' opening goal was a relatively unlikely source, with a strike you'd probably associate with our former captain, but it shouldn't come as a surprise that Fabinho is capable of such magic.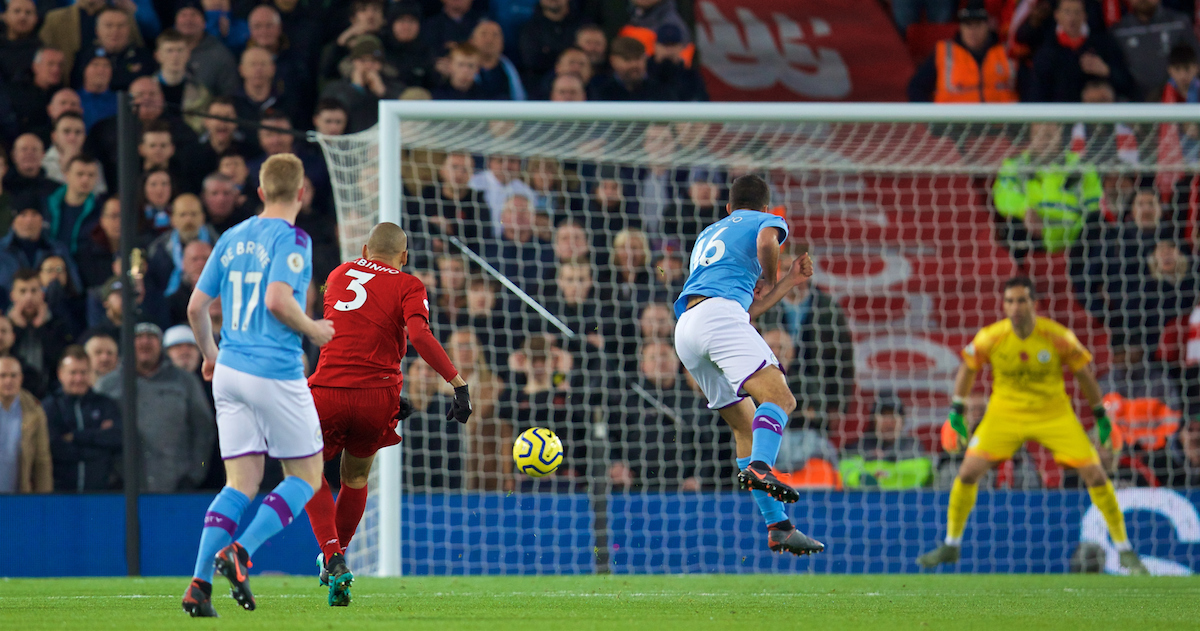 Ever since the Brazilian joined the club he has consistently found a new level, and goalscoring may yet be the latest addition to his armoury.
He has often found himself as the only central midfield player occupying the middle of the pitch, and that was even more so the case against City, as Liverpool had clearly gone into the game with a plan to overload the flanks.
Yet he still managed to pop up everywhere and ensure that Kevin De Bruyne couldn't make the kind of impact that he is easily capable of doing if he's given a millimetre of space.
But of course it wasn't always this way for Fabinho. He's gone from not being able to buy a game to being unbeaten in every single one of the 31 league games he's started.
The time it took for him to adapt to life at Anfield is an example to fellow players, managers and supporters that moving for big money doesn't guarantee an immediate impact and being given time to adapt out of the limelight can work wonders. And of course it's Klopp who knew that all along, while we wondered why he wasn't getting a game and whether we still had the receipt.
That's why there's a complete trust now. Why the doubters have turned to believers.
But most importantly, that's why The Reds are eight clear at the top.
"When we signed Fabinho he couldn't even get in the team… now he's absolutely central to everything that Liverpool do." 👏

📱 Subscribe for all of our reaction to the Reds' 3-1 win over Manchester City 👉 https://t.co/TEMh9r97WH pic.twitter.com/aEa3u9kTNI

— The Anfield Wrap (@TheAnfieldWrap) November 11, 2019
Recent Posts:
[rpfc_recent_posts_from_category meta="true"]
Pics: David Rawcliffe-Propaganda Photo
Like The Anfield Wrap on Facebook