ME at 4.30pm on Sunday… "Long way to go, whatever happens. Nothing decided today. No-one ever won a league title in early November."
At 6:30pm on Sunday… Tattoo artist: "Do you want the number 19 above or below the Liver bird mate?", me: "Below, so it looks like he's standing on it as he drinks his pint."
It was very easy to get carried away with the importance of Sunday's clash between Liverpool and Manchester City at Anfield, as illustrated perfectly by the main man in the away dugout… "Twice!"
The importance of the win, the heart, the blood, sweat and tears that went into those 90 minutes, and to come out the other side further clear at the top of the Premier League table. It felt like it meant something.
That might be why so many have been keen to completely deflect from the absolute main headline, which was that Manchester City were outplayed, outfought and outfootballed by Liverpool. Instead, many decided to go on and on and on about a possible handball when there were still 85 minutes left to play.
Let's get this out of the way early, then.
For me, under normal circumstances, the ball hitting Trent Alexander-Arnold in the way it did, while not exactly stonewall, you could have understood it being given. One of those that looks far more of a penalty when you pretend that football is played in slow motion, but definitely falls under the category of 'you've seen them given'.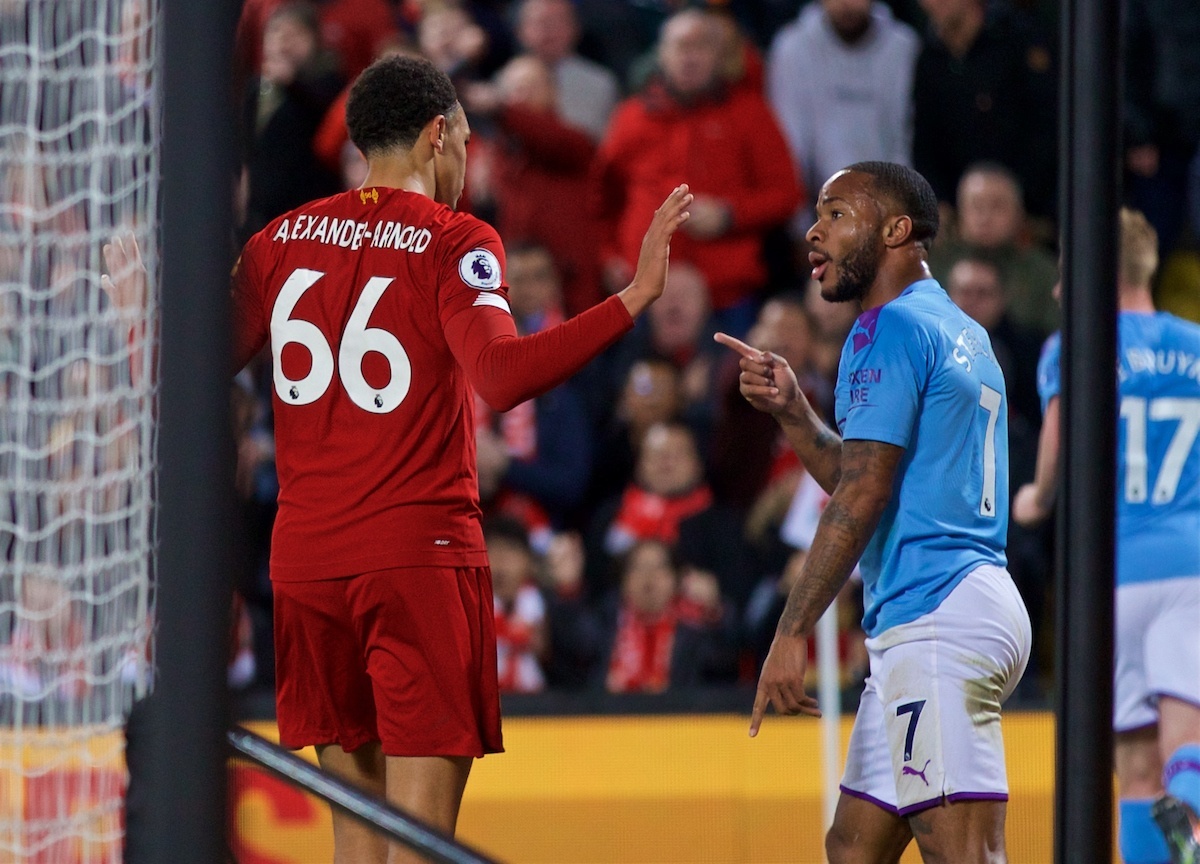 However, given the new rules state that handball by an attacking player – accidental or not – cannot directly lead to a goalscoring opportunity, common sense would suggest that it simply cannot be given. The baffling thing is that, according to the "PGMOL source" who spoke to Match of the Day 2, Bernardo Silva's handball wasn't a factor in the decision, which seems strange.
Sadio Mane had a goal correctly disallowed at Old Trafford after the ball struck his hand and he scored. So how is the ball striking an attacker's hand then leading to a penalty being awarded any different? I know City have missed a few lately but it seems like quite the insult to suggest that a penalty for them is not considered a goalscoring opportunity.
Anyway, Liverpool swiftly go up the other end and Fabinho their way ahead.
From there, the real story to anyone without pure disdain for the league leaders in their hearts was that Liverpool beat Manchester City 3-1 in a game of football, and fully deserved to.
The current champions of England were good, very good at times, but then they always are. For all of his histrionics on the touchline, Pep Guardiola is a phenomenal manager who has assembled and coached a phenomenal team. To expect Liverpool, or anyone, to control them for 90 minutes is simply unreasonable.
The hosts managed the game perfectly though, taking charge of matters until they were already out of sight, and then allowing City around 20 minutes to try and break them down. They gave it a good go, but Guardiola's men were tired, they were frustrated, and they were beaten, despite a very well taken Bernardo consolation.
The key to Liverpool's performance was no secret. Every player just played their part. Despite the regular talking down of certain members of the starting 11, everyone stood up and put in at least a seven out of 10 showing.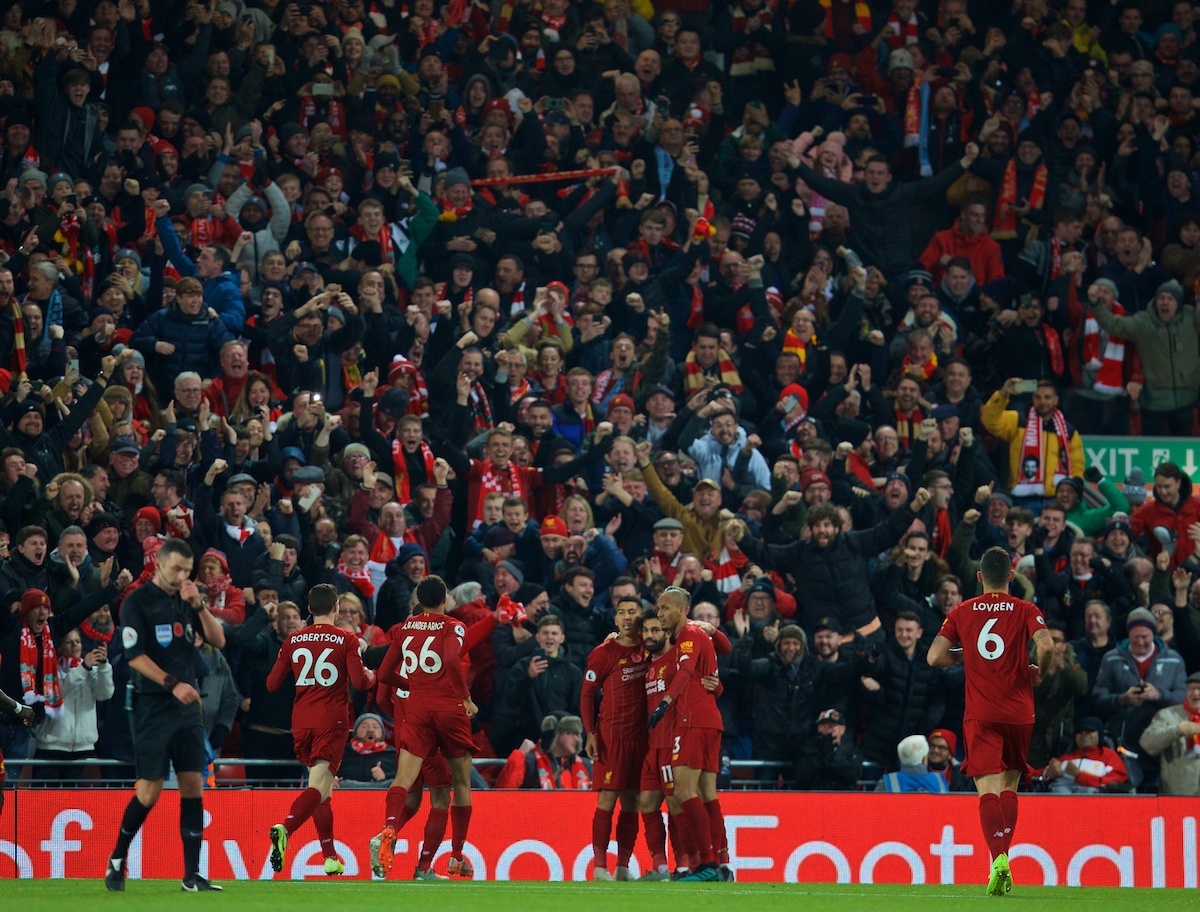 Dejan Lovren looked every bit the equal of Virgil van Dijk next to him, and streets ahead of his opposite numbers.
The midfield was incredible. Arguably the first performance of the season in which all three have excelled, but excel they did.
There's something about Gini Wijnaldum in big games at Anfield. Anyone who is a fairweather football fan and only engages in the really big games must wonder why the Dutchman doesn't have statues lining Anfield Road. He may do one day. Imagine that. Gini Way-naldum.
Jordan Henderson continues to stick two fingers up and into the eyes of those who doubt his ability. Like Wijnaldum, he may not always be at the top of his game, but the top of his game is elite, make no mistake about that.
Fabinho. Well, what more can you say? That goal is up there with the best Anfield has ever seen, and probably wasn't even the best goal of the first half. The confidence of that strike might bring more like it soon, but the continued brilliance with which the former Monaco man does his 'bits and bobs' during the biggest of games is almost enough to make one drunk with pleasure.
The full backs were the best version of what they are. I've seen suggestions that Raheem Sterling was "terrorising" Alexander-Arnold down his side. Maybe, in the same way that a wasp "terrorises" you in a pub garden. Sure it's annoying and might cause you to pause your conversation, but ultimately it's not getting into your pint before you flick it away with a beer mat. Incidentally, I understand that Joe Gomez is good with beer mats.
In attack though, they were a sight to behold. Liverpool's second goal involved such fantastic angled balls that Pythagoras was seen tweeting "go 'ed!"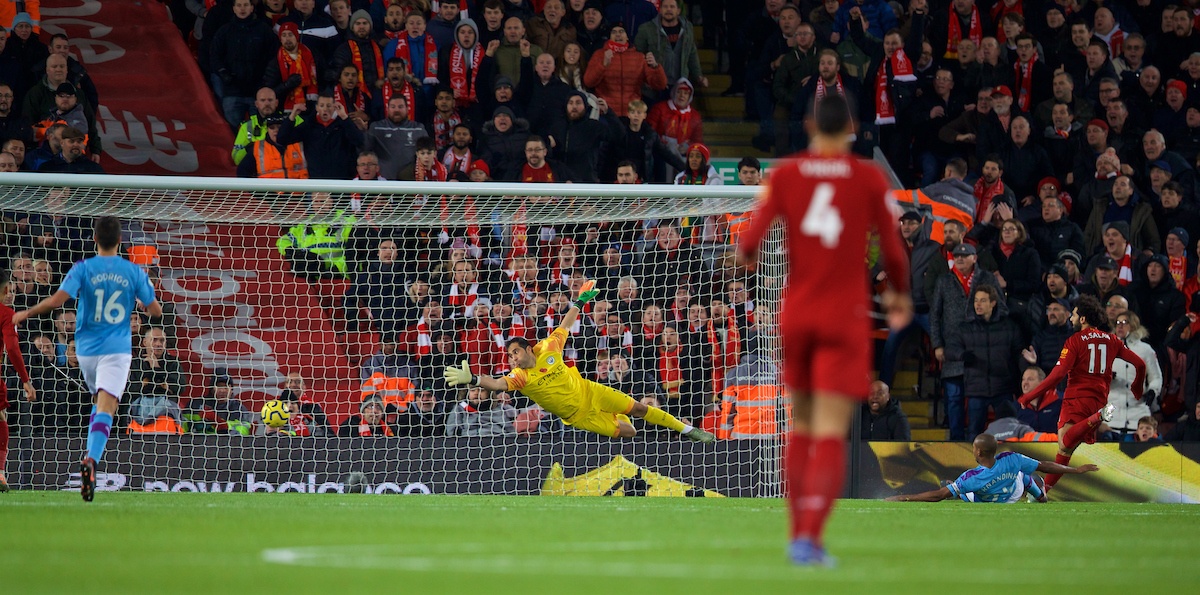 The zig zag that Alexander-Arnold, Andy Robertson and Mo Salah's noggin sent the ball along could have been carved by Zorro himself. Claudio Bravo just stood there in shock, with his ruined dress on the floor.
This was a statement victory in the biggest game of the season so far, so of course after the game, the inevitable questions about the title race arrived.
It irks me, to be honest. It feels that every year in football, the desperate attempts to draw conclusions as early as possible come sooner and sooner. We're not allowed to just experience football in the moment anymore, it all has to be "what does this mean for May 2020?"
I heard someone ask the other day: "Where do you think West Ham will finish?" I mean, the way the table is right now, pick any number between five and 20.
Presenters everywhere were asking about the title though, and it seemed that most pundits were saying "yes".
That was, most pundits who aren't Liverpool fans were saying yes. Nearly every pundit that does have Liverpool leanings was, correctly, saying "not yet".
It means one of two things. Those who don't support Liverpool are attempting to jinx them, or just trying to accept it early so they can deal with it better if it happens. I know this because I used to do the same with Manchester United all the time. "Title's gone lads. Bookies should pay out now." "What's that Dave? I'm trying to watch this United pre-season friendly here."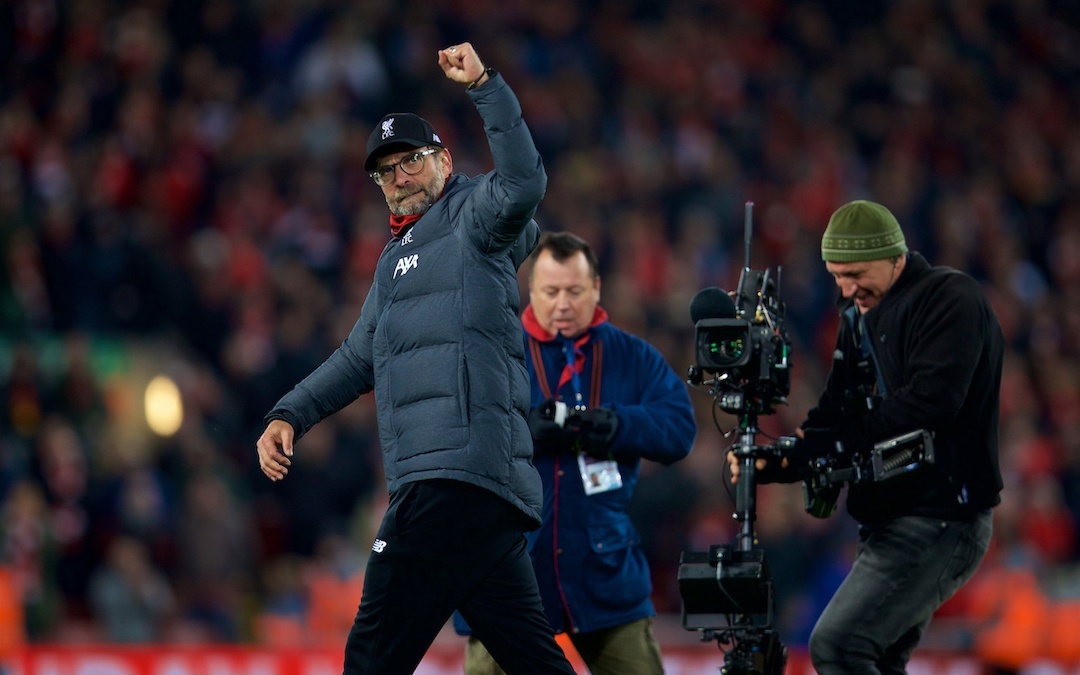 Alternatively, Liverpool supporters are simply staying grounded. Something that has been three decades in the making might be here in a few months, but you never want to fully commit your heart until it's in the bag. It's the sane thing to do, despite us being a largely insane fan base.
There's no denying that Liverpool have put themselves in a very strong position though, and aren't looking like relenting any time soon, especially not now that they have already faced all of the traditional top six, and Leicester.
They've also gained six points on results from last season so far. Wins over City, Leicester and Chelsea have put them ahead of the 2018-19 campaign as things stand.
However, there's no getting away from it. Yes, it's difficult to see Liverpool losing three-four games at the moment, but there are still 26 to go, including several during a remarkably busy period next month. So much could happen in that time. Annoying draws here or there could allow the gap to decrease rather sharply.
It also seems folly to write off City. Yes, they're looking vulnerable on occasions, but people were saying the same when they lost three games last December, then went on to win 18 of their final 19 in the league.
With Aymeric Laporte to return for the second half of the campaign, and the potential for them to invest significant sums again in January, don't discount the possibility that they could get that head of steam up again. Liverpool have to work under the assumption that they will.
Leicester and Chelsea are looking strong, though talk of them suddenly being in the title race seems a bit odd seeing as they haven't actually gained any ground on the league leaders, they've just overtaken City. An eye should be kept on them, but both are considered to have excelled so far, and are still eight points off the pace.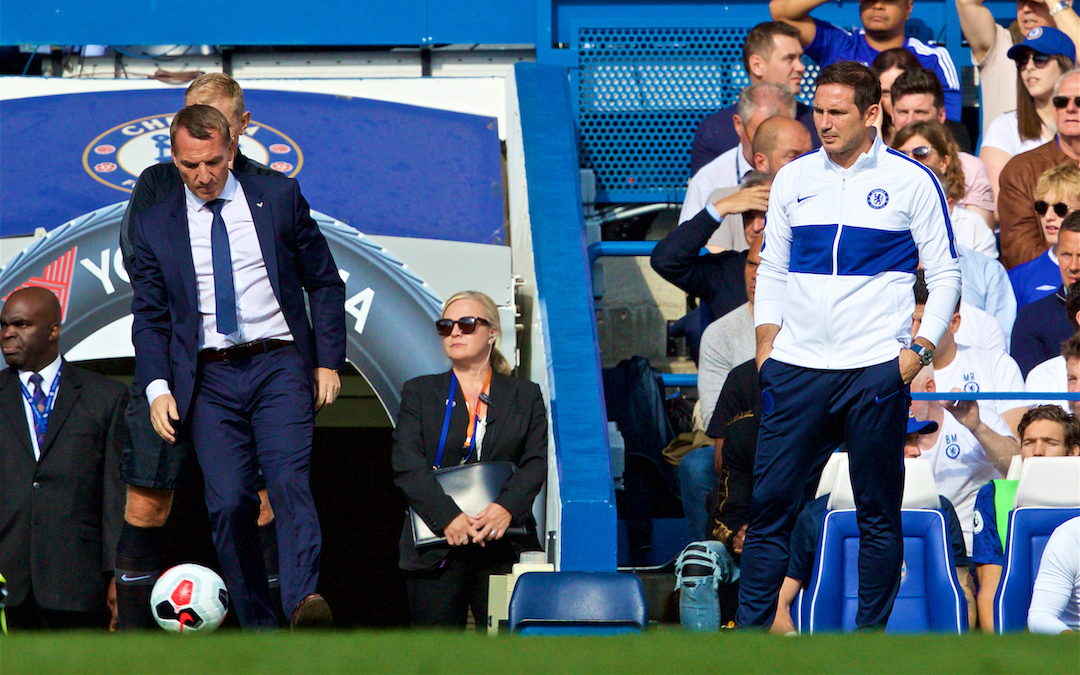 Liverpool are showing themselves to be exceptionally strong, and consistent, which is a formula for a league title. However, there may be bumps along the way at some point, and so no mercy should be shown. Three points must be hunted down in every game as if they are the last on offer.
The Reds are a long way from winning the league title, but they've done as much as could be expected at this stage, and it was always likely that, if they were going to win the league, they'd have to do it from a fast start.
As we get into the meat of the season, I for one just want to enjoy it, without thinking too much about gaps and what the table might look like six months from now.
Enjoying game after game where Liverpool win and Klopp beams his smile to the world is enough for me… For now.
*Reaches for tattoo parlour's phone number*
"The Reds are absolutely amazing, they blew Manchester City away, the whole world is talking about Liverpool Football Club." ✊

📱 Download our app here and watch today's Talking Reds in full 👉 https://t.co/v3xcfwjq7C pic.twitter.com/6vG9UUroaf

— The Anfield Wrap (@TheAnfieldWrap) November 11, 2019
Recent Posts:
[rpfc_recent_posts_from_category meta="true"]
Pics: David Rawcliffe-Propaganda Photo
Like The Anfield Wrap on Facebook