THERE'S been a subtle narrative in the football media of late.
I don't know if you've noticed it, but there's been a decided turn of events over the past few weeks. Such is the nuance that you'd be forgiven for missing it such is the delicate way it has seeped into the public realm.
You see, it appears that Liverpool and the Manchester clubs don't like each other very much.
Seriously. Have a look. You'll be surprised. It's definitely there. The tiniest rancour has crept in between the top two teams in the country.
Well, alright. Excuse the sarcasm.
There was a sense of inevitable controversy about the City match regardless of the outcome. Should Liverpool win there'd be something for Guardiola to be furious at – maybe a VAR decision, a red card or a penalty, and, credit where it's due, he committed heavily to the programme.
When he roared at the sky, it was unclear whether he was shouting at the Gods of Stockley Park or a higher power, but the real reason for their defeat – their languorous defence – was overlooked in favour of his antics on the touchline.
When that was done, he went further by sarcastically and aggressively shaking the hands of the officials like an overexcited kid being awarded a prize by their headteacher on a school sports day.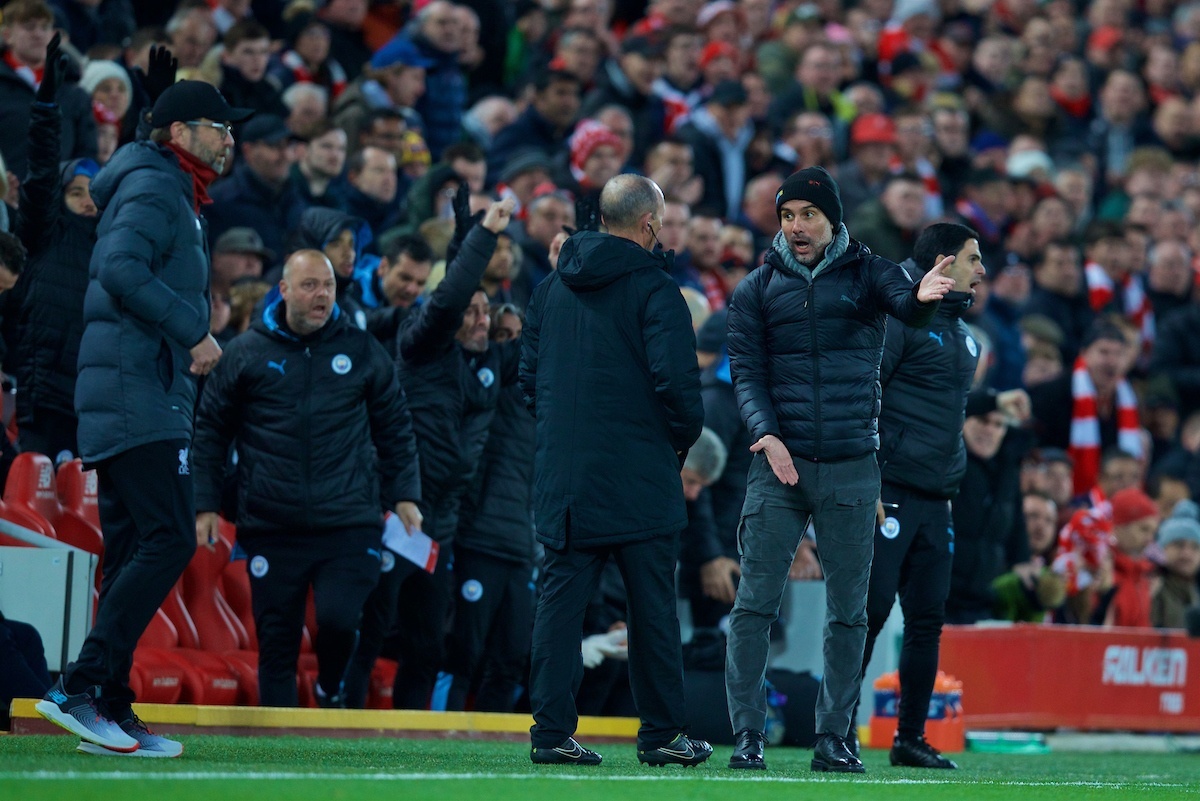 He knows the game though, and was keen to praise Liverpool afterwards, even going so far as to name us the best team in the world. Maybe he even meant it. I doubt it.
The elevation of City as a nascent nemesis is ludicrous. A friend of mine recently wrote that it's hard to view them as such given that they were a shambles for so long. These things are always temporary anyway. We can add Chelsea to the list of transitory rivals which also includes Leeds and Forest.
Of course, we only have two major rivals and that won't ever change. This one, however, is a press-led fabricated nonsense.
City appear to be more than happy to encourage it, though. Maybe that's what Guardiola wants. Maybe it's what he needs. After all, he wouldn't be the first to have a rivalry personified.
Mourinho had Rafa and Ferguson liked to slap Wenger whenever he could. Guardiola also had Mourinho in Spain to spur him on when all those trophies became tedious and he can hardly look at Solskjaer with any degree of seriousness these days.
Now he has the perfect adversary in Jürgen Klopp. The German is liked by the press and has a good record against him. An ideal candidate, then. It's just a shame that Klopp doesn't seem overly interested in it.
Thanks to the Sterling-Gomez spat, this enmity has now spread to the players and the national team, and though it's been subsequently washed away by the PR machine, it'll be picked up again for the next game between the two sides.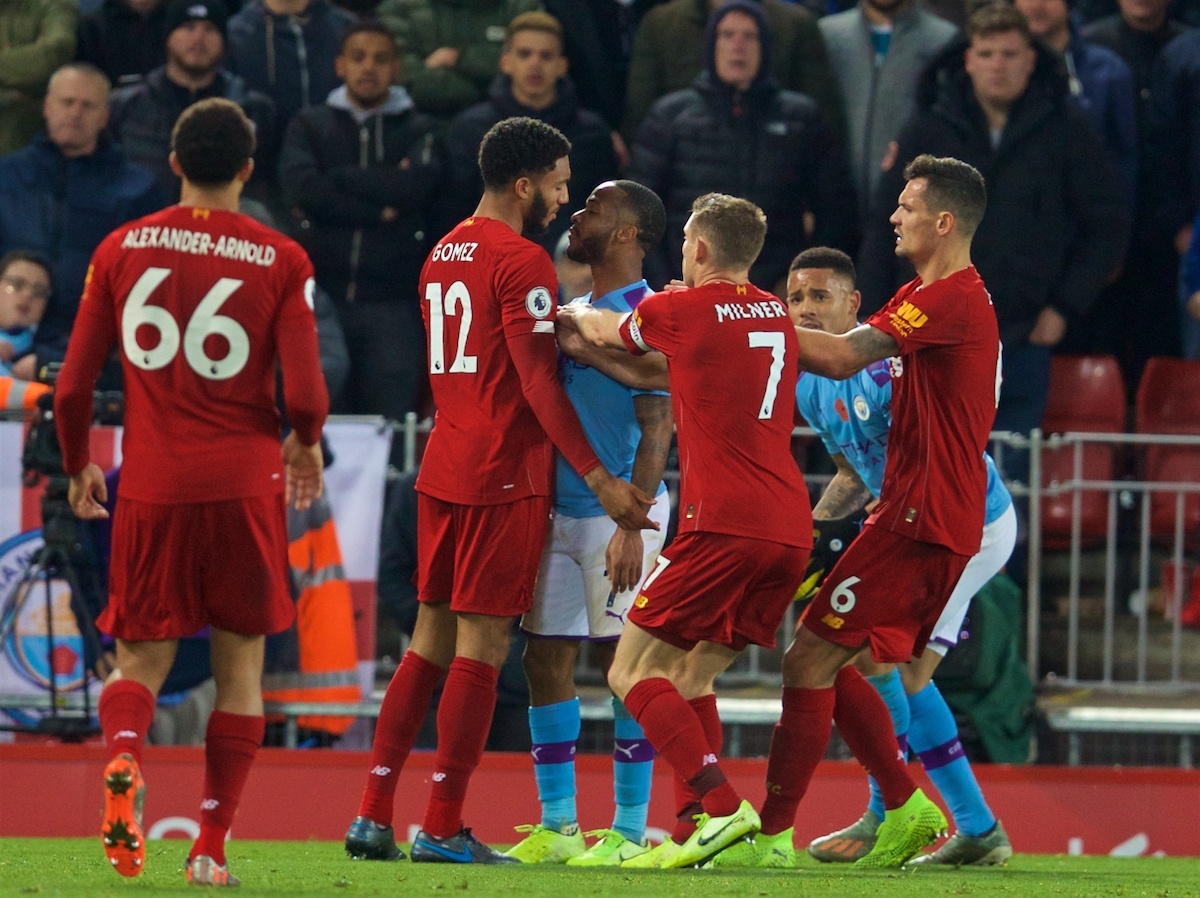 The Manchester rivalry is based on history and though it will always flavour any football criteria, it's strangely absent in most other cultures.
Some were surprised to see a flag on The Kop bearing the legend "with the drive and the dreams inside, this is my time," – a lyric from I Won't Share You, the final song on the final album by Mancunian stalwarts The Smiths and penned by Morrissey – a man who nailed his red and black football colours to the mast when he recorded, yes, Roy's Keen.
It's probable that the flag belongs to the same people who held a There Is A Light That Never Goes Out flag in the same section (and same font) for years. That's from 'The Queen Is Dead' album by the same band.
Lyrics by a Mancunian band in the most Scousest of strongholds? What's the world coming to?
But it's different with music. Both Manchester clubs have had songs based on Hey Jude and no one was bothered in the least. There's long been a ceasefire where this is concerned, or at least an accord.
No one really takes the geographical location of a band or artist into consideration when assessing their worth. Oasis are City fans, though I've always seen that love as a bit pantomime and fake.
Travelling Reds from the Midlands would often see Terry Hall of The Specials making his way to Old Trafford and any Radiohead fans who can't abide any United love in their life are doomed to disappointment.
They all get a pass in a way that Olly Murs never could. They're not shite for a start.
Being of a certain age I love Joy Division, Buzzcocks, The Fall, The Smiths and pre-fascist Morrissey and that won't change simply by their place of birth.
The Stone Roses first album was one to own in my first year at University. They have three United fans in their midst while the drummer, Reni, was once a ballboy at City, but that didn't mean a thing to me. I'd only shout at them if they were on the opposite terrace.
So, any Mancunian football sympathies are no-no, but music is fine. I don't make the rules.
If we can all be a bit mature about that, don't we have the right to point out that City don't really count as long-term rivals? It should be up to us to decide who the enemy is, not a demented Catalan with entitlement issues or a narrative-led press keen to pump up the drama for no reason. Back in the day, some even had a soft spot for City because they hated United too.
This isn't a suggestion for hands across the M62, and no one wants to see an Eamonn Holmes flag in the ground, but there's nothing worse than being told who to like and who to not.
The team to beat, sure, but nothing as toxic as the other lot. At least they haven't got Stan Boardman and Michael Howard supporting them.
"I'm still buzzing, up the Reds." ✊

✅ The Post-Match Show
✅ The Post-Match Pint
✅ The Anfield Wrap
✅ AFQ Football with @Carra23
✅ The Second Look

📱 Subscribe here for all of our reaction to Liverpool going EIGHT points clear at the top 👉 https://t.co/TEMh9rqIOf pic.twitter.com/hGuKOCOGTb

— The Anfield Wrap (@TheAnfieldWrap) November 13, 2019
Recent Posts:
[rpfc_recent_posts_from_category meta="true"]
Pics: David Rawcliffe-Propaganda Photo
Like The Anfield Wrap on Facebook