TIS the season.
No, not that season. Not yet, despite the thousands of identikit Christmas adverts we've been subjected to already.
Seeing as everyone else is at it, I've had an idea for a Liverpool one.
A young brother and sister are waking up at obscenely early times on Christmas morning to check their stockings as James Morrison sings a version of Pass and Move (It's the Liverpool Groove) to slow piano. They wake at 1am, empty. 2am, still empty. They wake again at 5am, more hopeful. There's a bulge in one of them, but it's just the cat.
Then, just as they wake again having given up hope of a Merry Christmas, they spot their stockings overflowing with Liverpool kits, TAW subscriptions and a cuddly Sadio Mane each. Their faces light up with joy as they see Father Christmas on his way out the door. He stops and whispers to them "Up the Reds" before he exits, as Morrison silently fades out. "Go Robbie, go Robbie, go…"
I am available on a consultancy basis for Christmas 2020 by the way. I've got another great idea involving Adele singing the Gary McAllister song.
Pardon the digression, but in fairness, football started it with this ill-timed international break. Imagine thinking you should stop domestic football for two weeks just after Liverpool have beaten Manchester City. That'd be like having an intermission in The Godfather just after the "it's strictly business" scene.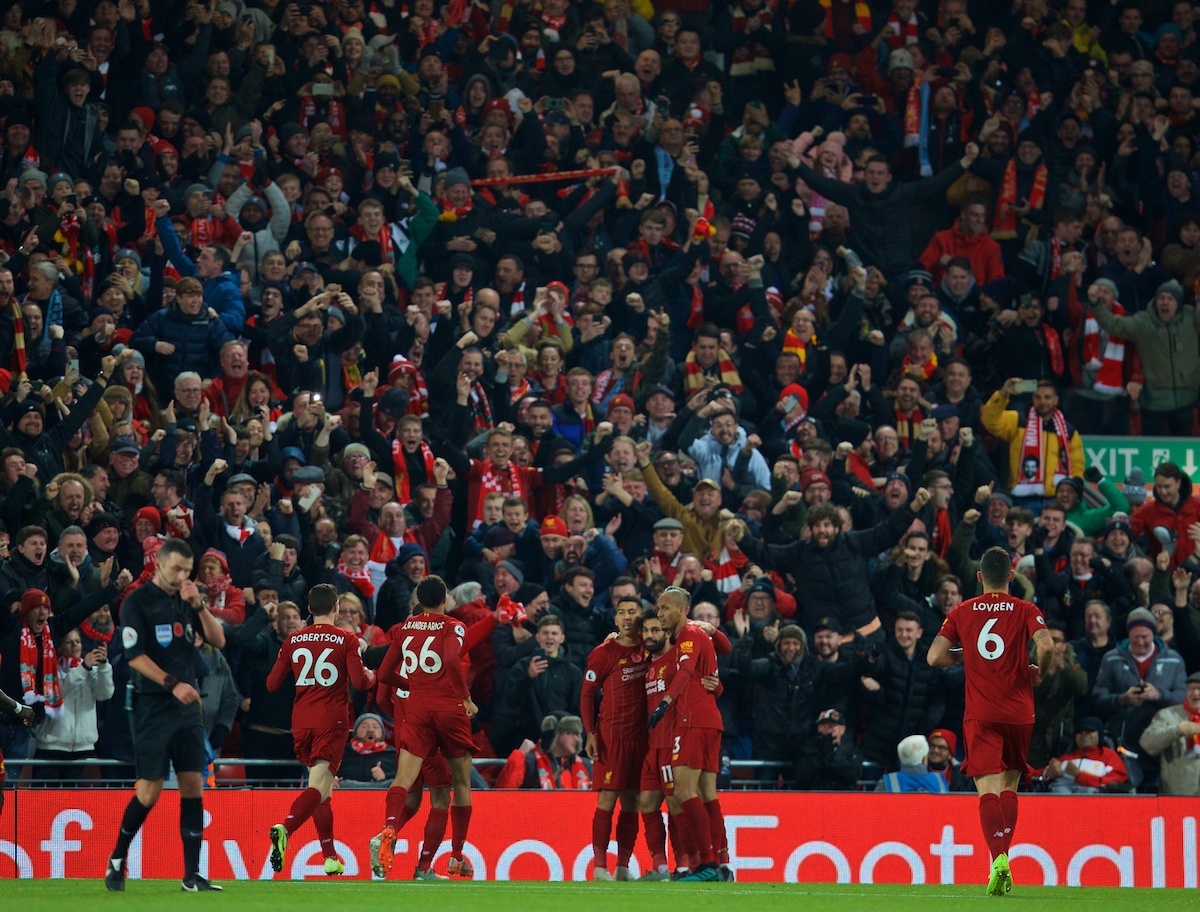 However, rejoice my brothers and sisters, for it is the last one until late March. Between now and then, we can go pedal to the metal on domestic matters, and by the time we're next gazing upon Gareth Southgate's waistcoat, Liverpool will be hoping that they're still well clear at the top of the table.
The Reds resume matters with a trip to Crystal Palace on Saturday. A fixture that is often pointed to as a potential banana skin for most teams, until you look at Palace's recent record at Selhurst Park.
Only Huddersfield got fewer points than Palace at home last season, and The Eagles have won just two of their six home games in the league so far this season.
There will be inevitable mentions of 2014 in the buildup. The tritely labelled "Crystanbul", or as I like to call it (equally as tritely), "Mythtanbul".
It is a bizarre fog that seems to have descended on general football's memories that the 3-3 in south London was where Liverpool "threw away" the title that year. That, of course, was not the case. It was merely where any faint hope ended.
The 2-0 defeat against Chelsea at Anfield before that was where the title was lost. It meant that Manchester City would only need to win at home to Aston Villa and West Ham to clinch top spot. The draw at Palace only meant that, going into the final day, Liverpool would need City to lose to The Hammers, rather than a draw being fine. It was obvious that neither were ever going to happen.
That desire to feel a part of things might be what keeps Palace calling back on it as a more significant moment than it was, and possibly what makes people think that Liverpool "struggle" at Selhurst, despite the Merseyside club winning all of their last six visits.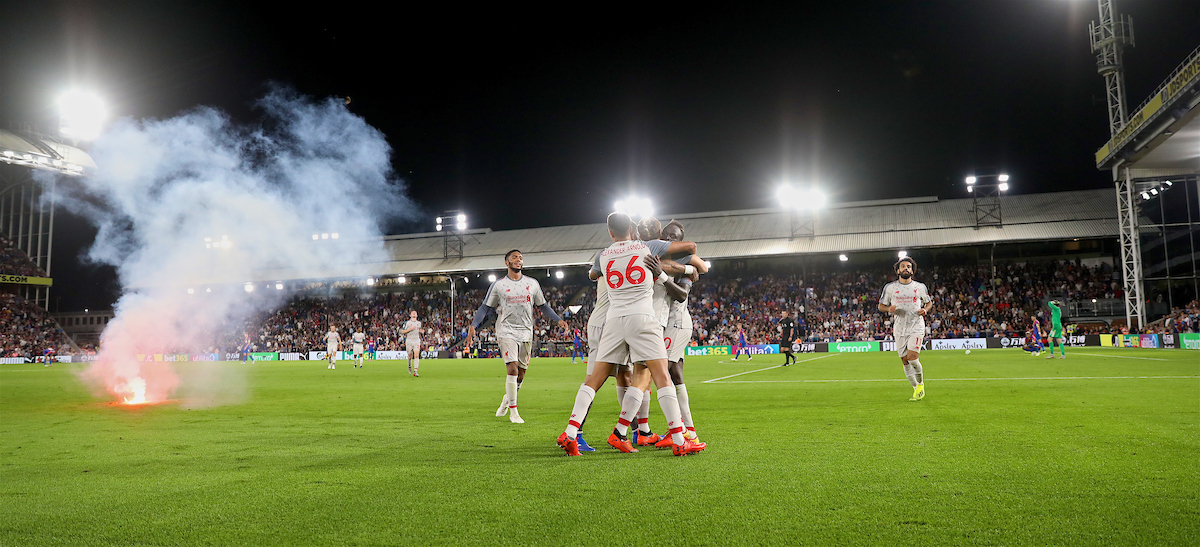 More important than that record is the one that has seen Liverpool accrue an incredible number of points over the last season and a bit. They have been absolutely ruthless against the "non-top six" teams, and have even managed to navigate their way to an eight-point lead at the top of the table despite not yet facing that many of them.
In the 12 games played so far, The Reds have faced all of the traditional top six, and Leicester. From here until they take on The Foxes again on Boxing Day, they have Palace away, Brighton at home, Everton at home, Bournemouth away and Watford at home, before they head off on their mad dash to Qatar and Aston Villa for the Club World Cup and League Cup prior to Christmas.
Not to tempt fate, but those are the kind of games that Jürgen Klopp's men have made their bread and butter to accumulate points. With a healthy gap already at the top, this perhaps provides an opportunity to, at the very least, maintain it for a while longer, if not extend it even further before the busy Christmas/New Year period.
At least one of Manchester City and Chelsea will drop points at the weekend as they play one another at the Etihad Stadium, while more of the spotlight being on Leicester could have an effect on their so far impressive campaign, though admittedly their run of fixtures before hosting Liverpool is also favourable.
There is also the fact that, for the last three seasons, this period just after the final international break of the year has been when Liverpool seem to click. Their results in late November and December since 2016 have been largely excellent. If the same happens this season, with this run of fixtures, they could be sitting very pretty by the time they fly to Qatar.
Questions have been asked about how Klopp will be able to react to any injuries to key players. We might be about to find out as Andy Robertson and Mo Salah are both rated doubtful for Saturday, while other players have picked up niggles and knocks here and there during the international break.
Xherdan Shaqiri is reportedly not far from a return, while the likes of Divock Origi, Naby Keita, Adam Lallana and the ever-improving Alex Oxlade-Chamberlain could see themselves called on more over the next month, especially with two more Champions League group games still to come.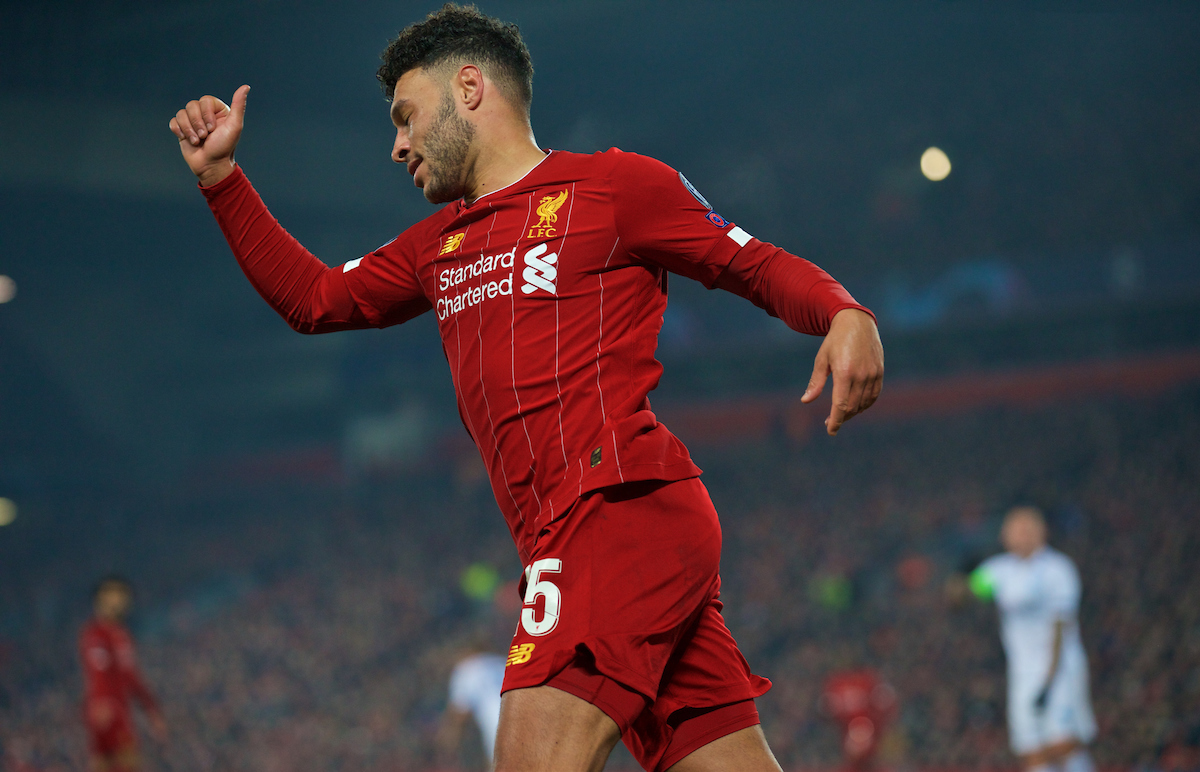 Rather patronising questions continue to be asked by the media about Liverpool's strength in depth, and the players on the fringes need to make sure they step up and show that they can each play a significant part in the race for the title.
Liverpool do not underestimate anyone in the Premier League, which is why they have such a good record against the bottom 14 in recent times. They have a big opportunity to build on their excellent start to the campaign though, and it must start with a win on Saturday.
The Reds need to show that, unlike Christmas adverts, they haven't peaked too early.
*Whispers* Up the Reds.
"I can't wait to watch the Reds again." ✊

✅ AFQ Football with @Carra23
✅ The Anfield Wrap
✅ The Top Six
✅ A Cup of Tea with @AHunterGuardian
✅ Talking Reds

📱 Download our app here for all of our content throughout the international break 👉 https://t.co/v3xcfwjq7C pic.twitter.com/zYsY6MFEDd

— The Anfield Wrap (@TheAnfieldWrap) November 18, 2019
Recent Posts:
[rpfc_recent_posts_from_category meta="true"]
Pics: David Rawcliffe-Propaganda Photo
Like The Anfield Wrap on Facebook