"I sleep in the daytime, I work in the nighttime, I might not ever get home."
BEING abroad and watching these.
Being abroad and being represented by the best sports team on the planet. Knowing these are the best of the best. The best men alive today.
Liverpool nine clear of Manchester City. Liverpool eight clear of Leicester City and Chelsea. Liverpool eight clear of what constitutes the pack.
The Champions of England vs the Champions of Europe, and the Champions of Europe played the game brilliantly. Played the game with panache, just picked their moments. Repeatedly Manchester City found themselves second best for patches. They were burrowing away but always one move behind. The game belonged to The Reds.
Liverpool had the luxury of scoring first. And in a variety of ways that may have been fortuitous but the main way is that their second-choice goalkeeper is shite. It was a shot that should be saved but an effort to always be celebrated. It was pure radar from Fabinho. Absolute inch-perfect stuff. The sort of nonsense that shouldn't happen that easily but so often does.
Much of the game is marked with the idea that Manchester City played better football. This is, in a sense, unarguable but simultaneously they couldn't get near the Liverpool goal, they existed entirely in a Liverpool bubble. They found themselves second best in Liverpool's world, Raheem Sterling apart.
Raheem's performance was marvellous. He railed against everything, fought everyone but came off second best over and over. He may well have been the best player on the pitch but Liverpool have made that sort of achievement irrelevant. It is now meaningless against The Reds that don't stop.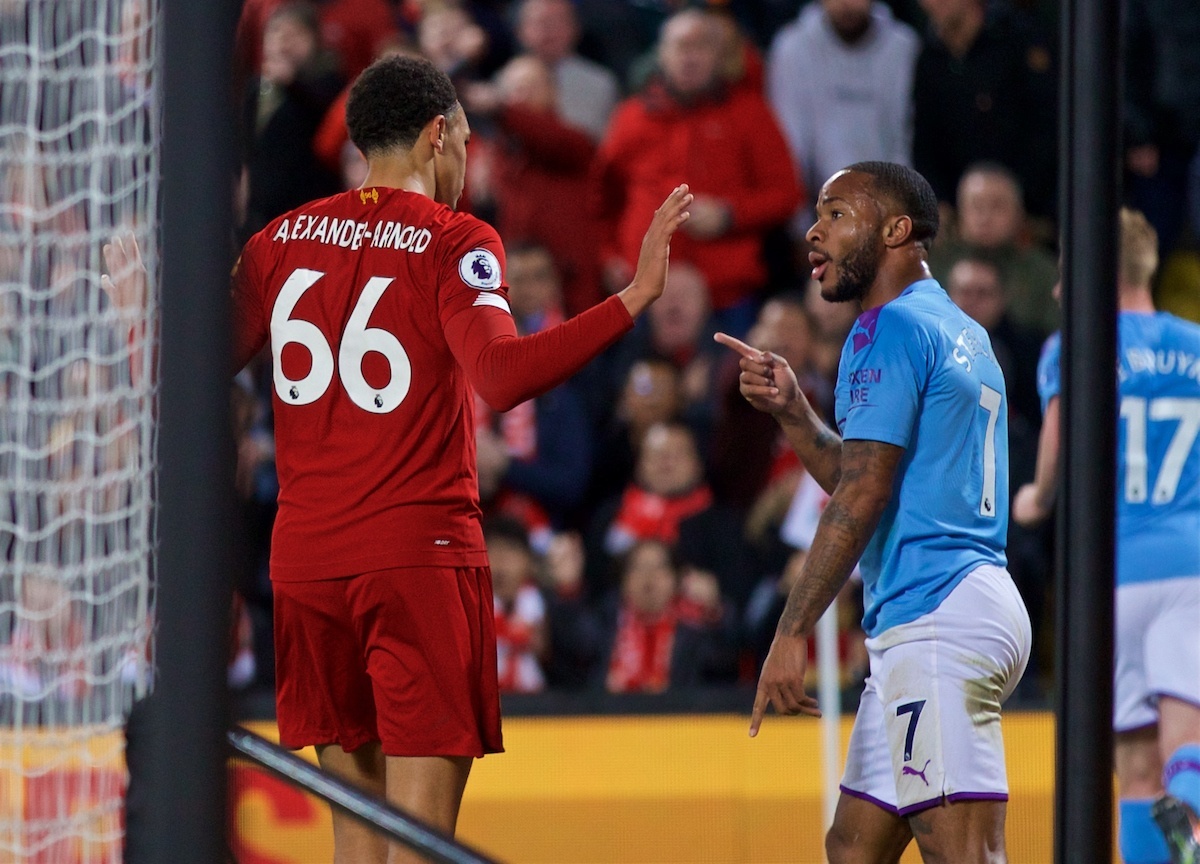 Manchester City and Kevin De Bruyne played the football that Liverpool allowed. They did nothing that Liverpool couldn't have seen coming. They had no surprises really during the game. They had so much quality over and over, but that is not the same as a surprise.
Like Liverpool, they are a phenomenal blunt instrument. Manchester City may occasionally dress themselves up otherwise but they can be made as modest as the rest of us.
It is the second that must hurt them the most, the goal they cannot score. We have Robertson and Alexander-Arnold who sweep the ball in, they manage it in a manner no ordinary mortal can. And this is what can be seen here. The ball is irresistible, the finish unstoppable.
Mo Salah has struggled these last weeks for goals but that header is everything for the greater cause. It is the way home we have all been hoping for. Liverpool get in at the break profoundly redeemed.
And then it gets better; Jordan Henderson doing brilliantly, Sadio Mane doing better and suddenly Liverpool have three goals to represent. To back. Henderson goes off early, perhaps too early and Liverpool fall back on them selves. We concede a consolation.
The truth of the whole matter is that this isn't our best performance against City in recent memory but it didn't need to be. That should worry them. Instead they had to deal with Dejan Lovern and Virgil van Dijk being on top of everything, that they couldn't land a glove, that Liverpool sashay away so very much in tact.
Do you know? Watching them abroad, watching them in a different culture is its own reward. A pleasure, a privilege. A delight.
But let me tell you this:
– Today they had the form of league champions.
– Today they were the most in the moment of any Liverpool team I have ever seen.
– Today there was a job and it was done.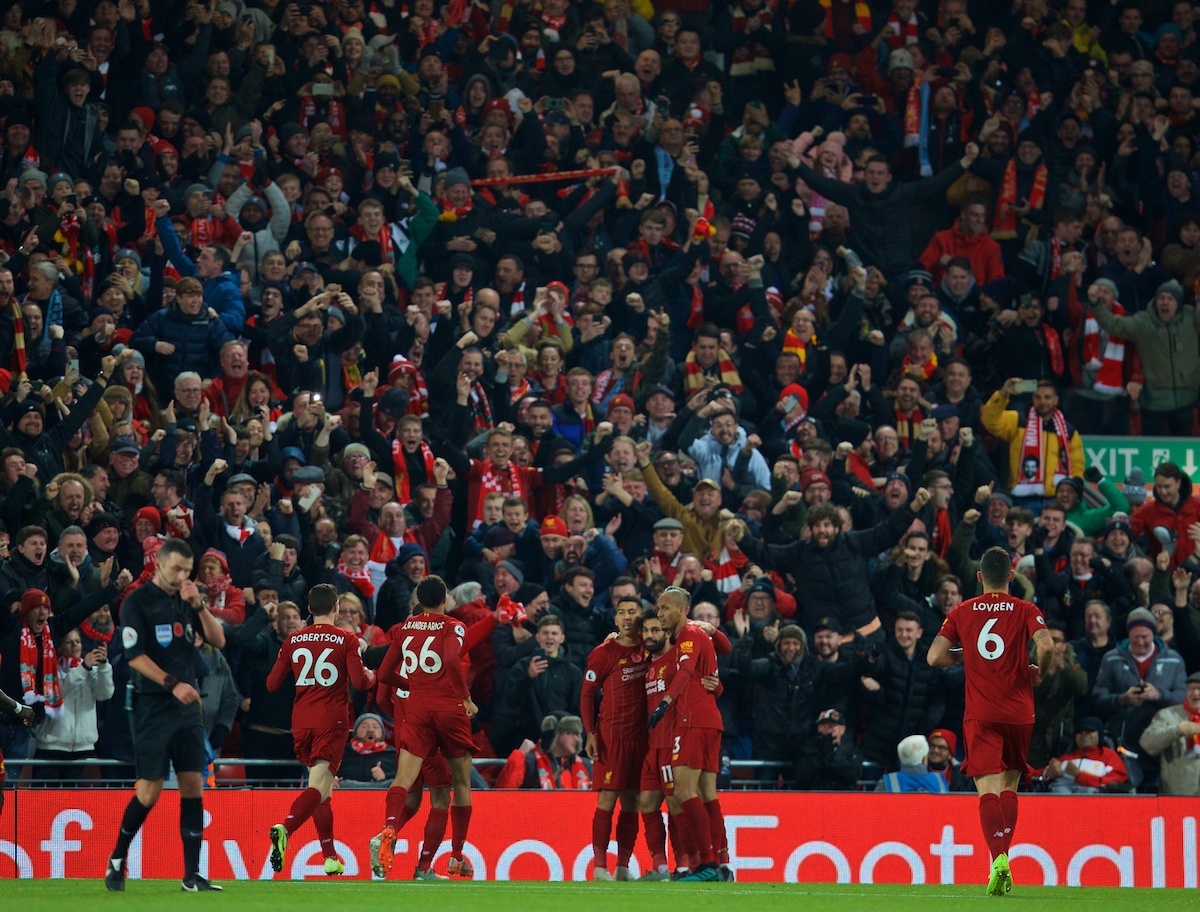 "You make me shiver, I feel so tender, we make a pretty good team…"
Today was a day where they want to say you aren't potential league champions and you are. You are the next team to win the football league.
There is no side like Liverpool in Europe at the minute. The end of the match makes that pretty clear. No one else can do what we can. The sound of The Kop pushing them back. Resisting. Pulling us forward. Insisting. Liverpool are not to be denied.
We win the game and we deserve to. We play every scenario perfectly. We own the scoreboard.
But we all need to get out the other side. We manage that today. We are nine clear of them, eight clear of second. I want to hold you and I want to kiss you, but I don't have time for that now.
Twelve down – and what a 12. Twenty-six to go – and what a 26. These are the best days of our lives. The best team you can conceive of. These are our boys to do the job no one has since 1990. It has all suddenly opened up.
This is what dreams are made of.
"FUCKING GET IN!

"Eight points clear, nine clear of City, up the fucking Reds." 🔝

📱 Subscribe for all of our immediate reaction to Liverpool's 3-1 win over Manchester City 👉 https://t.co/XZAK9veWt7 pic.twitter.com/FwZqrAPr3P

— The Anfield Wrap (@TheAnfieldWrap) November 10, 2019
Recent Posts:
[rpfc_recent_posts_from_category meta="true"]
Pics: David Rawcliffe-Propaganda Photo
Like The Anfield Wrap on Facebook