THERE are two games happening.
One the biggest of 11 men's lives. Away at the Champions Of Europe, away at Anfield, away at Divock Origi's lads.
The other not the biggest this week. One that needs to be won, no doubt, but one which comes off the back of an enormous 90-minute performance and one which is on the toes of Sunday. The manager wants Liverpool focussed on this game but his selection is anything but. Everybody sort of gets what they want, which is rare in football.
At the end of this game, Genk stand in front of their fans, shirts off and Liverpool's red shirts thrown over their shoulders. Their fans raise their hands, and shower their team with praise.
Well deserved is this show of passion and commitment, for Genk have brought all good intentions to Anfield tonight, full of bluster and pace, and taking advantage of any small cracks in the Liverpool armour.
Anfield is surrounded by a smoky atmosphere with intermittent fireworks shooting above the stands. This November night is packed with tidy football, and both Genk – not normally considered a European highlight – and a Liverpool 11 that is, to some extent, a second-string side, show themselves in flashes worthy of the atmosphere and the bright lights.
At first, it seems the match is going to be all about Naby Keita. He is the competent composite midfielder looking sharp going forward and then swift defensive play. His passing is on point, and you can't help wishing we had seen more of this.
He and Alex Oxlade-Chamberlain are now fighting for their places, and it is incredibly enjoyable to watch tonight from Naby for 45 minutes before he fades from the game, again enigmatic.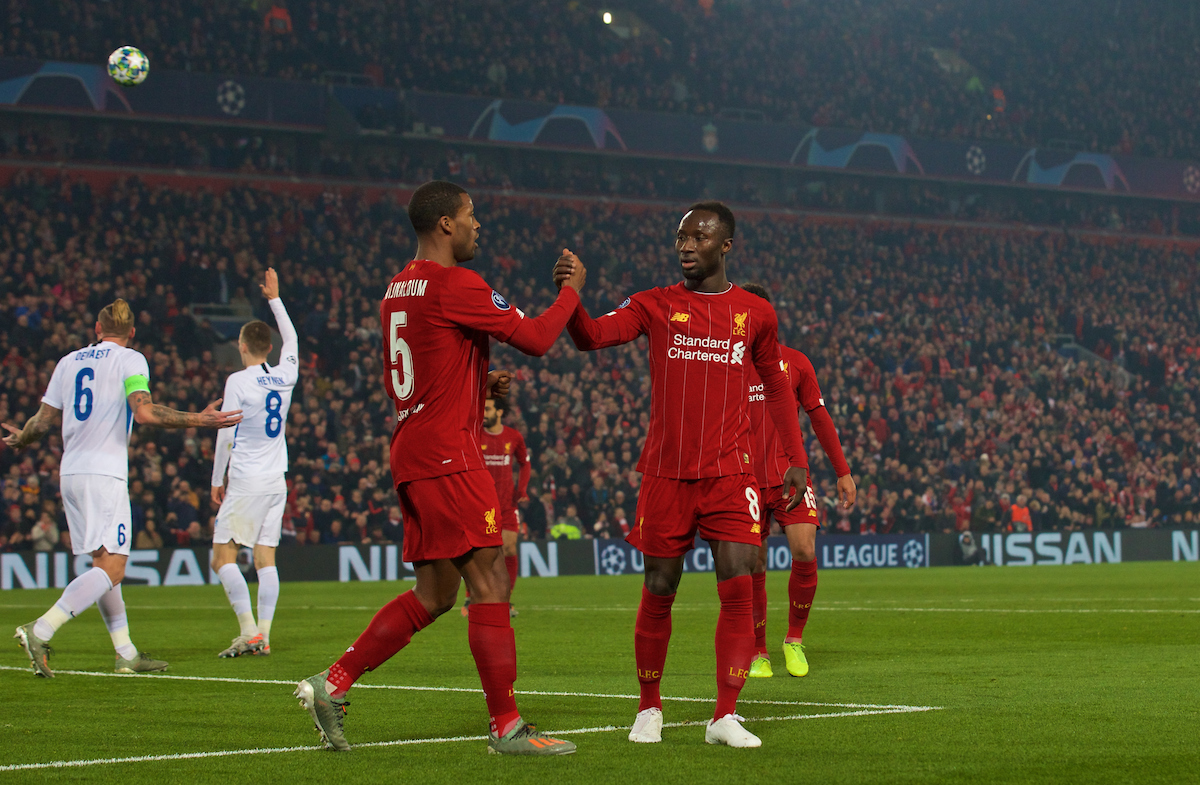 Alex looks back on it, fitter and more in the game than we've seen him lately. The only negative is the a moment in the first half when Alex is brought down and spins perpendicular to the pitch grabbing his ankle.
The year of his life without football flashes before all of our eyes before he rises and steps gingerly forward. Anfield can barely watch this man, who has come back to us from months on crutches, cope with the stress of more potential injury.
As much as anything this is what we mean by mentality monsters. Not just the games we play with the opposition but the working of our own heads. His goal is excellent, another top-drawer finish, albeit more conventional. He flourishes as the game goes on, unshackled from centre forward and able to do damage.
Another star in Liverpool's night sky is Gini Wijnaldum. Before his goal on the 14th minute he was grabbing the ball back from Genk and linking up nicely with Milner. The goal isn't gorgeous but it is an opportunity grabbed with a foot lifted up and celebrated oddly, like it wasn't a real thing.
Liverpool should then have taken the game away from Genk. There is always a reason, always an excuse why Liverpool haven't done that this season but soon they need to find a way to put distance between them and their opponents to make the last 30 of games a bit easier.
For Genk, their number seven, Junya Ito, looks good but not quite as speedy as he ought to be. Behind him though, is their huge number 25, Sander Berge, who inexplicably seems to be twice the size of Gini, and even taller than Virgil Van Dijk.
He is very much a Grimms' Fairy Tales character seemingly come from continental Europe out of a children's story book and he is still very young. He tries to dominate Liverpool, but Fabinho is getting kicks in to the left, and to the right, and we never look beaten in the middle.
This is not the end of our adventure into the land of the giants as in the second half they bring on Paul Onuachu, who is without question the world's tallest man.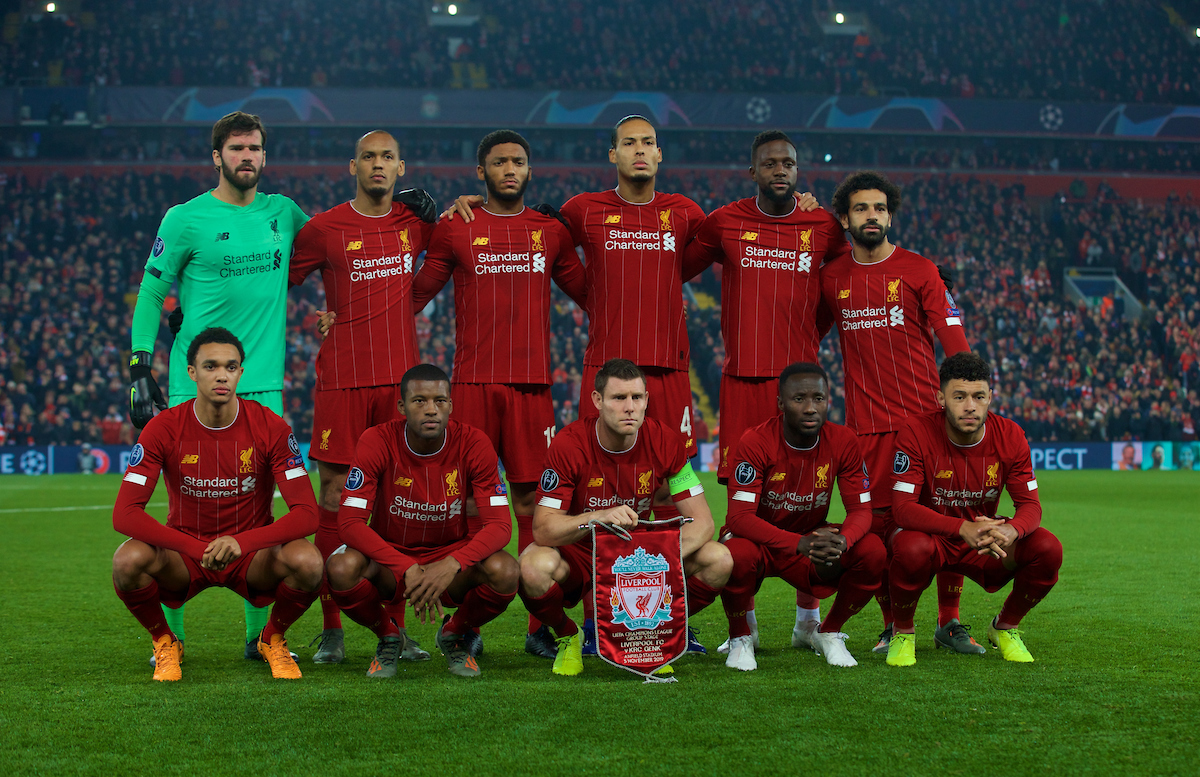 Speaking of men with incredible physical features, our own iron man, James Milner does well throughout. He is the regular recipient of the big switch, the ball crossed from right to left, which when it works, it really works. He's an outball for everyone on the pitch.
Mbwana Samatta's equaliser is a header that comes at a bad time, just before half time. Liverpool have to own the errors made in defending the corner and allowing him the space.
In the second half, Genk are set up with seemingly five at the back and looking to hold what they have, attempting to make matters impossible for Liverpool, but with Salah's speed and Divock Origi's presence they fail to keep us out – even though three, four, five chances fail to produce a goal. Salah is dancing all over the ball but can't manage to find the net. Both played well while looking mortal.
For the rest of the game the temperature rises on the pitch and Genk continue to battle Liverpool's temporary top team. There is no giving up, here. No backing down. No one is here for the ride, no passengers and no one is really second best for the last 15 but Alisson and van Dijk ooze quality. Robertson scampers. Mane scraps.
Did Jürgen take Divock off just so his old club could give him a standing ovation at the end? I hope so. Divock is both ours and theirs, a European Champion and a symbol of something. Our Liverpool legends get to belong to the world too; that is a good thing.
Anyway. Genk show us tonight that you don't need to be a famous old European club to want to play ferocious, enjoyable football in this competition, they remind us that Jürgen was right about being dragged to a level. Now it is us who are always the hunted, the often dragged.
They were tidier than expected. They were a good side playing a massive game. Bring on the Champions, Champions of Europe. We are everyone's biggest game of the season.
Speaking of which… Sunday.
"Liverpool just got the job done tonight.

"Now all eyes are on Sunday."

📱 Subscribe for all of our reaction to the Reds' 2-1 win over Genk 👉 https://t.co/XZAK9veWt7 pic.twitter.com/ecjz3ltD9F

— The Anfield Wrap (@TheAnfieldWrap) November 5, 2019
Recent Posts:
[rpfc_recent_posts_from_category meta="true"]
Pics: David Rawcliffe-Propaganda Photo
Like The Anfield Wrap on Facebook