ASTON Villa 10-0 Liverpool Football Club – December 17, 2019.
What does that feel like? Forget that it might be a competition which for whatever reason you hold no currency. Forget that the teams' average age on the night was 15 years and two days. Forget even that Mighty Red was the manager because seemingly everyone else was exactly where they should be, in Qatar for the Club World Cup.
Just for a moment, imagine what that scoreline in a competitive game feels like. Imagine Twitter, your rivals memes of endless cuts to an away end of disconsolate young Reds, some no older than the players on the pitch — put in a situation they never should have been.
Imagine Villa themselves, still smarting from their gallant efforts in the weekend's Premier League loss to Jürgen Klopp's side.
Imagine the barrage of cockney-sounding chants from thousands of people from Birmingham, or the stills of Jack Grealish wheeling away to the Holt End after scoring his fifth of the night against a back five with zero Premier League experience.
Do you think Villa would care about what type of Liverpool team they beat? The answer is no. They would frame that result next to their singular European Cup and celebrate it as their greatest night since.
The mighty Liverpool slain, pay no mind to small details like team selection, they came in name and look what happened. History would be framed in whatever people wish to perceive it, whatever gets you through the night.
You can scoff at my hypothesis, but the situation Liverpool now find themselves in, based solely on nothing other than being good at football is nothing short of disgraceful.
The Reds cannot reasonably be expected to fulfil both their Carabao Cup tie and their Club World Cup semi final, which are within 24 hours in two different continents, with an equal amount of relevance and importance. It simply cannot happen.
So the likelihood is that the Carabao Cup game is fulfilled by a raft of academy youngsters and possibly an academy manager, given that there is a requirement for a 23-man squad in Qatar and the first-team coaches will almost certainly be needed to travel as part of the preparations for that competition.
Even more damaging is how the rearrangement has seemingly sought to divide the supporter base and laid down an ultimatum for priority and choice. Everyone now has to have a horse in the race, and therefore find a way to demean the competition they have decided is not as important to them.
To many, the Carabao Cup is shite, a nothingness of a competition which hinders an already packed winter programme. To others, the Club World Cup is a corporate, elitist and morally uncomfortable proposition that we should have no part in.
For either argument there is an opposing view on why the club should prioritise the other. There are those who have always remained nonchalant about the League Cup in whatever current guise it was in, but not until now have they vociferously dissented against it because of a fixture clash.
Again, why are we being put in this position? Demeaning the prospect of possibly winning a trophy for our club that is currently very much in the business of doing just that makes no sense.
The Raison d'être of this team since the start of the season is that they are in seven competitions and that they want to win all seven. That isn't the type of bluster and bullshit you hear from other clubs who are trying to convince their supporters that the guy at the wheel is anything but an unsteady bluff merchant, for example.
This is a phenomenal football team telling you that they might win seven competitions because they're really good at winning games of football.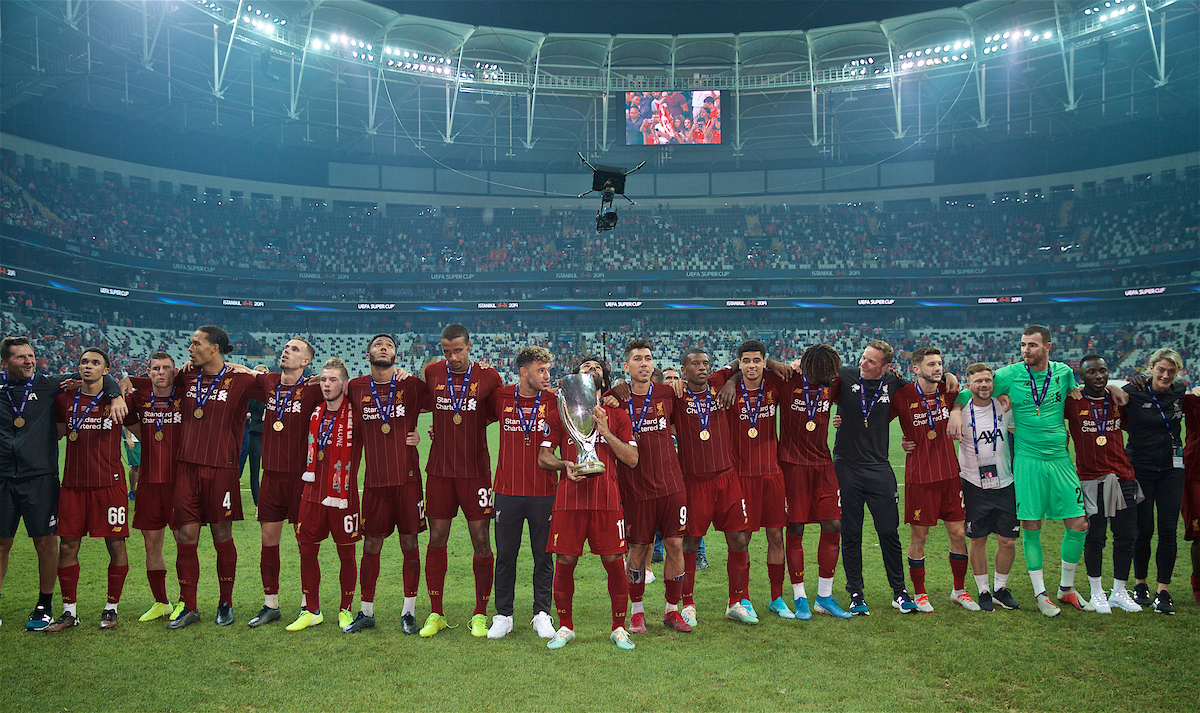 Is it not enough, then, to simply expect a degree of competence by those who govern when you are holding up your side of the bargain?
Is it too much to ask to not be put in a position where you have to find a reason to argue against seeing these lads further corroborated as Liverpool greats by lifting the next trophy that comes their way? Or to not be absolutely physically drained in December by doing so?
The narrative is now very much embedded in choice. But this isn't framed as a good problem, an emotive choice between the Premier League and Champions League, your birthday or Christmas, a box set or a film.
This is a case of pick one and find a reason to hate the other. So, you like Christmas? Find me a reason to despise your birthday. Prefer box sets do you? Every film you ever watch from now you have to hate with all your might.
If you're reading this and expecting me to come up with a smart-arse alternative answer to how the whole sorry mess should have played out in the club's favour, one which avoids placing anymore unnecessary physical exertion on the team already being tested to its limits, then sorry, as I don't have one.
The solution isn't for me, you Klopp or the club to find. Liverpool should never have been put in a position where this situation was allowed to play out when those responsible knew that it was a possibility before a ball was kicked in 2019-20.
All I ask is for you to think of the prospect of Aston Villa 10-0 Liverpool in the quarter final of a competition that you may or may not have decided you cannot become even remotely emotionally invested in through fear that such a scenario may just play out.
Think about how that would feel, then ponder how on earth such a situation was even possible.
Recent Posts:
[rpfc_recent_posts_from_category meta="true"]
Pics: David Rawcliffe-Propaganda Photo
Like The Anfield Wrap on Facebook