FOR as long as I can remember, making Anfield bigger and better has been a recurring debate.
When Liverpool are successful, the issue intensifies further.
Those days when you could walk up, pay in, and watch the match are long gone. And tickets for the aways are like gold dust.
The issue has come to the fore again this week with news of a consultation with residents over new plans for the Anfield Road quickly followed by fury as circa 70,000 people clamoured for tickets online.
Somewhere, among the hordes of Liverpool memorabilia I've gathered over the years, there's an old programme with Peter Robinson writing in it about demand for tickets and the size of the stadium.
And that was long before work on the Kemlyn Road, Anfield Road and Main Stand changed the face of Anfield from how it once was.
Since then, we've had 'The Parry Bowl', the Hicks and Gillett Stanley Park debacle, talk of a groundshare with Everton and various drawings of stadiums that never progressed beyond an architect's imagination.
We've also had something that actually happened in the shape of the new Main Stand, with redevelopment finishing in 2016.
Anfield's capacity is now 54,074, making it the sixth biggest in the Premier League behind Old Trafford (74,994), the Tottenham Hotspur stadium (62,062), The Emirates (60,260), West Ham's London Stadium (60,000), and The Etihad (55,097).
I've always been one to bang the drum for Liverpool to punch its weight. For it to act big and think big.
A season ticket waiting list remains, while the option to join it has now long gone. Members sales continue to frustrate as mentioned.
So just build a 70,000-seater stadium, right? After all, that would make it easier to access tickets. It would get more supporters through the turnstiles. It would provide more opportunities for the legacy of loving Liverpool to be passed on to another generation.
It's so easy for us to say this though purely from a football fan perspective. A big ground, a good ground, is part of the club's identity. And so of course we want it to be the very best it can be.
That passion-driven want can often ignore other factors, though.
The club is now committed to Anfield. On that spot, in that footprint. It makes it special. It keeps it grounded in the past. We can look at that pitch and pinpoint those special memories. Had Liverpool moved away to a soulless identikit bowl like so many other clubs, we wouldn't have been able to say the same.
Staying put narrows the angles, though. Anyone who has been a regular at Anfield over the years will tell you that the increased capacity the new Main Stand has brought with it new challenges.
It can take longer to get there and longer to get away. A line of buses post match does little to alleviate the issue.
Meanwhile, Sandhills and Kirkdale stations are a bit of a walk. Which is fine if you're good on your feet. Less so if not. Parking is not something I attempt around the match these days. But I don't imagine more fans attending the ground has made things any easier.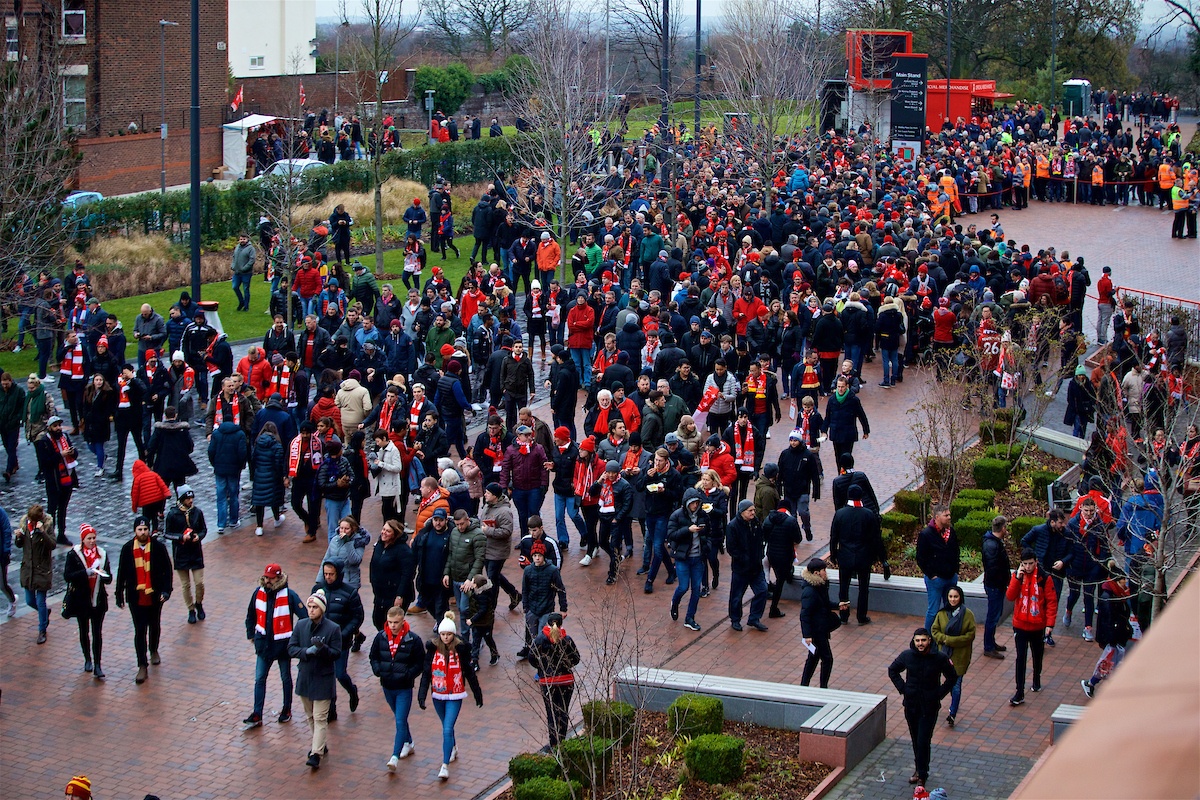 A bigger ground should mean improvements in local infrastructure. What are they? How much will they cost? And who is paying?
Then there are the people of Anfield. There have been much-needed calls for supporters who descend on the area to show more respect for it in recent times. Less litter, less anti-social behaviour, less using the streets and gardens as a toilet. A minority of people doing any of that can make a big difference to people's lives.
It's perhaps not considered enough by many.
Again, a bigger stadium will mean more potential for that kind of incident. How can it be prevented? What measures can be put in place to make the lives of people in Anfield better?
Liverpool FC's decisions – and lack of them at times – down the years has undoubtedly led to plummeting property prices in Anfield. To some urban decay. To a feel that certain streets were forgotten. And that people living there were just counting down to the day they eventually left.
Bridges need to be rebuilt. And that takes time. Some good work in the community has taken place. Newer houses have started to appear in the area. But undoubtedly more needs to be done. The spot earmarked for a hotel that sits undeveloped is another example of how the club influences the area.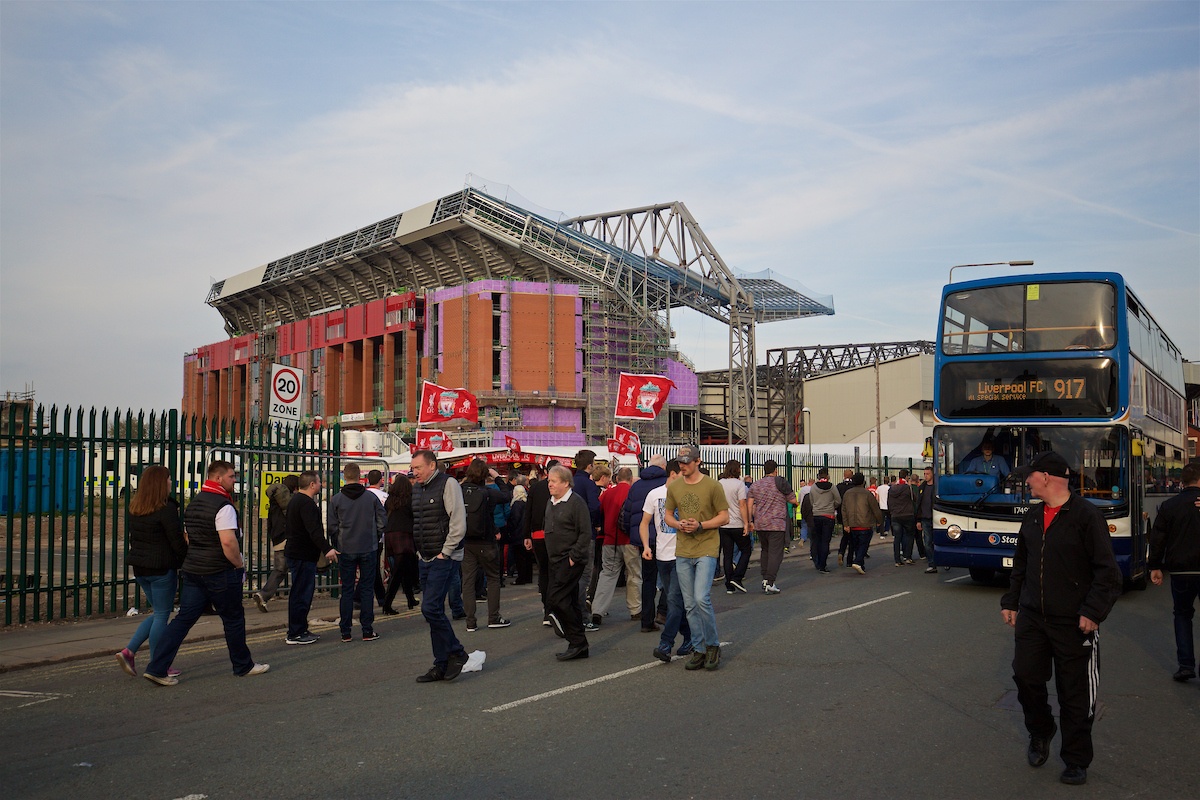 If Liverpool need to tread carefully, and make things right locally before going big with Anfield Road developments, perhaps it is the right thing.
For the majority of us, Anfield is a place we visit periodically. We swoop in, we eat, drink, go the match and leave.
For others it's where they live. Where they grew up. Where they work and where they go to school.
"The club" as it's so often referred to, has to do right by them as much, if not more, than it does by us.
Liverpool Football Club should be just this. Of the city, part of the city, not just in the city.
"We all want the stadium to be bigger, but we have to be mindful and respectful of the people who live and work in Anfield."

📱 Download our app here and watch today's Talking Reds, from @tbkliverpool, in full 👉 https://t.co/v3xcfw1OJ2 pic.twitter.com/kW0TANPCKJ

— The Anfield Wrap (@TheAnfieldWrap) November 21, 2019
Recent Posts:
[rpfc_recent_posts_from_category meta="true"]
Pics: David Rawcliffe-Propaganda Photo
Like The Anfield Wrap on Facebook