HERE we go again.
A big game. A big night. Because let's be honest, that's what a 4.30pm kick off in November is.
In the buildup to matches like these you can't help but think back to those spine-tingling moments when the power of Anfield has been pumped up to the maximum. When all those claims of romanticism fade to black as the evidence unfolds for all to see.
Those times when any debate about whether atmospheres and supporters can influence what unfolds in front of them is made redundant.
At various times throughout the history of Anfield, regular supporters have been moved to try to conserve the culture of support we know and love. From Reclaim The Kop to Spion Kop 1906, the message was always that this was something worth saving. That we know our ground can be special and we want to make it that way more often than not.
Not too long ago, some of the older heads declared The Kop's magic was gone for good. The support was too transient, too old, too passive. And the good old days were just that. They were gone for good. Thankfully, they were wrong.
It's clear that restoring Anfield's spirit was chief among Jürgen Klopp's priorities when he arrived at Liverpool. And on that score, as well as many others, it's job done. The defiance is back. And the reverence has gone. It's supported by this, the Scousest of stats: Liverpool have won more Premier League games against reigning champions than any other side in the competition's history (21).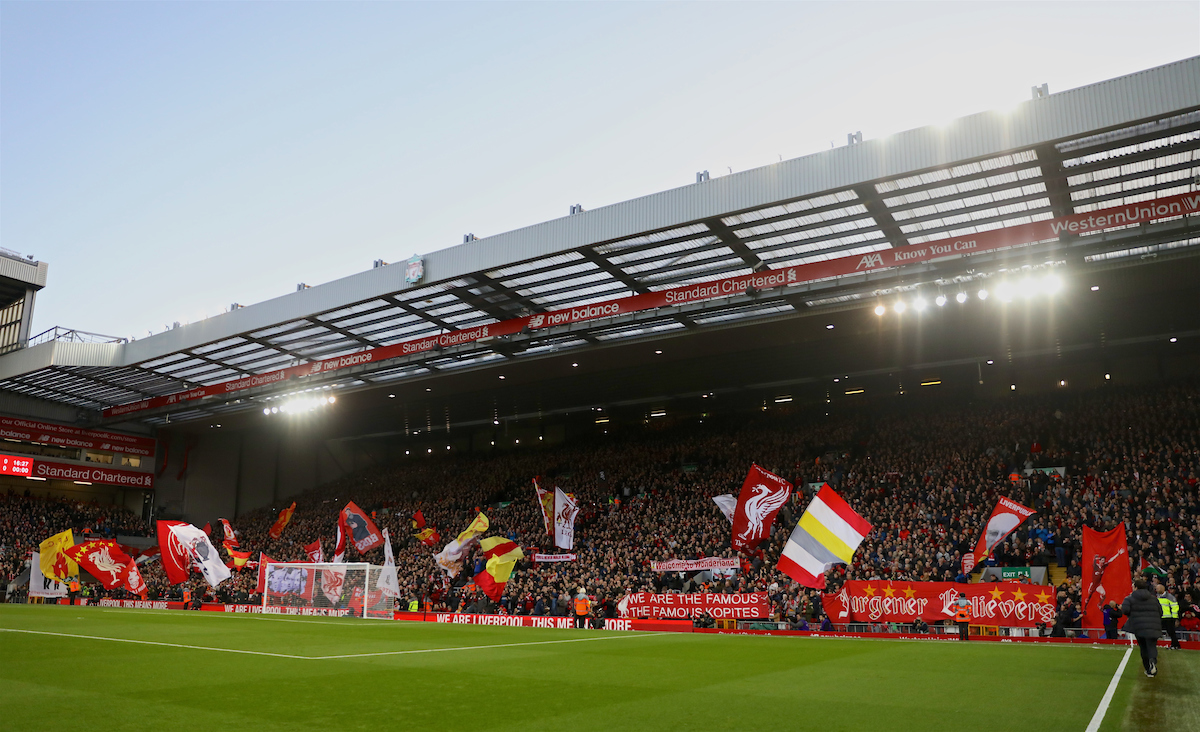 There's a reason for that. Something in the DNA of the club. Something in this manager and this group of players too. Liverpool is at its best when it's offering a proverbial two fingers.
Think of that 4-3 win over Borussia Dortmund at Anfield in 2016. Liverpool twice left needing three goals to go through. And no one, on or off the pitch, believing that wasn't possible.
"It was not logical," then Dortmund manager Thomas Tuchel said afterwards.
"I can give you a description, but not an explanation. The stadium seemed to know what would happen – it was as if it was meant to be."
He wasn't the only one bamboozled by that heady mix of a rampant crowd and a team with its tail up regardless of circumstance. The Dortmund players tried to hold an impromptu mini inquest amid the Anfield din as it all started to go wrong.
No one needed an interpreter to gather that the crux of it was: "What the fuck is going on?"
Barcelona 2019 has since been added to the long list of memorable Anfield nights. And again, it seems very few in the opposition ranks that night can truly pinpoint how or why it happened. It defied the odds. It's hard to explain. But it's recent enough to know we can do it all again.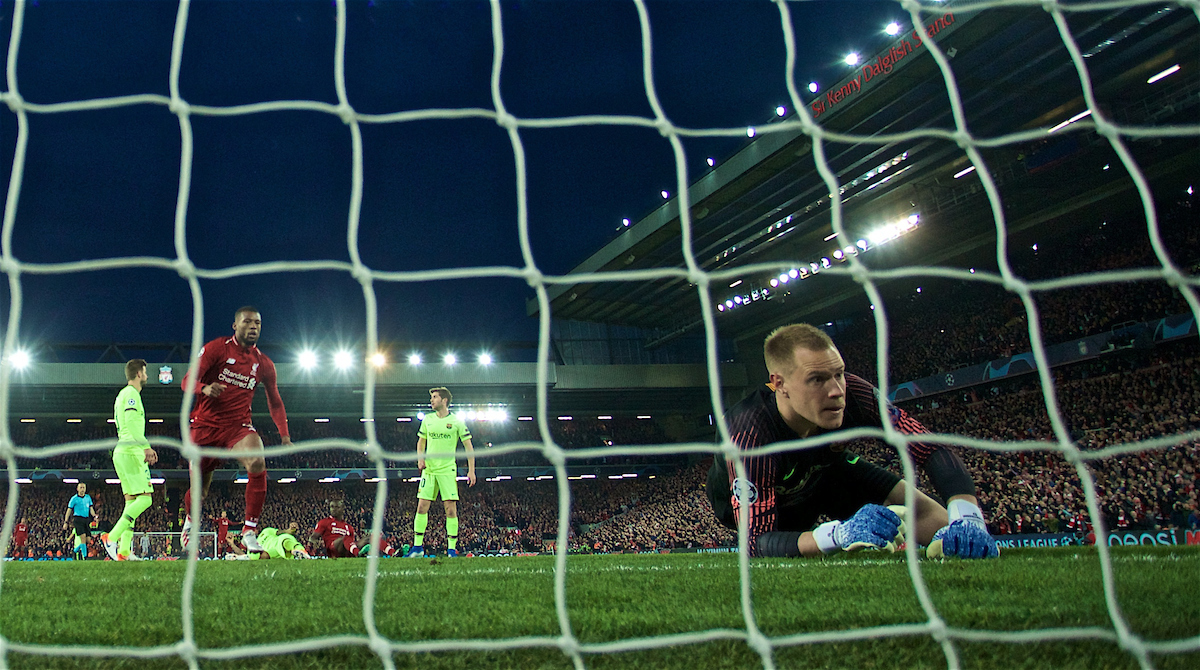 Sunday's opponents have tasted it, too. That noise. That din. A primal, piercing scream of sound that lifts Liverpool to more.
When it happens it's hard to watch the game with total attention, never mind play in it. It's an assault on the senses. And when that's against you rather than for you, it's got to play a part in how you play despite what the doubters say.
Perhaps that is why Raheem Sterling is yet to shine here in opposition colours. There's no doubting his talent. But the circumstances have so far conspired to muddle his brain and affect his performances.
Pep Guardiola knows all this. It's why his comments about Sadio Mane are all the more perplexing. Why would you further wind up a team and a support that is already coiled for Sunday's game? Why would you fire up a manager that you've lost to more times than any other?
The backtracking that has followed indicates he knows he made a mistake by letting his emotions get the better of him.
"It's a bugger of a ground," Guardiola said not too long ago.
"We've all gone through what happened to Barca. They were laughing at me when we were losing 3-0 after the first 15-20 minutes of the quarter final."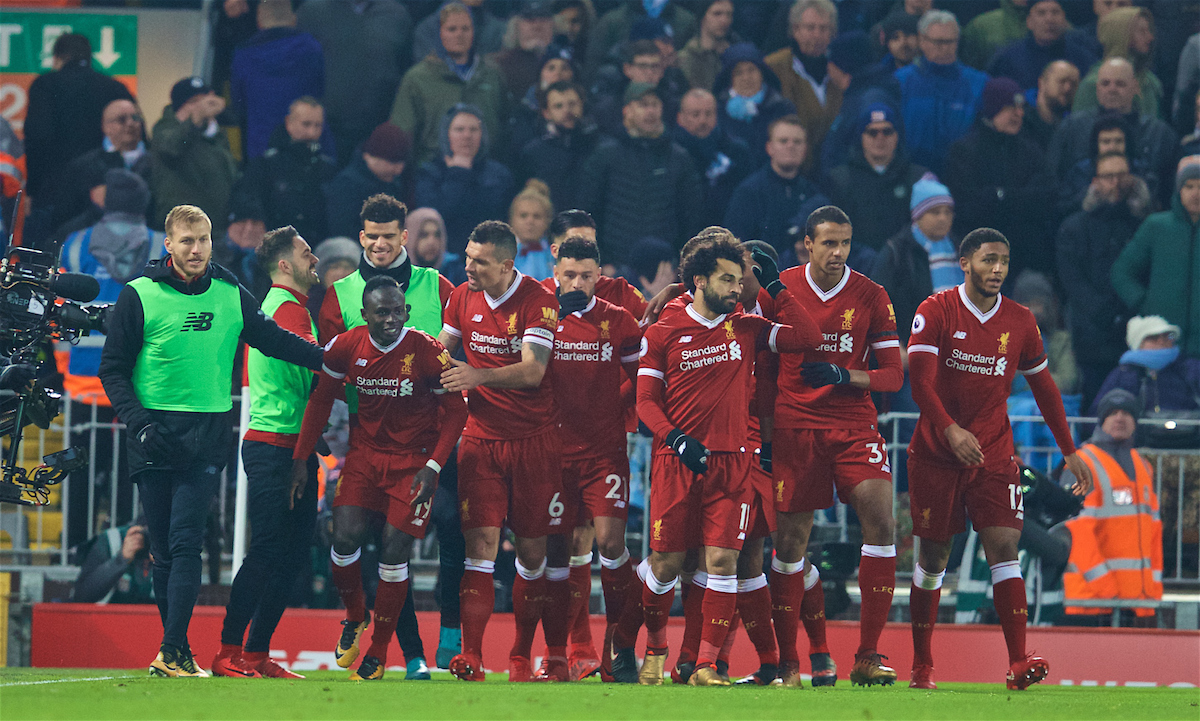 Liverpool are capable of the same again on Sunday with a front three that, by his own admission, scares Guardiola.
Klopp has made the customary appeal for support. We should listen. The potential of a nine-point lead come Sunday evening should spur everyone on.
It might only be 11 games in. It might only be November. But a victory would be a big psychological punch in the gut to the biggest obstacle in the way of title number 19 for The Reds.
We want Liverpool to be the best version of themselves on Sunday. If you're going to the game, they will want you to be the best versions of yourselves as supporters.
Get in early, sing, shout and make a difference. Let's show them how it's done on and off the pitch. Again.
"It's the biggest game of the season so far, it's the opportunity to go nine points clear…"

"If I was a City fan I wouldn't be looking forward to Sunday."

📱 Subscribe for all of our buildup and reaction to Liverpool's top of the table clash 👉 https://t.co/TEMh9r97WH pic.twitter.com/aCB6Cr7Gq0

— The Anfield Wrap (@TheAnfieldWrap) November 8, 2019
Recent Posts:
[rpfc_recent_posts_from_category meta="true"]
Pics: David Rawcliffe-Propaganda Photo
Like The Anfield Wrap on Facebook