YOU can never truly trust social media.
There I was, harmlessly scrolling through Twitter on Sunday night, when I saw a number of posts to the effect of "What a goal from Wijnaldum," "What has Wijnaldum just done?!" and even "OMGini!"
It was tremendous news that Liverpool's number five had bagged another goal for his country, and it sounded like a decent one, but I was sceptical as to the quality being titillated by Twitter. (Twittillated?)
Typically, you will often see a third-rate squad player win a throw in for his team while 4-0 down, followed by fans of that team turning to social media to post something like "Name a better player in world football right now… I'll wait."
Then came the videos, so I watched. "OK, here we go. Gini's got the ball now and… OMGini! What a hit!"
It was a superb strike right into the top corner to put Netherlands 2-0 up against Belarus, and while the quality of the opposition has to be taken into account, I'm not sure many teams in world football would have been able to stop such a well-executed effort.
Mr Wijnaldum, of course, has always been capable of such things. He scored a similar goal for Newcastle as part of his four-goal haul against Norwich City at St James' Park during his first season in England, and has also hit some belters in his time at Anfield.
However, while the quality of his goals at Liverpool can't be questioned, the quantity of them sometimes has been.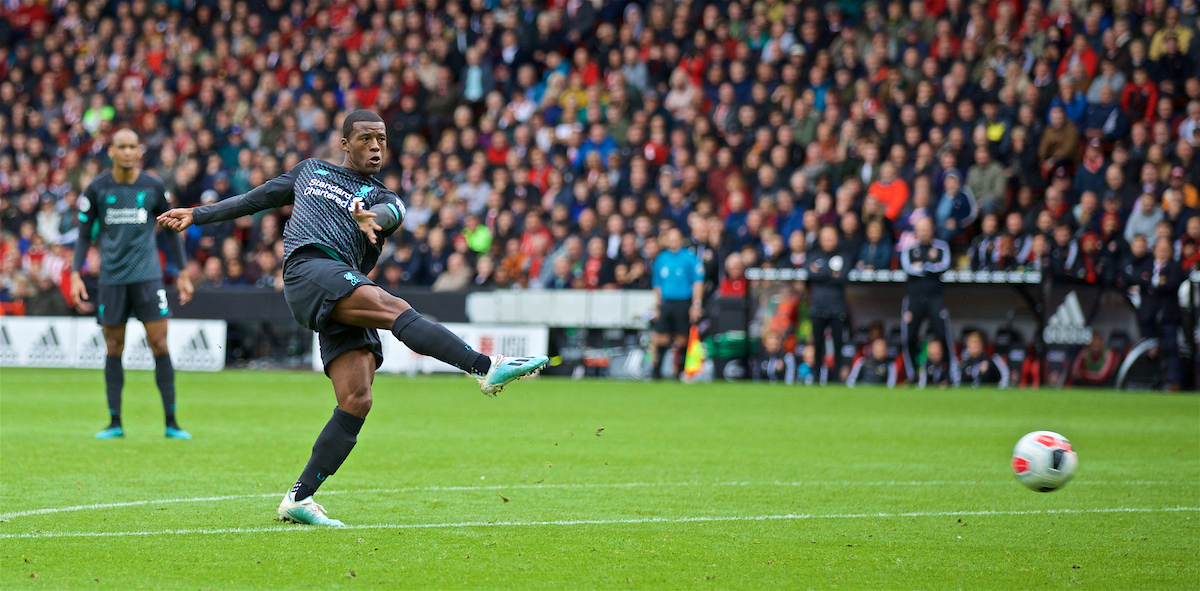 It has been a conversation that has cropped up more regularly following recent international breaks. Why doesn't Wijnaldum score as many for Liverpool as he does for the Netherlands?
The obvious answer is that he simply plays very different roles for club and country. Jürgen Klopp wants him to be a deeper and more disciplined general, while Ronald Koeman appears to have given him licence to become a part of the attack at every opportunity.
His job at club level is to break up attacks, ideally before they've gotten anywhere near the defence, and then pass the ball on to the front line or marauding full backs to spring a fast counter attack. In possession, he generally keeps it simple, again, with the ultimate goal of feeding the ball wide or into the front three.
To be fair, it is no wonder that Gini doesn't regularly try and find the top corner from 30 yards for his club, as usually all he has to do is look a few yards forward and he has an alternative option of giving the ball to Sadio Mane, Roberto Firmino or Mo Salah.
Reds were a bit perplexed when Wijnaldum was signed from the north east for £25m in 2016 as he was an attacking midfielder, and Liverpool had plenty of them already. Of course, the curveball from Klopp was that he saw other qualities in him, and wanted to develop Wijnaldum into one of Europe's premier box-to-box midfielders.
The 28-year-old wasn't always this proficient at putting the ball in the net for the Netherlands, though. It is only really under former Everton boss, and red Christmas tree enthusiast, Koeman that he has unleashed his goalscoring instincts on a regular basis. He had five goals to his name after 48 caps, and now has 13 after 59 appearances for his nation.
Interestingly, his quickfire brace when coming off the bench in THAT game against Barcelona last season apparently owed a lot to the fire and anger that was in his belly, such was his indignance at being left on the bench for his team's biggest game of the season.
Could it have been that a certain amount of refusing to follow the blueprint and just letting natural instincts take over helped to cause those wonderful moments?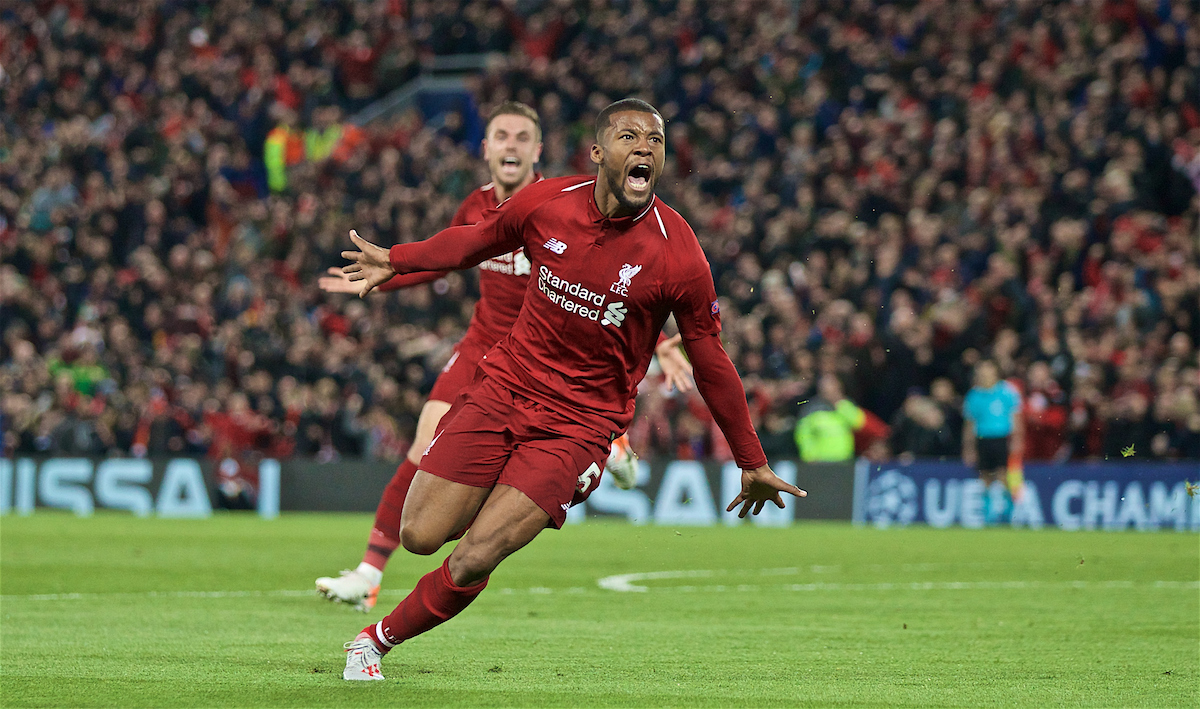 His visceral celebration after his second goal that equalised the aggregate score against the Catalans was like nothing we'd ever seen before from him. Usually full of smiles and modesty, this was Gini staunchly saying "get on me lads and lasses, I'm the f*cking man," or whatever the Dutch translation is.
Most of the time, Wijnaldum is called on to be more disciplined, and he does it very well. He can sometimes be accused of going missing in games, but is still usually doing crucial work that is merely going unnoticed because other players are providing the fireworks. Gini is regularly the one lighting them and running back down the garden, but it's a job that needs doing.
However, every now and again, he lets himself off the leash. Many of his goals in his first season on Merseyside came from making runs into the box ahead of the strikers, while others, like the audacious lob against Bournemouth and the absolute wallop against Cardiff last season, were just pure technique.
Wijnaldum might not be a go-to goalscoring superstar for Liverpool like he is fast becoming for his country, but you know that his ability to turn into one when necessary is there. It perhaps explains why so many of his goals have come in crucial games.
Most of the time, it isn't needed as one of the front three has done the job, but it's good to know his traction engine of a right foot can be called upon.
In the meantime though, Klopp will be delighted to see him return to Melwood and get back to doing what he does best for Liverpool, starting with the trip to Old Trafford to face Manchester United on Sunday. Having said that, if he wants to fire another couple of belters into the United net, I'm sure none of us would object.
In the race for the Premier League title and Champions League retention, Wijnaldum will play a massive part, and will be needed to put in those unheralded shifts for the good of the team.
But it's great to know that, should he need to be a bit more adventurous from time to time, Liverpool fans can perhaps expect to see even more beaming smiles from the flying Dutchman.
Recent Posts:
[rpfc_recent_posts_from_category meta="true"]
Pics: David Rawcliffe-Propaganda Photo
Like The Anfield Wrap on Facebook