"DRAG them down to our level and kill them."
The words of Jürgen Klopp when he was asked how he would deal with better sides, more expensively assembled sides facing his Liverpool just after he was appointed.
Today Manchester United did an excellent job of dragging Liverpool down to their level. But they didn't kill them. By Christ they didn't kill them.
With 10 minutes of the game to go, when Liverpool had barely strung five passes together, when they had made all three subs and taken Sadio Mane further out of the game with every one it became clear that Manchester United were on their absolute last legs.
They had given everything keeping Liverpool at arm's length. They had been worn down by the bluntest Liverpool imaginable. Liverpool blunt as sandpaper; Liverpool the rock in rock, paper, scissors.
The ball found its way to Robertson who popped it across the box and it was as if time stood still. Adam Lallana recast as Neo in The Matrix, somehow on hand to convert into an empty net. Lallana resplendent, the best of us, loving Liverpool more than you can imagine.
Our end went bananas. It has been a while since one of them, a while since you've watched Liverpool get out of jail late in a game. Celebrations have different colours and hues, different flavours. We don't want to be savouring that one very often but on this occasion it was sweet as a nut, sweet like Tropicana.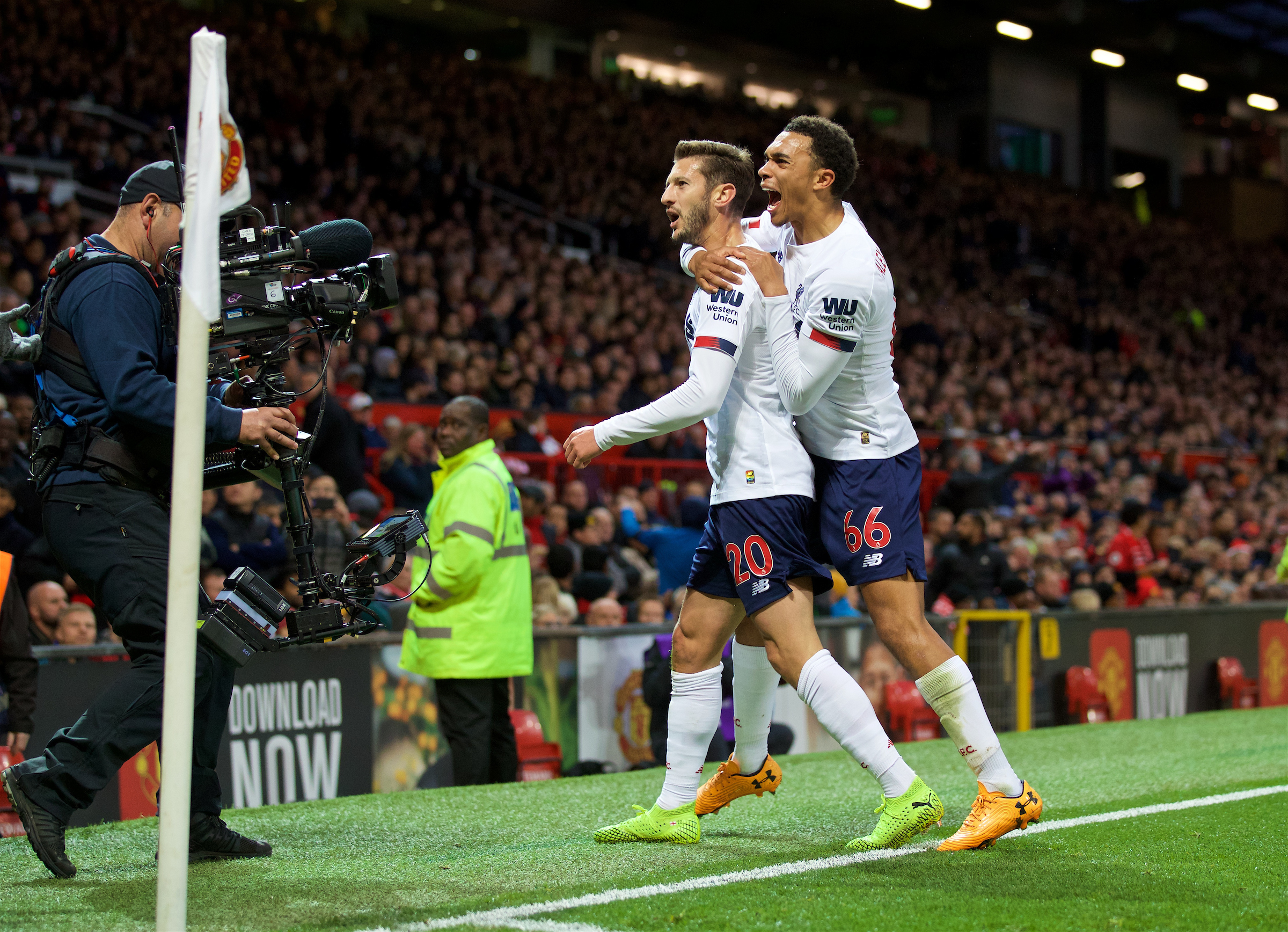 Then the game wore on, quality still lacking but I became convinced we were going to continue our references to United 10/12 years ago. A John O'Shea or Rio Ferdinand to break their hearts.
Sadly, it wasn't to be. Liverpool ended far the stronger, but there was to be no winner for the European Champions against the bottom-half strugglers.
Snide that from me. And in a sense unfairly so.
Prior to the game I spoke to Ant Shaw from the perennially excellent United We Stand and he said United were top six in defence, top six in midfield and relegation in attack. That perhaps overstates and understates the quality but the desire before kick off to think of United as a pub team from so many was ridiculous.
They have good players and those who aren't good have been around the block. They were never mugs. And they are Manchester United which means something and means something more in a fixture such as this.
We of all sides should know that. Should know about footballing DNA. Should know that some occasions can be risen to, in a way.
Yet though, Klopp's Liverpool have again failed to win at Goodison Park or Old Trafford, failed to make the superiority tell against the bitterest of rivals and failed to ever really put that hammer down. De Gea wasn't making save after save. Far from it. And Liverpool didn't start the game cutting a swathe through before the referee, both here and remotely, got involved.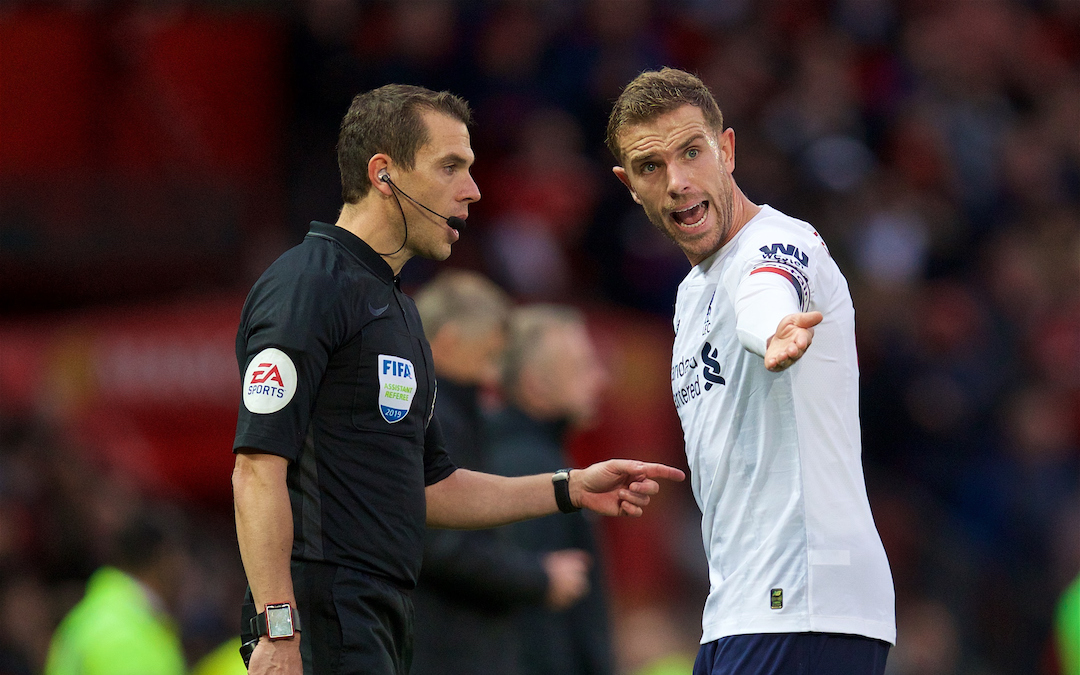 Writing this while being kept in I am loathe to speak about the specific VAR incidents. I've seen nothing back. We can do that elsewhere. The handball rule has changed for attackers and it is what it is.
But the foul on Divock Origi in the run up to the United goal was exactly what referee Atkinson had been giving for our opponents all match. It looked a clear and obvious error. His performance across the 90 minutes was atrocious.
This isn't sour grapes, let's be clear right here, Liverpool were atrocious too. But it is in all honesty among the worst refereeing displays I have ever seen. He was absolutely dreadful in almost every aspect of the game.
Liverpool come away with a few things to think about. What they do without any of the front three from the start. Does it involve playing a more expansive midfield? Does it require a change of shape?
What they are doing with Jordan Henderson who has rightly been subbed early in the last four games. Gini Wijnaldum is Liverpool's best performer first half but he becomes anonymous at best second half. Is the side a tiny bit too predictable? A lot of this feels churlish.
This Liverpool side have been almost perfect in the league since the clocks changed six months ago, only this result has stopped that and while being almost perfect they have won a Champions League. All of these footballers have played their part in being one of the best ever Liverpool sides.
Yet it is tougher to hit a moving target, evolution is nothing to be scared of and a bit of unpredictability hurts no one occasionally. Nothing should be thrown out of the window because of today's result and performance.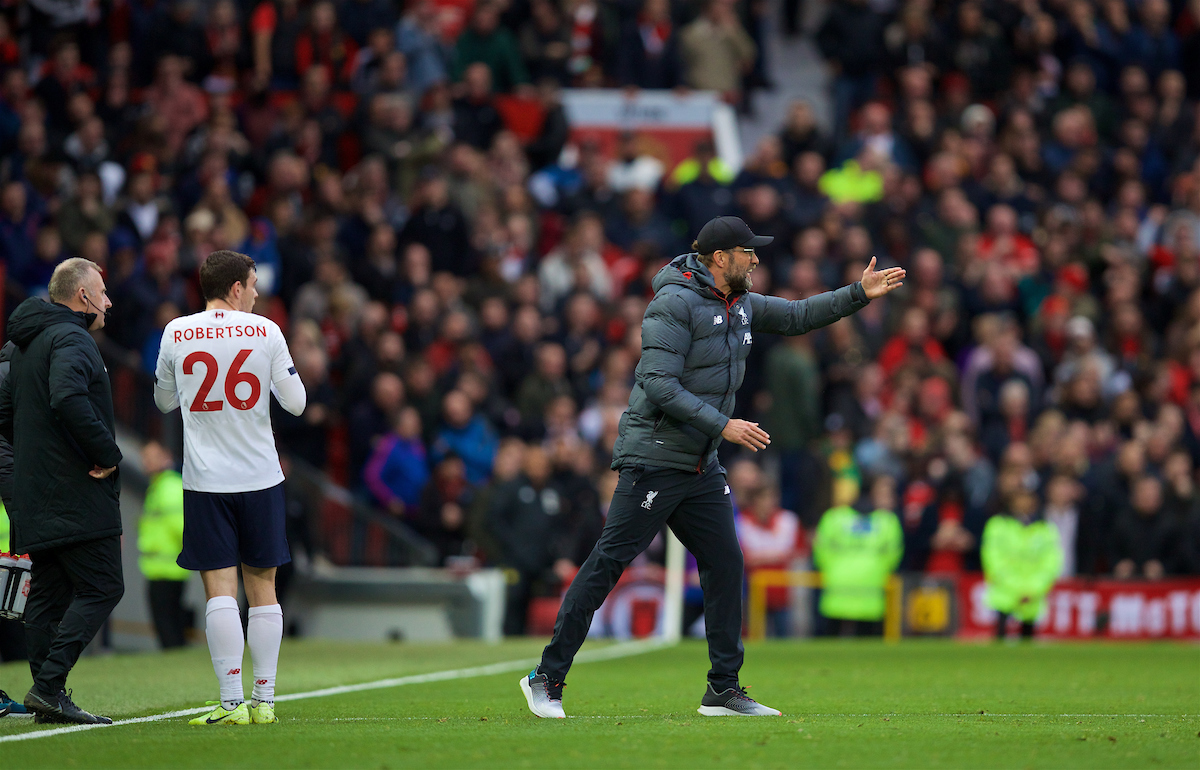 Those who listen to The Anfield Wrap will have heard me gently urging greater variation for some weeks. The urging gentle, the variation required gentle because Liverpool are as close to perfect as can be.
Let's end this remembering that, remembering that these are all remarkable young men who have thrilled and spilled, who have been part of a ridiculous run. Who now need to start another one.
Let's remember that we have become United's cup final and stopped them from winning that, that we are six points clear and that we are Champions Of Europe for a reason. Six times.
It isn't quite perfect but what is? We march on, a 19th league title to win and a great set of lads to win it with, Adam Lallana on his knees in front of the end will do for me. Just.
Nine down, 29 to go. Liverpool's poorest performance of the season out the way and we are unbeaten.
They'll have to send a team from Mars to beat us. They'll at the very least have to send a team from the other half of Manchester.
"Liverpool were crap and the referee was worse… I'm happy to get out with a point."

📱 Subscribe for all our immediate reaction, live from Old Trafford, as the Reds stay top 👉 https://t.co/XZAK9veWt7 pic.twitter.com/u6TVHj092C

— The Anfield Wrap (@TheAnfieldWrap) October 20, 2019
Recent Posts:
[rpfc_recent_posts_from_category meta="true"]
Pics: David Rawcliffe-Propaganda Photo
Like The Anfield Wrap on Facebook