SINCE Liverpool last played a match, Trent Alexander-Arnold has celebrated another birthday.
He turned 21 two days after the 2-1 victory over Leicester.
It's an age when elders traditionally handed over a key to the door. An age when it becomes legal to drink alcohol in many states of America.
What are most people doing at 21?
I was, at one point, sulkily sitting on a bed in Sheffield, begrudgingly accepting that I had to live there and share a room with a complete stranger in a university hall of residence.
I made loads of mistakes. I did loads of stupid things. I drank too much, smoked too much and blew the majority of a student loan on indie albums.
Those around me often despaired at my behaviour, but also accepted it was par for the course when growing up.
Maturity and making the right decisions, grown-up decisions, could be saved for later.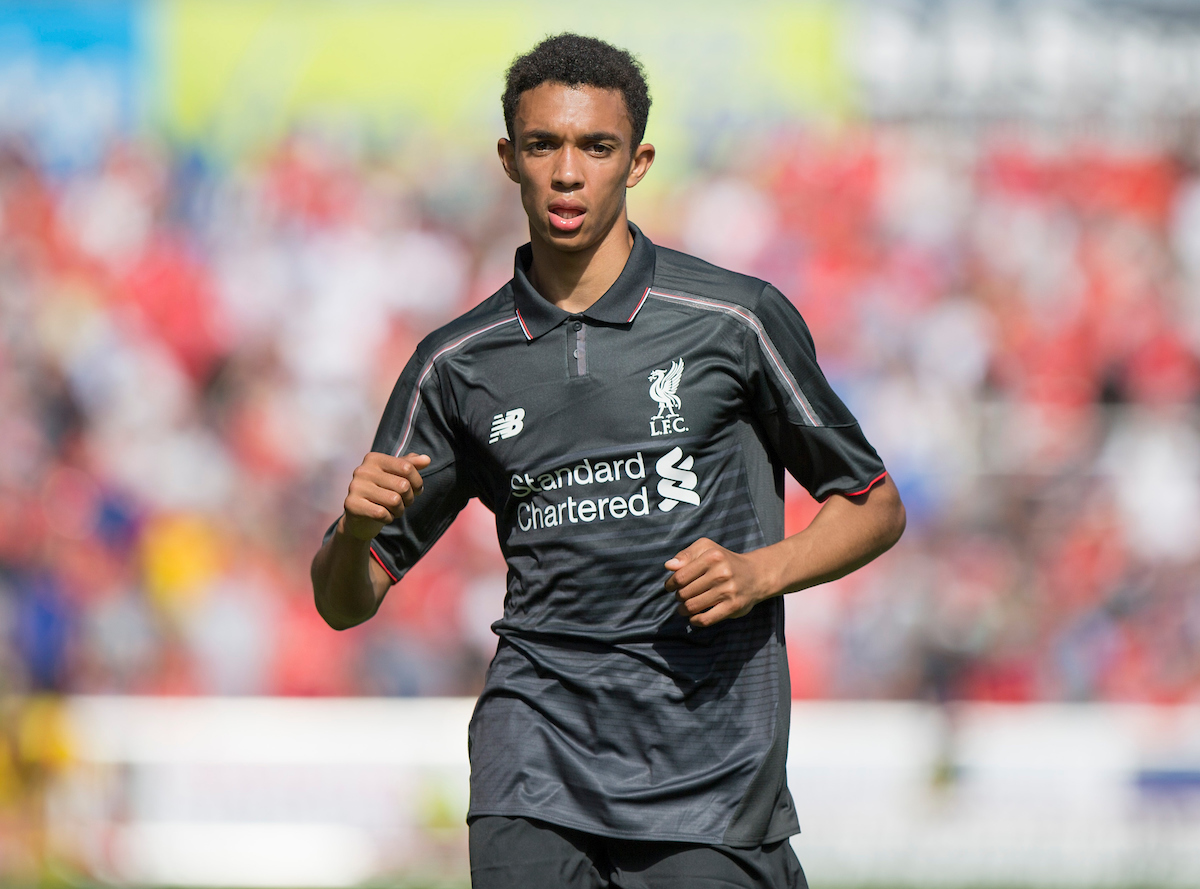 It's not an unusual story. It's one that to varying degrees of extremes, has likely played out millions of times in replica.
Back to Trent Alexander-Arnold then.
Barely 21. European Cup winner after appearing in back-to-back Champions League finals (the youngest player to do so). World Record holder for the most assists by a defender in a season. Only three games shy of his first century of appearances for The Reds.
And all this in a position that was initially alien to a man who was moulded as a midfielder.
These days he's even first on set pieces, despite the wealth of experience that surrounds him every time he takes to the pitch.
It shouldn't be taken for granted what Alexander-Arnold has already achieved in the game and it's with good reason that his successes have been celebrated at Liverpool's Academy.
Michael Calvin, author of No Hunger In Paradise, spoke a couple of years ago of the odds against young players achieving their goals.
"Out of all the boys who enter an academy at the age of nine, less than half of one per cent make it. Or make a living from the game either," he told Business Insider.
"The most damning statistic of all is only 180 of the 1.5 million players who are playing organised youth football in England at any one time will make it as a Premier League pro.
"That's a success rate of 0.012 per cent."
Trent hasn't just made it. He's among the very best in his position. And it's not just the football. Further to his professional rise, he's Scouse, he's sound, he's grounded and he's a grafter.
We're proud of Alexander-Arnold in Liverpool. And rightly so.
So why now for this celebration of our flying full back?
First, regarding the above, in life terms the lad is expected to be raw, a little green, still learning, still finding his way.
Most would accept that.
Yet in football many are happy to bail in with criticism at the merest suggestion of any drop off. Regardless of age.
"It's the media, it comes with playing at the top level, it's part of the game…" – etcetera and so on. But why is it an accepted norm?
Trent already has seven full international caps to his name. Yet as Gareth Southgate decided Kieran Trippier was a better bet against Czech Republic and Bulgaria, former England manager Steve McLaren was wheeled out to have a pop.
"Alexander-Arnold needs to do a little bit more work on his defensive side," he offered on Sky Sports.
Not the most scathing of criticism, granted. It's more that it's a regular theme, even among our own. It seems a little lazy.
If you were an opposition manager facing Liverpool, which flank would you target?
Andy Robertson's? Where the Scot has Sadio Mane grafting away in front of him and Virgil van Dijk to his side?
Or would you choose Alexander-Arnold's? Where Mo Salah does much less defensively in front, and Joel Matip, while on a fine run of form, is generally regarded as the weaker of the centre halves?
Trent has been caught out of position at times. And, like any young player, he will make the occasional error.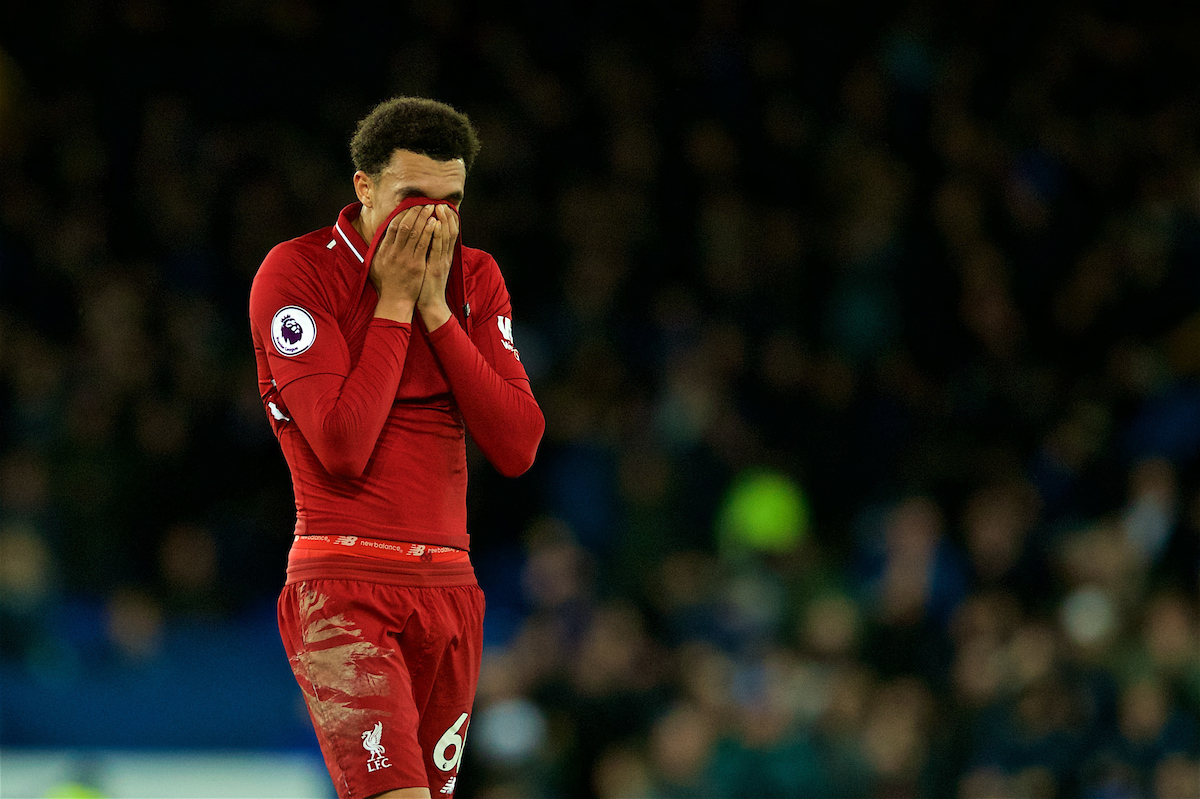 But let's have it right – he's an elite-level footballer delivering an amazing level of consistency. That's why he hasn't missed a league game for Liverpool since he was dropped for the trip to Old Trafford eight months ago, when Jürgen Klopp favoured James Milner at full back.
It would be a major shock if the manager made a similar decision come Sunday.
Should Trent start, and he surely will, it will be another chapter in his remarkable story.
It was January 2017 when Klopp named Alexander-Arnold in a Liverpool Premier League starting lineup for the first time. That it was for Manchester United away raised more than a few eyebrows.
That day he was fine, it was a moment to remember despite the game finishing as a disappointing draw.
The following season at the same ground less so – Marcus Rashford got the better of him, scoring two goals, Manchester United won the fixture, and fingers were pointed at the teenager from West Derby.
Where some would have crumpled, Trent grew stronger. He worked harder. He improved. He bounced back. Fast.
Less than a month after that match in Manchester, ex pros were purring at his performance as he bested Young Player of the Year Leroy Sane at Anfield as Liverpool beat Manchester City 3-0 in the Champions League.
"He had Sané in his pocket!"

Tenacity 🔥
Concentration 👊
Discipline 💪

Trent Alexander-Arnold might have a new biggest fan in @rioferdy5… pic.twitter.com/cV0BGSh0xk

— Football on BT Sport (@btsportfootball) April 4, 2018
His star continues to burn ever brighter. And his play continues to improve.
This season, Alexander-Arnold tops the charts for chance creation from open play in the Premier League.
Make no mistake, as Manchester United prepare to cede possession and park the bus once more, the sight of the number 66 in the Liverpool side will not be a welcome one for the flailing Ole Gunnar Solskjaer.
And, in a fixture like this, having a Scouser in the team is an added bonus. Watch that Steven Gerrard showreel one more time…
Trent, to underline the point, has played in more first-team games than Gerrard had at the same age. The defender's 97 appearances might only just top the legend's 94 at just turned 21, but given Gerrard's achievements in the game it's food for thought. It's not beyond the realms to imagine him topping Gerrard's 710 games for Liverpool if his trajectory continues.
Gareth Southgate and Steve McClaren might not be sold on the talent of Trent. But any Red has surely seen enough.
Soon, he will have the armband in his sights, and he's already stated it's his ambition. And after beating the odds so many times already, few would bet against him becoming club captain in the years to come.
First though, The Mancs. And unfinished business at Old Trafford for Alexander-Arnold and for Liverpool. Is a camera kiss asking too much? Here's hoping…
"If we turn and up and are the best version ourselves, then we'll win. It's as simple as that." ✊

📱 Download our app for all of our buildup to Liverpool's trip to Old Trafford 👉 https://t.co/v3xcfwjq7C pic.twitter.com/evTkzT5IOy

— The Anfield Wrap (@TheAnfieldWrap) October 17, 2019
Recent Posts:
[rpfc_recent_posts_from_category meta="true"]
Pics: David Rawcliffe-Propaganda Photo
Like The Anfield Wrap on Facebook