FOUR years ago today, after a 1-1 with Everton at Goodison Park, Brendan Rodgers received a phone call on his way home and was told that was that.
After 166 games in charge across three years on Merseyside, his time at Anfield was over. The men who backed him sacked him.
On Saturday, Rodgers returns for the first time, and will line up in the opposition dugout as the manager of Leicester City.
Just before 3pm, a sell-out 54,000 crowd will have an opportunity to make its feelings known about the former Reds manager.
The classy thing to do, the right thing to do, in-keeping with our standards, is to give him a warm welcome. Then class him and his players as the enemy for 90 minutes and cheer Liverpool on to a convincing victory.
Rodgers' return brings with it an inevitable and brief unpacking of the baggage from his time in charge.
And pre and post-match pub conversations will no doubt be sprayed with some familiar phraseology, from "fraud" to mention of teeth, tans and his personal life. Envelopes. Being: Liverpool. "Steady". The Welsh Xavi. And so on. Add your own submissions to Brendan Bingo below.
The man from County Antrim endured a torturously slow death as Liverpool manager, rendering the terraces toxic by the end of his time. Different fans snapped at different times, the FA Cup semi-final defeat to Aston Villa being one watershed for many.
Other supporters believed in backing the man in the manager's chair until the bitter end. Some weren't quite so patient and demanded change as soon as results took a nosedive. Some were never convinced from the moment his name was linked with the job and forever referenced the calibre of his curriculum vitae and his lack of big club experience.
At the finale, the fractious nature of the fanbase made it chore-like to discuss Liverpool. People were even having a pop in the stands: at the manager, at the players, at each other.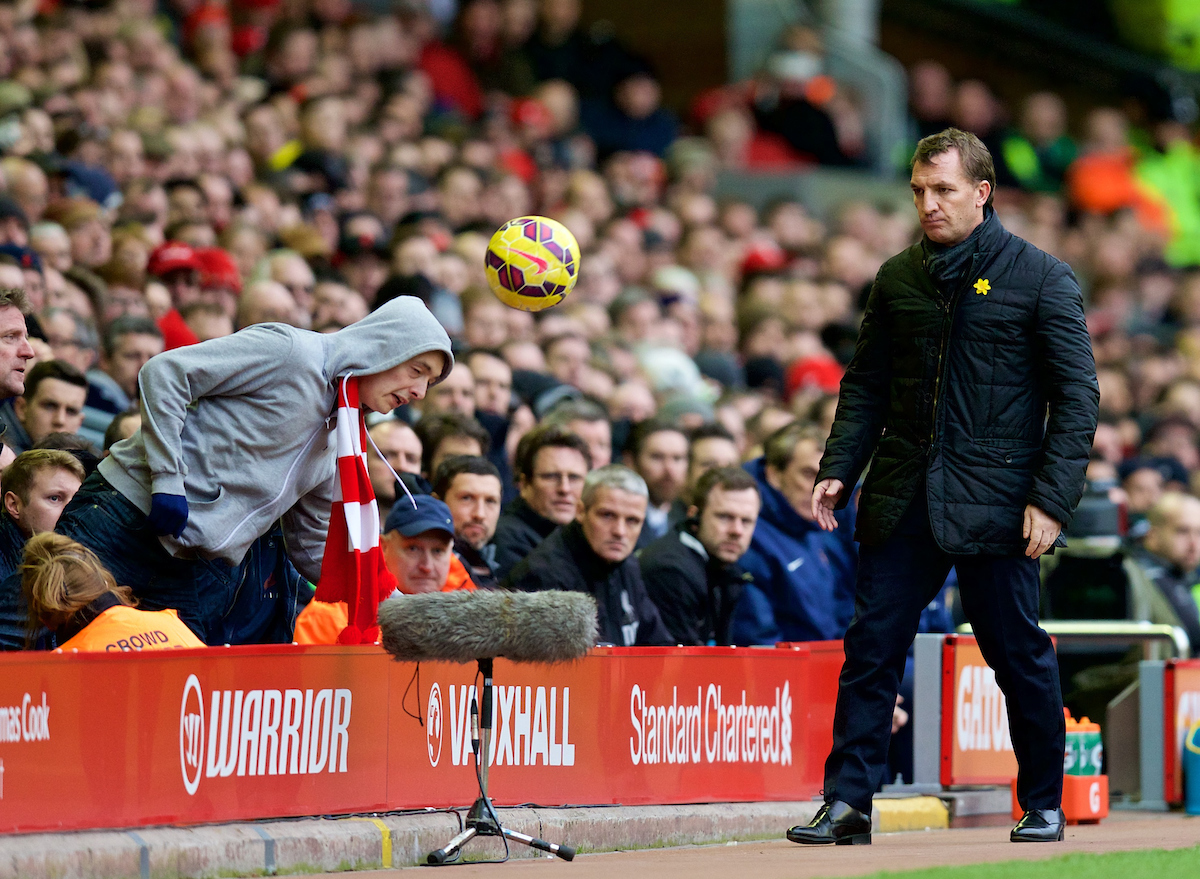 To be fair, when we were witnessing a side submitting 3-0 to West Ham at Anfield, a first defeat at home to The Hammers since the 1960s, and labouring to a League Cup penalty shootout win over League Two Carlisle United, it was no wonder.
The long goodbye tainted and tarnished the positives and gnawed away at any remaining goodwill. Because while so many rushed to their camps then (and now) – in or out, anti-Rodgers, pro-Rodgers – as so often in life there were (and are) shades of grey to the black and white discussion around his Liverpool life and legacy.
For me, and many more, the end could and should have arrived for Rodgers five months previous to the call that October day – Stoke City 6 Liverpool 1.
That was dismal. A result that should never happen to a club like ours, last day of the season or not. The Reds had trailed 5-0 at half time. For context, that was the first time Liverpool had shipped six in a league game in 52 years. It was also a grim and galling end to a glorious career for a club legend in Steven Gerrard.
Stoke seemed to almost usher Gerrard through for a consolation goal that day. It was almost like even they were embarrassed by the scoreline.
It should have been enough to spark a change in management.
Instead, what followed was bizarre. Rather than piss, or get off the pot, Liverpool lurked with their kecks half pulled down. A ruthless clearout of backroom staff instead followed, with Colin Pascoe and Mike Marsh sent packing but Rodgers remaining.
Sean O'Driscoll arrived, prompting thousands of fingers to Google his name, and he was joined by the more familiar face of Gary McAllister. An odd air hung over the club.
Going back to the beginning of Brendan's time at Anfield, a tough task was made harder by the small matter that he was following in the footsteps of a club legend in Kenny Dalglish, a man many believed was harshly treated by bosses in Boston after a League Cup win and an FA Cup final defeat.
It was the league though where Liverpool needed to compete, not the cups. That was the message. So why Rodgers, a young man with no major trophies to his name, came the reply from the doubters?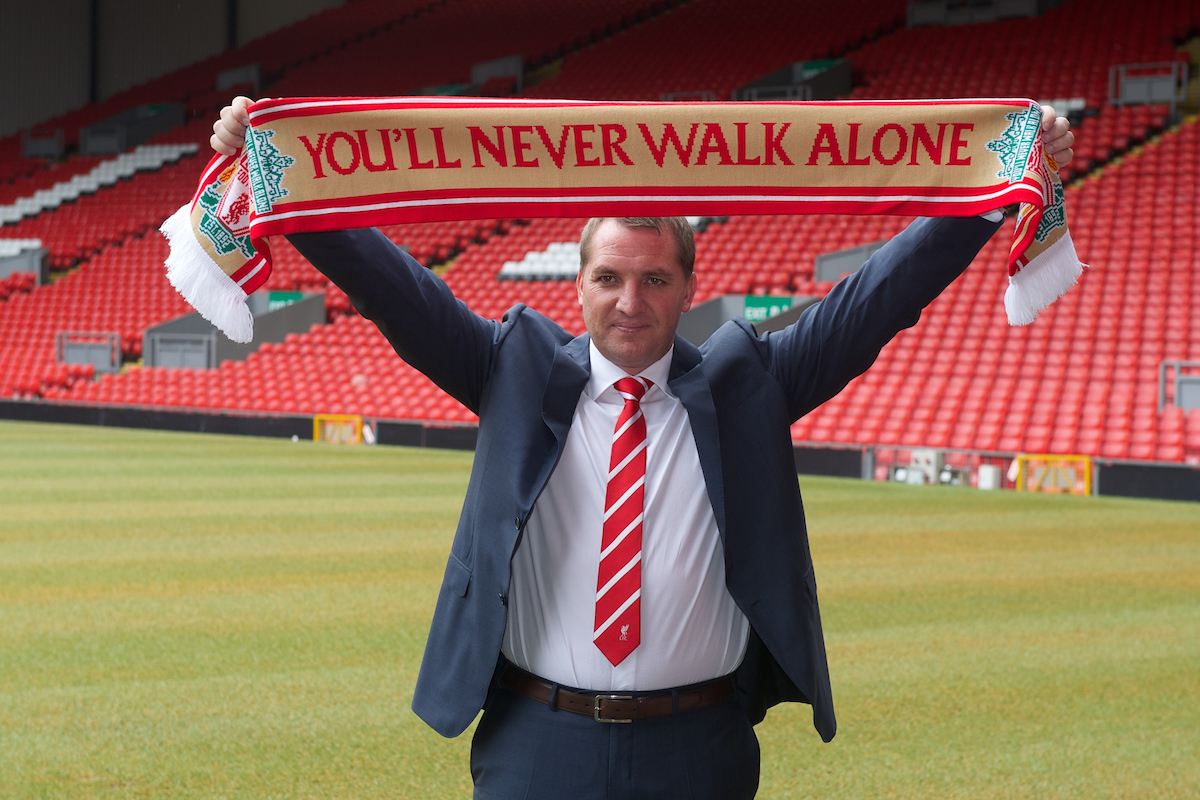 As it was, Rodgers, after initially turning down the job, impressed in his opening pitch in public.
One experienced journalist told me that day he felt like running through a wall himself after speaking to Rodgers privately. The man could present, could convince and he could motivate. It appeared he knew how to deal with the press, at least at that point.
I was in the "holding strong reservations" camp when Rodgers arrived. And in his opening press conference it was refreshing to hear some harder questions heading his way. It's a tough job and nobody should ever pretend otherwise.
To be fair, Rodgers dealt with them well. I even asked one myself: "How do you follow in the footsteps of a Liverpool legend like Kenny Dalglish?"
I still have his answer: "I will never replace Kenny Dalglish, that's the reality of it. I can only be Brendan Rodgers and do the very best I can for the football club. I'm not here to jump above – this was a guy who was voted the best player in the history of Liverpool Football Club, who's a legend of a manager here and a fantastic man.
"So there's not a race for me, that's a race I would lose. But for me, what I want to do is prove my worth and prove my honesty and commitment to Liverpool Football Club.
"History judges you as a manager, that's the reality of it. So it won't be now, it will be history – and I hope history will allow me to walk alongside some of the great managers here."
History does indeed judge Brendan Rodgers, and this will be the crux of the discussion about him this weekend and beyond. Ultimately: did he do a good job at Liverpool?
The bare facts show two mediocre seasons sandwiching the exhilarating charge for the title in 2013-14 that saw Liverpool fall short of being crowned champions in such agonising fashion.
The 84 points won by Rodgers' runners up in that season is the third highest won by a Liverpool team in the Premier League era – only Rafa Benitez's 2009 team (86) and Jürgen Klopp's European Champions (97) have won more.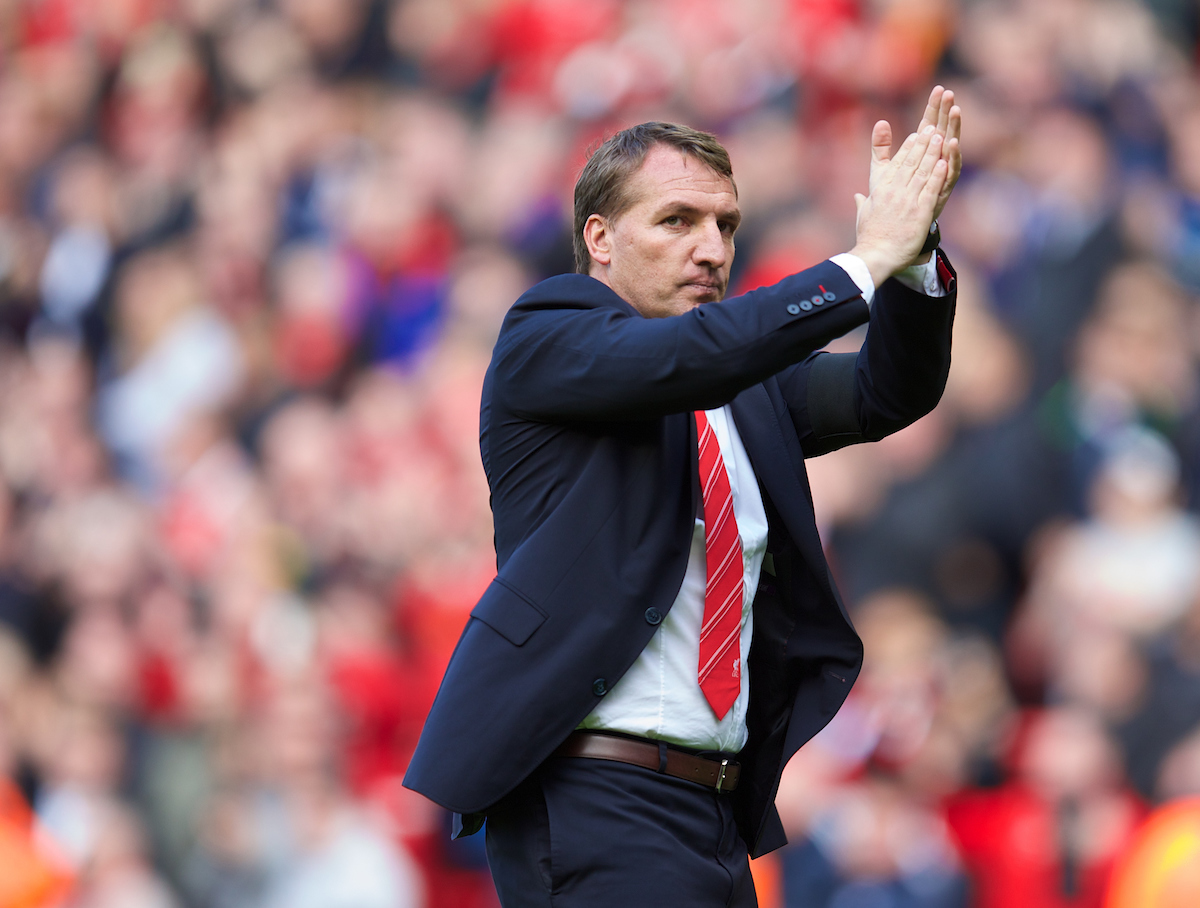 It was also the only team in the history of the club to break 100 goals scored in a top-flight league season. It didn't end how we wanted it, but what a ride.
From those early season wins when Daniel Sturridge shouldered match-winning responsibility through to a 31-goal Luis Suarez at his finest as The Reds plundered fours, fives and sixes at ease, it was a breathless adventure that brought Liverpool, the club and the city, alive on matchday.
Suarez, for the record, scored 15 goals in his first 44 Premier League appearances under Dalglish, and then 54 goals in his next 66 under Rodgers. And after calling him "one of the best coaches in Europe" in 2016, he added: "If it was not for Brendan then I know I would not be the same player that you see at Barcelona today."
Everyone knows how that season ended, and fingers will be pointed for ever more on the whys and wherefores. But there was nothing routine about the buildup to that crushing finale. Reds young and old, near and far, were lifted emotionally to heights they hadn't hit in a long time – certainly not through football. We've had many more since. But then we had been starved.
Think again of the 5-0 at Tottenham Hotspur when a wide-eyed Steven Gerrard, injured at the time, watched on with pride from a TV studio. Remember the Anfield 4-0 against Everton, when "we played the shite on a Wednesday night and they hardly touched the ball".
Go back to when top-of-the-table Arsenal came to L4 and were blown away by four goals in 20 minutes as they lost 5-1 and returned to London looking lost.
The list goes on: 6-3 at Cardiff, 4-0 at home to Spurs, and the 3-2 win over Manchester City that must surely have resulted in record receipts for Liverpool's pubs and bars. Fans who have never witnessed The Reds win the league often try to imagine how it would look in Liverpool when that happens. That day could not have been far off it.
We know Liverpool didn't get over the line, but what happened in May can't conquer all what came before it. Week by week it was a fantastic time to watch Liverpool.
Rodgers' opening campaign was less impressive, with The Reds only winning nine points more than the previous season in the league.
But, after the turn of the year, with Daniel Sturridge and Philippe Coutinho signed up in January, the initial teething troubles with Rodgers' style of play began to ebb away and The Reds started to turn on the style. A 6-0 win at Newcastle in particular was a precursor for the parties to come.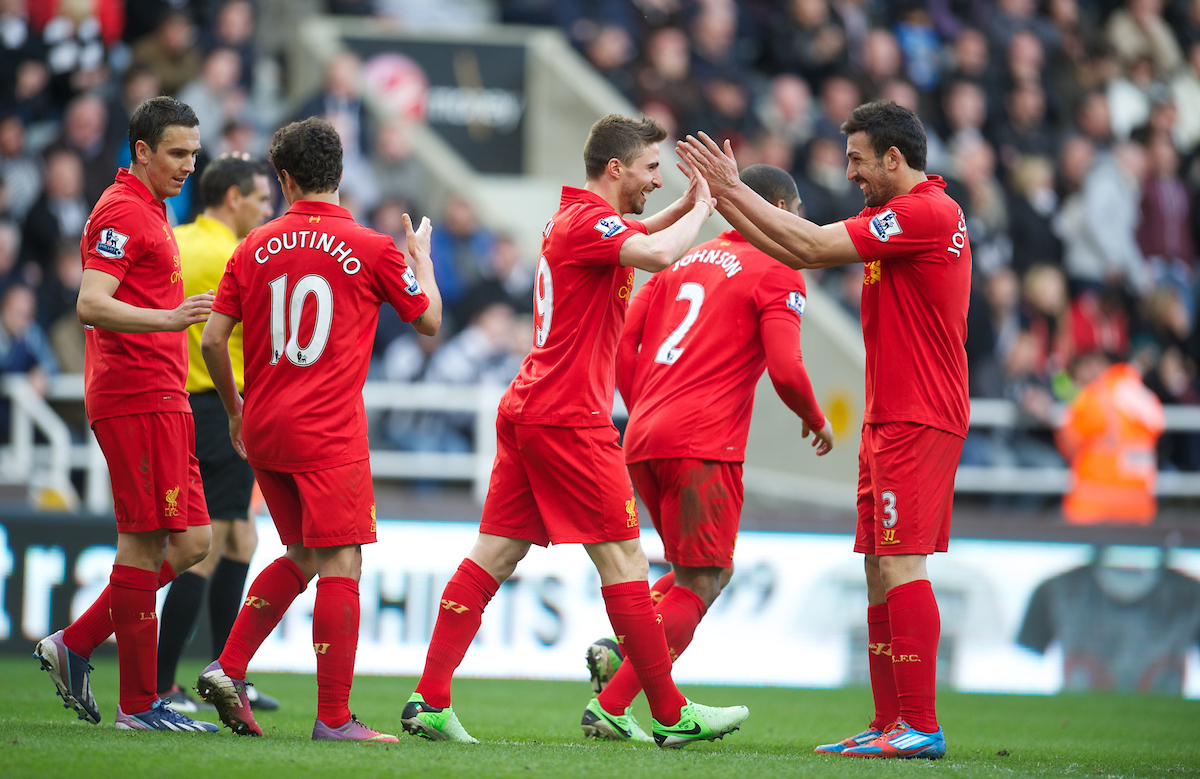 The unravelling post 2013-14 was grim. The politics behind the scenes were obvious. And Rodgers couldn't resist politicking in public. When spin and briefing starts to take place from different parties within the same club the clock ticks ever faster towards a change.
So it proved. Even now, four years on, a blame game continues around some of the signings, many of which in that era were less than impressive. Was that a lack of ambition from the owners? Was that the policy around age? Was it because Rodgers was a poor judge of player?
The picture will no doubt become ever clearer in time as future autobiographies fill the gaps. What was clear was that Rodgers wasn't over enamoured with the transfer committee. And vice versa.
For now, the truth of it all can wait. We know what we know. The owners wanted a certain type of manager, who played football a certain way. Roberto Martinez was also in the mix for the job at the time. Liverpool's star was low then compared to now.
It resulted in a manager and owners who were finding their way together. Mistakes were made, including allowing much of the process to be filmed and broadcast. The envelopes, the picture on the wall in his house. The wider world would never have had the opportunity to pick at these things and more if Being: Liverpool had never existed.
The point was further underlined this very afternoon when Jürgen Klopp said he would leave the club if Liverpool put out a film of his team talks. Fly-on-the-walls are enjoyable for those watching, but if it ends up being counter-productive, making the already tough task of being the manager even harder, what is the point?
Rodgers was naive in many respects, but others at the club need to shoulder some of the blame too.
This weekend, you can pick at the scabs and glance at the scars or smile at the memories and remember the good times.
Ultimately, harshly, under the brightest of lights, Brendan Rodgers failed at Liverpool; The Reds didn't win a single piece of silverware under his management. But for those games, those goals and that season, he deserves some credit.
And, at the very least, the warmest of welcomes.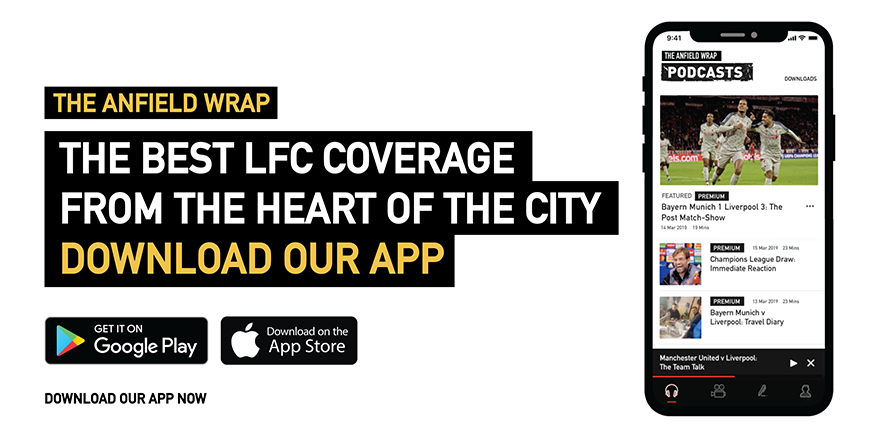 Recent Posts:
[rpfc_recent_posts_from_category meta="true"]
Pics: David Rawcliffe-Propaganda Photo
Like The Anfield Wrap on Facebook