THERE are plenty of myths in football.
The idea that former players make good pundits, most definitions of "clear and obvious" when it comes to VAR, and of course the assertion that Everton have a good defence. Plenty.
Another was put to the test at Anfield on Saturday. No, not the myth that "Dejan Lovren is utter shite", but the one that saw Liverpool attacking the Kop end in the first half.
There's not been all that much to moan about at Liverpool's home in the last couple of years, but you can always hear an audible groan whenever the opposition captain wins the toss and tries to be smart by making the teams swap ends.
Of course, the reason behind it is the implication that The Reds don't react well to change i.e. having to kick towards the Anfield Road End in the second half instead of the iconic Kop.
It's no secret that Liverpool's record at home in recent years has been nothing short of sensational (not as long as we're around to remind everyone anyway), having not lost a league fixture at Anfield since April 2017, an unbeaten run that now stretches to 44 games.
The latest home success came on Saturday as a late James Milner penalty secured a 2-1 victory over Leicester City to send Jürgen Klopp's men eight points clear at the top of the Premier League.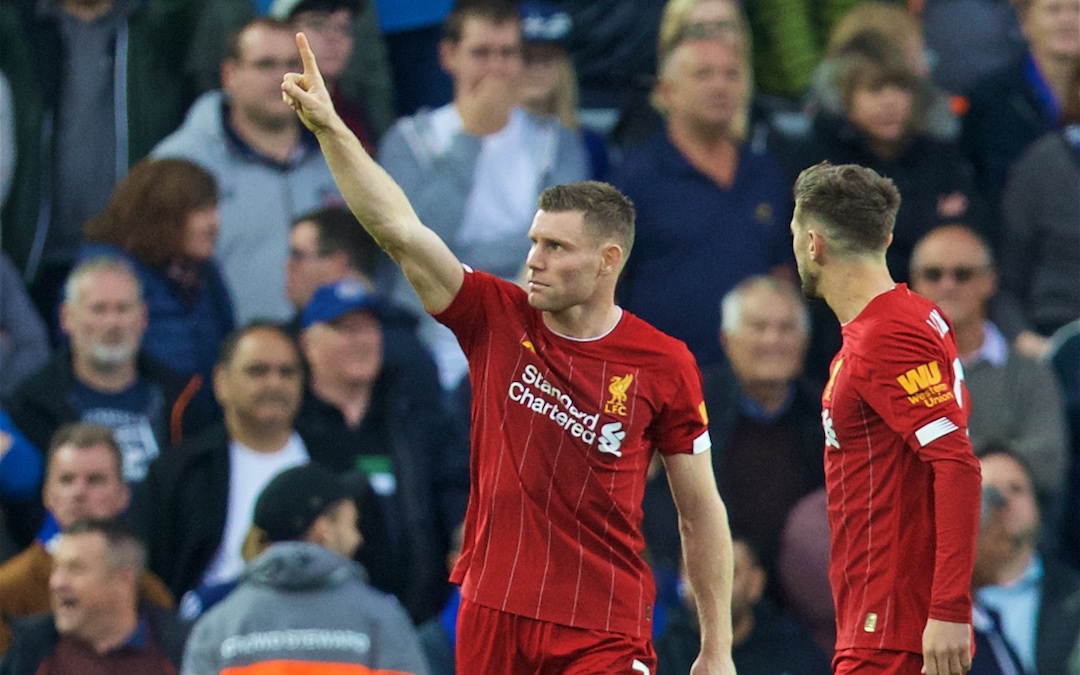 It was indeed nearly a draw, but was in no way, shape or form an even game.
Liverpool broadly dominated the much-fancied Midlanders. Had the finishing been as tidy on Saturday as it had been the previous Wednesday, then the game would have already been well beyond Brendan Rodgers' side by the time Mark Albrighton fouled Sadio Mane in the penalty area.
However, before the game came a familiar move. A slightly snide marginal gain that Leicester thought could be the difference between success and failure.
Foxes skipper Kasper Schmeichel had either been briefed by his manager, or his old man, that he could gain some sort of psychological advantage by turning The Reds around after the coin toss. Whoever told him that, was incorrect.
It does seem to be received wisdom though that Liverpool are less effective when they don't get to kick towards their favoured Kop end in the second half.
There is a very interesting article on LFCHistory.net that delves into this idea further, and the history of how it became a thing.
As I suspected, it summarises that, although there is a very small difference across time, it is stupendously minor to the point of hardly being noteworthy. Liverpool more or less win as often no matter which way they kick in the first or second half.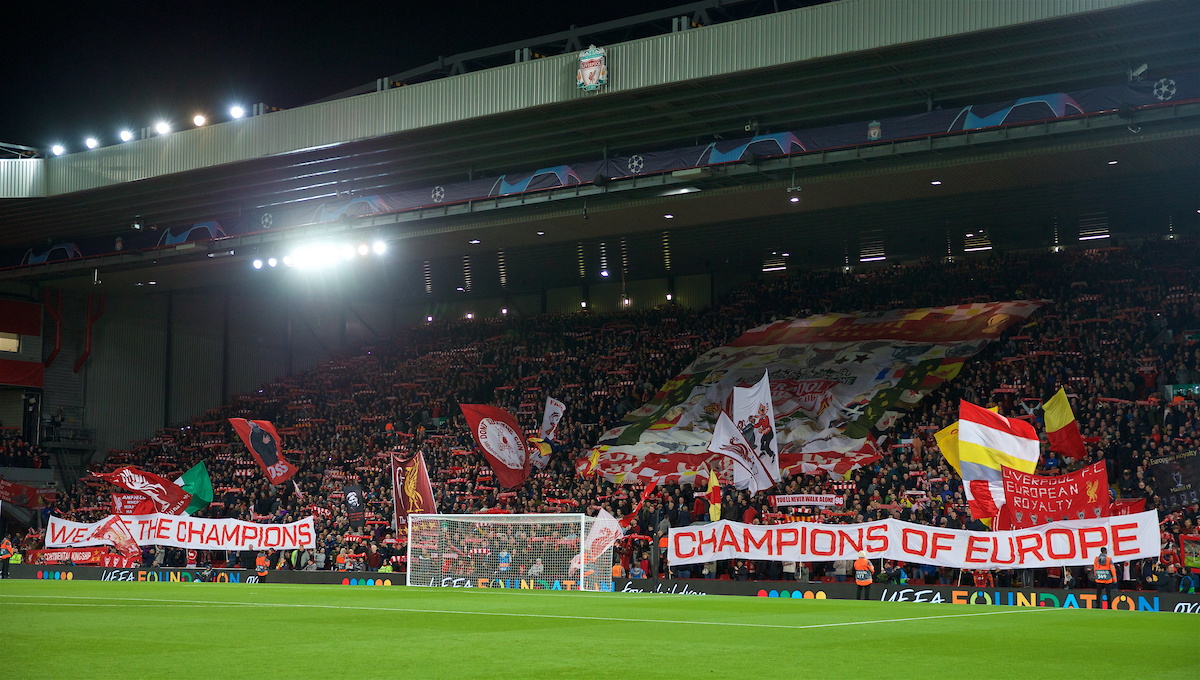 There have, of course, been far more instances of Liverpool kicking towards The Kop in second halves, and many iconic moments as a result. David Fairclough v St Etienne, Steven Gerrard v Olympiakos, Divock Origi v Everton, and then Barcelona.
However, in recent years in particular, there have also been some great wins and moments when The Kop sees the hosts attacking in the first 45 minutes.
The 4-0 demolition of Everton and Europa League semi-final comeback against Villarreal in 2015-16, both victories against Manchester City in 2017-18, and, of course, the 3-2 win against Paris Saint-Germain to kick off the run to number six in Madrid.
It is understandable that teams are trying to use any advantage possible given Liverpool's frankly ridiculous strength at home at the moment, but it does seem like a slightly misplaced assumption that it is actually an advantage at all.
As mentioned, the current league leaders haven't been beaten at Anfield in the league in two and a half years, but have actually not been beaten in any competition at home when kicking towards The Kop first in five years.
It was October 2014, the limp 3-0 loss to Real Madrid in the Champions League when Mario Balotelli tried to swap shirts with Pepe at half-time, summing up the kind of attitude that probably led to such a drab performance.
Could it actually be a disadvantage to the opposition? The knock-on effect of denying Liverpool the opportunity to kick towards The Kop in the second half means that the away team don't get to kick towards their own fans in the second 45 either.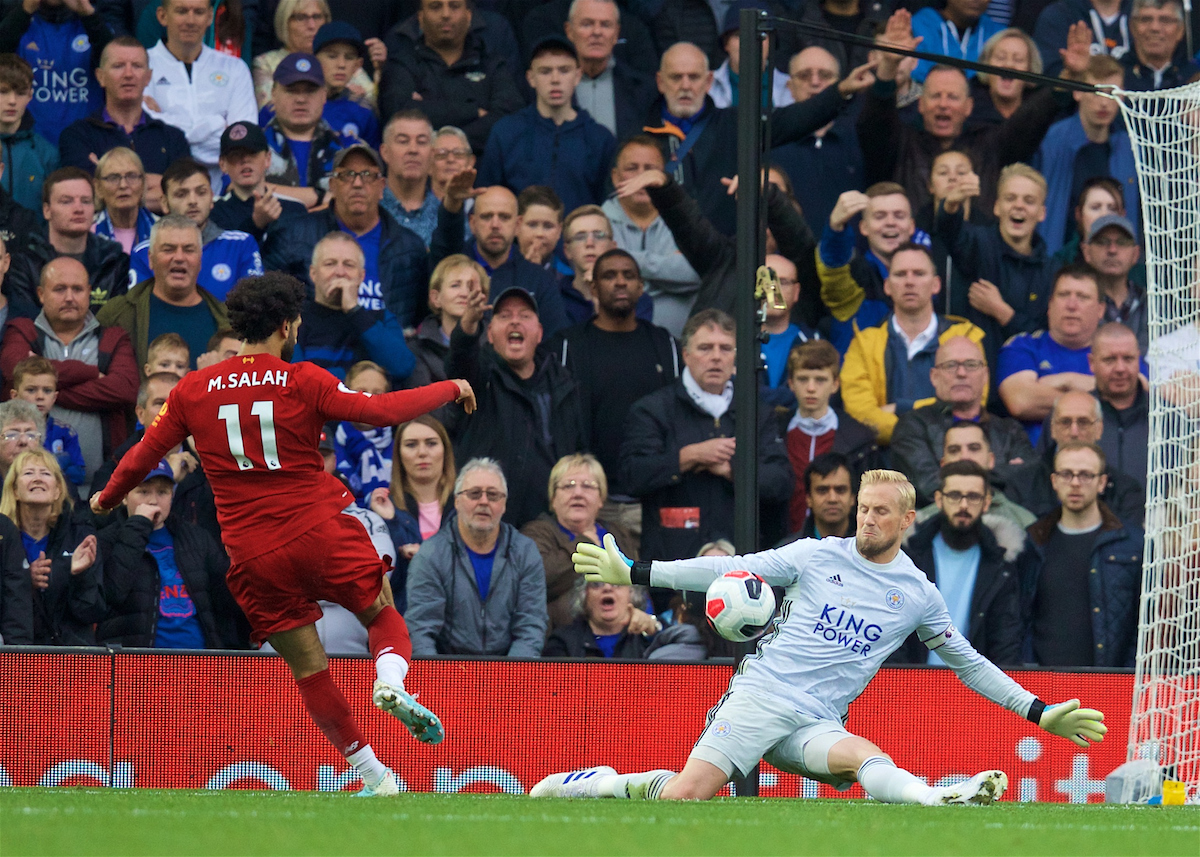 We saw last week in the Champions League how fired up Salzburg became as they sent their travelling fans into delirium (albeit briefly).
Whether that same impressive fightback would have occurred at the other end, with Kopites politely asking them to stop scoring all those goals, is up for debate, but those extra few decibels from the away end might have been a reason behind the positive difference in the tidy Austrian outfit at the start of the second period.
Ultimately, Liverpool's players don't seem to care one bit. The goals are the same size at both ends, and they're happy to put the ball in either of them whenever they have the opportunity to do so.
It will be interesting to see if opposition captains start to realise this and just take the kick off, rather than trying to make small gains that don't appear to actually be gains of any kind.
Of course, because we are traditionalists, as fans we would still rather see things be "the normal way round", and will still boo such impudent behaviour from opposing captains, but as long as The Reds win, we all win.
That said, I personally hope it's something that stops soon, because when Joel Matip scores a 96th minute overhead kick to win the game with Man City in a few weeks, it would be just a bit more special if it was at the Kop end.
"There's no better way to win than a last-minute winner.

"What a weekend." 👏

🗣 Listen to this week's FREE Anfield Wrap show, after The Reds went eight points clear at the top of the League, here 👉 https://t.co/TEMh9r97WH pic.twitter.com/N0DupW0kIQ

— The Anfield Wrap (@TheAnfieldWrap) October 7, 2019
Recent Posts:
[rpfc_recent_posts_from_category meta="true"]
Pics: David Rawcliffe-Propaganda Photo
Like The Anfield Wrap on Facebook