IT didn't feel like I thought it would.
There was undoubtedly relief as Adam Lallana prodded in a late equaliser to retain Liverpool's unbeaten start to the league campaign, but Jamie Carragher pulling out 'Blue Steel' as Gary Neville sank in his chair in the Sky Sports gantry was probably as effusive as a lot of other fans felt in that moment.
Lallana understandably celebrated his first goal in two and a half years, as did most of his teammates, apart from Sadio Mane, who wanted to head straight back to the centre circle to get the game won.
That was the correct attitude, not just because of the obvious 'three points is more than one' factor, but also because this was a game against an opposition that this Liverpool, frankly, should have been swatting aside.
Don't get me wrong, Ole Gunnar Solskjaer's team played OK, though the high praise they received on Match of the Day 2 was perhaps indicative of how far the standards have fallen at Old Trafford of late.
The recent criticism of United has been fairly hysterical, in both senses of the word, and unfortunately for Liverpool the hosts were able to show more quality on Sunday than we'd seen since their opening game against Chelsea.
You can't help but feel, though, that the main reason that United weren't handed a fourth league defeat of the campaign was primarily because of the unusually insipid showing from the visitors.
Confidence was high in the Liverpool camp heading into the game, confirmed when Jürgen Klopp excitedly mentioned in his pre-game interview that the players had been training really well and were ready to play 'big balls football'.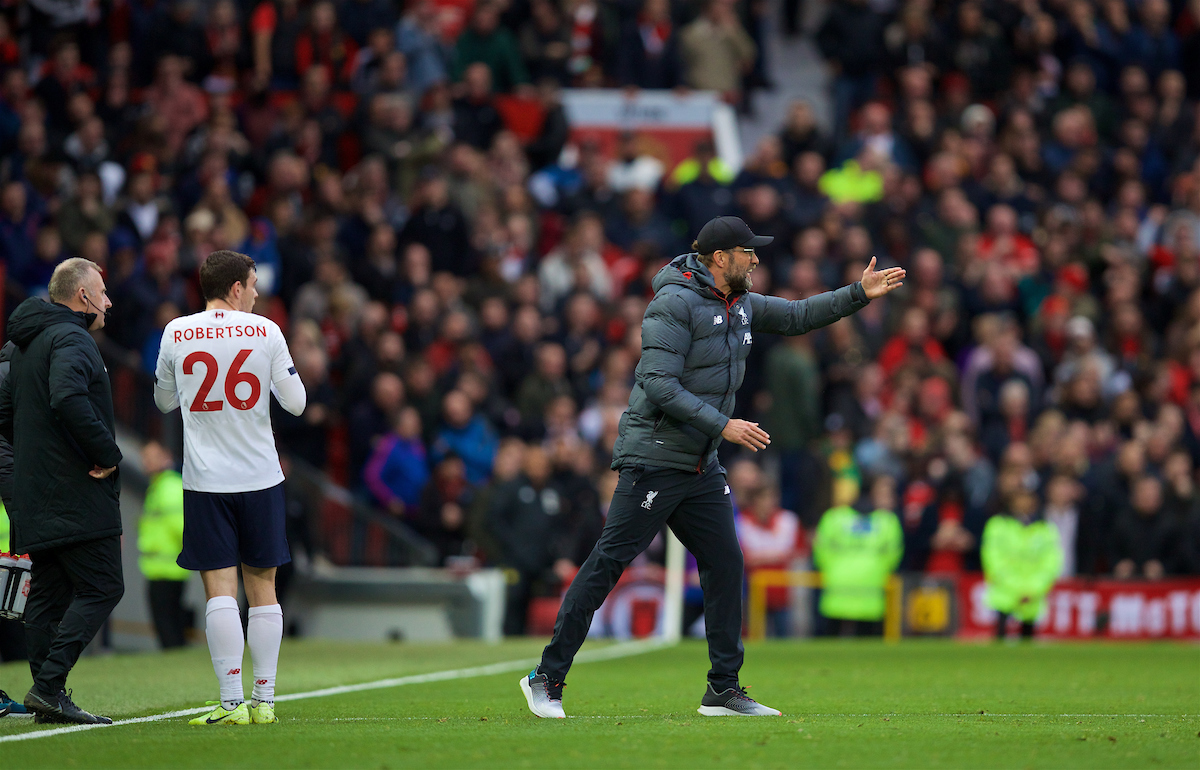 The damp squib that followed felt more annoying than perhaps it normally would have done. More than it did when Liverpool produced a similar under-par effort in the same stadium back in February.
Lessons should have been learned that day, or if not then surely against Everton just a couple of games later as the 2018-19 title race developed. In a normal season, two goalless draws away to fierce rivals who mostly parked the proverbial bus would have been respectable.
Klopp and his players were understandably content at the time, albeit obviously not entirely happy with a point from each game, believing perfectly reasonably that Manchester City would drop more points on the way. They didn't of course, the swines.
City remain six points behind Liverpool this season after nine games, and people will point to their defeats at Norwich and at home to Wolves already that indicate their own weaknesses. However, City also lost to teams like that last season. It was, in fact, City's record against the rest of the top six (and Everton) that won them the league.
Barring one defeat at Chelsea and the 0-0 draw at Anfield, the defending champions won their other 10 games against the top six (and Everton), while Liverpool won six, drew five and lost one.
City will almost certainly slip up again this season, and hopefully that will happen at Anfield in a few weeks, but another reason why Sunday felt like two points dropped was memories of how much City tore United to shreds at Old Trafford towards the end of last season. It would take rather a lot of optimism to think they won't do the same again this year.
Liverpool don't play the same way as City of course, but against most opposition they still dominate and overwhelm. It seems, though, that in away games against teams with a bit more quality but not shy about executing a low block, The Reds can struggle to assert themselves in the same way.
I'm fully aware of how harsh this all sounds, by the way. This is a Liverpool team that won its first eight games in the league, and fell just one short of matching the all-time consecutive Premier League wins record of 18.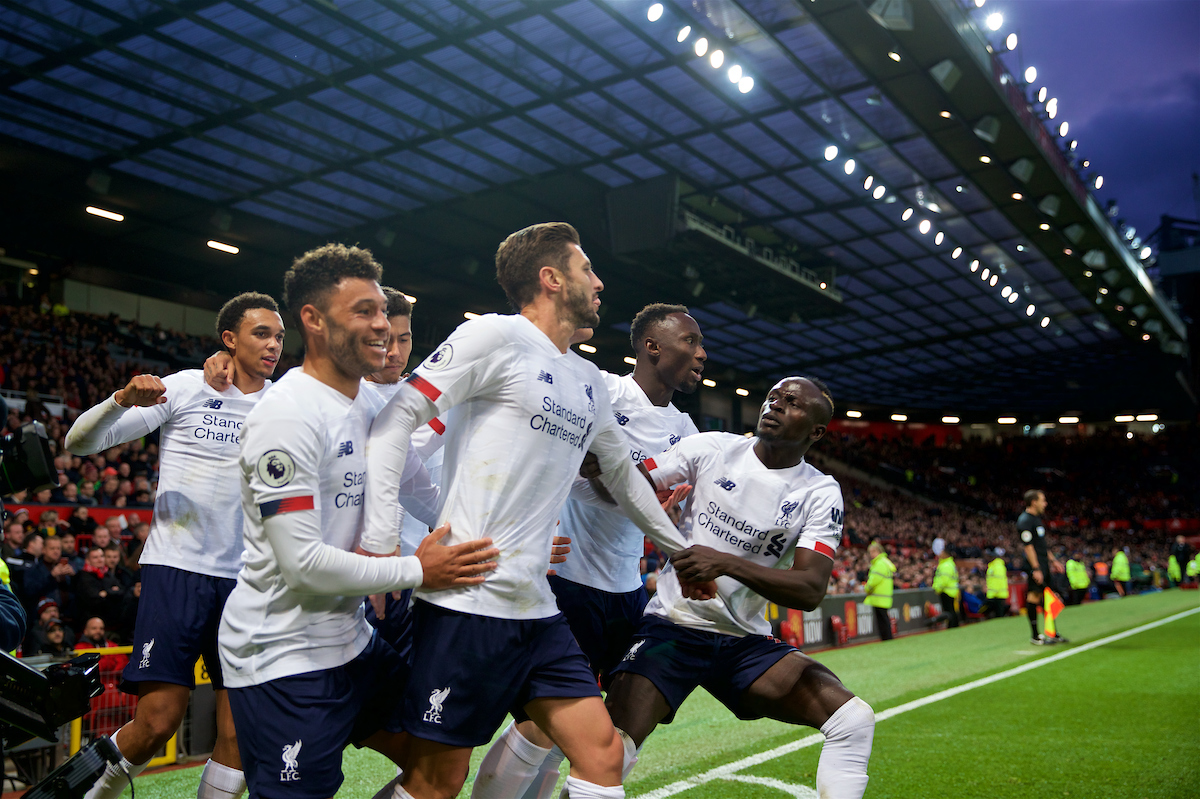 However, this team is as close to perfect as we have possibly ever seen at Anfield, and the next step in its evolution is to go into games at places like Old Trafford with the swagger of a side that knows it should be winning comfortably.
As put very succinctly by James Pearce in his column for The Athletic after the game, Liverpool seemed to play the badge and the occasion, and didn't take the opposition for what they were – vastly inferior.
Admittedly, my own exasperation at the performance came from a slightly selfish place. As someone who first got into football as a wide-eyed little oik back in 1993, my childhood was ruined by Manchester United (as far as football was concerned, anyway).
The current climate tastes extra sweet to those of us who didn't experience the prior days of Liverpool dominance over United and all others. I was introduced to the beautiful game just in time to see Alex Ferguson outsmart everyone for 20 years.
This 2019 version of the sport, with Liverpool at the summit, fighting for titles, getting more points than The Red Devils ever did, while also managing to produce in Europe, is made even better by the current struggles down the East Lancs Road.
I wanted Liverpool to destroy United on Sunday, to go into the game with steam coming out of their nostrils and with the 'big balls football' that Klopp mentioned. We saw no big balls though, on a day where even average-sized ones may have done the trick.
Klopp spoke before the game of the disrespect shown to Solskjaer's team being over the top. It was a typically respectful and dignified thing to say, though predictably wasn't reciprocated by his opposite number, with his 'Idiot's Guide to Being Alex Ferguson' book under his arm.
In the 90 minutes though, if anything, Liverpool didn't disrespect the hosts enough.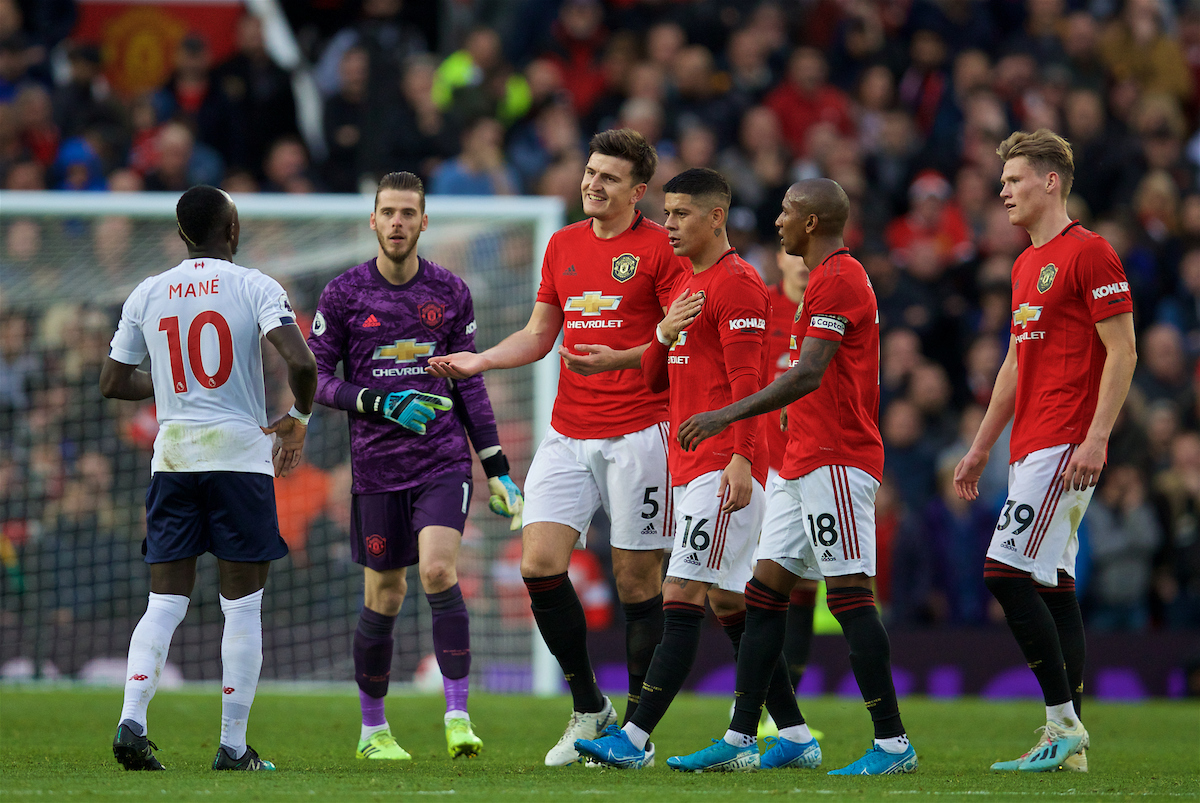 Maybe it was the pace of Daniel James and Marcus Rashford that put seeds of doubt in their minds, or being unsure as to just how creative Martin Atkinson was going to get in awarding the home team another freekick.
Whatever it was, it was a performance that lacked confidence, lacked ruthlessness, and lacked the killer instinct that saw them get to 17 straight league wins in the first place. It does sound harsh, but it is the state of play now in a league where 97 points doesn't guarantee you the title.
They showed in Munich last season that they can go to a big imposing stadium and play a giant of the game off the park, and proved against Barcelona at Anfield that they can absolutely marmalize big teams if the determination to do so is there.
The manager acknowledged the surprisingly lacklustre performance after the game, which was encouraging, as was the same admission from almost every player on social media. They all know that Sunday wasn't good enough. Not worthy of European Champions, or indeed, Premier League title hopefuls.
This Liverpool team is sensational. It is world class. It is filled with Ballon d'Or nominees, but sometimes, only sometimes, they perhaps need to remind themselves just how good they are and, more importantly, how much better they are than their opponents.
It might be good for Liverpool to be drawn away to United in either the Carabao Cup or FA Cup this season. It feels like something that can be remedied with practice, but ideally more than once a year. I also don't want to have to wait until potentially 2021 to see The Reds have another crack at it.
It's a shame that Manchester United don't come onto the pitch to the Rocky theme anymore, as hearing the familiar trumpets from his favourite film franchise might have unleashed the aggressiveness in Klopp that could have made a difference on Sunday.
I'm not saying his players have to eat lightning and crap thunder or anything, but it's an idea.
"You can't go on a 17-game winning run in the Premier League, if you've only got one way of winning a football match… Mourinho is talking bollocks."

🗣 Listen to this week's FREE Anfield Wrap show, in full, here 👉 https://t.co/Ut6Cbclygn pic.twitter.com/yb2qykyRcT

— The Anfield Wrap (@TheAnfieldWrap) October 21, 2019
Recent Posts:
[rpfc_recent_posts_from_category meta="true"]
Pics: David Rawcliffe-Propaganda Photo
Like The Anfield Wrap on Facebook