JUST like we've never been away.
Anfield on a European night produced goals, drama and everything in between as Liverpool once again wore a plethora of outfits for their decorative Champions League homecoming, many of which they now hide away to serve only as a reminder of how youthfully immature they once were.
This Liverpool team is not flawless, despite its apparent Premier League perception. Their forays into Europe so far have shown they still have a tendency for chaos.
For the most part this was completely self-inflicted, such was their casual nature at three goals up to Red Bull Salzburg that not even the foresight of the Anfield scoreboard could refocus their minds.
It would be easy to lay this solely at the door of our European love affair and claim it to be the wild chemistry we have with the competition that sets off some form of inertia, so illogical that we look at times like a completely different team to our weekly grind.
Yet when it comes to Europe, this is a team strangely at home with making life unequivocally difficult for itself in a way many thought no longer possible.
Readers of this column going back two seasons will know I love and often quote The Wire in these pages. One soundbite I have often referenced is Omar Little's character, who in early seasons delivers the masterful line of: "You come at the King, you best not miss."
Such a quote was perhaps never as relevant as last night, when Salzburg found themselves in dreamworld by clawing back a 3-0 deficit after 30 minutes of being absolutely outplayed.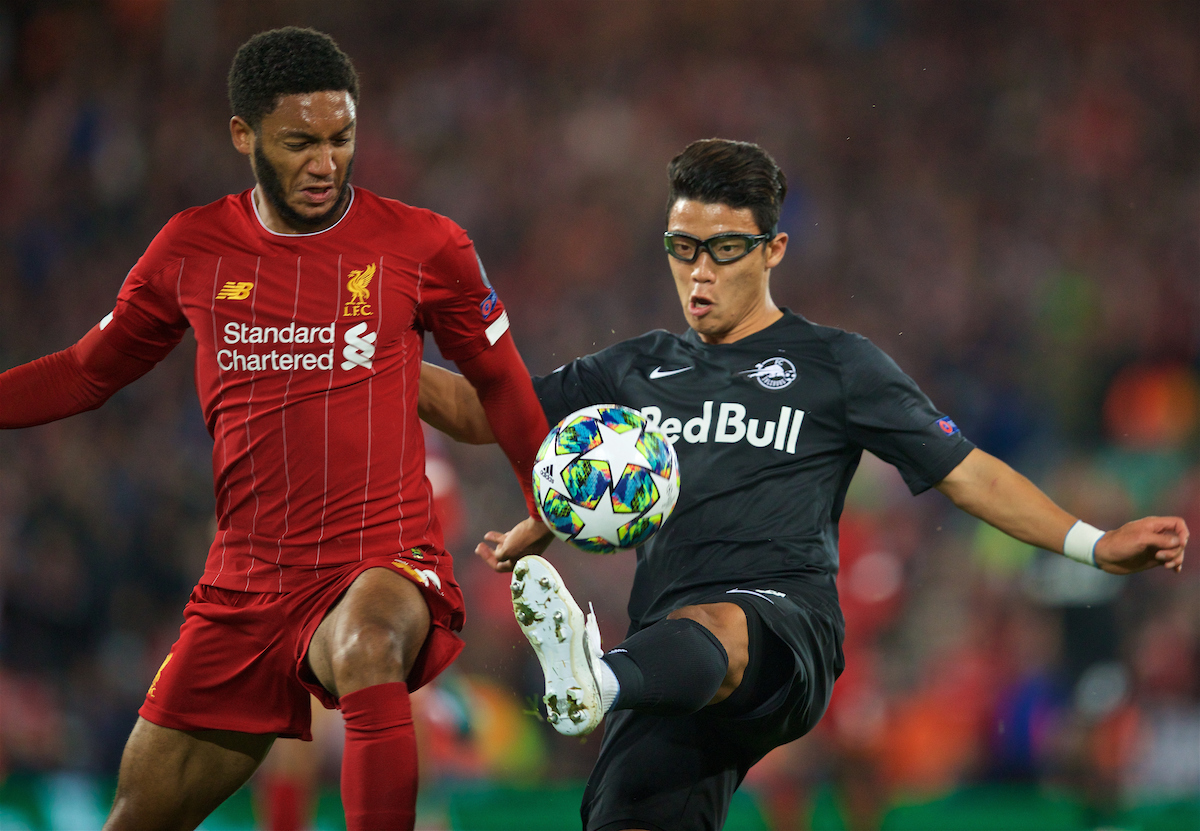 They were, by and large, handed an opportunity by Liverpool's autopilot nature, but they refused to lie down for the champions in a manner that The Reds wanted while they seemingly had an in-game power nap.
Salzburg could only realistically prepare for this game with two things in mind; they were playing against the best and against those wearing the crown.
The minute those opposition players realised that their opposing numbers were actual human beings capable of human error, they saw an opportunity to play kingslayer in the manner they had dreamt since the draw was made.
If we know one thing about this Liverpool side, it is that they measure themselves on a daily basis on what Manchester City do. This in no way makes them inferior, because City do the same tenfold, from Pep Guardiola to the entire supporter base.
But if there is a lesson Jürgen Klopp and his team can currently learn from their Mancunian rivals, it is how to carry the tag of champion.
Despite what many on Merseyside think of City, nobody doubts their ability as a team or their superior mentality – similar to that of this Liverpool team – which is why both sides drive each other in the manner they do, they get better as a result of each other.
Liverpool are for the first time in a long time carrying such a weight, and a nod to how City dealt with their own relentless pursuit of the Premier League crown last season may just sharpen the European instincts a notch when it comes to being ruthless at key moments.
Conversely, Liverpool have looked more measured and focused than ever during their opening seven league wins. They know that they need to be given how remarkable this Man City side have been at keeping them from their domestic Shangri-la.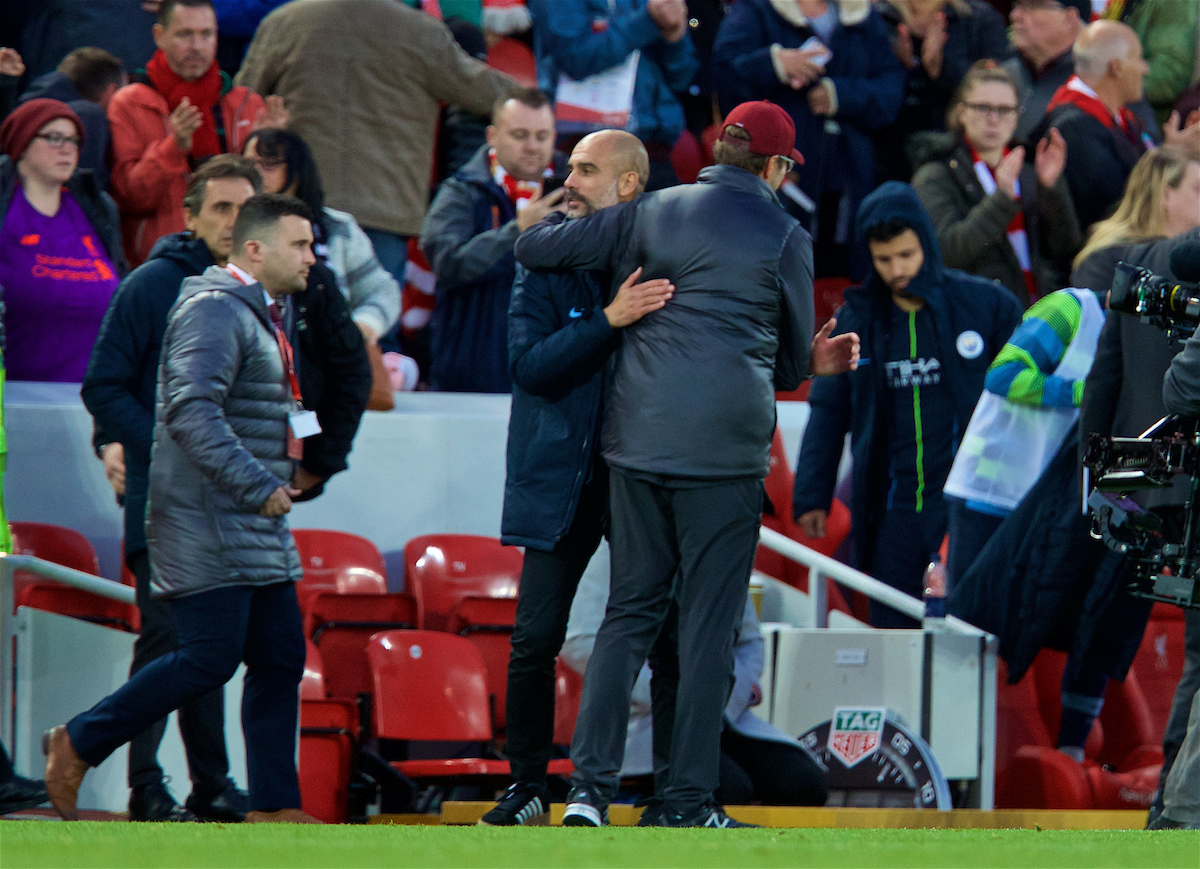 These Reds have retained all of the hunger Europe's chasing pack now have when facing them. As a result, the six-times winners know they now have to wear two slightly different outfits when it comes to being at home and abroad.
Klopp and his men go into Saturday's game with Leicester City displaying the battle scars from a night of Champions League pandemonium at Anfield. Brendan Rodgers will no doubt relish unleashing his creative attackers to test any further mental fatigue.
Meanwhile, Manchester City will face Wolves on Sunday in a familiar role of champions again, despite now chasing the leader of a pack which they have dominated for the best part of three years.
Liverpool will revert back from hunted to hunter at the weekend, and they have no better role model in how to handle such expectations than those carrying the crown their supporters so longingly desire above all others.
Despite their protestations, the same can be said about how City view the current European Cup winners.
Time will tell which champion blinks first.
For more writing from The Anfield Wrap, including reaction to all the Liverpool news and events that matter to you, download our free app…
"We were 3-0 up and i was thinking my god, what a gang of lads, they're the best team in Europe!"

"And then from there god knows what happened, it became the maddest game of football!"

📱 Subscribe for our reaction to Liverpool beating Salzburg 4-3 👉 https://t.co/TEMh9r97WH pic.twitter.com/aHvpWwkcYv

— The Anfield Wrap (@TheAnfieldWrap) October 2, 2019
Recent Posts:
[rpfc_recent_posts_from_category meta="true"]
Pics: David Rawcliffe-Propaganda Photo
Like The Anfield Wrap on Facebook