JÜRGEN Klopp will tell you it means nothing. That's where we and he differ.
While the manager will be looking at the next three points rather than where Adama Traore's late salvo puts the title race, we can't stop looking at the league table and wishing it was early May.
This is the point where logic does battle with emotion.  While it's easy to be carried away some of us aren't falling for the "this is definitely, definitely it" daydreaming. We've been burned by high-octane expectancy more than most, but it still doesn't stop us thinking about those numbers.
Twenty-four points. Sixteen points. An eight-point lead after eight games.
For a club who spent the summer obsessed with the number six, it's now eight which drips into thoughts in unguarded moments.
Anfield Wrap contributor Phil Blundell summed this up on Twitter over the weekend when he reflected that eight points doesn't sound that much in the grand scheme of things, only to find himself thinking the exact opposite seconds later. Eight points IS a lot, isn't it?
That will most likely be cut to five by the time The Reds take to the pitch at Old Trafford as City have to knock over Palace 23 hours earlier. The Eagles have recorded some surprising victories this season but they've been away from Selhurst Park. We'd expect nothing less than a City win.
There are no certainties in football and though City have lost to two unfancied teams in Norwich and Wolves, there's no way that will become a theme. All Liverpool can do is keep winning.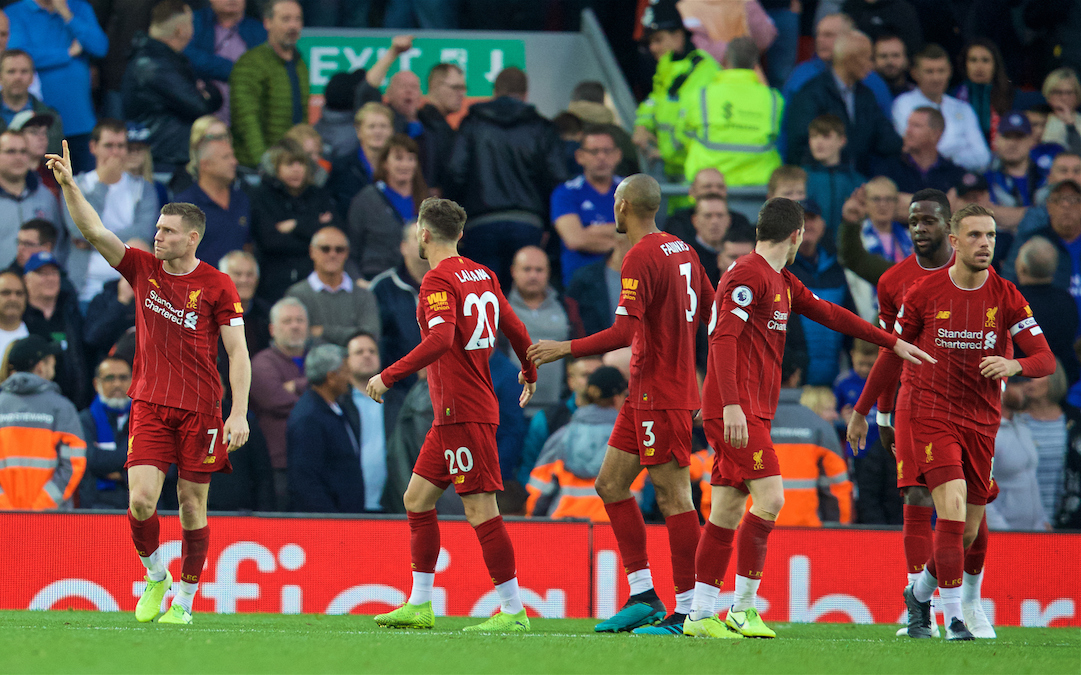 And that's all we're doing. The scare at Salzburg gave us a wake-up call and it resulted in more prosaic football against Brendan Rodgers' team. Where there was swashbuckling antics midweek there was a concentration on solely winning battles before Milner and Mane twice combined to take the points.
A word about the penalty. Soft? Bought? Those terms are no longer relevant now we have an all-seeing eye in the stands (or in an industrial estate near Heathrow) which can call things seemingly without emotion.
Albrighton knew it was a penalty immediately. His reaction said so. Instead of running to the referee with a wide-eyed pleading, he slid across to the turf with his hands over his eyes. He knew what it was.
Of course, I write these words from the safe side of history. My team won the game thanks to that error and the steely determination of James Milner so I can afford to wave away criticism. Had it happened down the other end things might have been different.
And that seems to be the problem with VAR. If it goes your way then fine. If it doesn't it's just another example of the game trying to change itself for the sake of it. I'll change my mind if United get a penalty in a fortnight, but for the time being I'm all for it. Does that make me a hypocrite? Of course it does. You are too. So is Alan Shearer.
The later the penalty award the more controversial it is. That's the rule.
Only the diehards claimed that Mo's pen in Madrid was dubious while most neutrals thought it spoilt the game as Liverpool didn't have to attack anymore. I didn't care. Was Saturday's penalty dubious? Well, it reminds me of the time Kenny Dalglish was asked just why Liverpool got so many penalties: "Because people keep fouling us in the box."
But back to the weekend. It was a perfect one for The Reds. City cede ground in the title race while Everton drop into the bottom three by virtue of United being beaten by a 12-year-old. Once again we are unbearable and this time we didn't have anything to do with it.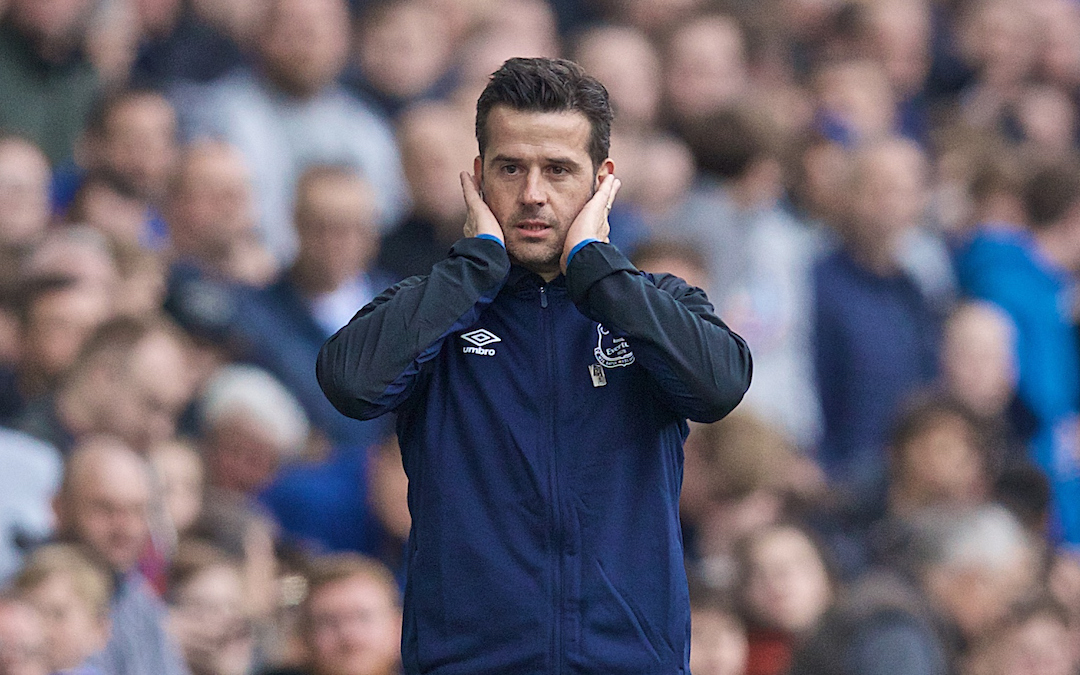 Gary Lineker sulkily made reference to us throwing large leads before (Leicester and Spurs having lost) and further afield the cry of us celebrating the league title in October came up as if we'd done any such thing.
Seriously, did anyone shout "that's the league won" at the final whistle on Sunday? No one I know mentioned the title for precisely the reason they advertised. This support knows about slapping fate around the face and challenging it to do its worst.
Of course we celebrated but it was the number eight, not 19.
That "you've blown it before" thing is all about building a narrative for the day when City have a better weekend than us.
Watch what happens when we drop points (and we will). Talk will turn to resurgence in one quarter and panic in the other. That has nothing to do with an anti-Liverpool biased, really. They just want a close contest and clubs walking away with the league before anyone else has started isn't great for "the product".
That's quite understandable. After all, where is the drama in that? It makes less sense when an element of snide creeps in. Then it becomes more tiresome than insulting.
Suddenly Liverpool are lucky. Liverpool have the stiff shirts of the Premier League in their back pocket. Liverpool are somehow corrupt. After all how can Liverpool, the champions of Europe and League runners up, be so far ahead so early in a, erm, two-horse race?
This is not to say that we seek validation of any kind, nor is it a call to be accepted. I'm fine with being the club that people dislike – unbearable, cocky, overcelebratory etc – but Liverpool leading after eight games was hardly outside the realms of possibility.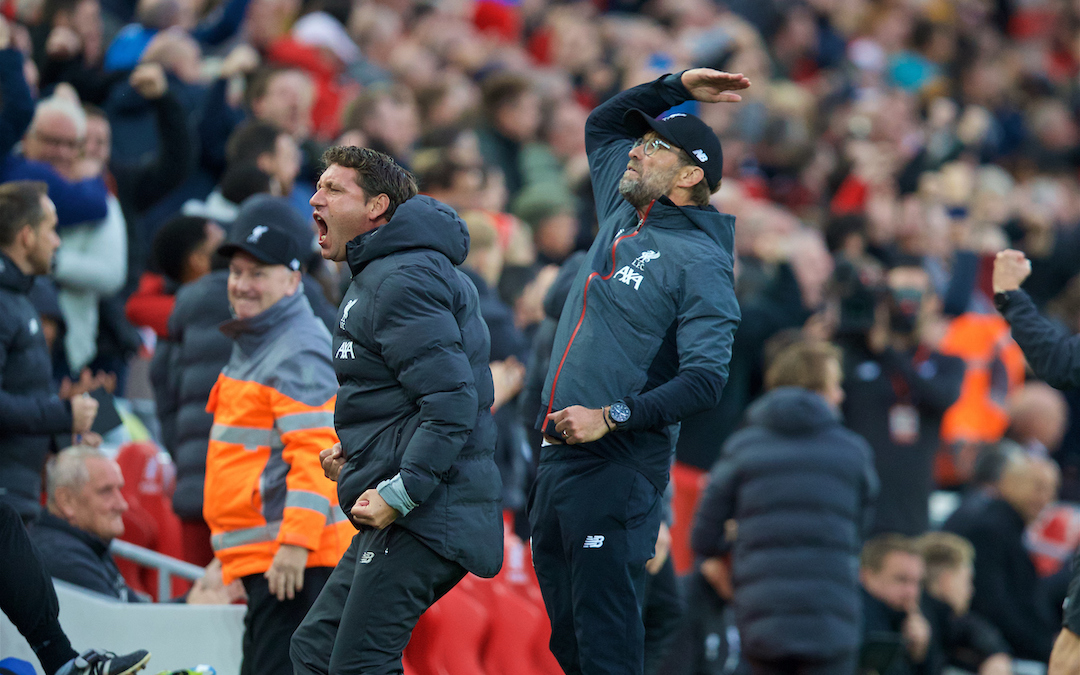 No we're not talking about the league title nor are we cheating or playing the system. We are simply basking in the glory that the past three years has given us.
From near extinction in 2010 to European champions and eight points clear of one of the finest football teams this country has ever produced. If Man United and Everton want to add to that joy – hell, I'll even add the frankly bizarre Tottenham here – then so be it.
It's also great that this weekend came before the international break. Now we have a fortnight to prepare for United.
They say the form book goes out of the window at local derbies and though United are excruciating to watch there won't be many older heads in the ground expecting a walkover. They'll find an extra 10% from somewhere and inflicting a defeat against their biggest rivals is the perfect way to get back on track.
Solskjaer can undo so much negativity with a 97th minute penalty winner.  It's never a pen, by the way.
Like the Small Faces, we're living in the afterglow of what's just happened and there's nothing wrong with that. Sometimes it's enough to just celebrate the day.
Here's hoping we have plenty more of them.
"There's no better way to win than a last-minute winner.

"What a weekend." 👏

🗣 Listen to this week's FREE Anfield Wrap show, after The Reds went eight points clear at the top of the League, here 👉 https://t.co/TEMh9r97WH pic.twitter.com/N0DupW0kIQ

— The Anfield Wrap (@TheAnfieldWrap) October 7, 2019
Recent Posts:
[rpfc_recent_posts_from_category meta="true"]
Pics: David Rawcliffe-Propaganda Photo
Like The Anfield Wrap on Facebook