THERE was a golden moment in the first half that will stay with me for a long time.
We were all singing Poor Scouser Tommy – the everyday story of a dying soldier pronouncing his love of Liverpool FC while lying supine and injured when you'd forgive him for having more pressing issues to hand — when a pause in proceedings made me realise that those below me were half a verse behind.
While many considered waiting for them so we can all jump in on the same glorious crescendo it also became apparent that those to the left were a line or two ahead. There were three versions going on at the same time, all began independently.
There's nothing too esoteric in all this. You can't always hear other groups do their own thing, but three lots singing the same song in different stages is unusual.
You get that from time to time. When the energy is pulsating and heads are flying you usually just roar anything to add to the noise. Chelsea in 2005 and 2007, Juventus, Barcelona and a hundred other occasions down the years. The cacophony lacks form, but never passion. There's no place for structure as such. Just noise.
What made this Sunday unusual was the fact that Liverpool were not leading at the time. Liverpool were not even drawing. The noise was there simply because there was an overpowering sense that they would be soon. This was not a song borne of hope. This was a child of expectation.
Later that day, Arsenal fans would boo their captain off the pitch in North London. He, in turn, would return the favour in his own way before taking off his shirt and storming down the tunnel. In one place harmony, the other discord.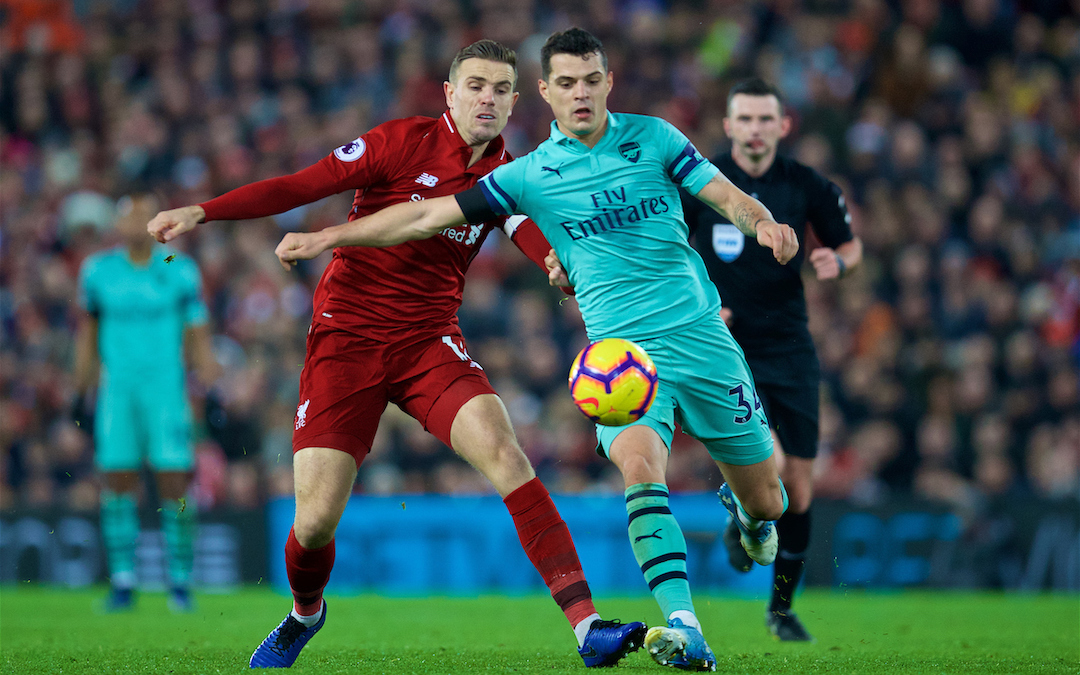 That comparison is not made to poke fun at The Gunners. If anything it provides a memory. Booing is a childish act only for a pantomime audience, but we've all vented spleen at a departing player. But Liverpool supporters specifically haven't done it for a long time.
Lovren at Wembley against the same opposition, maybe? Personally, I'd have to go back a long way to find the closest example.
Lovren and Henderson, the most maligned players in some quarters, combined to aid the worst of all starts on Sunday.
The skipper lost the ball from a tackle while Dejan didn't know whether to stand up to Son's shot or duck to give his keeper a best view of what was incoming. He ended sort of between the two and deflected the ball onto the bar before Harry 'Liverpool are getting those little breaks' Kane got a little break after just 48 seconds.
That changed everything. Liverpool still had 90 minutes to score twice while Spurs were caught between doubling the lead and holding on. One Eriksen cross aside they chose the latter and that's not their strength.
I can remember being at Stamford Bridge in 2008 when Xabi Alonso scored a 10th-minute goal to give The Reds a rare lead. Once the away end died down, the exultation was replaced with grimaces.
We knew what that goal meant – 80 stomach-churning minutes of holding on, of sitting deeper and praying Drogba and his mates wouldn't get through. Horrible game, wonderful result, but who the hell wants to remember the football?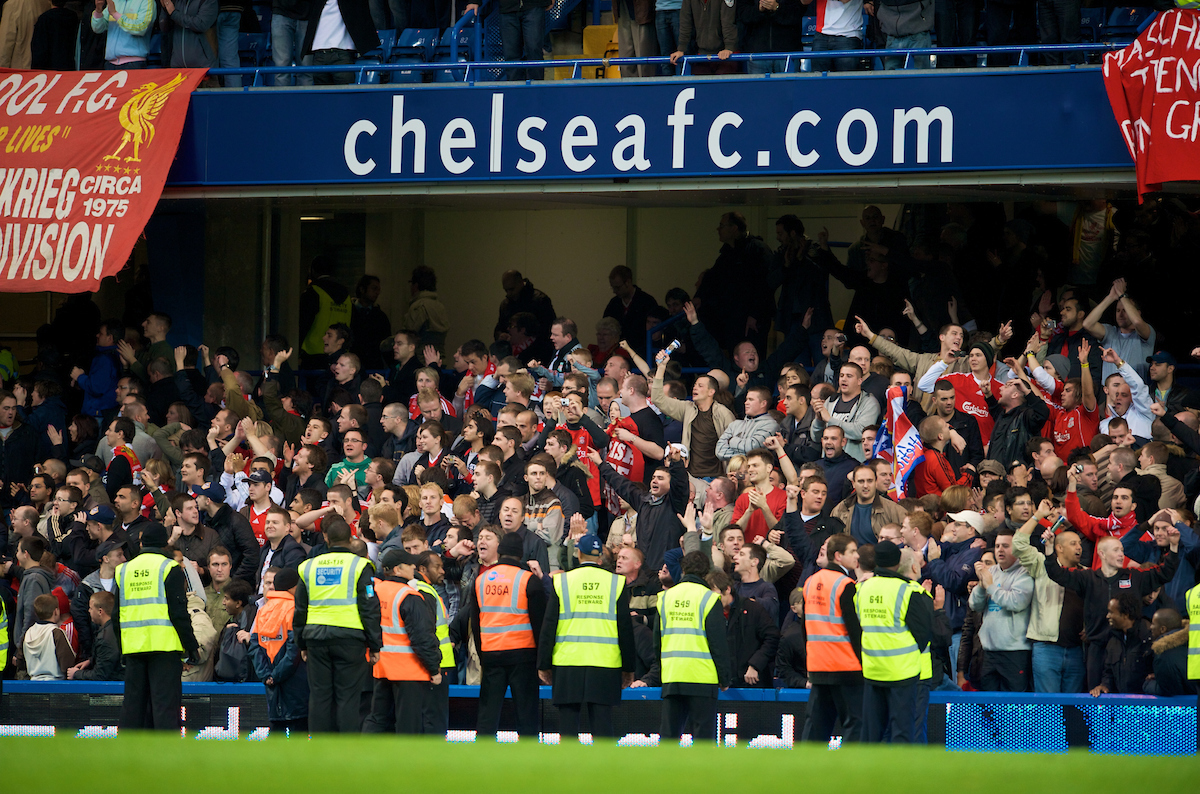 Back to the crowd.
The last two years have represented a sea change into how Liverpool fans support the club. It's been easy to play favourites as the team, no matter how great their potential, were always capable of throwing in a stupid result. I had my own set of special lads and bete-noires.
While Yossi Benayoun would always make me smile, Ryan Babel had me narrowing my eyes in suspicion even when he was scoring hatfuls. That was fine as that was not a perfect squad, but how can people shout at anyone in this Liverpool squad when we've dropped two league points in EIGHT MONTHS?
Maybe it's sewn into our DNA. After all, we've scratched at the gate often enough only to be denied when matters came to a head by a Chelsea stumble or that Arsenal gobshite who chewed his fingers whenever he scored, but this side isn't one of those teams and we appreciate it.
Liverpool were losing 0-1 in under a minute and there wasn't a single Kopite who shouted at the lads in front of them. If anything it simplified the game. There was to be no cat and mouse game now. No strategic chess battle of thrust and parry. Liverpool just had to score at least twice without reply. Tottenham had many more fires to put out while our ask was so much more simple.
Liverpool did just that. They scored twice without reply and went back to the six-point cushion. One goal from an oft-criticised and unusual source, and a penalty from Mo created by Sadio Mane. Madrid in reverse.
Result aside, that game may be forgotten in the grand scheme of things, but, for me, that feeling of all being in it together, that unity that Klopp has called for from day one will always stay with me.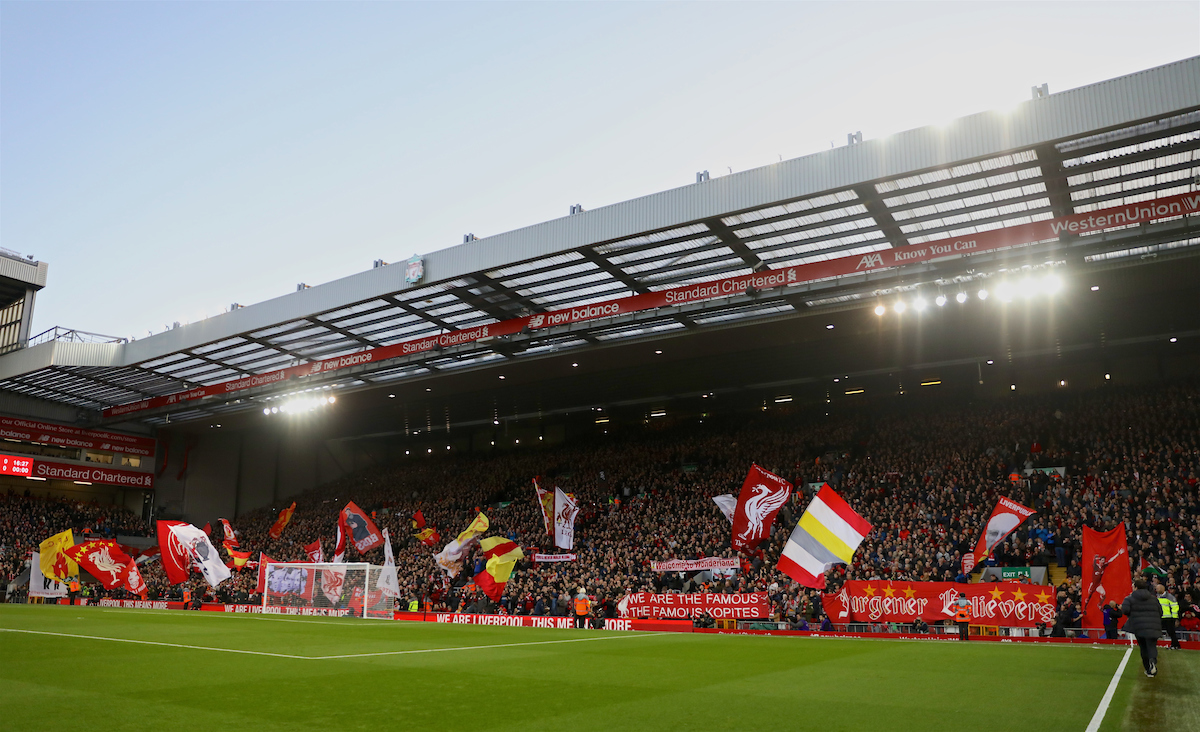 Oh, we'll always have the Twitter naysayers, the runners, who give up pre-kick off before a ball has been kicked because they don't like one name on the teamsheet or lack the bottle for the fight. But at Anfield on Sunday no one ran, no one hid.
The name on the back of the shirt was irrelevant. The quality of the opposition (and, like their neighbours Arsenal, they're more mystifying than poor) didn't enter into it. Even the referee got a night off. This was all about the cause and all of us knuckled down.
The atmosphere of Anfield has been a myth for decades now. It's never been the constant wild, swaying ocean of song it's often presented as, but it's come back of late. There's a power behind it again.
Liverpool don't run anymore. We don't hide from poor starts. We don't feel sorry for ourselves. We simplify and find a way. Shankly called it the holy trinity: the players, the manager and the supporters. That's been diluted and abandoned as just a relic of the past.
No more. No runners. No runners ever.
We will need to do the same in a fortnight. We may need to be even louder, but there won't be a voice in that ground that won't be prepared to break while we search for a dream result.
At the moment, I don't doubt for a second that that won't happen.
"The score says Liverpool 2 Tottenham 1, but we absolutely battered them.

"You could cross out the 2 and put 10." ✊

🗣 Listen to this week's FREE Anfield Wrap show in full here 👉 https://t.co/TEMh9r97WH pic.twitter.com/RcC59FOkrw

— The Anfield Wrap (@TheAnfieldWrap) October 29, 2019
Recent Posts:
[rpfc_recent_posts_from_category meta="true"]
Pics: David Rawcliffe-Propaganda Photo
Like The Anfield Wrap on Facebook