IT was quite a celebration on Saturday.
As Gini Wijnaldum drilled in Liverpool's winner at Bramall Lane, giving Sheffield United goalkeeper Dean Henderson absolutely no chance (well, a bit of a chance), the players clad in black and teal raced to the away end and screamed at them, and each other, while having a great big team hug.
Particularly noteworthy was the joy on the faces of Sadio Mane, Roberto Firmino and Mo Salah. This was probably mostly just the happiness of their team taking the lead. However, there may also have been a little bit of each of them thinking "thank God, someone else has done it".
Mane, Firmino and Salah are, quite possibly, the best attacking trio in world football right now, and they each started the season in red hot form. In the last few games though, the effervescent impact hasn't quite been there.
Firmino scored a neat header in the 2-1 win at Chelsea, but on the face of it, as a unit, they haven't really flowed as well since the Brazilian's borderline illegal flick to Salah to score the third against Newcastle.
Against Napoli, Chelsea and Sheffield United, Liverpool needed to rely on the substance within the rest of the team. Twice it worked, but are there deeper concerns about this mini lull in form from the attack?
It's unfair to expect the front three to produce every game. It is not just their elite ability, but their consistency that has set them out from other attacks in world football.
In the two and a bit years that they have played together, Mane, Firmino and Salah have scored 173 of Liverpool's 273 goals in all competitions. It is no wonder, therefore, that the team has, in the past, become a bit too reliant on them. It's also not at all unusual, to paraphrase Tom Jones.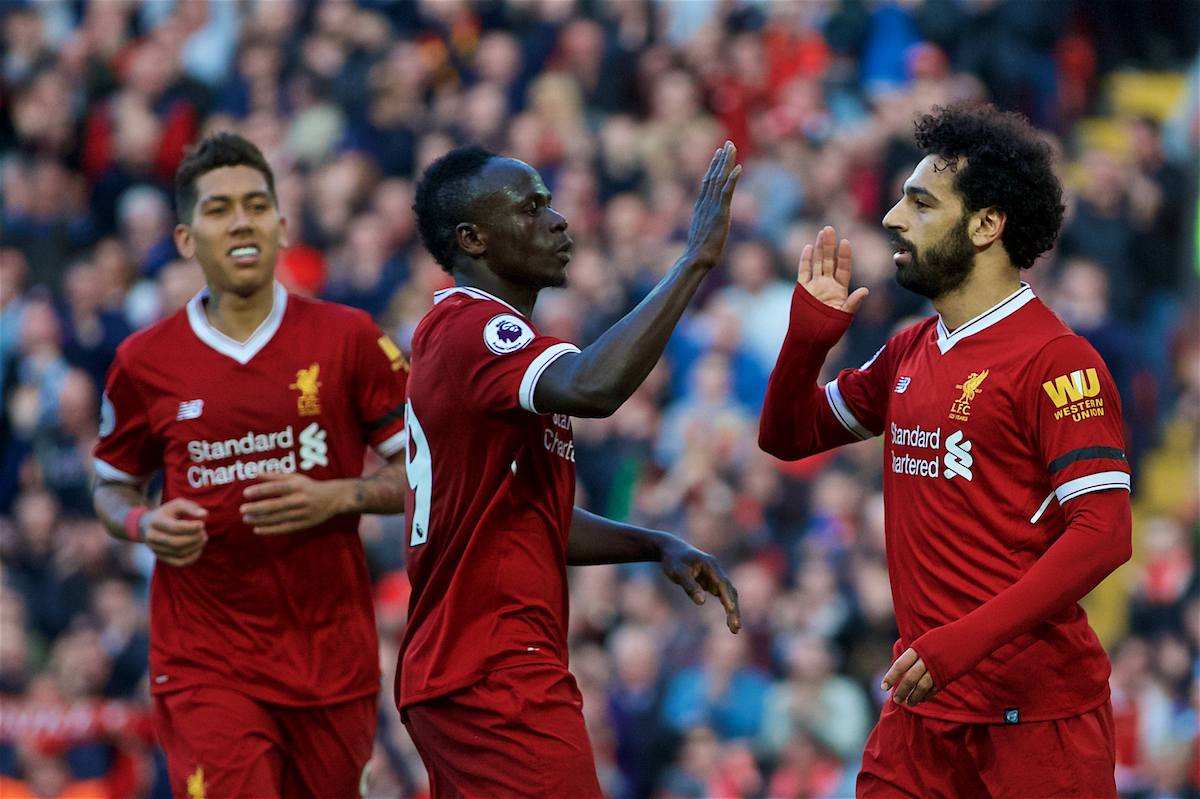 The purpose of having an attack is that they're supposed to be the lads who generally score the goals. When you have lads who score as many goals as they do, any slight drop off can be very noticeable.
Stats wise, there have been some curious increases and decreases of late. In the two league games with Chelsea and Sheffield United, although Salah has rarely looked like scoring, he has, for example, significantly increased his pressure regains (according to StatsBomb).
Prior to the Chelsea game, he was averaging 2.17 pressure regains per game this season, but at Stamford Bridge and Bramall Lane, that shot up by more than double to 4.72, suggesting that perhaps he is having to do more without the ball, resulting in less explosiveness when his team is in possession.
Firmino is still being Firmino. His start to the campaign was particularly electric, but like Salah, he too has had to do a bit more defending in the last few games, which has potentially had a knock-on effect to his attacking.
Against Chelsea and Sheffield Utd, he averaged over 23 pressures, and completed 25 in the Napoli defeat, compared to an average of less than 19 in previous games. His quantity of shooting in the league has also noticeably dipped, averaging nearly four shots per game in the first five, and less than one shot per game in the last two.
Bizarrely, statistically speaking, Mane has actually played quite well in the trips to West London and Sheffield. His xG stands at 0.68 per game, despite not actually scoring, his pressure regains are high (5.85) compared to previously (3.59) and his successful dribbles went from just under 2.5 per game to nearly 3.2.
That suggests that perhaps it's not a dip of general levels, more that Mane simply hasn't put his chances away, coupled with him, Salah and Firmino having to do more defensively than they usually do.
Then of course, on occasion, you can simply praise the opposition.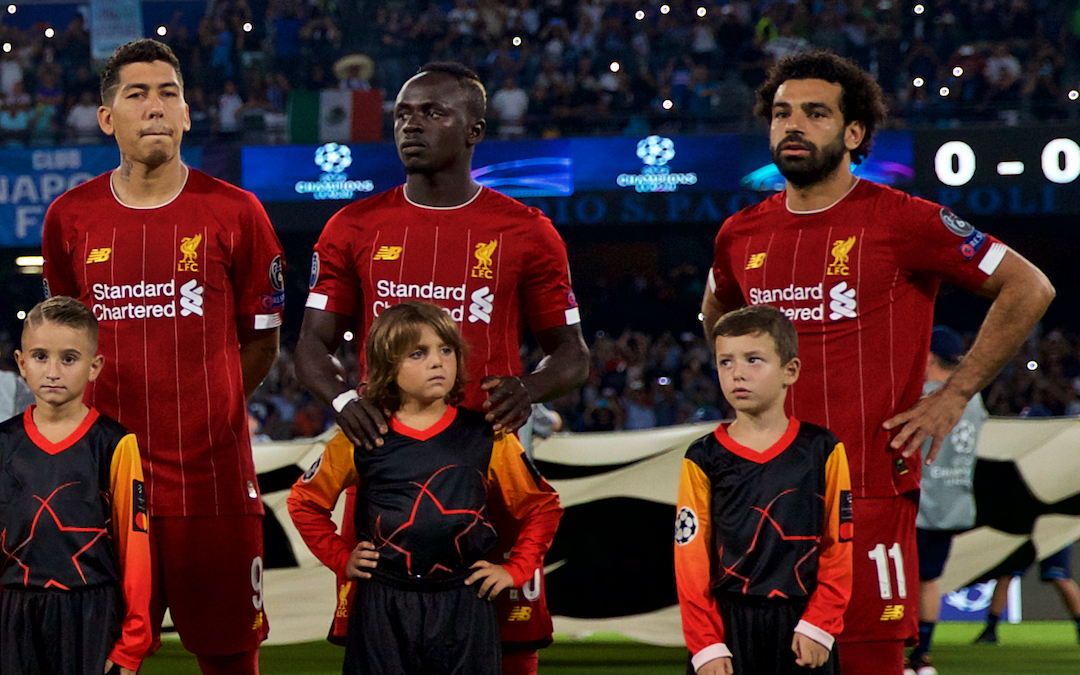 All of Liverpool's three most recent opponents have defended well, and yet Firmino still scored, while Mane and Salah both missed opportunities that usually they'd take in a heartbeat.
I was furious at Salah for fluffing his one on one on Saturday, mostly because I was full of nerves and desperately wanted the second to settle them, but in hindsight, it was a very good save from the Manchester United loanee. Salah's execution wasn't really any different to the one he scored in Porto last season. Maybe Dean Henderson had seen that goal and remembered it.
Albeit there was a large slice of luck involved on Saturday, but generally speaking, Liverpool have definitely got better at winning games even when the front three don't fire.
Notable times last season were the win at Cardiff, the miracle against Barcelona (when two of them didn't even play) and of course, the Champions League Final itself. Mane won the penalty, and Salah scored it, but it was very much a team effort to close that game down from then on, and it took Divock Origi to finally put it to bed.
Perhaps, therefore, it's actually a good thing that they don't always bang the goals in. Every time Liverpool win anyway, it builds the belief that this team is even more unstoppable (or less stoppable, hmm) than previously thought. Stop the front three and stop Liverpool? It appears not, especially if your keeper has fashioned his gloves from actual butter.
With the likes of Origi, Xherdan Shaqiri and Rhian Brewster knocking on the door, and potentially Harvey Elliott and Curtis Jones if Jürgen Klopp is feeling adventurous, hopefully some healthy competition can line up and develop behind the front three. I'm not sure that pressure would help or hinder them though, as any underperformance is rarely down to apathy or anything similar.
There are some very big games on the horizon, starting with Red Bull Salzburg in the Champions League, so it would be very handy if the lads could return to normal service soon.
In fact, it wouldn't be a surprise to see all three of them net on Wednesday night… He says, hoping it gives him an excuse to replug this article on full time.
"It's the sign of champions, stick it out and get the three points"

📱 Subscribe to listen to our Post Match podcast and Post Match Pint video after Liverpool beat Sheffield United 👉 https://t.co/XZAK9veWt7 pic.twitter.com/DdigEYF9LP

— The Anfield Wrap (@TheAnfieldWrap) September 28, 2019
Recent Posts:
[rpfc_recent_posts_from_category meta="true"]
Pics: David Rawcliffe-Propaganda Photo
Like The Anfield Wrap on Facebook