FOR a night, at least, let it deny serious analysis.
Watching those lads there is no excuse for greybeardedness. They were popping candy in ice cream, blue bubblegum freezy pops, flying saucers. The feelgood hit of the autumn, a reminder of summer vibes. Derling whirvishes and whirling dervishes and left statuesque is the man who will score no small goals, Divock Origi.
Let's take nothing other than that we laughed and lived, that we had a party, that we had a ball. Anfield was switching on the illuminations, turning on the fireworks, all tricks, all treats. Toffee apples and candy floss all round.
God I loved it. Loved Harvey Elliott giving The Kop the big one at the end, loved Rhian Brewster welcoming all the penalty takers back in after each hit the back of the net, loved that it meant everything to those young footballers, that they played both well and poorly like their lives depended on it.
They never gave up the ghost, though they had excuse and exhaustion to do so. They had hope because they played for Liverpool, were managed by Jürgen Klopp and captained by James Milner and urged through Adam Lallana. And because they had Divock Origi.
It's hard not to become incredulous when discussing Divock Origi now. The Liverpool manager is obsessed with living in the now and thinking of the future to create memories to come. Enough of what has happened, think about what can happen next. Think about what is to come for us and then one day we can look back, sated.
Some of you will end up with grandchildren and you will be in boozers with said grandchildren and you will tell them tales of Divock Origi and they won't believe you. They will presume you exaggerate.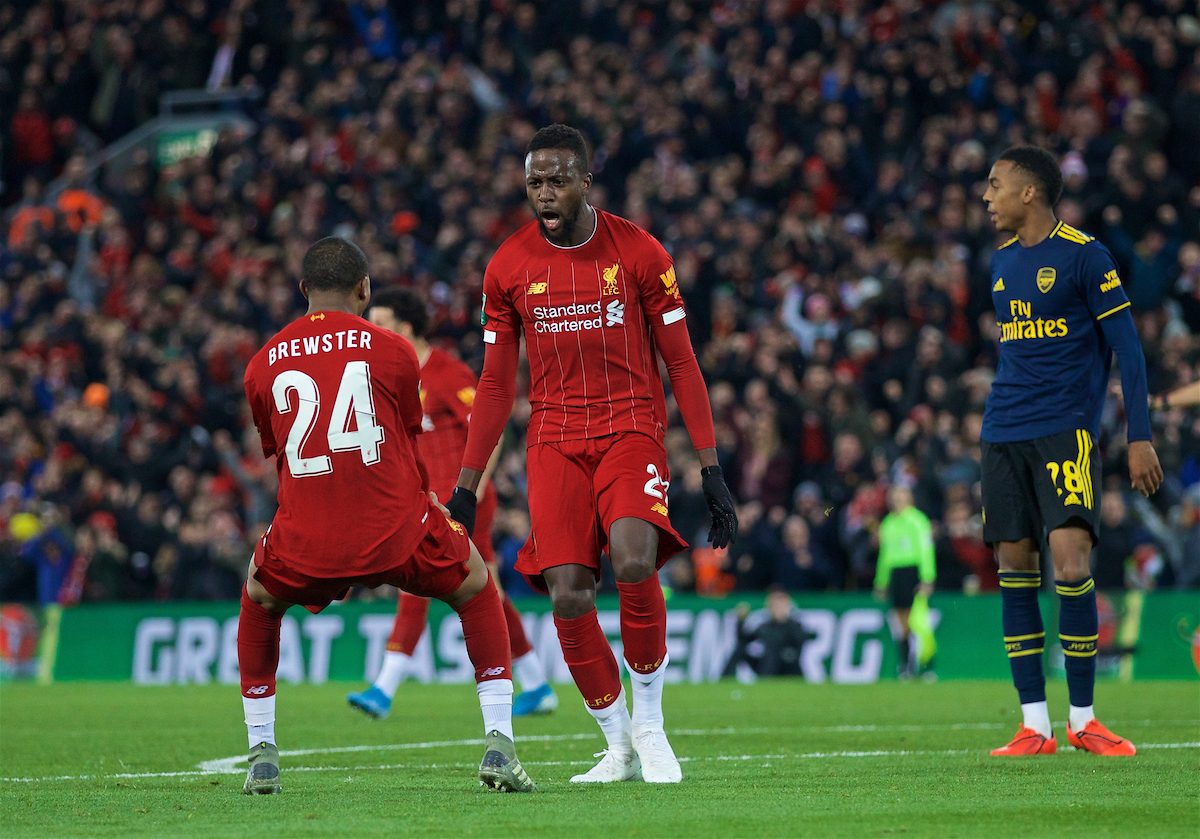 We will be old men and women boring a generation about a hero similar to one from Greek myth and legend. No, they will think, no one footballer did all that in a year, not in an era with Leo Messi and Cristiano Ronaldo. Not when he played with Mo Salah and multiple Ballon D'Or winner Harvey Elliott. Surely he'd be a more prominent figure in English football history.
They'll be wrong, the ungrateful offspring of your offspring, smirking down their sleeves at you. But you'll remain the winner because Divock has lit up our lives in ways scarcely imaginable about a figure who around this time 12 months ago had barely kicked a ball for Liverpool in the 2018-19 season.
It's a reminder that this existence of ours is a gift, a rare one, that our paths aren't final, that our lives can shift and change so quickly.
Neco Williams has emerged almost fully formed into our lives. A good full back who loves his battles because he tends to win them, who came up against some good players tonight and didn't look phased at any stage.
The bigger question for him wasn't the quality but the legs and the intensity. He'll never have played a game like that one before. He'll play more like it, his future quickly looking like one of Premier League tomorrows in a way others never have.
Arsenal played their part too, a noisy end and a mad team, but what was different was they had a sane bench, a bench full of break-glass options. Liverpool didn't seemingly have that but then that shows what we know.
Curtis Jones came on and changed the game for The Reds. He came over like the complete footballer, one happy in almost any position. He was so impressive, a breath of fresh air just when Liverpool and the game needed it.
He looks a Klopp player and suddenly, almost ridiculously, more than any of this young crop. You wouldn't be surprised, or shocked, or scared to see him in a first 11 or on a bench for this Liverpool side. His performance had all the sense and all the effervescence. And then it had the penalty that sealed it.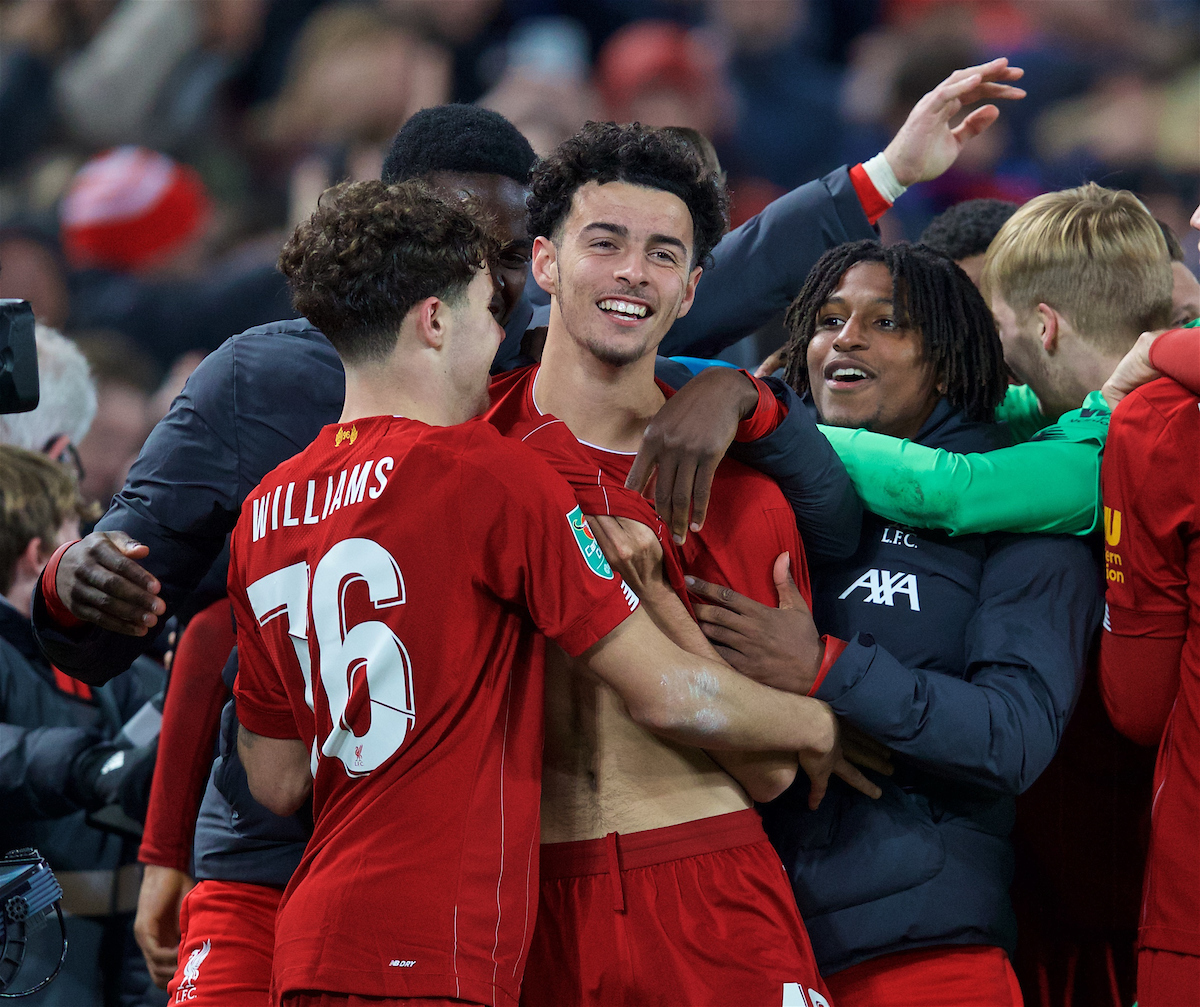 Pedro Chirivella too offered something; a willingness to get on the ball and get Liverpool started. What a strange career he has had but he looks a top-flight player somewhere. However, tonight they almost all do.
Gabriel Martinelli and Joe Willock can be included in that list. Indeed, players the wrong side of 23 often don't come out of tonight as well as can be expected on both sides. But that can wait for another time.
Tonight should be about being young and being alive, should be about the wonder of the bloody stupid game and the idea that sometimes the only way to win becomes five all and penalty kicks so best to do it that way. Willock's thunderbolt came too early; four-five 10 minutes too soon. It was that sort of night.
That sort of night. Liverpool will play one more League Cup game this season, minimum. God knows when, God knows where. God knows who will play or what the outcome will be, but it'll have your attention.
That sort of night, that sort of Liverpudlian night that we have quickly become accustomed to. It had guts, moments of inspiration, and frankly just laughs. It was played under the lights, it got out of hand. It had more Divock Origi than it knew what to do with.
I hope they are happy and know they made us happy. You can ask no more than that from anybody. It's what Liverpool just do these days, whoever is on the pitch.
Walk around them. God, come and adore them.
"I'd go to war for Curtis Jones, I'd follow Rhian Brewster to hell, Harvey Elliott is a giant amongst men.

"I love these lads." 👏

📱 Subscribe for all of our reaction to Liverpool's FIVE FIVE (5-4) win over Arsenal 👉 https://t.co/XZAK9veWt7 pic.twitter.com/zRXhzwCLQm

— The Anfield Wrap (@TheAnfieldWrap) October 30, 2019
Recent Posts:
[rpfc_recent_posts_from_category meta="true"]
Pics: David Rawcliffe-Propaganda Photo
Like The Anfield Wrap on Facebook