CHRIST alive we were good. It goes 3-0 and then christ alive they were scary. And we seemed scared.
It was a pleasure to be at tonight, you know. It was the essence of sport in a way it shouldn't have been. It became the best of the best against one another. It was the competition writ large. I liked Salzburg. I liked Liverpool more.
I mean who doesn't love a game of football with seven (7) goals in it, eh? Like a mid-90s Brazil, Liverpool decide to go retro tonight and let us all remember what life used to be like before clean sheets, before Virgil van Dijk, before a solid high press kept opposition teams safely out of our half.
That was fun though, wasn't it? If you can't ship three goals in the Champions League and still come out the better for it, what is life for? Honestly.
Liverpool's press is certainly high. And for the first 30 minutes, Liverpool score a goal every 10. This. Is. Fun. Big fun.
The first goal is effortless on eight. The play is glorious. Neon. An art installation and you know what? Sadio Mane is beyond beautiful.
Their bespectacled number nine on 15 makes it hard for Joe Gomez. But these Reds play on their tip toes. The lifts and flicks always the sharpest you can imagine. Liverpool show so much dominance and control.
All this marks the return of Gomez. In the opening 20, Gomez has a slightly hard time. A thudding wrong pass on 23rd minute gives him away. But as the second half opens his dexterity makes it clear why he fully deserves his place in this Liverpool side.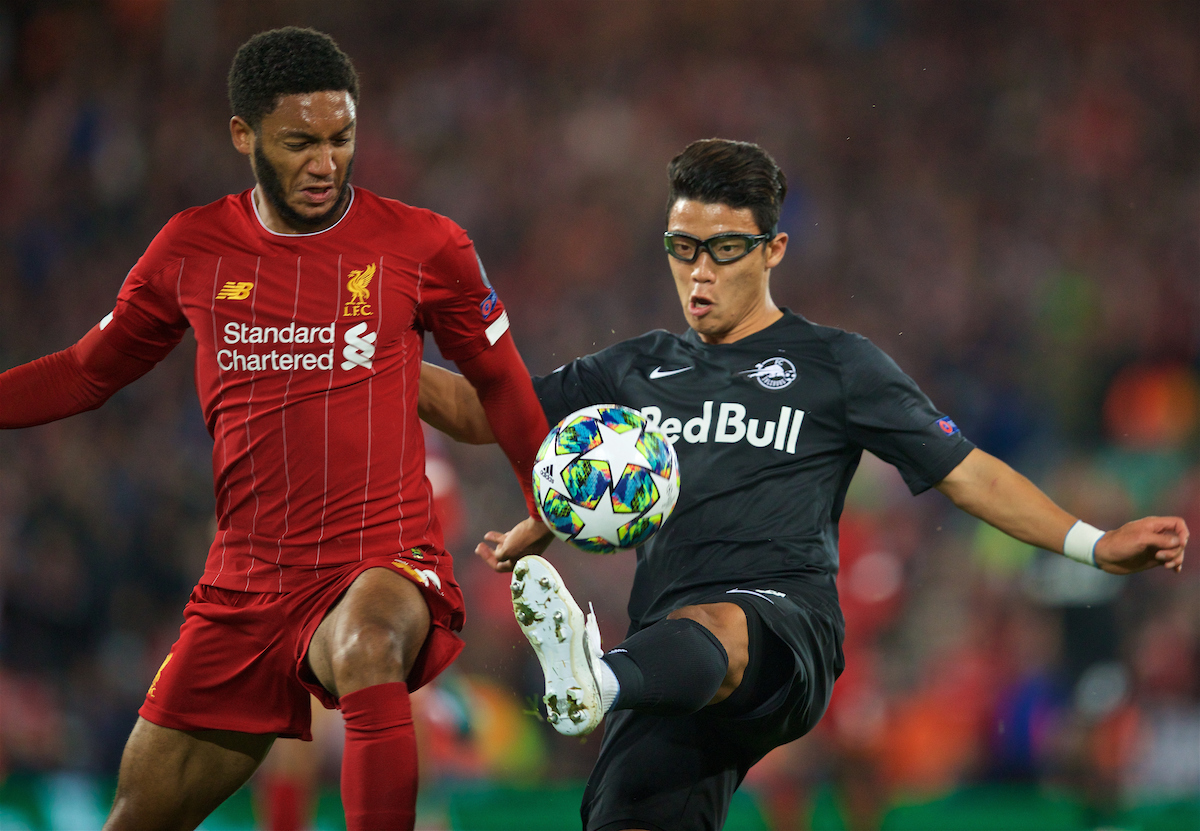 And yet that shakiness returns from time to time. Virgil and he are not quite so instinctively clear with each other as they might be. And Liverpool are shipping goals in crazy circumstances.
Mo is through on 29th but it goes off the woodwork. He is about to become the hero. What's fascinating about Salah is his heroism is rarely heroic. He makes winning run of the mill, the extraordinary ordinary.
Tonight he bags a brace but it isn't the brace of a remarkable footballer, other than both the level and the moment. He simply despatches the football into the net. He produces the goods.
Their goal on the 39th is not entirely against the run of play. But Liverpool making it four wouldn't have been against the run of play. That was a moment where everything was up for grabs. And while it is important to say these are not bad it is important to contextualise their goals as a man tossing a coin and getting tails three times.
The scoreboard goes on the fritz and shows erroneously 3-3. We laugh. For the next 26 minutes, anyway.
But Liverpool are broader, wider than these. Fabinho splaying balls left, right, left. Trent's crosses left to right, right to left. When he isn't passing the ball he's pointing out the passes to others.
Fifty-fifth minute Liverpool are brilliant but asleep. There is just a shade – just a shade – of a sense that Adrian's luck might have run out.
These days, the goalkeeper's job is not just to stop shots. It is also to manage the backyard. It is to play the game out from the back. Perhaps this is where we do – great fun though it has been to see Adrian play great games against all expectation – miss Alisson Becker.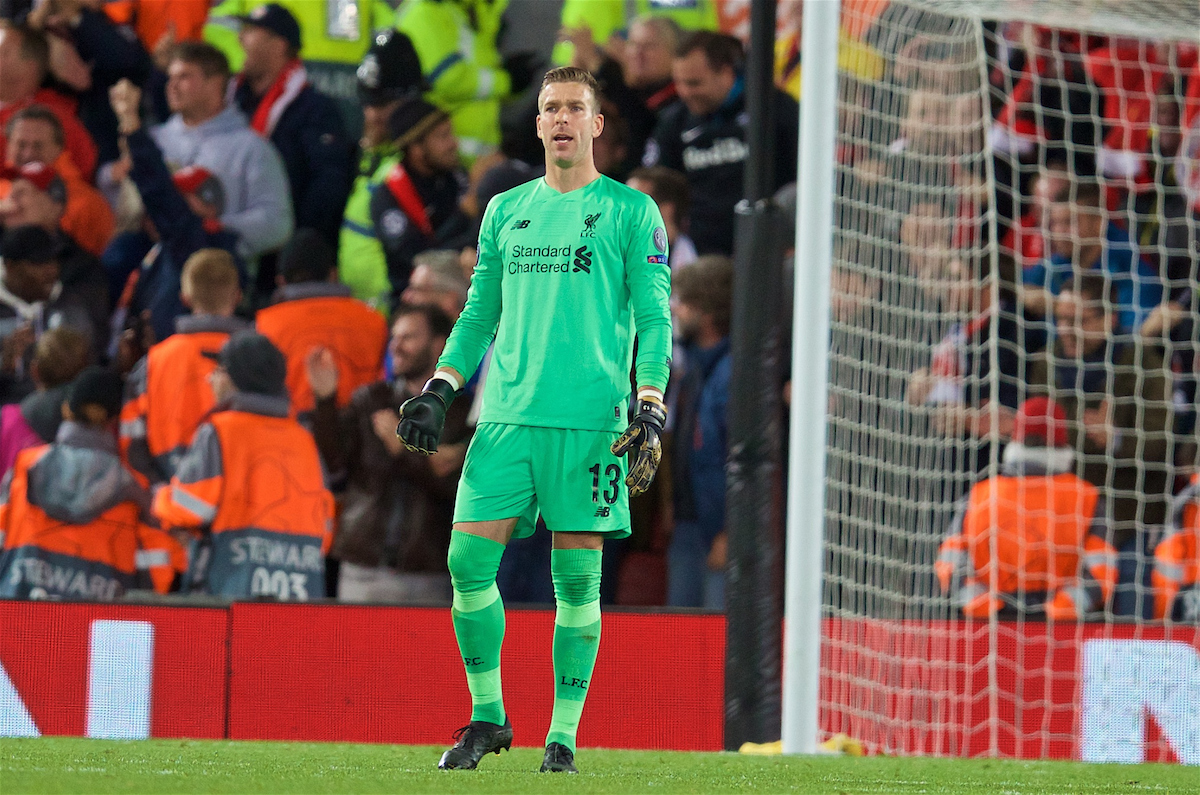 Once Divock has come on, at certain points it looks like liverpool have decided to play 5-1-4. Or 4-2-4. Or we are really not sure, pass it to one of those four lads upfront. Even James Milner has a shot. This is chaos theory football. And Salzburg's menace of a number nine won't go away.
On the final whistle, a three-kid pitch invasion gives it a slightly crazy air. Big fun, oh yes, as shaky but crazy Liverpool win the points and Salzburg do a little lap and accept all the claps from Anfield at the close. There was no more fun in Liverpool tonight than that game.
And that is the point. Of the performance and the competition. Of being alive. Sometimes you are the ones being tested and sometimes you are those being tested against.
Liverpool were phenomenal for 40 minutes. Salzburg got to test themselves for 50. They came off second best but will have learned a great deal. Liverpool got their three points.
It is rarely true but sport has been the winner today.
Sport and Liverpool.
Liverpool. Let it always be them.
"What a scare!"

"The self titled mentality monsters looked a little bit fragile there but thankfully we got over the line."

🎥 The Post Match Pint
🗣The Post Match Podcast

📱 Download The Anfield Wrap's free app for all our immediate reaction 👉https://t.co/v3xcfwjq7C pic.twitter.com/7L08fO72Fo

— The Anfield Wrap (@TheAnfieldWrap) October 2, 2019
Recent Posts:
[rpfc_recent_posts_from_category meta="true"]
Pics: David Rawcliffe-Propaganda Photo
Like The Anfield Wrap on Facebook