THE beginning of the game is mad.
Flip it. It's the final in silhouette. And bear that in mind. Bear in mind that game, what they then do and what we do in a boiling Madrid.
Half the ground misses it, still sitting down as their number 17 Sissoko dashes forward. This must be the fastest goal scored at Anfield in a long while. Events conspire that are one in a gazillion as the ball hits the bar and lands perfectly for Harry Kane to slot the ball into the goal.
The Spurs away crowd goes understandably wild, disbelieving of their luck. Spurs are playing an interesting game. They spread out, star shaped as we kick off to stretch and pull Liverpool's press out. Then, as we get the ball, they become a tight knot in midfield.
This flex works for them as they spread the play from edge to edge of Anfield's grass and battle for every ball in the centre.
They are physical, with Alli, Eriksen, Son and Kane battling from midfield onwards and wanting to show the best of themselves. Danny Rose is a presence, too.
Liverpool are still more than a match for them, really. Liverpool are the better side by some distance. That is crystal clear. This is suddenly a hard game but despite the early concession, The Reds continually find routes through.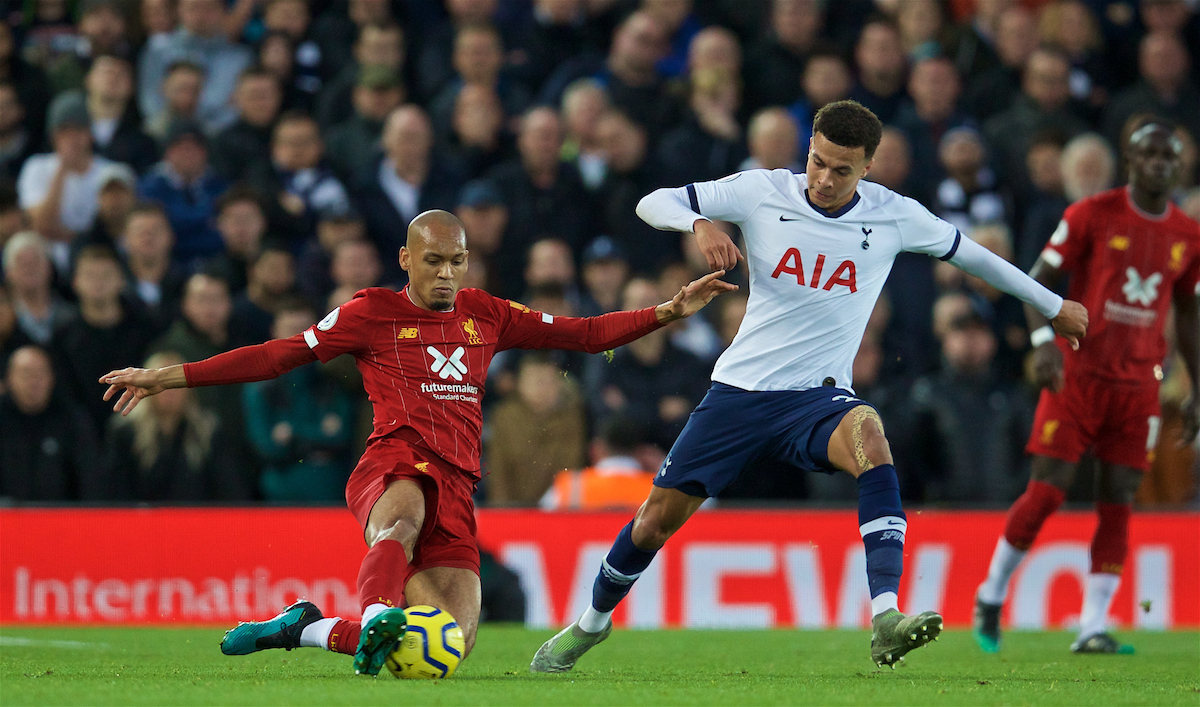 Sadio Mane, Roberto Firmino, and Mo Salah look just like themselves; they skirt around the body challenges they face, nimble of feet and strong in form. This is regular, ferocious Liverpool, understanding that this body of players they face are skilled, but not quite as skilled as them.
Liverpool show the right level of respect to Tottenham. They are a proper football team, but only half a football team compared to the boys in red.
Still, their keeper is on fire as he saves shot after shot from Liverpool's front three. He leaps across the goal from right to left. In the first half, the number two keeper Gazzaniga is arguably the man of the match. Certainly the Spurs man of the match. That tells the whole story.
At the opposite end of the pitch, Liverpool are not entirely perfect. Trent is at times beaten by Son's pace. Harry Kane is extraordinarily annoying, and runs after the keeper, relentlessly aggressive. Dejan Lovren is good, but has a hard job keeping him under wraps.
Virgil looks cool for the most part but at times the brutality of Spurs seems to get to him. At one point an arm in the neck seems to shake him, but as ever with Virgil, he stays chilled. He knows Liverpool are better, knows we never resort to endlessly going long, knows his is the better side.
Liverpool's midfield is scattered at times but Gini and Fabinho chase Spurs down, nonetheless. They make life difficult for us, but at half time, without a doubt the better side is losing. We know that this cannot last. They cannot keep The Reds at bay.
The half-time respite gives a moment's breather before the Premier League's top battlers take to the pitch again. If anything, everyone has decided to keep at it, but with an extra 20 per cent. Yellow cards abound in the second half, with Lovren, Trent, and then sub Milner all taking one for the team. This is an aggressive Liverpool. One which has no intention of taking it.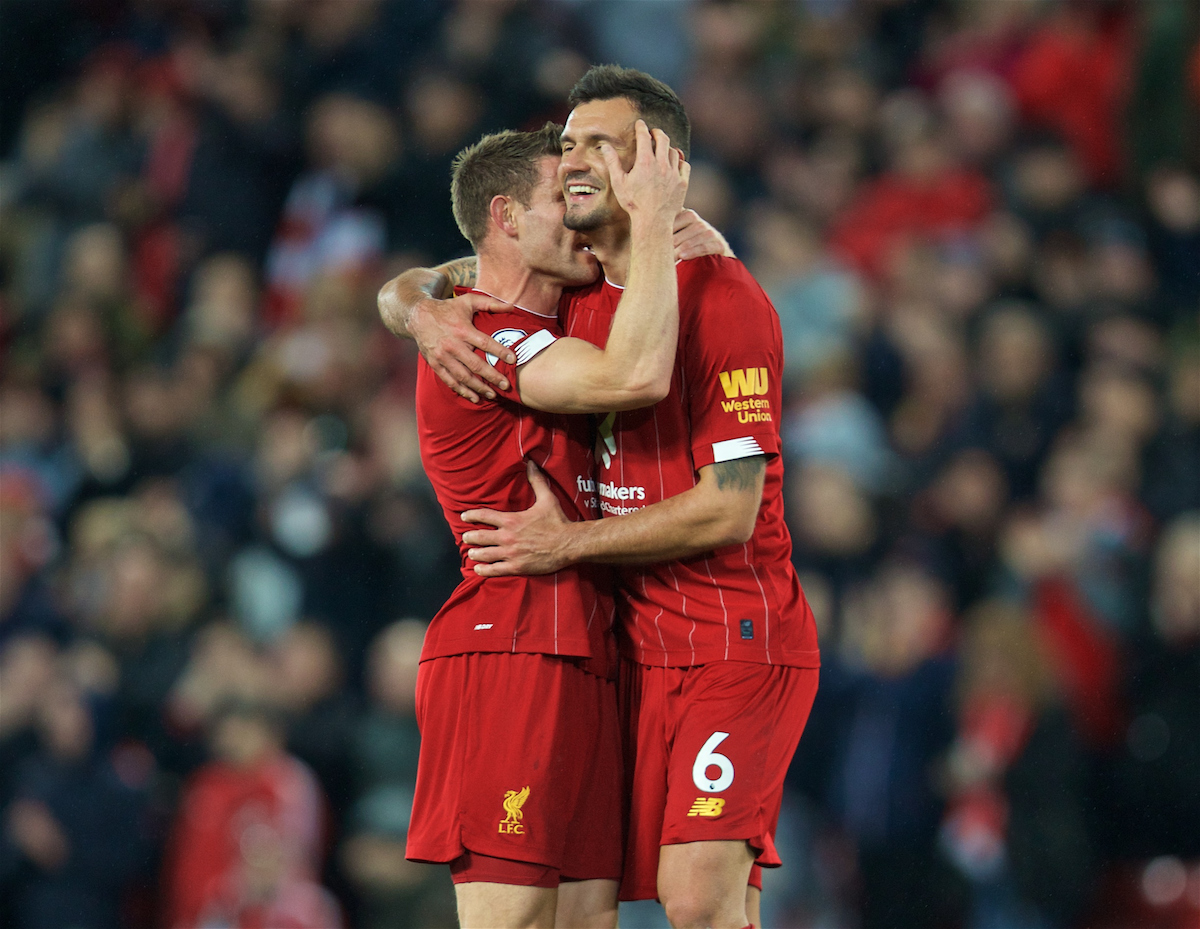 Mo looks hot and you would back him to score. He is at his delicate dancing finest. The Spurs defence of Sanchez and Alderweireld want to stamp him out, but it isn't happening today. He has shot after shot. He keeps at it.
The captain's performance improves during the second half, having been slightly sketchy to begin with, and the goal feels like a massive relief, feels like blessing the whole enterprise, feels like a release. He keeps at being Jordan Henderson, just as Mo Salah, just as Trent Alexander-Arnold keep at being themselves.
There are times you wish they were all different, compromised, perhaps substituted but the manager doesn't. He wants them to stay at it, to erode. Henderson's goal is a victory for erosion and belief. He is Liverpool's captain.
From there you know it. You know we win the game. Liverpool push and push, and deal with an ever more aggressive Spurs. Those aggressions were always likely to spill over. And there then is the penalty. Sadio Mane's body between man and ball. Salah converts brilliantly.
Two players are absolute stalwarts here. Bobby Firmino runs forward and back into midfield, forward and back into midfield. This sounds much more simple than it is. Pacing through the crunching Spurs midfield to provide Liverpool with a route through when Tottenham have decided to shut off all passing lane takes the most intelligent view of the game. Hats off to him.
Allison. The goalkeeper gets us out of jail a number of times, and bears the pressure of a team that seems certain to score at times. But he bears the pressure so well. He loves releasing early, loves hanging on late. Loves doing the right thing. Hats off to him.
You never fancy the equaliser will come for Tottenham. They can't play well enough. They need a worldy, a Danny Rose cutting in or an accident. A cock up. They can't outplay Liverpool by this stage. They need another fluke.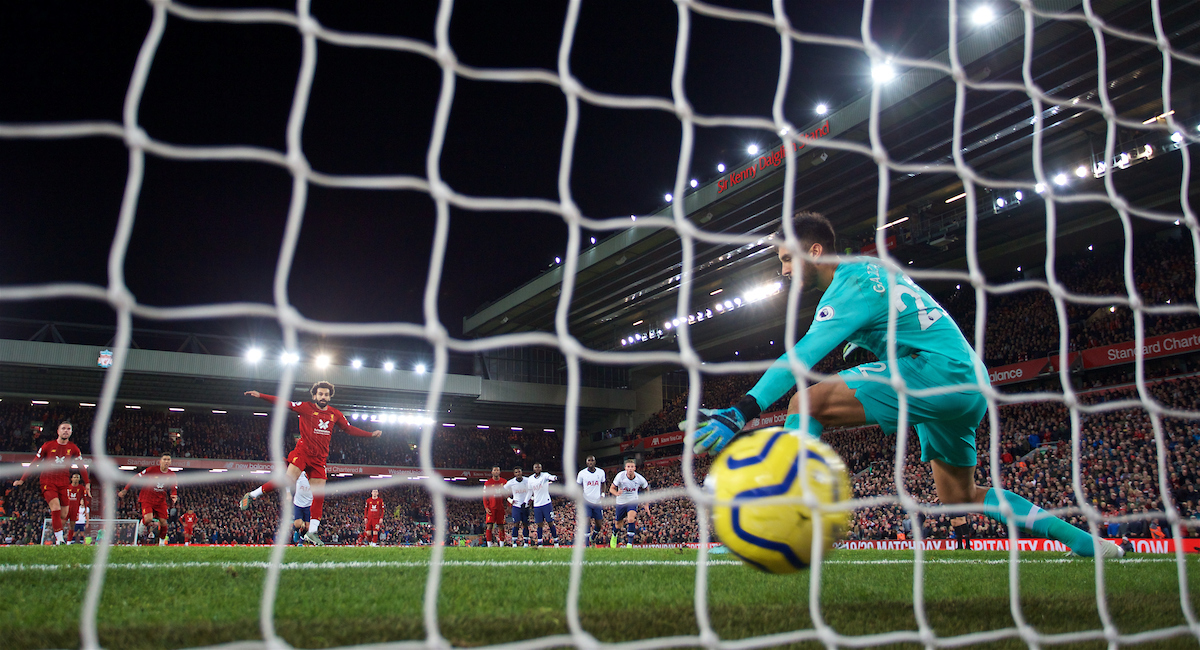 The marvellous Rory Smith wrote a piece about sides always coming away from playing Liverpool feeling unfortunate. Spurs may feel that again but the truth is that spending time in our final third cannot be equated with creating opportunities. Our door is the toughest to kick down in the world.
This Liverpool side see this battling Tottenham side and see them off. Not easy. But sure of themselves. Hats off to them.
They are 16 clear of Tottenham. We have only taken to the pitch 10 times. That is the gulf. And you saw that, lived it and felt it.
Ten down, 28 to go. You know it. We are next at Anfield in the league on November 10. It should be a roaring, relentless bearpit. It should be a living hell for our opponents and the officials. It should be the best place in the world for us. It should be a living heaven.
Today though. Hats off to them. The mighty boys in red.
"This is an unbelievable Liverpool team, we can't take them for granted." 👏

📱 Subscribe and listen to our immediate post-match reaction show after the Reds' 2-1 win over Tottenham 👉 https://t.co/XZAK9veWt7 pic.twitter.com/dEe8qUydNX

— The Anfield Wrap (@TheAnfieldWrap) October 27, 2019
Recent Posts:
[rpfc_recent_posts_from_category meta="true"]
Pics: David Rawcliffe-Propaganda Photo
Like The Anfield Wrap on Facebook