IN December 1995, football's transfer market was changed forever.
After five years of battling against his club, the country's football association and UEFA, Jean Marc-Bosman won his case which would allow football players to move to another club for free upon the expiry of their contract.
Prior to that landmark judgement, some European clubs were free to stop players from moving to another club even if their contract had run its course – now players are the masters of their own destiny and can even sign pre-contract agreements with other clubs six months before their current deal runs out.
Why is all this significant to Jürgen Klopp's Liverpool in 2019, you ask? Well, for the same reason The Reds were able to sign James Milner from Manchester City in June 2015, they could be set to lose him in as little as eight months.
At the time, the signing of Milner seemed like a no brainer; a Premier League winner with years of experience under his belt and, of course, no transfer fee. However, the Yorkshireman still arrived at Anfield with very little fanfare, although there wasn't a great deal to be positive about at Liverpool during that time, in fairness.
Brendan Rodgers' Liverpool had just finished sixth, lost their best young player in Raheem Sterling and their captain in Steven Gerrard, and had been beaten 6-1 by Stoke City on the final day of the season, lest we forget.
The Reds, just a year after coming within a whisker of winning one of the most hotly contested title challenges in the Premier League era, felt about as far away from a title challenge as they could get – Roy Hodgson's turgid tenure aside.
Liverpool just didn't seem to have the pull of some of their rivals, so it was hard to get excited by anybody being brought in with no transfer fee attached.
"Reliable", "versatile", "rugged", were the kind of backhanded compliments usually associated with players like Milner – rather than "match winner", "European Champion" or "record Champions League assist maker".
Fast forward four years and that has all changed, but how did we get here from there?
Milner burst on the scene at Leeds United as a 16-year-old becoming one of the Premier League's youngest ever appearance makers, and later the youngest ever goalscorer. Since then he's played for Swindon, Newcastle, Aston Villa, Manchester City and Liverpool. He's been around the block.
During his 17 years as a footballer in England's top flight, you'd have probably expected his legs to go, particularly as a relentless runner who always leaves everything out on the pitch.
But Milner still displays the same approach on the pitch and exemplary attitude off it that he did when he was a kid coming through at Leeds, and now there's a debate about whether he's the best thing to come out of their academy.
That has been displayed throughout his time at Liverpool, especially when he played a season at left back despite coming to the club on the promise of a central midfield berth, and Liverpool are still reaping the rewards of Milner's "model pro" lifestyle.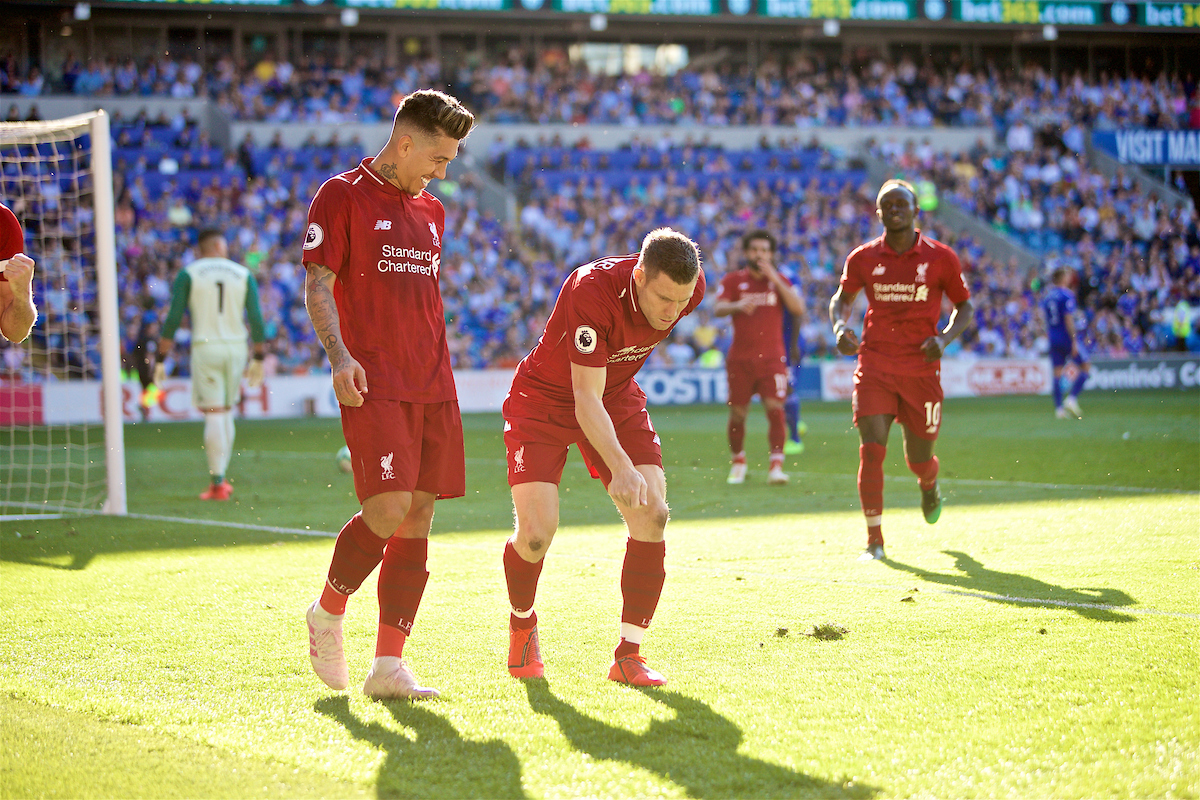 At 33 years of age, Milner still covers more distance than most, chasing and harrying all over the pitch as Klopp asks of his players, which is a large factor in him becoming one of the most crucial characters in this star-studded cast.
Over the summer, as the Champions of Europe returned at different times due to international commitments, Milner was one of the first back at Melwood making gruelling lactate tests look like a walk in the park.
He took that opportunity as the most senior head among a youthful group to use his experience to help the youngsters who had been given the call up, and who better to show them the ropes than the man who himself came through at the highest level so young.
It came as no surprise then to see Milner step up in Liverpool's League Cup third-round tie against MK Dons and captained a much-changed side to victory with not only a goal and an assist, but a true leader's performance within a team topped up with teenage talent.
Since winning the Champions League, Milner along with a number of his teammates has continued to grow in stature and you could see what it meant to him in the aftermath of the wins over Barcelona and Spurs – particularly as it was practically the only trophy missing from his collection.
As if his contribution to those causes wasn't enough to earn him a new deal, Milner's game-winning penalty against Leicester, which came before his former club City fell to defeat to Wolves, should at the very least start the negotiations.
The biggest worry now is not that Milner will run out of gas at Liverpool, but that the club will suffer the same fate Man City did back in June 2015 and lose Milner on a Bosman.
There's been a lot of talk about a heartfelt return to Leeds but The Reds should do everything in their power to keep hold of a player who it's easy to see in a coaching role once his playing days come to an end – as Klopp alluded to during the pre-season tour.
Ask any of those young players who were in the USA or Milton Keynes and they'll tell you what kind of inspiration they take from the tireless Yorkshireman – he's a once in a generation man and player.
In the meantime, he'll no doubt continue to give everything to the cause at Liverpool, and wouldn't it be fitting if his Leicester winner was one of the watershed moments that led us to the promised land come what May. Few would deserve it as much.
They say it always rises to the top and James Milner continues to prove he's the cream of the crop at Liverpool.
Let's just hope we're not witnessing the final chapter of his Anfield story.
"There's your big moment. There is your big moment!" 🙌

📱 Subscribe to get all our reaction to Liverpool's late win against Leicester 👉 https://t.co/XZAK9veWt7 pic.twitter.com/NrvWehkCsJ

— The Anfield Wrap (@TheAnfieldWrap) October 6, 2019
Recent Posts:
[rpfc_recent_posts_from_category meta="true"]
Pics: David Rawcliffe-Propaganda Photo
Like The Anfield Wrap on Facebook